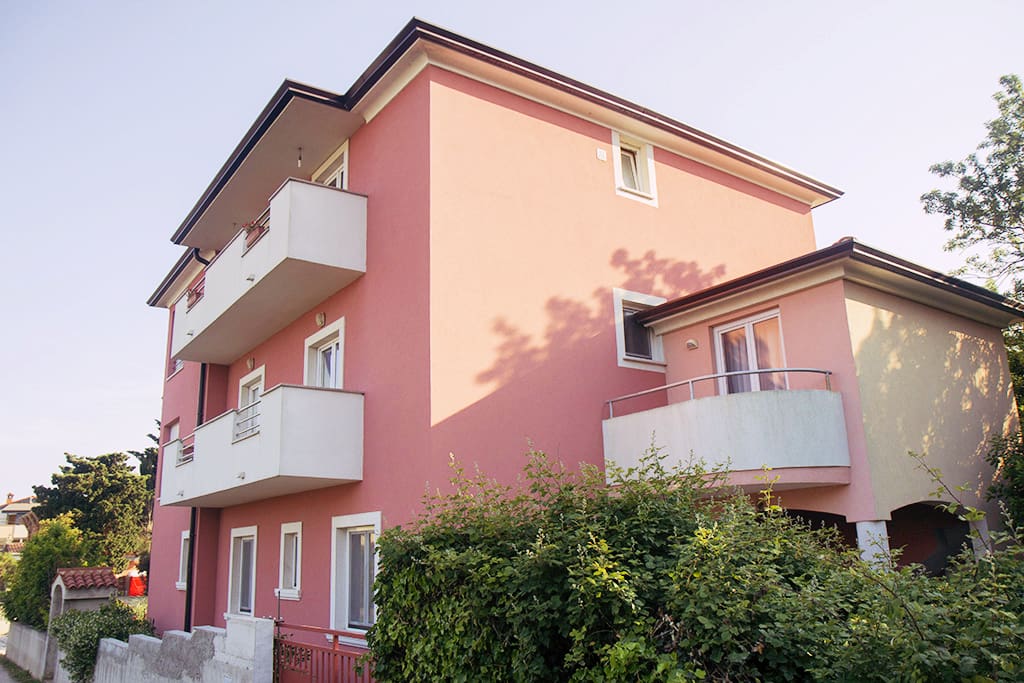 Beautiful, spacious duplex apartment located in Premantura center, one minute walk from square ( the church ), restaurants and shops, 10 minutes walk to the beaches. Nearby of Cape Kamenjak.
Placed on ground floor ( 60 m2 ), having its own entrance and surrounded by greenery is what makes this apartment a perfect place to spend your holidays or a weekend break in.
Open all year round.
Our family is here to make your vacation more pleasant. Welcome
房源
Apartment is located in the center of Premantura, an old village which is the south-most point of Istria, right next to nature park Kamenjak.
It is surrounded by over 30 kilometers of beaches, untouched nature and clean sea, offering the important break from everyday stress and the hurried way of life.
It is in a beautiful new house with quiet surrounding, yet in the center of the village. In 60 m2, it has kitchen with living room, two bedrooms and two bathrooms, private intimate terrace and balcony, with parking lot on the property. This apartment has its own entrance.
Wi-Fi, satelite TV, air conditioning and washing machine are included.
All guests are welcome to enjoy our garden and barbecue in front of the house.
---
Wir verbrachten 4 Tage im Appartement von Milka und wurden sehr freundlich empfangen und sogar mit Wein verwöhnt! :) am Tag zuvor haben wir eine sehr gute Wegbeschreibung erhalten und die Information, dass wir Handtücher mitnehmen sollen (das wäre vielleicht eine hilfreiche Info vorab)! Die Unterkunft ist sehr gut gelegen und es ist sehr ruhig zum Schlafen. Leider ist das Foto von der schönen Meeraussichf nur von den Gastgebern zu sehen und auch die Größe des Appartements ist leider kleiner als es auf den Fotos aussieht. Sollte jemand empfindlich sein was die Bettenhärte angeht - das Bett im Masterbedroom gleicht einem Steinboden, leider! Außerdem hatten wir due letzten 2 Tage kaltes Wasser und leider erst zu spät die Kommentare hier durchgelesen. Wir hatten auf jedenfall einen schönen Urlaub in Milkas Apartment und besonders die Lage und die kleine Terrasse sehr genossen! Vielen Dank an die Gastgeber!
Lisa thank you for your review. We are so sorry for the cold water, but boiler is located in your apartment, so you may have accidentally turned it off. Every apartment in our house have their own boiler. Pictures of view are, as described, from top of the house and there are just to show surroundings. Your apartment is in ground floor. Sorry for the misunderstanding about the size of the apartment, but it have 60m2, with two bedrooms and two bathrooms, I am not sure about how it looks on the pictures but it is as it is :) However, thank you for chosing our house to spend your holidays, hope that you enjoyed :) Salute from family Ilic
---
We had a great stay at Milka's house! The apartment was cosy and clean, air conditioning and wifi worked well, parking space was provided. The house is located near the city center (but surroundings are rather calm and quiet) and is a perfect spot to explore Kamenjak national park. Milka and her husband were super nice and helpful, they provided us with all the information and made our stay even more pleasant. I can recommend to anyone, who wants to visit Premantura!
---
We spent 2 nights at Villa Milka in mid Aug. Milka & her husband were great hosts, they replied promptly and gave us all the information we needed. The apartment was smaller than expected and the private parking place belonging to the appartment (the app. for 4 people on the ground floor) is quite small too ie very tricky to park a mid-size car (street parking place is very difficult to find in the mid Aug in Premantura). However, the host kindly offered another parking place where we could leave the car over night. We thought the price (108€ per night) was a bit exaggerated regarding the value (app. size, out of date furniture, narrow twin beds, worn out towels), even for a super high season. However, the overall experience was a positive one. The place was clean and we really appreciated the terrace where we could chill during the hot weather. The appartment is in a quiet part of the village, just a few minutes walk from the cafés, restaurants, shops etc. and about 10 minutes walk from the Camp Stupice beaches.
---
We enjoyed very much our stay in Milka's house. The apartment is in the center of Premantura and the position is perfect if you want to explore the Kamenjak national park. You can leave the car in the parking and just move by walk or rent a bicycle to reach one of the beaches by crossing the park. The house was very cleaned and Milka's family was really hospitable.
---
We are a family, renting apartments in our family house in Premantura, Croatia. We like good relationships with our guests. We hope that you will have a pleasant stay at our place.
For every question you might have please do not hesitate to ask us.
Welcome!
语言:
English