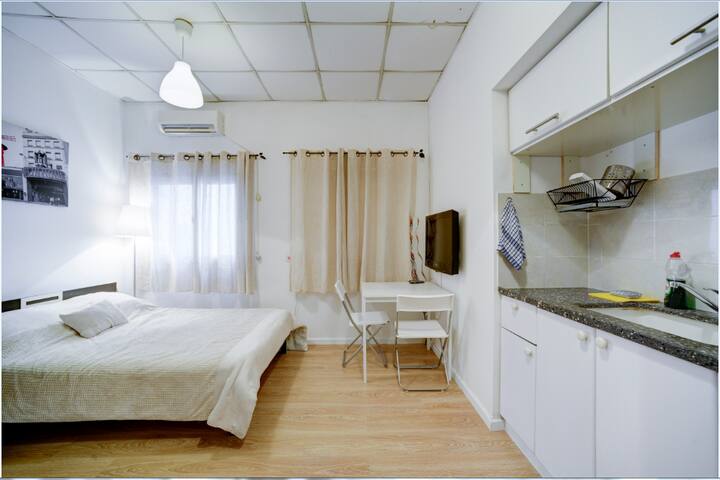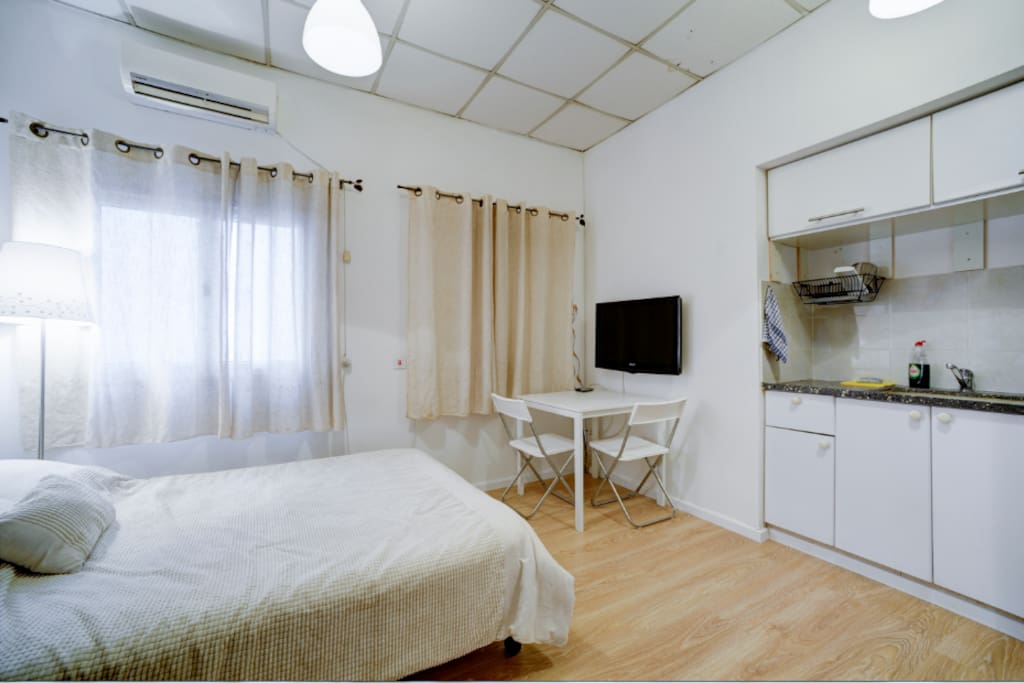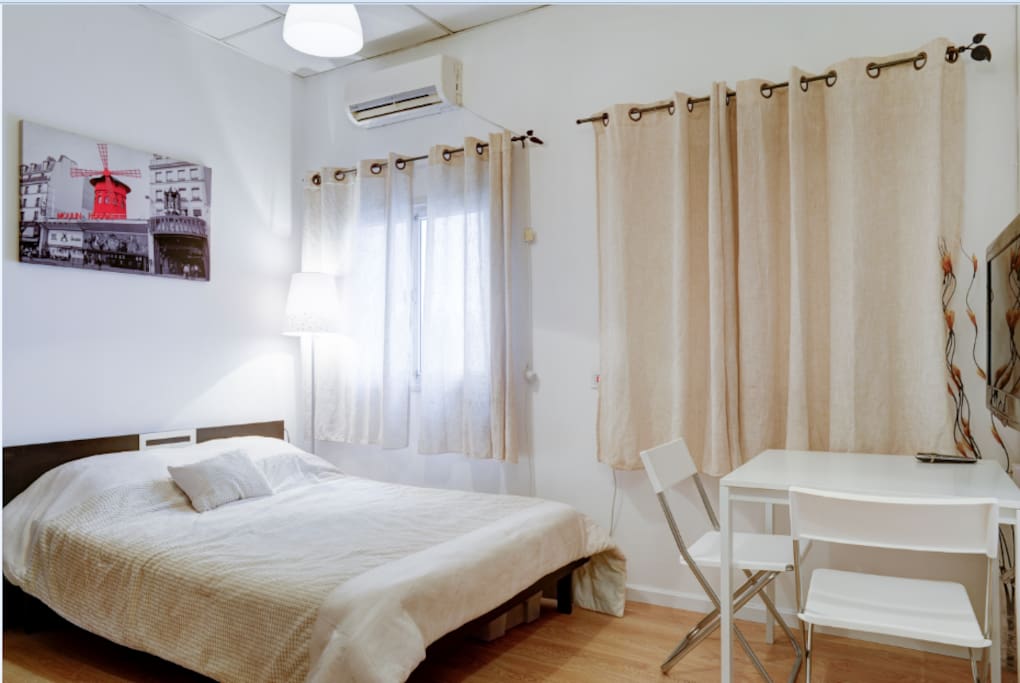 房源
A studio apartment in the city center of Tel Aviv, located in Hakovshim street, just by the beach.
The studio is a fully furnished apartment, Last time renovated at November 2013 for a cozy and a nice feeling.
This apartment is a good option for a low budget or for people looking for a clean, cozy, basic and renovated studio apartment by the beach.
More about the location: right in the city center of Tel Aviv, by Ben Yehuda street and Allenby street. About 2 min walk to the beach.
The area is full of everything you might need or want: restaurants, coffee shops, bars, clubs, shops, banks, 24/7 super market, exchange etc. It is also close to Shenkin street, the Carmel Market, Neve tzedek, Dizengoff center shopping mall etc.
Public transportation options are everywhere.
Furniture includes:
Double bed
Closet
Table and chairs
Flat screen TV
Sofa
kitchen
Amenities;
Air conditioning
Wifi internet connection
Flat screen tv
Satellite tv cables
Hot water
Iron
All kitchen appliance: stove, microwave, oven, fridge, kettle etc.
There is parking lots near the apartment, also you can find in the street.
If you have questions don't hesitate to ask :)
---
Liraz was great to work with. With only 24 hour notice he was able to get us a quiet, clean apartment in a great part of town. He was responsive, and showed up to welcome us and answer any questions that we had. The apartment was a studio in a prime location- while not fancy, it gave us everything we needed for our 6 night stay in Tel Aviv. I will recommend Liraz to my friends in the future, and on my next stay in Tel Aviv I will be contacting him again. If you are looking for a bargain and a hassle-free place to stay in Tel Aviv, don't hesitate to contact Liraz.
---
This apartment is great for someone who is looking for an affordable place in Tel Aviv. The location is incredible - 2 blocks from the beach and a 5 minute walk to Carmel Market. Everywhere you want to get to in Tel Aviv is walking distance! The apartment is basic and not large, but it had everything I needed. Liraz is a great host; he's friendly, trustworthy, easy to reach and very accommodating. He works hard to make sure all his guests have an enjoyable experience. I would rent from Liraz in the future. In conclusion, if you're looking for something luxurious, this is not the place; if you're looking for something basic & affordable in the best location in Tel Aviv, book it!
---
I had a great time staying in Liraz's convenitnely located studio apartment. It was perfect for my purpose - I was able to come and go easily between activities and found the location perfect to go between the beach and the markets. While it was nothing fancy, it was exactly what I needed for my trip to Tel Aviv. My only issue was that the apartment is in a bit of run down building on a desolate side street. I dont know if I would honestly want my daughter or friend to stay here alone. Liraz met me promptly at our agreed upon location, showed me the apartment and even passed along some numbers for local clubs. I would definitely recommend staying with him and would gladly do so again on another trip to Israel, possibly in a busier area in a newer building. Overall, I had a great experience and would recommend this apartment to anyone looking for an easy stay in Tel Aviv.
---
El estudio de Liraz está muy bien situado, justo en el barrio Jemeny, al lado de la playa y a 5 minutos caminando del Mercado del Carmen y Allenby Str., pero el edificio así como el estudio es muy viejo, las fotos no tienen nada que ver con lo que en realidad es. Yo creo que las fotos se hicieron cuando se renovó el estudio (que debió de ser hace muchos años) o bien están retocadas, porque el estudio es bastante viejo, sobre todo el baño. Yo se lo he dicho a Liraz cuando vino a que le entregara las llaves, el estudio es viejo, los techos están bastante sucios (llenos de manchas), el baño muy viejo y yo creo que el estudio estaría bien si fuera más barato pero por el precio que pide Liraz, con 20€ más encuentras cosas, incluso hoteles con desayuno, mucho mejores en Tel Aviv. Lo siento Liraz, pero como te dije, creo que las fotos no hacen justicia a lo que es el estudio. También tengo que decir que Liraz es muy amable, contesta a los correos electrónicos enseguida y te ayuda en lo que necesites.
---
We had a great time in Tel Aviv! Appartment location is perfect , everything is close- 4 min to the beach, 5 min to the market, plenty restaurants are nearby, 5 min to supermarket which is open every day from 8 till 24. And car parking, rental bike are in one block from the apt. The appartment is a little bit smaller than we expected, but equipped with everything mentioned in the discription. Liras is a good frendly guy. The only one " minus" is presence of cockroaches in the bath (not many, but they are). We do recomend to stay in this appartment in Tel Aviv.
---
Hello!

I live in Tel Aviv and offering my apartments for rent as mid / short term rentals.
My apartments are fully furnished and equipped and its all modern apartments,
I have all kind of apartments from basic up to luxurious. The apartments come after professional cleaning. I am doing everything that my tenants will have a comfortably stay and will be happy.

If you need other services like Laundry services, car rentals, night life reservations, recommendations etc. I will provide you all the info, do not hesitate to ask for every small detail.

The hosting is full of kindness and professionalism, its important that you will enjoy stay. If you have any questions about your stay or about the apartments please do :)

Liraz Hodeda.

Tel -Aviving .
语言:
English、Español、Français、Italiano、עברית