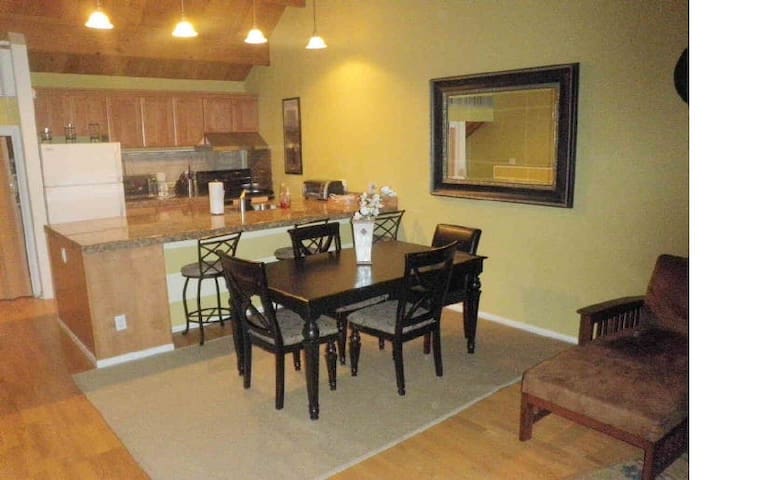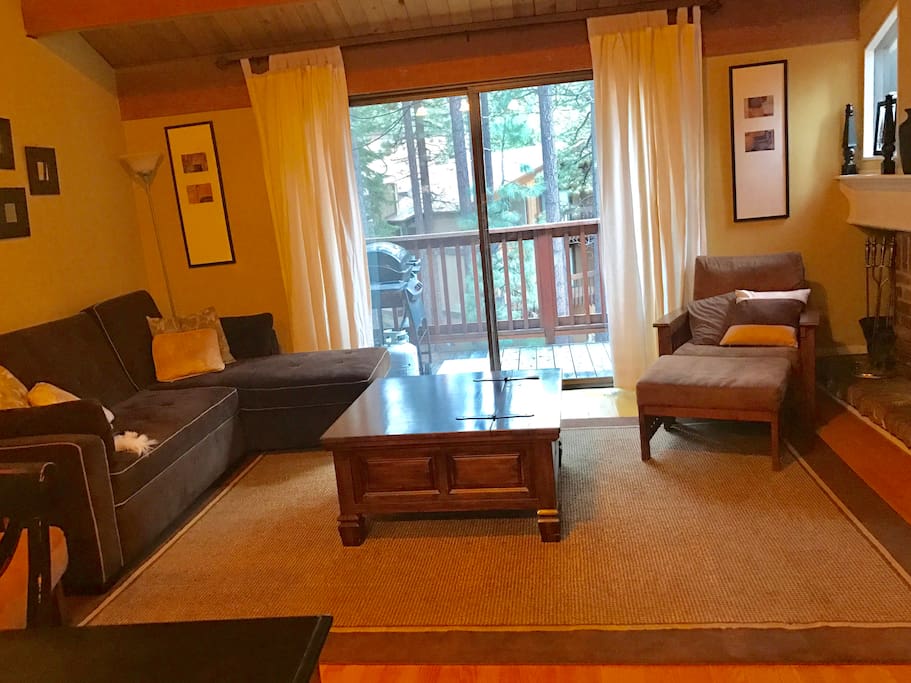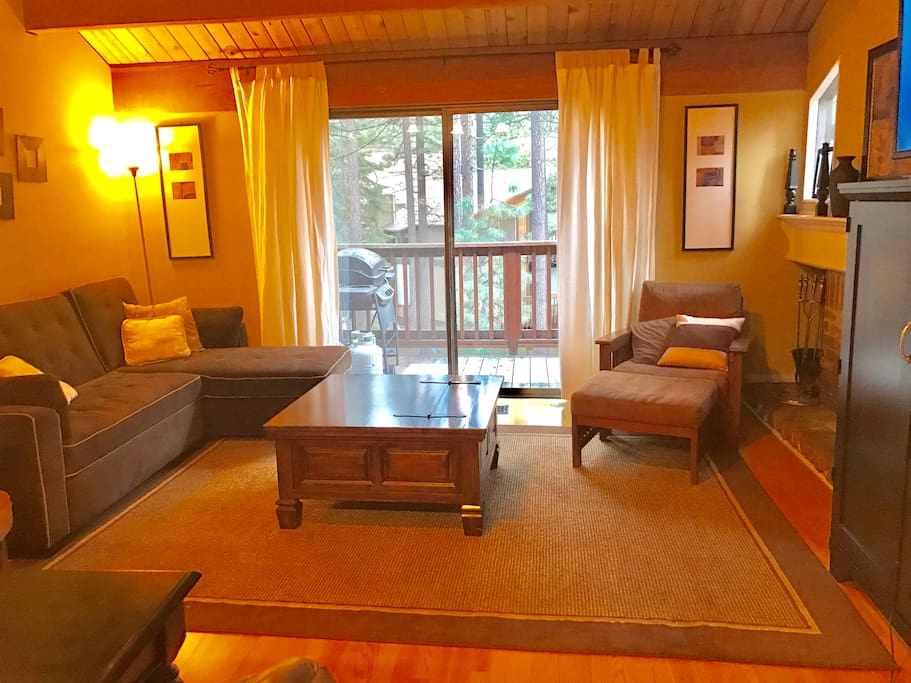 这间新装修的两居室设有花岗岩厨房,木地板,大理石浴缸和拱形天花板。它位于So的中心位置。太浩湖距赌场,天堂度假村,埃奇伍德高尔夫球场和海滩约一英里。
This newly remodeled, two-bedroom home features a granite kitchen, wood floors, marble bath, and vaulted beam ceilings. It is centrally located in So. Lake Tahoe, about one mile from the casinos, Heavenly Resort, Edgewood golf course, and the beach.
房源
新装修的别墅与花岗岩厨房,新的枫木柜,真正的硬木地板,石板入口和大理石浴缸。我们的开放式起居区设有拱形木梁天花板,冬季木燃烧壁炉,夏季阳台上配有燃气烧烤炉,以及一台大型电视机(配有Roku可与您的流媒体用户一起使用),可以轻松放松一天的游戏对于那些不想远离的人,我们有无线网络。 这个舒适的两卧室,1浴室别墅是完美的度假家庭,浪漫的情侣或小团体。主卧室设有一张大号床,电视和阳台。第二间卧室设有两张单人床和一个蹦床,可以搭起一张特大床与其他两张单人床。生活区的沙发转换成一张特大号床。这个适合儿童的家庭配有玩具,游戏,儿童读物和视频。
Newly remodeled townhome with granite kitchen, new maple cabinets, genuine hardwood floors, slate entry, and marble bath. Our open living area features vaulted wood-beam ceilings, a wood-burning fireplace for the wintertime, a gas BBQ on the balcony for the summertime, and a large TV (complete with Roku for use with your streaming account) for relaxation after a hard day's play. For those who do not want to get away from it all, we have wi-fi.
This cozy two-bedroom, 1 bath townhome is perfect for the vacationing family, romantic couple, or small group. The main bedroom features a queen bed, TV, and balcony. The second bedroom has two twin beds and a trundle, which can be raised to create a king bed with one of the other twin beds. The couch in the living area converts to a king bed. This kid-friendly home comes with toys, games, children's books, and videos.
房客使用权限
租客可以进入俱乐部会所,会所设有一个游泳池(从阵亡将士纪念日开放至夏末),大型热水浴缸(全年开放),淋浴间和两个桑拿浴室(他和她)。其他会所设施包括台球桌,乒乓球,网球场,烧烤和野餐区以及儿童游乐场。
Renters will have access to the clubhouse, which boasts a swimming pool (open from Memorial Day through summer's end), large hot tub (open all year), showers, and two saunas (his and hers). Other clubhouse amenities include a pool table, ping pong, tennis courts, BBQ and picnic area, and children's playground.
Check In/Check-Out: Check in begins at 4:00pm on the arrival date. Check-out is NO LATER than 11:00 a.m. on the departure date.
Property Inspections: Owner reserves the right to enter the Property for the purpose of making necessary inspections, repairs or maintenance.
Notification: It is Guest's sole responsibility to inspect the Property upon arrival. Guest agrees to inspect the entire Property to ensure that it is free of hazards and properly equipped. Property is not equipped for the elderly or handicapped. Any and all problems, including inadequate cleaning and damage, must be reported in writing to Owner within 24 hours of check in for prior guest to be held responsible. Any photographs purporting to represent the condition of the property upon arrival must be presented to owner within 24 hours thereof.
Occupancy: Only the number of guests indicated during booking may occupy the Property. If the actual number of occupants exceeds the number indicated during booking, Guest will be charged an additional $50 per person, per night, deducted from the damage deposit. Parents who will not occupy the Property may not book the Property for their children. The Guest must be present at the Property for the time of the reservation and take full responsibility for the Property. Small children are the responsibility of the Guest. Children shall not roam free and unsupervised in the yard and on the decks. They shall not climb on furniture, hang out of windows, or engage in other unsupervised activities. Children's use of the Property is at Guest's own risk.
Damage Deposit: Guest agrees to pay a refundable $300 security deposit to Owner. Guest
assumes responsibility for the Property and its contents. Should any damage arising from Guest's
use of the Property occur, including missing items, excessive clean-up, and if necessary, costs
incurred in removing Guest from the Property, Guest agrees to allow the amount of damages to
be deducted from the damage deposit.
Restrictions on Property Use: Guests are prohibited from engaging in any in violation of local, state or federal laws or Nevada Insurance rules and regulations, or any other activity that constitutes a nuisance. Parties are prohibited. Violation of this provision will result in immediate eviction without refund, and Guest will be held liable for any damages to the Property, contents, and grounds.
Pets: No Pets are allowed on the property at any time. Violation of the "No Pets" stipulation will result in forfeiture of the full amount of Guest's damage deposit or, at Owner's option,
immediate termination of the license and Guest's removal from the property without refund.
Smoking Prohibited: The Property is a nonsmoking Property; any form of smoking is prohibited.

Personal Property Loss: Owner is not responsible for any loss or damage whatsoever due to the loss, theft, or damage to Guest's personal property or to personal property owned by Guest's visitors including any vehicles whether owned, leased or rented.
Assignment: Guest may not sublet, sublicense or otherwise grant any rights to the Property.
Association Rules: Occupancy is subject to Lake Village Homeowners' Association rules, set forth in (URL HIDDEN) and its sub-links. Guest acknowledges electronic receipt and review of the rules, understands, and accepts them. Other rules may be posted at the Property and/or Association Office and Clubhouse. Violation of the rules during Guest's occupancy may result in fines, for which Guest is solely liable and agrees to release and indemnify Owner from any and all liability, cost, expense, or damage resulting from Guest's violation thereof. Should Owner incur any costs as a result of Guest's violation of the rules, Guest agrees (and gives consent) to Owner's deduction of said amount from the damage deposit.
Limitations on License: Owner shall not be liable for circumstances beyond Owner's control. Guest understands and acknowledges that there will be no refunds for any occurrences not affecting the implied warranty of habitability or for temporary disruption/interruption of utilities, services, or use of appliances. For any occurrences affecting habitability, Guest agrees to allow Owner the option of remedying the problem or terminating the license and giving Guest a prorata refund of the fees, which will discharge Owner from any and all liability. Guest understands and acknowledges that Owner does not have the ability to relocate Guest, and Owner shall not be responsible for any such relocation, or be liable for any such expense and other actual or consequential damages. In the event Owner is unable to deliver the Property to Guest because of property sale, fire, mandatory evacuation, eminent domain or Acts of God, or if the property is unavailable because of construction delays, unlawful hold-over, or lack of utilities, Guest agrees that Owner's sole liability will be a full refund of all payments tendered by Guest. Guest expressly acknowledges that in no event, and under no circumstances, whether or not expressed herein, shall Owner be liable for any amount in excess of all payments tendered by Guest.
Tenancy: Guest acknowledges that this is NOT a tenancy for the Property. The Property is not rented for more than 30 days and is taxed and treated as a transient occupancy, akin to hotel accommodations. Property laws do not apply to the license granted herein, and Guest may be removed as a trespasser immediately upon termination of this license. The Property is licensed on regular short term periods and for a significantly higher rate than a non-vacation rental. Often a guest is scheduled to begin a vacation in the Property on the same day as the checkout day of another prior guest. Guest acknowledges that if Guest stays even on additional day, Owner would face significant logistical problems with the next guest, including possible liability. As such, Guest agrees to vacate immediately on the checkout day at 11:00 a.m. Failure to do so will entitle Owner, in addition to all other remedies available to it, to have Guest ejected by law enforcement as a trespasser and to physically remove Guest and all of Guest's possessions from the Property (for which Guest hereby grants permission and consent) and obtain damages and injunctive relief against Guest.

Release and Indemnification/Assumption of Risk: Guest assumes the entire risk of injuries arising from or any way related to the use of the Property, and Guest agrees to release and indemnify Owner from and against any and all liability should anyone be injured upon the premises during the term of occupancy resulting from any cause whatsoever. Guest will ensure that all individuals on the Property take reasonable measures to prevent slips in the bathroom, on staircases, steps, on decks and throughout the Property. Guest further acknowledges that snow, ice, sleet, rain, or hail may increase the risk of injuries on the grounds around the Property and other affected areas, and agrees to assume the risk of any and all injuries caused by or any way related to snow, ice, sleet, rain, hail, or other Acts of God. Guest further assumes the entire risk
of injuries arising from recreational activities, whether or not related to the use of the Property, and agrees to release and indemnify Owner from and against any and all liability arising therefrom.
Governing Law: The terms and conditions stated herein will be interpreted by and governed under the laws of the State of California, and any action or dispute arising out of this Agreement or use of the Property shall be litigated where the Owner is domiciled in the State of California.
Attorney's Fees: If Owner consults legal counsel or a professional collection service for collecting any amounts due to Owner under this Agreement, Guest shall be responsible for all such costs and fees. In the event of any action or proceeding commenced by any party, the prevailing party in such action or proceeding shall be entitled to recover from the other party all costs and expenses thereof, including actual attorney's fees and costs.