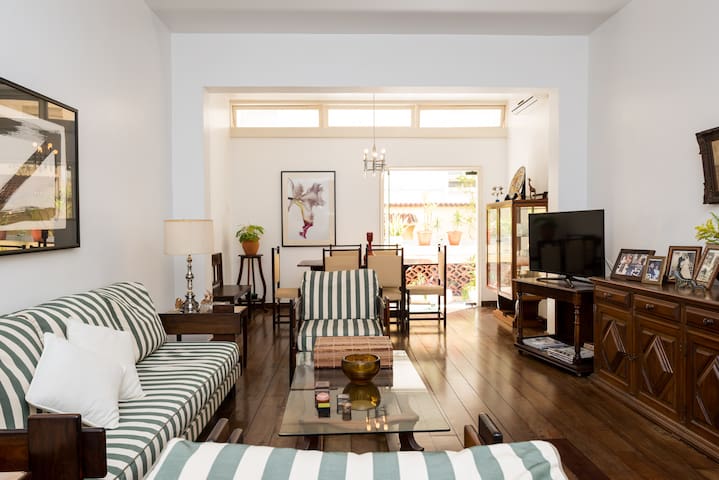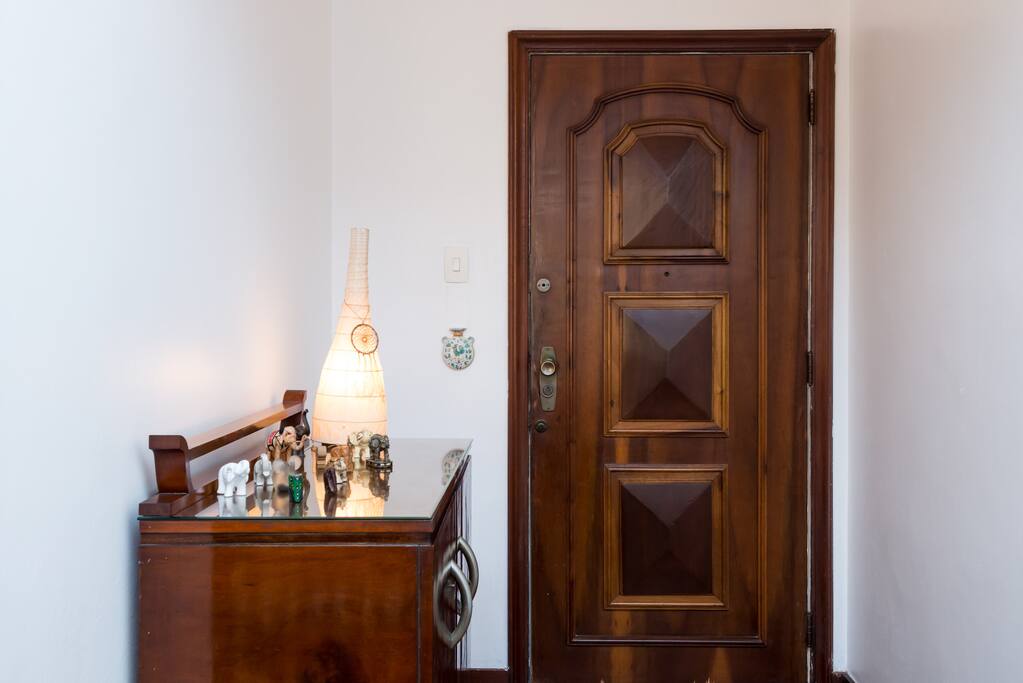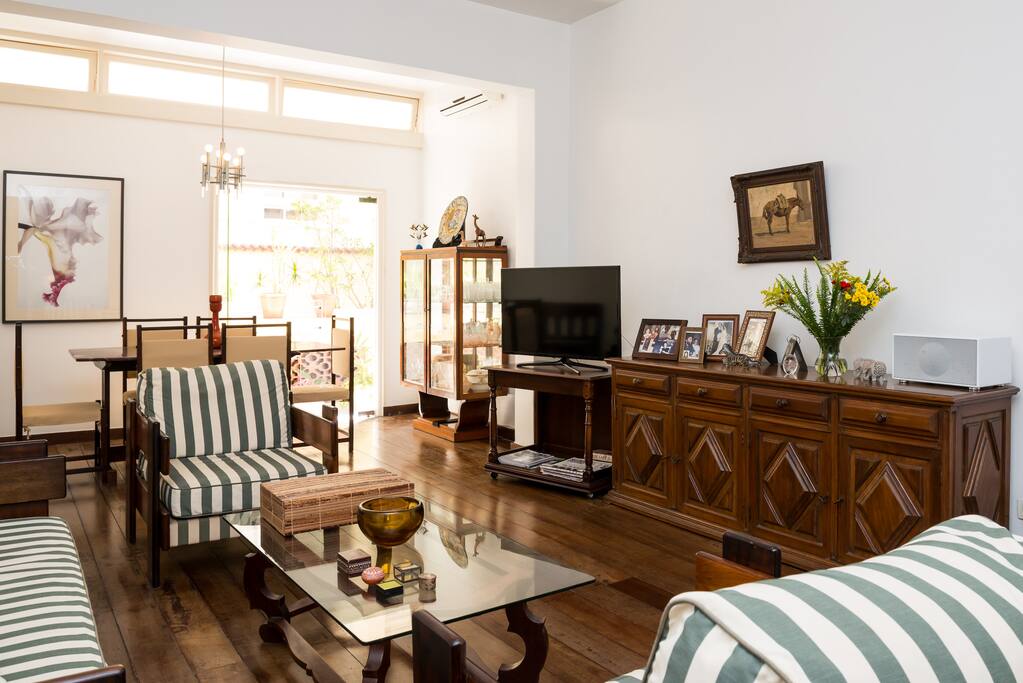 伟大的bdroom在一个很好的适应,空调,wifi,安静和通风的主要住宅楼,2张单人床(=双人),大共享浴室+卫生间。允许:使用厨房小餐,有线电视的客厅和带露天淋浴的外院。
Great bdroom in a nice apt.,air cond.,wifi,quiet and airy in prime residential building, 2 single beds (=a double), big shared bathroom+WC. Allowed: the use of the kitchen for small meals, living room with cable TV and external yard with open shower.
房源
我们提供一个舒适和沉默的卧室在我们的大而漂亮的公寓为客人谁想要享受我们的地区感觉当地人和家庭的一部分。如果需要,我们在同一间公寓提供一个非常优秀的卧室,请验证,复制下面的页面或查看我的个人资料: https://www.airbnb.com.br/rooms/4615661?checkin=28%2F10%2F2015&checkout=31%2F10%2F2015&guests=2&s=tKxD26sB
We offer a comfortable and silent bedroom in our big and nice apartment for guests who want to enjoy our region feeling as local people and part of the family. If necessary we offer an extra excellent bedroom in the same apartment ,PLEASE VERIFY,copy the page below or look at my profile:
https://www.airbnb.com.br/rooms/4615661?checkin=28%2F10%2F2015&checkout=31%2F10%2F2015&guests=2&s=tKxD26sB
房客使用权限
访客:浴室,卫生间,准备小餐的厨房,客厅和院子,科帕卡巴纳的真正绿洲。
Access for the guests: bathroom, WC, kitchen for preparing small meals, the living room and the yard, a true oasis in Copacabana.
与房客的互动
当我在城里时,我和我母亲分享公寓。我们是交流的,我们以与客人的关系为基础,期望征服一个好朋友。我们喜欢交流和丰富我们的文化宇宙的交谈。例如,我们了解很多巴西音乐的根源,并且可以提供很好的技巧。受欢迎的!
I share the apartment with my mother when I am in town. We are communicative and we base our relation with our guests with the expectation of conquering a good friend. We like conversation that exchange and enrich our cultural universe. We know a lot about the roots of the good brazilian music, for example, and can offer good tips into that. Be welcome!
其他注意事项
我们的要求是,客人在确认之前已经有Airbnb验证的ID。请在预订前填上经过验证的身份证明。 重要: - 在我们的网站页面,看看里约的地图,在那里我们标出了许多城市的提示。为了更好地看到它们,请通过地图左侧的图标放大地图,并点击每个提示以了解更多详细信息。完整信息只能在计算机中打开。在智能手机或iPad中,无法打开图标。 在以下页面上,该网站还提供了有关Rio的好消息: https://www.airbnb.com.br/things-to-do/rio-de-janeiro - 我们建议客人在出门时使用他们的文件的照片。
It is our demand that the guests have a verified ID by Airbnb before any confirmation. Please make the stamp of verified identification before the booking.
IMPORTANT:
-In our page of this site, look the MAP of Rio, where we have marked many tips of the city. For better seeing them, enlarge the map through the icon on the left of the map and click in each tip to know more details about it. The full information can only be open in a computer. In smartphones or iPad it is not possible to open the icons.
On the following page the site also offers good tips about Rio:
https://www.airbnb.com.br/things-to-do/rio-de-janeiro
-We advice our guests to bring a PHOTOCOPY of their documents to use when going out.
---
---
---
It is only allowed to smoke in the yard of our apartment. Alcohol beverage is allowed in moderate. Visits are not allowed. Pets are not allowed.
We believe that cordiality, respect,organization and cleanness are fundamental for a good relation between hosts and guests.
---
---
Carla and LàLà were the best! I was leaving in the mornings and coming back at night so I didn't spend too much time around the apartment itself but it's very clean and comfortable. Location is incredible. LàLà's breakfast and Carla's local recommendations made a great start to each day. Thanks!
---
What a nice family!! Dona lala is so sweet and genuinely cares about you and your experience. She doesn't speak any english and I don't speak portuguese, but we were still able to communicate with expressions. The house is very clean and comfortable. I got a key right when I got here and was able to go and come as I pleased. Very calm- perfect if you want to have the comfort of a house and the reassurance that you are just across the hall from someone who cares! The apartment guards/ doormen are really nice too and I established a great relationship with them as well. Made me feel very secure
---
We had an amazing stay in Carla's place. Carla's mom, Lala went out of her way to take care of us during our stay. We woke up every morning to the most delicious breakfast spread of fresh tropical fruits, omelettes, coffee and bread. While we had difficulty communicating with Lala verbally, we really felt her warmth and kindness. Carla was also very communicative and called several times during our trip to check in on us. The apartment is spacious, extremely clean and has a lot of character. There is also a huge outdoor space connected to the apartment with many charming plants. We loved our time in Rio and staying with Lala made the experience truly unforgettable.
---
Eu e meu namorado adoramos a Dona Lalá ! Sempre muito prestativa, atenciosa e ela arrumava um delicioso café da manhã todo dia com muito carinho ! O ap é muito perto da praia de Copacabana ! Tudo arrumado e tranquilo ! Muito bom.
---
Everything was PERFECT. Spacious room, beautiful home, perfect location, couple blocks from the beach, half a block from the subway, plenty of bars and restaurants around. And the best part yet, Lala (Carla's mother) was there to be the greatest host possible. Organizing breakfast every morning, and around to keep great conversation. It felt like I was at home with my own grandmother. She was so sweet. If I could leave a 10 star review, I would. :)
---
My fiancé and I visited Rio for my 30th birthday, and wanted to stay somewhere comfortable that wasn't too fussy. I found Carla's post on AirBnB and it lived up to everything she said it was and more. With an added bonus of her loving and charming mom, LaLa. The location sits perfectly in Copacabana, a 5 minute walk to the Metro, and a few blocks from the beach. The convenience of a 24 hour doorman was perfect for our late nights out in the city. Both Carla and LaLa were excellent hosts!! Being bilingual was a big help since we didn't speak Portuguese. Born and raised in the area, Carla was a great help at giving advice, safety tips, and suggestions on places to go (which were all amazing recommendations) She sat down with us to show us maps and help to make the most of our visit, answered any questions we may have had, and was truly the warmest and most welcoming. When traveling, while we love to see some tourist attractions, we really love to do, eat, and see things like locals do to gain a real experience of their culture. Staying, and interacting with hosts who were born and raised in the area contributed greatly! We're so grateful! LaLa made breakfast for us every morning, which quickly became my boyfriends favorite, she's an amazing cook! Though she doesn't speak any English, her kindness was the best means of communication, and we spent some time together talking about our families, and got on great!! The apartment itself was incredibly charming, with sweet touches that made you feel at home, and you're given your own key so you can come and go freely..the wifi saved our lives on data plans! I can go on and on, but really, if you're visiting Rio, and want to feel relaxed and truly enjoy yourself, please don't hesitate to stay here. Both Carla and LaLa contributed to make this the most amazing experience for us both. Great location, great people, great place..what else do you need? If you've never experienced a stay at Carla and LaLa's while in Rio, you're missing out, we hope to visit again in the near future!! Muito obrigado por nos receberem em sua casa!!
---