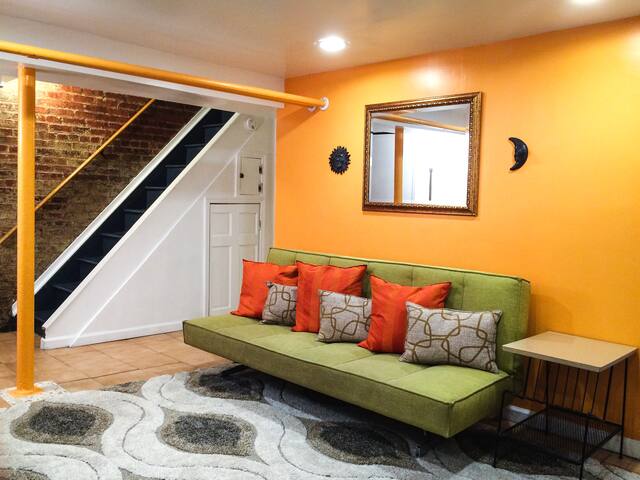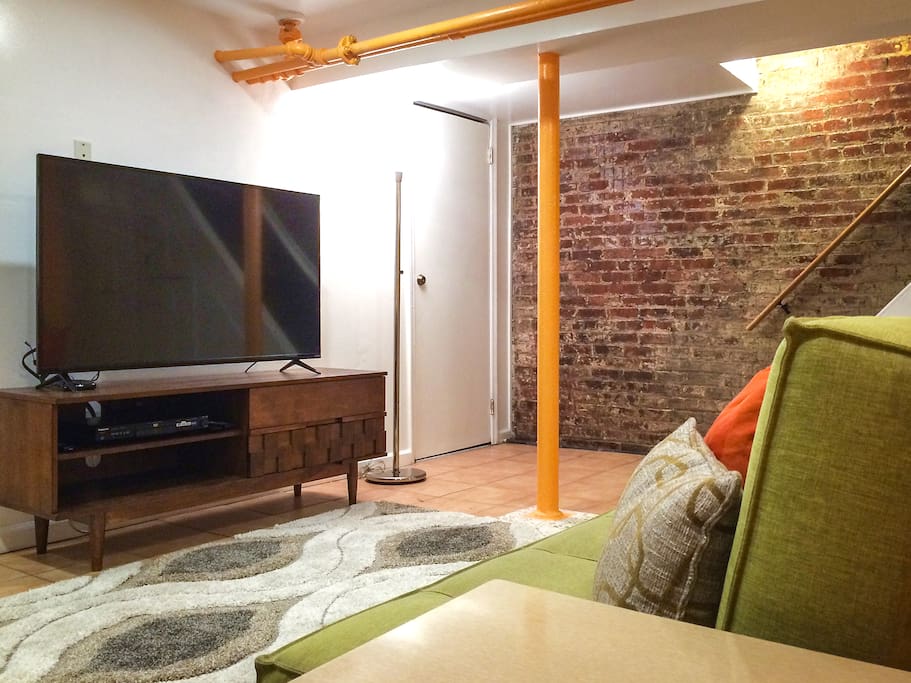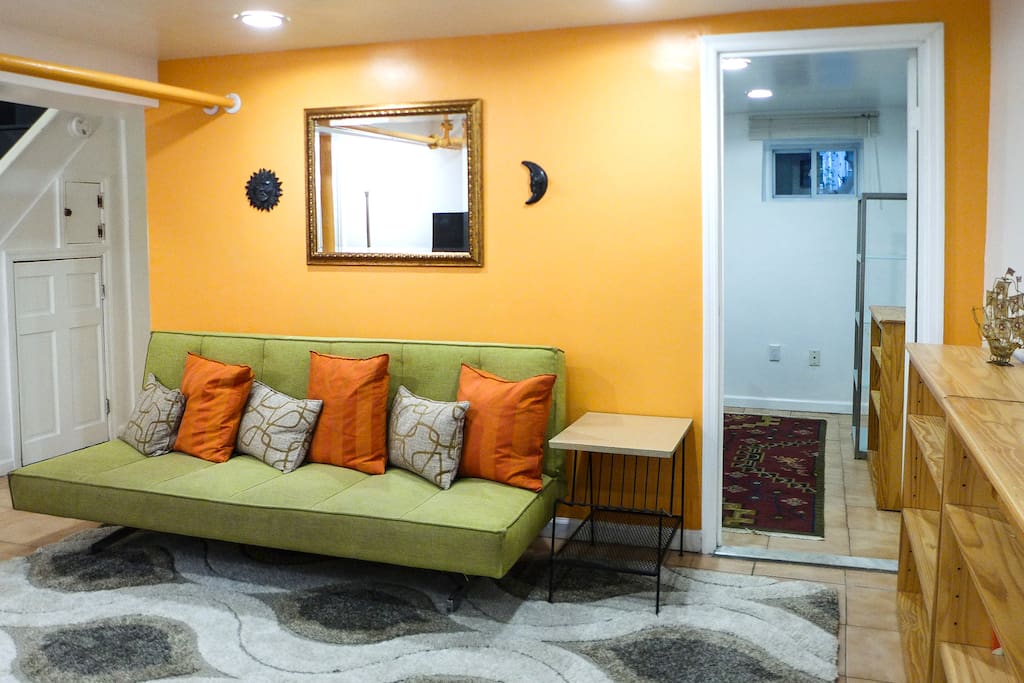 Stylish 1BR Retreat Near 3 Subways! ~ Laundry+Yard
Welcome to Flatbush! ~~ A multicultural, hip-yet-authentic neighborhood ~~ Stylish, affordable, PRIVATE retreat (your own entrance, bathroom, kitchen, washer/dryer) in a 1912 townhouse ~~ Walk to 3 SUBWAYS (Q, 2, 5) in 7-12 minutes ~~ Explore FOODIE PARADISE on nearby Cortelyou Road (restaurants, bars, cafes, organic groceries + boutiques, yoga studio, 4 gyms) ~~ See a show at the historic KINGS THEATRE, just 3 blocks away ~~ Relax or BBQ in the BACKYARD ~~ Walk to Prospect Park in 20 minutes!
---
---
---
---
---
Our house rules are pretty much common sense:
- No smoking (or tobacco products of any kind) indoors, please. Feel free to smoke in the front or back yards, however.
- No gatherings or parties during your stay, please. When you reserve, you agree not to bring companions or friends/guests into our home that are not part of your original reservation.
- Please take off your shoes inside. We provide slippers for your comfort!
- Please conserve energy. Turn off all lights, air conditioners, etc. whenever you leave the house.
- Please recycle (we will get fined by the city if we don't comply).
- For everyone's safety, please do not allow strangers into the building—even if they claim to work for NYC or a utility company.
- We welcome quiet, well-behaved dogs if you seek approval in advance.
您还必须确认以下情况
需爬楼梯 - There are 5 stair steps at the entrance and 5 stair steps to the backyard.
可能会有噪音 - Our house is 105 yrs old, so you might hear us and our dog upstairs at times. Also, the heating system (from 1912) makes noise whenever it cycles on.
房源里不能停车 - We do not have reserved parking, but street parking is free. Cars must be moved 2-3x/weekly for street cleaning (read signs carefully).
便利设施缺陷 - Windows in BR & kitchen only; ceilings 7-8 feet high; auto-repair shop next door; no oven or dishwasher.
---
---
---
---
THE KINDEST HOSTS! We communicated and met with Amy when we arrived. Amy provided wonderful information, and periodically checked in with us to make sure we knew how to get to the house and that we understood where the house was located. When we arrived, she gave us a tour of the house and explained where everything was located and how to operate items (ex. how to turn on the portable air conditioner, how to shut the freezer, etc). Very thorough and very helpful. The garden apartment seems to be more spacious in person than what the pictures display. The apartment overall was quite comfortable. Never felt like the space was too tight. Bed very comfortable firm mattress. We ran into some issues with different critters getting into the apartment, and Amy was quick to help! Amy and Scott make it VERY clear in the description that the neighborhood is mixed residential/commercial. It is right next door to a car shop. If your goal is to stay in a more gentrified (cool little coffee shops, restaurants that serve craft beer, and yuppies walking/running the streets) - I don't think this location would be the best fit. We caught the bus and train everywhere, and this isn't super close to places like Bed Stuy, Fort Greene, and Williamsburg. HOWEVER, if you're okay with being a bit further from the hipster-type neighborhoods, are okay with being in a predominantly black/hispanic neighborhood (we're Black, and we saw more people that looked like us, than that didn't look like us in this area.), want to save a bit of $$ (we found flatbush air bnbs to be less expensive and more available than areas like cobble hill, park slope, bed stuy, etc), and don't need certain amenities (like central air), this would be a perfect fit. As far as food, we only ate once in Flatbush at a pizza place called "Wheated". Pretty good artisan-style pizza. The places close to the apartment gave you the feel of family owned places. They didn't look very inviting from the outside, although they may have had excellent food. We just hadn't tried it. As far as getting around, B49 is probably the closest bus stop and is nice to take because it's only about a 3 min 'normal' walk from the apartment. We eat a plant based diet and had a tough time finding food places that catered to our diet near the apartment. However, we did find an awesome restaurant in Manhattan called "Candle Cafe". Awesome vegan food. Try the cauliflower bites and truffle fries. YUM. To wrap up, Amy was super nice and an incredible host. It was my bday during the trip, so she was so sweet and left a bottle of white wine in the apartment with bday confetti, and a sweet handwritten card. On top of that, she asked what we ate. We told her we eat a plant-based diet, and she had almond milk, cereal, fruit, and whole wheat bagels waiting...
Brittany, we love that you view us as "the kindest hosts"! :-) Thank you so much!! We loved meeting you and Kevin! Yes, as you point out, we say in our description that our house is located on a mixed commercial/residential street (see "Other Things to Note") and all kinds of people live in Flatbush (see "Our Neighborhood"). Our corner of the neighborhood is predominantly Caribbean/Latinx, and our neighbors are awesome! I'm sorry you had trouble finding restaurants nearby offering vegan/plant-based menus. We do have some amazing restaurants with veggie options on Cortelyou Rd (15-minute walk): The Farm, Mimi's Hummus, Purple Yam, Manchego, and Cinco De Mayo. Like you, we love Wheated (totally worth the walk) and Candle Cafe (totally worth the subway ride)! Thanks for staying with us, and we hope you return to Brooklyn soon!
---
My wife and I stayed at Amy and Scott's place for 3 weeks because we had just moved to the city and needed a "temporary" space until we found our permanent home. We can't say enough about Amy and Scott, they are really great hosts: very attentive to our needs, always available if a question arises, and really laid back and easy going. We had the pleasure of spending some time with Amy and Scott during our stay and are leaving this experience with two kind and thoughtful friends. In regards to the space, it is really warm and inviting. We were greeted with a bottle of wine and welcome card upon our arrival, which made us feel right at home! We loved the private entrance with key pad entry, so we didn't have to worry about carrying around keys. We also loved the proximity to grocery stores (1-2 blocks away) and metro stations, which made it easy to travel to nearby neighborhoods and even go into the city. Amy has created a very detailed house manual that explains the various transportation options and ideas about local entertainment and restaurants, which was super helpful as we navigated our way through a new city! Amy & Scott were also very accommodating to our furry friend, our Lhasa Apso, Teddy. They made a point to come down and meet Teddy and Amy even brought him some organic dog biscuits during our stay! They also let us enjoy a "puppy play date" during our stay so Teddy could meet Mabel, who is sweet and very friendly. If you are looking for a quiet and restorative place to escape the sounds of the city, we highly recommend that you stay with Amy & Scott!
---
Amy and Scott have been such an amazing host thus far! We have a really great time staying and their beautiful and cozy apartment. They had been extremely informative about how to get there, what's around the neighbourhood. It definitely was more than a place to stay as they provide a file of what things we could explore in Brooklyn in details, so we really make the most of our trip! Since my flight landed early they even accommodate us to check in early since there was nobody staying the night before. They really did amazing job to do their very best to accommodate us. The door is also a pin system so I we don't have to worry about losing keys which is a plus. Everything was an amazing experience!
---
Amy met us at the door and gave us a complete tour of the apartment, its many appliances and creature comforts . She also provided an orientation to the detailed user's guide she and Scott have developed, which includes operating instructions, a listing of several neighborhood amenities, and access to transportation. Her introduction also included personal favorite restaurants and nearby shopping venues. The apartment is well-heated in winter (our visit was in December), the bed very comfortable, and the kitchen perfect for light meal prep. In short, we lacked for nothing. We also found Brooklyn to be full of attractions, including the renowned Brooklyn Museum, to have a lively neighborhood spirit and to be and very accessible to Manhattan. We are very likely to return for another stay on Bedford Avenue.
---
Amy and Scott were the most wonderful hosts I've ever had, they were incredibly pleaseant and accomadating. And beyond that, they were extremely patient and understanding of a situation that was constantly shifting. I was lucky to have stayed with them
---
Dear Amy and Scott, thank you so much of the surprise , we had a wonderful trip! We spent 11 nights here, they have everything for us. The house is comfortable and clean, it's so convenient that we can use washing machine and clothes dryer! They have everything we need in the kitchen, so that we can cook everyday. We also enjoy the movie with Netflix every night! Amy helped us a lot when we had any problems and questions! It's so safety even we are 2 girls walking around at night! We will miss the trip so much! Hope can see u both again when we come back!
---
We are professors who teach in the City University of New York (CUNY) system; our house is located within walking distance of our campus. Although originally Amy came from California and Scott from Michigan, we have lived in New York City for more than 20 years -- most of that time in Brooklyn, the borough we love. When we're not teaching, we're usually traveling. We love cooking at home and we also seek out interesting local food and restaurants, both at home and elsewhere. We love theater, music, writing books, learning about wine, adventures to new places, and animals of all kinds.
语言:
English、Türkçe