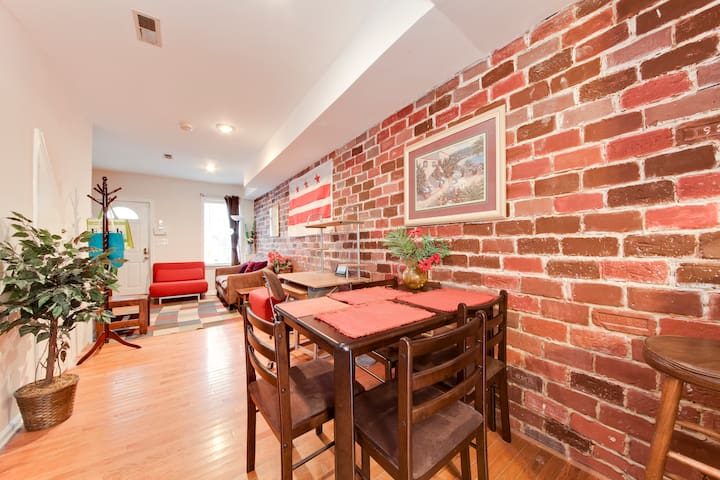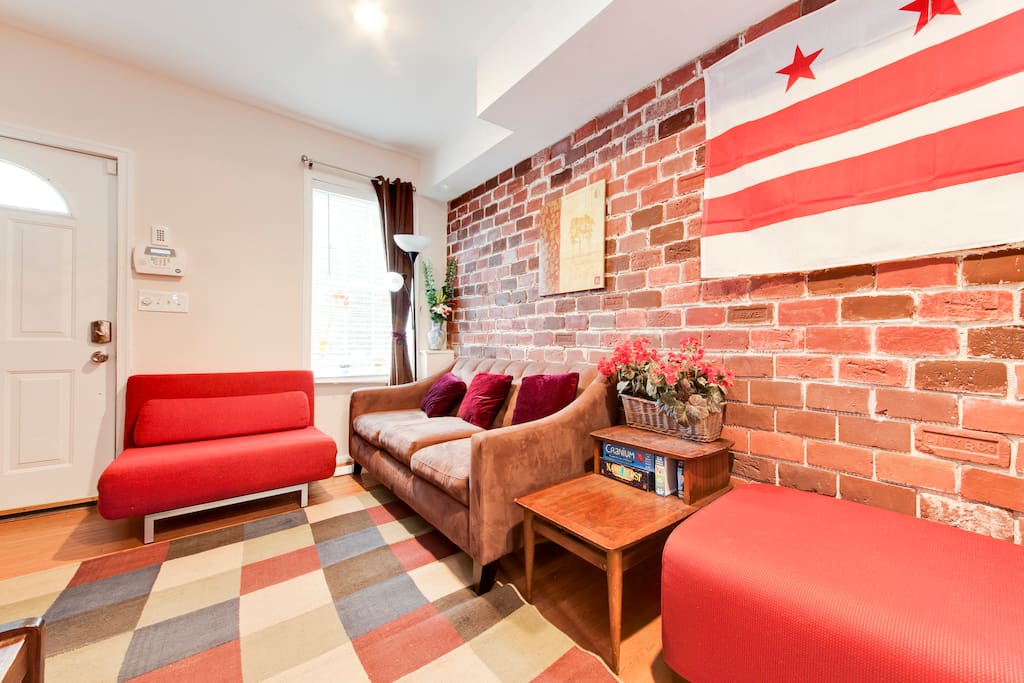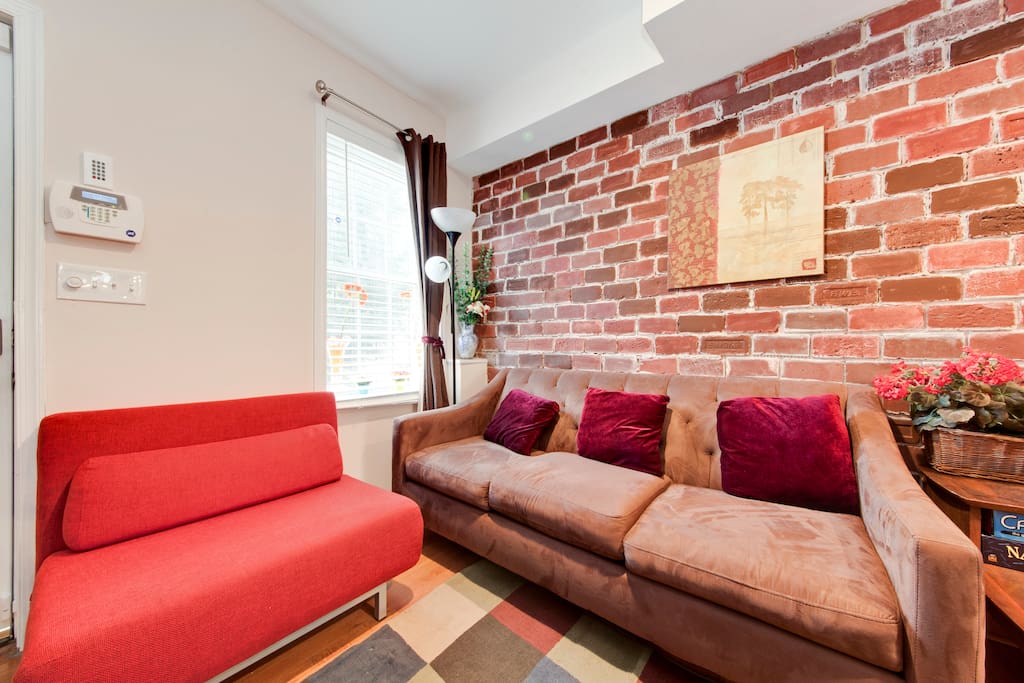 获得真正的DC体验!当您入住熙熙攘攘的U街走廊时,您将享受便利和娱乐。我的排屋距离U街地铁站仅两个街区。餐饮,娱乐,零售,杂货等都在U街和第十四街步行不远。会议中心只有两个地铁站在南部的绿色或黄色线在Mt.弗农广场。 这是一个整个排屋,有一个后庭院。
Get a real D.C. experience! You'll enjoy convenience and entertainment when you stay in the bustling U Street Corridor, part of the hot Shaw neighborhood. My rowhouse is located just two blocks from the U Street Metro. Restaurants, entertainment, retail, groceries and more are all within a short walk on U Street and 14th Street. The Convention Center is just two Metro stops south on the Green or Yellow lines at Mt. Vernon Square.
This is an entire rowhouse, with a back patio.
房源
参观华盛顿特区,为工作,乐趣和/或乐趣?来到DC最有活力和文化丰富的街区,U街走廊!如果你想能够沉浸在DC,夜生活场所 - 用餐,爵士乐俱乐部,独立音乐会,舞蹈,时尚俱乐部和休息室,甚至是智力刺激 - 没有比U街走廊更好的社区。你不会无聊留在这个社区。 位于市中心的住宅是一个舒适,私人的单人家庭2 BR / 2.5 BA排的家庭,距离绿色和黄色线(第10街和U St NW地铁入口)的U Street-Cardozo地铁站两个街区。几条忙碌的巴士线路在短距离内。这个位置距离市中心,第十四街,哥伦比亚高地,亚当斯摩根,杜邦圈以及许多其他社区在DC。也很容易到达会议中心(南部两个地铁站),国会山和国家购物中心。 您将可以进入房屋和后院。楼上有两间卧室和浴室(两名以上客人需额外收费)。客厅设有一张沙发和额外客人的被褥。总而言之,五六个客人可以舒适地睡在房子里,虽然"真正的"床可容纳4人在楼上。当您预订时,您将不会与任何其他Airbnb宾客(甚至我)共享房屋,这只是您和您的船员。 自此,1905年的家庭已经更新,尽管没有所有最新的HGTV"触动"。尽管如此,您将会以舒适的价格与您的标准酒店相比提供更多便利设施! 房子包括无线网络连接和有线电视服务。洗衣房在现场。 鼓励客人利用华盛顿特区的公共交通系统,避免驾驶。
Visiting Washington, DC, for work, fun and/or pleasure? Come stay in DC's most vibrant and culturally-rich neighborhood, the U Street Corridor! If you want to be able to immerse yourself in DC,'s nightlife scene--dining, jazz clubs, indie concerts, dancing, trendy clubs and lounges, and even intellectual stimulation--there is no better neighborhood than the U Street Corridor. You will not be bored staying in this neighborhood.
Your centrally located residence is a cozy, private, single-family 2 BR/2.5 BA row home, located two blocks from the U Street-Cardozo Metro station on the Green and Yellow lines (10th St and U St NW Metro entrance). Several busy bus lines are within short walking distances. This location is minutes away from downtown, 14th Street, Columbia Heights, Adams Morgan, Dupont Circle, and many other neighborhoods within DC. It is also easy to get to the Convention Center (two Metro stops south), Capitol Hill and the National Mall.
You will have access to the house and back patio. There are two upstairs bedrooms and bathrooms (there is an additional charge for more than two guests). The living room has a couch and futon for additional guests. All in all, five or six guests can sleep comfortably in the house, although the "real" beds accommodate 4 people upstairs. When you book, you will not be sharing the house with any other Airbnb guests or even me--it will just be you and your crew.
This 1905 home has been updated since then, though it does not have all the latest HGTV "touches." Nonetheless, you will be comfortable and have more amenities than your standard hotel at a killer price!
The house includes WiFi internet and cable television service. Laundry is onsite.
Guests are encouraged to make use of Washington, DC's public transportation system and avoid driving.
房客使用权限
The entire house...except for one locked storage closet and any utility closets.
与房客的互动
我与客人的互动是根据客人的需求和可用性(我旅行和全职工作)。我的房子是为了自助登记和完整的独立经验而设立的 - 我本人真诚地向我提供了整个房子。凭借这种信任,我鼓励您在冒险进入邻里和城市时将其用作您的基地。但是,我可以通过电话(电话或文字)或电子邮件。如果您需要我,请不要犹豫,打电话或文字,我也会每周至少检查一次,具体视您的逗留时间而定。如果您是想要与我更多互动的客人,请告诉我,这是您需要的,我们可以讨论让我们舒适的最佳方式。 请注意,您对所有住在我家的人的行为负责。此外,您可能会因为没有付款而留在我家的客人受到处罚和解雇。 我鼓励客人每周与我签约,让我知道他们没事,事情进展顺利。一个简单的文本就足够了
My interaction with my guests is based on what the needs of the guest are and my availability (I travel and have full-time job). My house is set up for self-check-in and a complete independent experience--I essentially provide my entire house to you in good faith. With this trust, I encourage you to use it as your base as you venture into the neighborhood and city. However, I will be available by phone (call or text) or email. If you need me, do not hesitate to call or text, and I will also check on you, at least once weekly, depending on the length of your stay. If you are the kind of guest that wants more interaction with me, please let me know that this is a need of yours, and we can discuss the best way to make both of us comfortable.
Please note that you are liable for the behavior of all persons staying at my house. Further, you may be subject to penalty and dismissal from Airbnb for any guests who stay at my house whom you have not paid for.
I encourage guests to check in with me weekly just to let me know that they are okay and that things are going well. A simple text will suffice.
其他注意事项
查看 退房时间为上午11点 - 如果您需要提前离开,请提前通知我,以便我能够容纳。当你离开时,我要求客人将二手床脱落,并用毛巾将床上用品编成所提供的白色洗衣袋。如果客人洗碗,我也会感激(洗碗机可用)。 如果垃圾超过厨房垃圾箱,请将您的袋装垃圾放入前花园的垃圾桶(被树木和植物遮蔽)。不应将垃圾放在后面的露台上,包括在垃圾桶内。 如果您在家中重新安排家具或移动物品,我会非常感谢您在出发前找到他们。 重要提示:可能影响您的存款的事项 我非常感谢你不要永久删除房子里的物品。把所有物品放回你找到的地方很重要 - 如果我找不到这些物品,我可别无选择,只能报告他们失踪,并向您的存款提出了一个有关Airbnb的索赔。 ***每次访问前后,我都会对我的财产进行检查。如有损坏(包括染色)或需修理,请通知我***
Check out
Check-out time is 11 a.m.--if you need to leave later, please notify me in advance, so I can see if I can accommodate that. When you are leaving, I ask that guests strip the used beds and compile the bedding with the towels into the provided white laundry bags. I'd also appreciate if guests would wash their dishes (the dishwasher is available).
If trash exceeds the kitchen bin, please place your bagged trash into the front garden's trash bin (obscured by the trees and plants). No trash should be placed on the back patio, including in the bin.
If you rearrange furniture or move items in the house, I would appreciate that you place them back as you found them before your departure.

Important: Things that may affect your deposit
I thank you in advance for not permanently removing any items from the house. It is important that you place all items back where you found them--if I cannot find the items, I may have no choice but to report them as missing and place a claim with Airbnb against your deposit.
***I do an inspection of my property before and after every visit. If something becomes damaged (including stained) or needs repair, please inform me.***
---
---
---
---
Please be familiar with these rules, as they may factor into any review I leave for you:
Please notify me of your expected check-in and check-out times (with respect to my established times). I'd like to know when guests arrive at my house and depart.
It is not permissible for you to allow guests, whom you have not paid for, to stay at the house for free. Those who violate Airbnb rules may result in penalty and dismissal from Airbnb.
Smoking is absolutely not permitted inside the house or the premises (front garden and back patio). Pets are also not allowed. I will make a claim against the security deposit if evidence of smoking or pets are found.
Parties and events are not permitted inside the house or the premises.
Do not permanently borrow any items found in my house.
***Violations of the rules above will result in me contacting Airbnb and filing a monetary claim***
If you move items or furniture, please place them back where you originally found them.
Guests are responsible for the daily cleaning of the house. On check-out day, please strip the used beds and compile bedding with used towels into provided laundry bags. Avoid staining my linens and towels--if you do, please do your best to remove stains. Those who wear makeup should not remove it with my white towels. Also, please wash all dishes (dishwasher is available).
Responsible and considerate use of the utilities is expected. Excessive use of water, electricity, or gas will result in a charge to the guest(s).
Please do not unplug or tamper with the Xfinity Home system.
Please treat the house and all of its furniture, appliances, fixtures--everything--with care. I know every stain, scratch, or ding that is new. If you stain an item, please take care to not let the stain set.
**Important**: I will not be providing a key. You will be provided a code to enter AND exit the house with a key pad. The key pad controls the deadbolt. The bottom knob will be left unlocked. If you lock the bottom knob when you exit, you will be locked out of the house.
If you plan to bring a vehicle, please notify me in advance (no later than the day before you arrive--I may not be able to fulfill a same day request, so please plan ahead). I will need your license plate number and state to get you a pass for on-street parking.
---
---
---
I moved to Washington, DC, in December 2005, and have been enjoying it ever since. I find it to be a great city for work and pleasure.

I love my neighborhood--the U Street Corridor. In my biased opinion, it is perfectly located within the city to give you easy driving, walking, or public transportation access to all that DC has to offer.

I live a very busy life--thanks to work and family. There is a strong likelihood that you will not meet me in person. That does not diminish my commitment to providing you with a nice place to stay during your visit to DC. I am available to communicate and answer questions--thanks to the wonders of technology-- and would certainly get over to the house in an emergency (or send a trusted agent).

Communication is very important, particularly for those intending to stay at least one week. My guests should not hesitate to contact me via email, text, or phone call. I am respectful and expect the same in return.
语言:
English、Español、Français