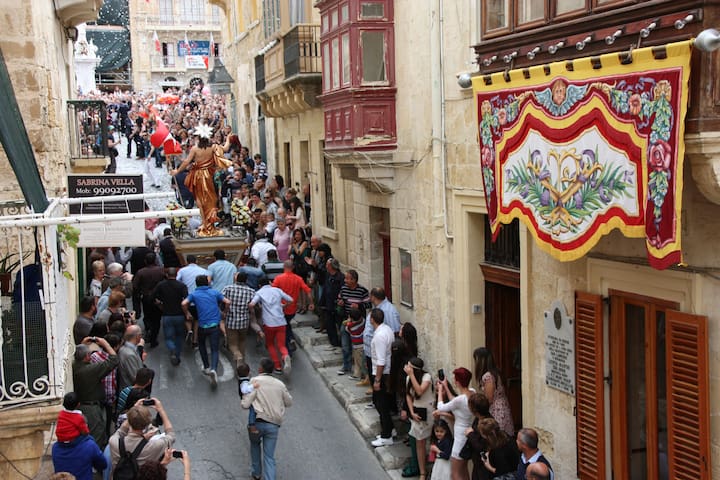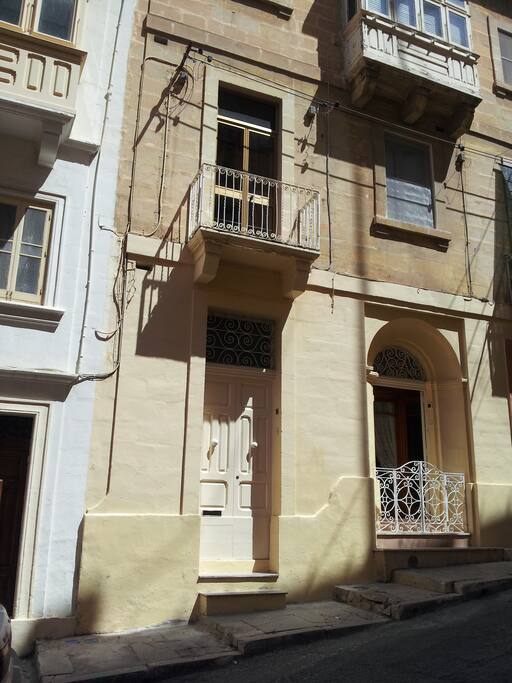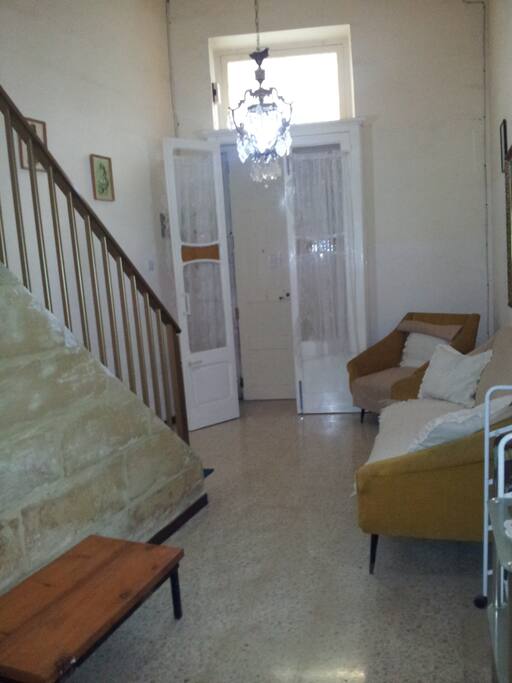 房源
This cosy townhouse is located in the middle of the city. It is close to all amenities as well as the Waterfront and just across the water from Valletta the capital city.
Guests will have this property all for themselves and also has free wi-fi
We live next door!
This property is situated a few metres away from the Vittoriosa Marina & the main square of this medieval city. Shops, restaurants, cafes, wine bars, museums, churches are all within walking distance together with Fort St. Angelo which dates back from the times of the Arabs and offers a stunning view of the Capital City Valletta a City built from Gentleman to Gentleman.
A grocery store, a baker, a pharmacy with Doctors in attendance every day, a dentist, a hairdresser, taxi service are all nearby, whilst a fish hawker calls 2 times a week.
You will also find a wide variety restaurants both in the city and in the Marina.
Vittoriosa is away from the tourist hub but is still within easy reach of all island attractions. A water taxi will take you to Valletta in about 15 minutes whilst boat trips around the Grand Harbour are also available. The bus stop near the house is 'Birgu Centre'. Only bus No. 2 departs from arrive at this bus stop. The bus terminus is also close by. You could walk to it 'Riche' (5 minutes) where there are more options for buses.
---
---
Show courtesy to neighbors
---
Martin's place is as described, a nice cosy place right in the heart of Birgu and close to everything you would want to do there! It's a simple place which is perfect for couples or even bigger groups. I would have wanted to stay for longer - if you talk to Martin you may be able to get a longer term deal. Martin is SUPER fast to respond to messages, in fact the time between my enquiry and actually getting into the room was something like an hour! I was greeted by his Dad and then we went for a game of pool, so it was a very personable experience. All in all i highly rate both the property and the management of this air bnb account! Book away!!!
---
My friends and I stayed in Martin's property for 5 days and it was one of the best holidays we have had. The 2 floored property was very well located, in the heart of Birgu (Vittoriosa) and just 1 minutes away from the bus stop. If you like to spend your holiday in quiet place with many local restaurants and spectacular views, Birgu is the best choice. From Birgu you could admire Valetta's buildings or port with ferries and yachts enjoying delicious food in the meantime. When it comes to the property, it was clean, tidy and equiped with all stuff you need during holiday. You have 2 bathrooms, 2 bedrooms (there is a fan in each of them - very useful in summer) and one dining room with kitchen. There is also a washing machine. Martin's neighbors next door are all the time in place and they are very nice and ready to help. The contact with the owner was very good. It is worth to underline that when we arrived on Sunday afternoon, all convenience stores had been already closed but Martin had prepared for us some breakfast products for the next day. I would definitely recommend Martin's place for holiday in Malta.
---
I suspect this may be the most ideal location to stay when visiting Valletta. The house is situated in the oldest part of town so the surrounding buildings are beautiful whichever direction you look in. Literally at the top of the road is a lovely square with all the facilities you may need - shops, snack bars, restaurants, bars and pizza takeaway. Then at the bottom of the road (just passed the awe inspiring St Johns church) is the modern sea front where there are many bars selling a good range of food at reasonable prices with superb views of the harbour and luxury yachts. Also from the sea front there are river taxis that take you to Valletta in five minutes, the tourist bus also collects from the same place and the bus service regularly stops in the square with other options just a short walk away. The 'Malta at War' museum and the Inquisitors Palace are both very worth a visit and are within five minutes walk of the property. We hired a car while staying in Birgu and very much enjoyed the swimming and plunging to be found at St Peters Pool and next to the Blue Grotto - both about 30 minutes drive away. The hosts are brilliant - Martin is super fast at replying to queries via messages and Emanuel is a font of knowledge and lives next door to the town house. We can't thank them enough for making our first visit to Malta so perfect and I fully intend on returning to experience more of the vast heritage in this beautiful place.
---
We stay 1 week in Birgu. The flat is well located with everything you need close to the door (post, shop, restaurant, cafe) ! Martins father was very helpful, he showed us the house and some great places next to the house ! Another positive point is that the house is located in a very traditional street where we can meet friendly malteses. We enjoyed our week in Malta and will recommend Martin's house to everyone who wants to have a wonderful trip in Malta !
---
Very nice house where you can live, sleep and make some food. Very complete house! Martin is a very good host. When you need some good advice about the Island you can text him with the Airbnb app. He answers very quickly with helpful information. His dad, Emmanuel, showed us the house, shops and the swimming place (which is a huge plus in summer). Very very nice people it was great to meet them. Are you considering for a place in Malta; I would recommend this. Martin, Emmanuel: thanks for all!
---