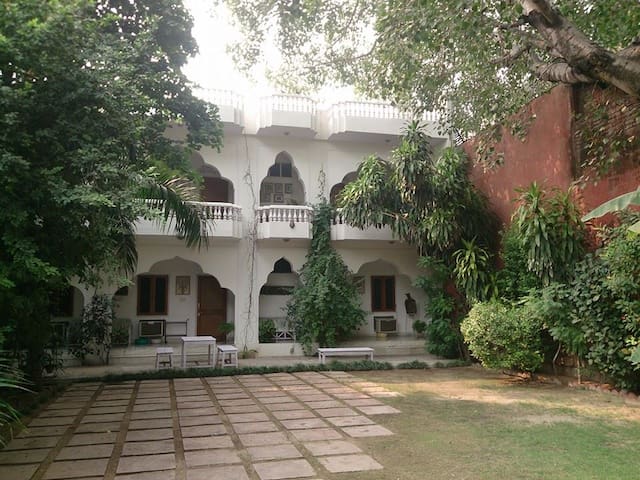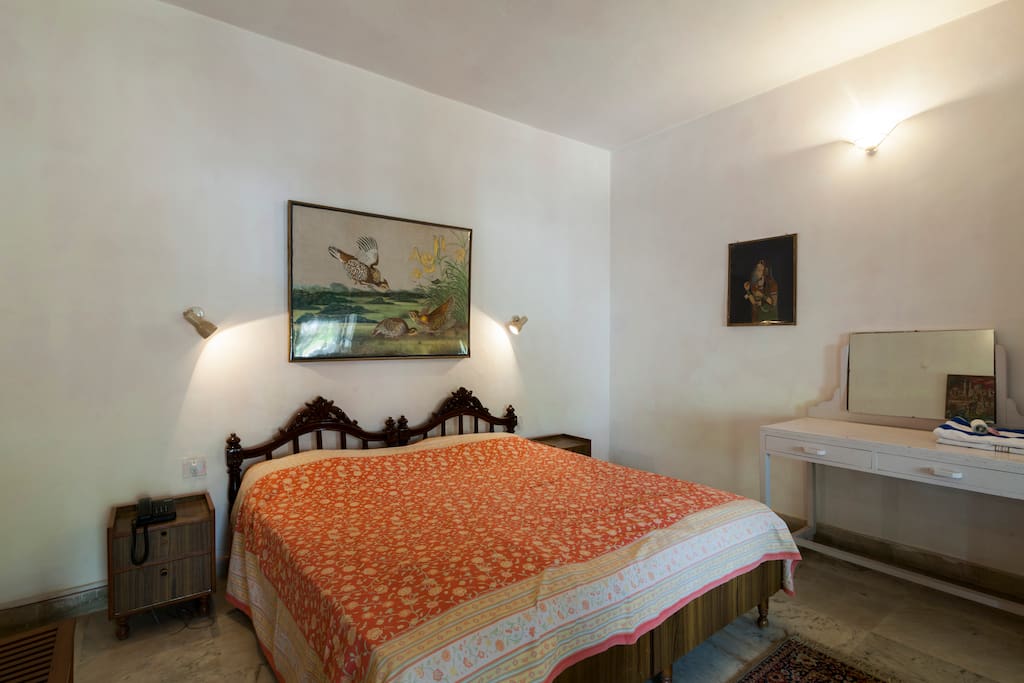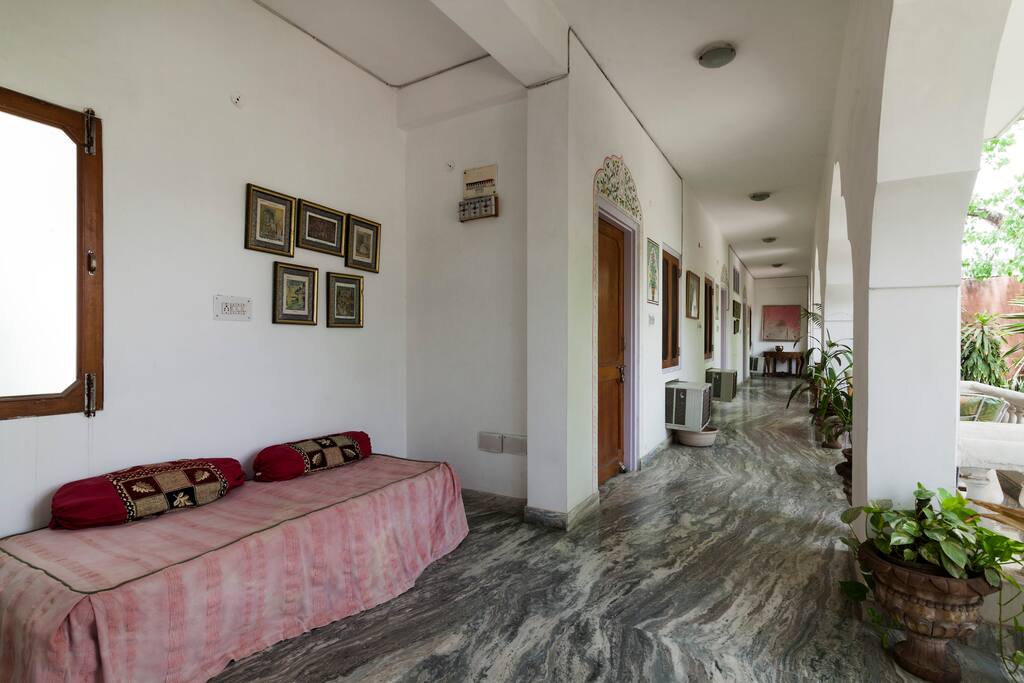 Shahar Palace - The Peacock Garden
超喜欢这家叫shahar palace 的民宿,房东是个已经退役的老爷爷,整个花园很有历史感,居然还有野生的孔雀时而出入,感谢[玫瑰]
---
我们当天到达时房东派车来车站接我们,并一直等候我们到晚上10点多钟.房子的大花园\走廊\饭厅非常漂亮在城市里是非常难得的,唯一遗憾的是房子内部设施比较陈旧.特别是洗手间.房内没有写字桌椅,房东说第二天送来也没有送,不太方便,如果改造一下就好了.房东很有艺术品位和贵族气质.
Dear Yong Hong, Thank you so much for writing us such a positive review. It has always been our endeavor to make our guests feel as welcome and comfortable as possible and reviews like yours make us feel successful at it. We are glad you enjoying the hospitality and services that we offered. Thank you for the recommendation and we look forward to hosting you all again in the near future. Warm regards, Fateh.
---
The place is as it appears in the photos, very nice and cozy and with a great garden (which should light up at night to enjoy it more). It is located in a quiet neighborhood, further away from the center of what the advertisement says (the Hawa Majal, for example, is about 6 Km. Away). Cleanliness is good. Due to the management I had to lower the rating (as did an earlier guest) for the following reasons: 1. When we arrived and checked in we were offered if we wanted to have tea or water. We understood that it was a kind welcome, and we ordered tea for one person and water for the other 2 (we traveled 3 people). They brought us a bottle of water, a jug of tea and 3 cups (which were dirty). Our surprise was at the check out when these drinks appeared in the expense note. 2. Since we were going to stay 3 people in the room, we had requested an extra bed. The extra "bed" was actually a mattress on the floor that we had to prepare ourselves. 3. There were power outages up on 5 occasions, I understand that this is not the fault of the hosts, but they did not give us any explanation and they brought a candle for quite some time afterwards. 4 We were tired and decided to have dinner there. We ordered a cheese sandwich (very expensive): They were 2 slices of loaf of bread with a slice of cheese type tranchetes that had not even been heated or toasted. 5. The communication with Nalini was good but I can not say the same thing about its employees: they do not even have basic knowledge of English, you have to ask for things several times and even write them so they can assist you. I sincerely believe that they should improve these aspects since the accommodation is good and comfortable.
---
This place reminds me of an old stately home fabulous on the outside basic on the inside. Having said that the room was clean and functional and suited our needs. Room service was available until 10pm and someone was always around to help with any problems or call rickshaws etc. Colonel Singh made our stay, his manner was typical for a man from his background (what we would refer to as aristocracy) and a former officer in the Indian Army. He was fascinating to talk to with some great stories. (make sure you check out the photos in the office) We thoroughly enjoyed our stay
---
The place was quite and clean as per the description. The poor rating is because, 1. It has mentioned B&B but breakfast is not free. It was quite expensive. 2. In the breakfast coffee mugs where not clean and even after mentioned to the workers, no one changed and ignored the request twice. 3.we took 2 person and 3 person bedding arrangements. For the 3 Rd person only an additional quilt was provided without providing a proper bed. Even to get this have to request several time, ended up sharing the bed. My girlfruend parenrs felt uncomfortable to request the things again and again. If you are booking please make sure the arrangements and breakfast. Apart from that everything was comfortable :)
---
沙哈尔宫由沙哈尔正式的皇家家族拥有,Virendra Singh上校(retd)和他的妻子Nalini.The Heritage Hotel酒店在斋浦尔提供一些最好的住宿,提供一系列舒适和服务,真正的豪华氛围。
Shahar Palace is owned by the formal royal family of Shahar, Colonel Virendra Singh (retd) and his wife Nalini.The Heritage Hotel provides some of the finest accommodation in Jaipur, with a host of comforts and services in a truly regal ambiance.
房源
一座遗产,坐落在斋浦尔市中心。斋浦尔因其深层次的遗产文化而闻名。沙哈尔宫为您提供一个放松身心和体验传统生活方式的机会,国际旅游者以舒适的住宿体验名义价格。 该物业提供12间卧室客房,附有连接浴室,周围环绕着郁郁葱葱的绿色花园和开放空间。 设施 1.英式早餐/家常菜印度餐和大陆。 2.全功能餐厅提供印度,中国和欧陆美食。 3.Library 装饰高雅的客房设有连接浴室。 水/冷水。 6.在所有客房和公共场所免费使用Wi fi互联网设施。 7.茶和咖啡客房服务。 8.电视带英语频道。 洗衣服务。 10.充足的停车设施。 医生来电。 驾驶室电话。 13.无障碍露天露台。 文化节目包括木偶剧和着名的拉贾斯坦尼亚舞蹈。 15.可以安排烧烤和户外晚餐。 住宿服务。
A heritage property nestled in heart of Jaipur city. Jaipur famous for its deep rooted heritage culture. Shahar Palace offers you a chance to indulge in and experience the traditional lifestyle that international tourist is looking for at nominal rate with a comfortable stay.
This property offers 12 Bedrooms Rooms with attached bathrooms surrounded by lush green garden and open spaces .
Amenities
1. English breakfast/ home cooked traditional Indian meals and continental.
2.Fully Functional restaurant offering Indian, Chinese and Continental Cuisine .
3.Library
4. Tastefully furnished rooms with attach bath.
(URL HIDDEN) water.
6. Free Wi fi Internet facility in all rooms and public spaces.
7. Room service for tea and coffee .
8. TV with English language Channels.
9. Laundry service available.
10. Adequate parking facility.
11. Doctor on call.
12. Cab on call.
13. Accessible Open air terrace .
14. Cultural programs include puppet shows and famous rajasthani kalbelia dance.
15. Barbeque and outdoor dinners can be arranged.
16.House keeping Services.

房客使用权限
1.Restaurants 2.Library 3.Gardens 开空气露台 酒店各处均提供免费无线网络连接。
1.Restaurants
2.Library
3.Gardens
4.Open Air Terrace
5.Free Wi-Fi access is available throughout the property.
与房客的互动
我们确保每天与客人见面和互动,如果客人吃饭,我们有时候会和客人一起吃饭。有些客人出外观光,很少在家,所以在这种情况下,我们无法进行很多的互动。
We make sure to meet and interact with the guest every day, if the guest is having a meal we sometimes have a meal with the guests. Some guests are out sightseeing and are rarely at home so in that case we are not able to interact much.

其他注意事项
距离受欢迎的购物街MI路2公里 距离阿尔伯特博物馆3公里 距离旧城区3公里 距离Hawa Mahal Palace 3.5公里 距离市中心3.7公里 距离Amer Fort 8公里 除此之外,本地的帮助商店 - 银行自动取款机,杂货店,医疗店,餐厅和咖啡厅,医院和派出所都位于步行距离之内。
Distance to popular shopping street M I Road 2 kms
Distance to Albert Museum 3 kms
Distance to Old Wall city 3 kms
Distance to Hawa Mahal Palace 3.5 kms
Distance To City Palace 3.7 kms
Distance to Amer Fort 8 kms
Apart from this the local help stores like – Bank ATM's, Grocery stores, Medical shops, Restaurant and Cafe's, Hospitals and police station all are located within close walking distances.
---
---
---
---
We do not have any strict house rules or restrictions except that no overnight guests allowed . We want the guests to be very comfortable in a home like environment . There is no lock out guests are welcome to come back whenever they want, the guests can carry the room keys with them when they go out.
If guests wish to have a meal with us they should inform at least Half N Hour in advance so that some home cooked delicacies could be prepared for them. Rest we expect You to treat this House as your own house:)
---
---
---
---
Colonel Virendra Singh ( Army Retd ) along with my wife Nalini Singh and my son Fateh a professional polo player been running this property for past 25 years. As host we have welcomed around 11000 guest from all around the world and have maintained our relations with many via mail. It has always been our endeavor to make our guests feel as welcome and comfortable as possible and we three have been constantly working towards delivering the best to our guests.