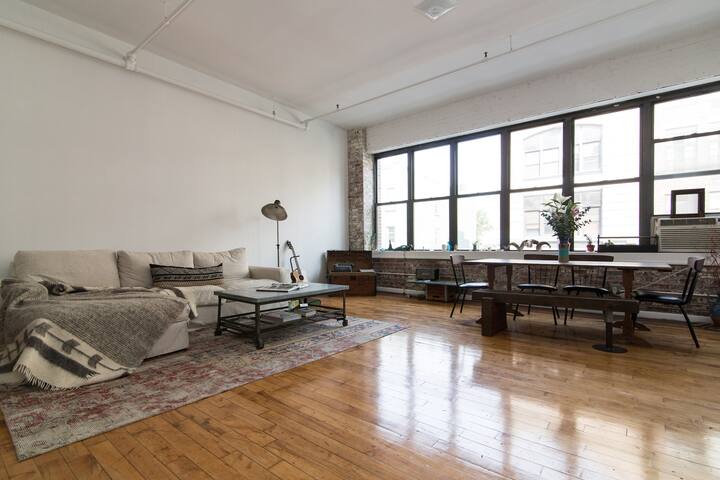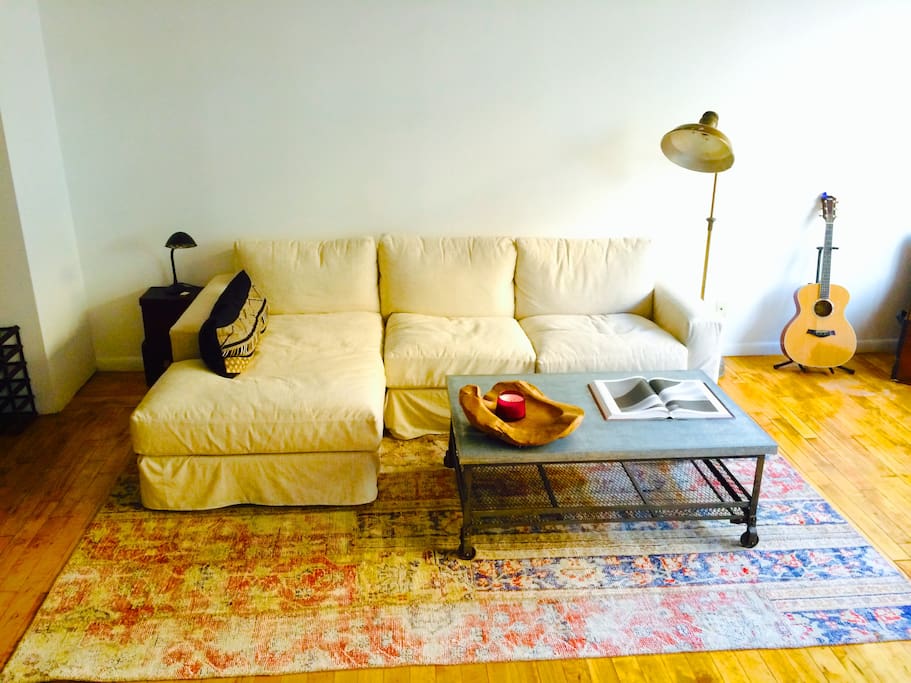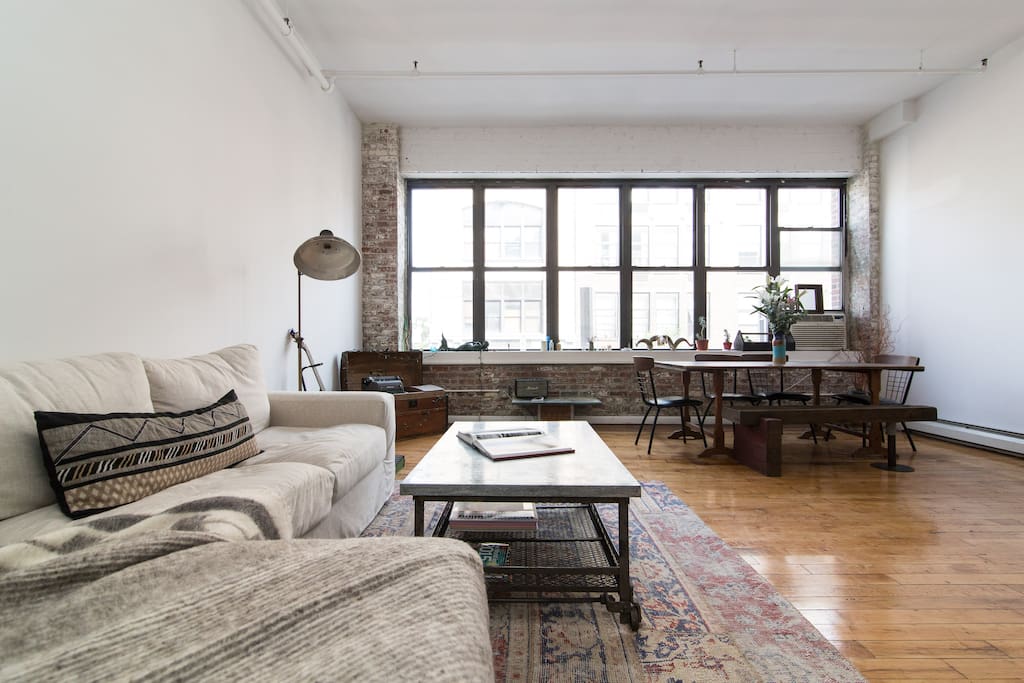 Huge, unique loft in the perfect Williamsburg location. Rooftop access, 3 minutes walk to Bedford L train, 3 minutes walk to East River Ferry. Artsy, yet comfortable. Lots of Bars and restaurants. The true authentic Brooklyn experience. A Must See!
房源
This is an original factory building with a modern charm. Formerly a suitcase factory, this one of a kind Williamsburg original makes for a comfortable living environment with massive space and heaps of light. Filled with stylish Mid Century furniture, a vintage and industrial design. Feels like your home away from home.
Roof top access of sweeping views of Manhattan.
The locations close to some of the best quality bars and restaurants in the City and Brooklyn. I'm happy to point you in the right direction and leave you with guide to explore.
Williamsburg is the hotspot in Brooklyn. It has so much at arms reach. You are surrounded by some of the best restaurants in the city and waterfront views of Manhattan.
Enjoy a ferry ride to Manhattan just a few steps from the Loft and one stop access to the heart of the City on the L train. The Loft is about 3 minutes walk to both subway and ferry terminal.
房客使用权限
Rooftop, laundry, great bars and restaurants nearby.
与房客的互动
I'm here to offer up local knowledge to make your stay as comfortable as possible.
---
Unequivocally the Best Spot in Williamsburg (on AirBnB): Perfectly Designed, Epi-centrically located (just steps from Bedford and just as far to the water in the opposite direction), Very well appointed, airy with a wall of windows catching beautiful light all day, and immaculately clean. Enough said, and don't book it please, I want it for myself. ---- Having spent most of my on the central California coast, anything interesting happening in Silicon Valley would reach us quickly. And this is why/how I became one of AirBnb's earliest adopters. In fact, at that time, 2008, the site was called "(URL HIDDEN) and I doubt there were 100 users. In any case, and b/c the service area at the time was limited, and I didn't actually participate until the following year, when Abb really took off. Since then, however, I've used Abb almost exclusively in too many countries to count (since I work internationally). So when I say the Peter's place is on my short-list, you can trust that it's a great place, in all aspects, and quite well-priced for all its advantages.
---
Check in and out was super easy and Peter even allowed us to check out a bit later since our flight was in the late afternoon. He was quick to respond to all communication. The loft is on the 2nd floor and while there is an elevator - it is a freight elevator (which we never figured out how to use)... the neighborhood in Williamsburg is fantastic. Lots of construction going on though but there are some really great restaurants around and it's extremely walkable. The floors are wood and are super super noisy so found it challenging to walk on without making a ton of noise (and we could hear the neighbors upstairs walking around in the morning). It also rained heavily one of the days while there and there are cracks in the concrete by the windows so rain was dripping into the unit in a few spots. We were able to clean it up with towels though. The unit itself was nice - everything as pictured. We had a really nice stay and would stay here again. Thanks, Peter.
I'm glad you enjoyed your stay. I would have been happy to help you with the elevator if I knew you were having problems. It was designed for freight back in the day, but it is totally functional and works well! Guests have used it in the past and liked the vintage style. The rain must have been pretty bad because that's the first time I've heard of the leaking. Thanks for the heads up. As for the hardwood floors, it's all part of authentic NYC loft living, it comes with the charm of living in an old suitcase factory. It's for some and not for others. Thanks for your stay. You guys are welcome back anytime!
---
I work in the adventure film/TV but I dabble in other creative media like music and photography...

Peter Goetz' innate love for adventure is palpable. The California native and UC Berkeley alum is a seasoned veteran of documentary adventure television and film, using his vast experiences around the globe to carve out compelling stories about unique subcultures and ordinary people enduring the impossible.

Goetz has visited over 65 countries working on such fan favorites as Survivor (13 seasons), Amazing Race, Ultimate Survival Alaska 2, and Expedition Impossible. He's also stepped into the rare worlds of his subjects with his work on Swamp People, Yukon Men, The Buried Life and Die Trying.

With over a decade of adventure programming experience under his belt, Goetz has left few rocks unturned, and without question (or hesitation) he's enjoyed every second of it! For Goetz, each project introduces a greater take-away than the adventure at hand, he feels honored to unveil the raw interactions and emotional connections that organically unfold before him. Goetz takes us on a journey by intimately exposing what is at its most authentic, a truly uninterrupted social experience.

"Working in remote, extreme environments, every project offers up its own series of challenges. The best stories are spontaneous and allowing for moments to surface naturally is essential to producing story gold. The single most rewarding element of any adventure project is to experience the thrill of the unknown and witness the transformative payoff of ordinary folks enduring extreme adversity. We are resilient creatures, but we so rarely put ourselves to the test. When we do, it's life changing! "

In addition to being recognized for his distinctive production work, Goetz is an acclaimed photographer and soulful musician. With each new opportunity that his fast-paced career brings, Goetz finds himself enveloped and inspired by his surroundings. He speaks both Spanish and Portuguese, opening up experiences to direct his award winning bilingual documentary film, Sofia, write and record trilingual songs that have granted him the opportunities to tour Australia and perform at the X-Games in Brazil. In addition, his innovative photography techniques have led to global exhibits of his work.

Needless to say, Goetz has found a comfortable place for himself in both the music and photography worlds by expressing his explorative lifestyle through his many talents. He has the uncanny ability to captivate his audience thanks to his natural draw and eye for the extraordinary. No matter the medium, Goetz is known for entertaining colorful crowds on nearly every continent — if not to their television sets, then through film, song, and storytelling.
语言:
Español、Português