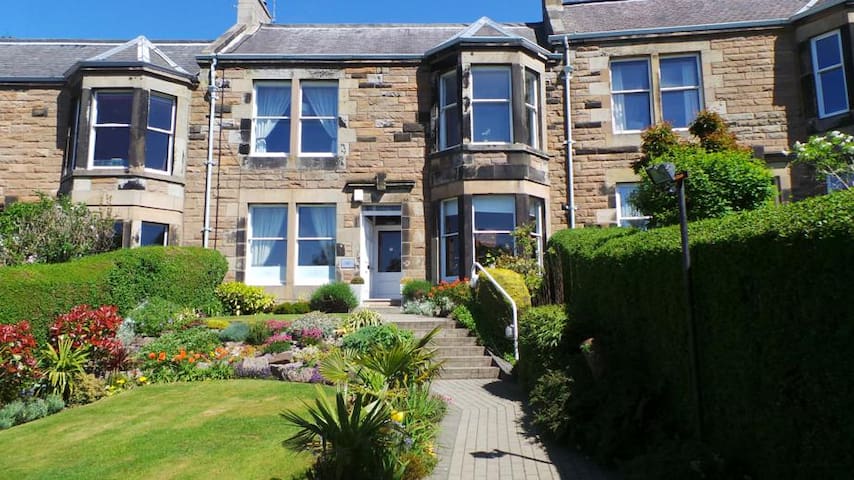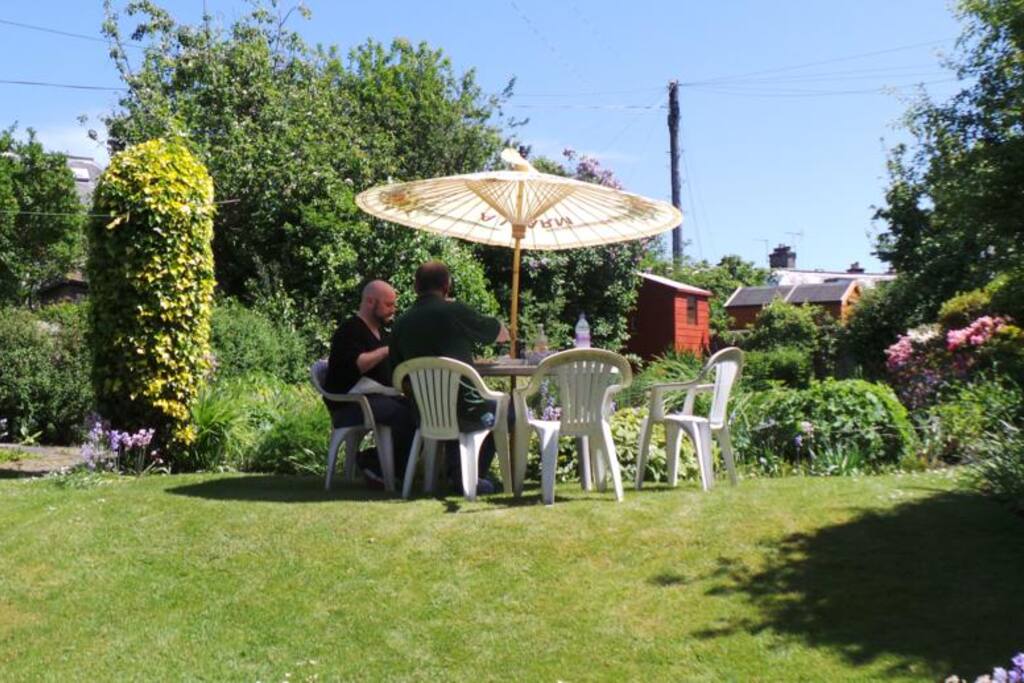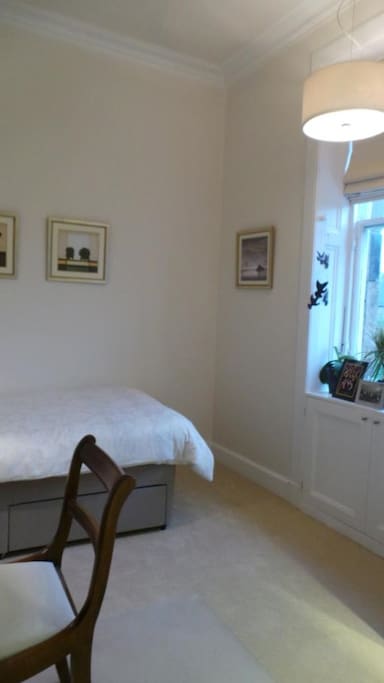 Our place is not far from city centre - safe place at night, good & quiet area, plenty privacy, friendly, helpful family, quality accommodation. Great location on the main road only 15 mins. by bus to city centre, 15 mins. walk to supermarket. I can reply quick from 11 am. - 12 midnight UK time. Out of this time you will have to wait for my reply.
BREAKFAST: UNTIL 11 AM. DINNER : BY 10 PM. for those who booked the meal.
房源
OUR FACILITY:
• High quality place for those who are looking for beyond a bit average standard service, in very good & quiet area safe and has lots of buses to city centre. We are on main road.
• Best/superior for solo traveller. 'A little extra comfort and feel at home. You will be well looked after like relatives here. Be our guest if you are looking for quality place, security and comfort.
• Nothing worse than feel vulnerable when away from home. We will look after, assist and support you to the best possible throughout your stay with us just as you stay with your relatives.
• Friendly host: High quality accommodation, in very good & quiet area safe and has lots of buses to city centre.
• Price per person, extra guest pay £30/pp/night.
• Quality family light breakfast. Coffee/tea available all day for
• Free washing once a week/shared kitchen/bathrooms
• No Pets.
• Minimum offer now 1 night. Curfew 2 am. No drunk guests.
• Plenty free parking area.
• All bedsheets/equipment are new set for each guest. I don't use repeat sheets for new guests. I am sure you appreciate this.
• The single room: has a single bed(Silentnight) All our place use white bed sheets, bed protector, a desk, a chair and a clothes rail for guest to use as our wardrobe in single room is full of our own stuff!! but in another room we have empty wardrobe and clothes rails.
• Double bedroom: 2nd person pay from : £30.- or pay on your arrival for extra person included family quality light breakfast from photos shown.
• We offer meals throughout if you are looking for best quality home cooking by professional chef. Your contribution: from £12 (1 course meal), £15,£20/pp/meal. The best quality/best value compare to eating out where they need to make profit.
BOOKING RULES: We thanks to Airbnb for sending super nice guests. We will ensure that you stay in a quality /helpful place when away from home where hotels don't have the same service. We believe it is not personal matter, but to be fair and nice to both parties to know each other. For those who do not wish to reveal your information your photo, full name/business company. Please don't book us. If you want to stay with us. Please provide us what we ask for.
• We need your recent photo, your FULL NAME, career/students/university/the reason to visit Edinburgh.
房客使用权限
We have fridge and freezer space for you to store your food, microwave for heating , share kitchen for light cooking. We have hair dryer, iron just like you are at your home. If you forget Anything we have spares most necessary things for you. Please don't feel bad and feel free to let us know.
与房客的互动
Take advantage of this offer for quality bed and be our guest. The best option to stay with host family as we have most what you are looking for and always at hand to assist you. However, we are looking for those who want to feel warm at home but don't expect us as 5 star hotels service, but we will do our best as host family. If you are free in the evening why not join us for a chat and get more information about Scottish food and culture. We have lots of information for you or we can search for you what you are looking for.
Our place is very popular among researchers/students around the world. We really enjoy hosting them and proud of them for their great achievement. Again my son is doing the same but in the US. I know what I can offer the best for all these academic/professional guests. We respect guests' privacy and high standard of accommodation. However, you are most welcome and please feel free to come to my office should you need any help or just for a chat. I mostly working in my office till very late.
It's 25 mins. by taxi from Airport to our place (up to £30/trip (but we offer cheap taxi £25/trip) and only 15 mins. by bus to city centre, I don't think it's far from city centre at all. The bus only cost £1.60/trip or £4.for all day bus you can have as many trips as you like. Stay outside the city is by far better, you see garden stay in houses rather than flats.
NOTE: Our place is not suitable for those who love hot bath and we do not accept those who will use hot bath, as shared bathroom in case other needs bathroom.
其他注意事项
If you are female traveller want very safe place feel home. Our place will be perfect for you as a bed in a family home.
Meal available: Available until 10 pm. if any delay must be informed.
Our compliments whether you take or not is not deducted from the rent as this is free from us to help you to have access for breakfast: quality light breakfast.
Our place is a leading independent Krua Thai cookery school (URL HIDDEN) with accommodation. We have a quality single room available now and again: We are a new member of Airbnd recommended by a friend who does Airbnd. We have a guest bedroom for 1 person available for Airbnd guest who is looking for a safe, clean, comfortable home with high speed wifi. We also offer high quality cooking as a cookery school at low cost. 3 course meal: £20.-, 2 course meal: £18, 1 meal £12.- We have selected menu available for guest who wish to have dinner at home at lower cost but better quality than restaurants/takeaway: Booking in advance prior to your arrival. Special diet can cater for. Sample menu:
1. King prawns tempura with homemade chilli fruity sauce dip.
2. Stir-fried noodles with eggs, pork or chicken Chinese leaves
3. Stir-fried chicken with fresh chilli , mushrooms, spring onion.
4. Fried rice with eggs and light soup accompaniment.
5. Stir-fired king prawns with chilli, mushrooms and Spring onion.
6. cold salad or pasta dish/western food
7. Banana in coconut milk, Thai vanilla and toasted sesame seeds
8. Apple crumble
9. Apple crepe
10. Pancake with maple syrup
11. Crepe Suzette with orange sauce
We mostly cook according to ingredients we have each day, but real food.
---
---
---
Our price per person. Child/children will be charge as 1 person. We ask for your kind cooperation. Before booking with us.

*Please introduce yourself,
* your full name ,
*where you are from ie. which city if UK, which country if foreigners
*your career and
*the reason to visit Edinburgh.
We are host family, This information will be provided before you book our accommodation if you wish to stay with us:
1. take shoes off and leave at front door from outside for hygiene reason,
2, keep noise to minimum by western standards. Some nationalities talk too loud. Our group of host families talk quiet which is general British being considerate, please reduce your voice to 1/2 this will help peaceful house.
3. no guest allowed in the house,
4. no smoking in the house.
5. no drinking/eating in bed.
6. You can cook but we prefer light cooking in the kitchen but not bake one potato in oven.
7. No drunk/drugs guest
8. Please introduce yourself.
9. Rinse shower/bathroom till clean. Use white towel in the bathroom wipe shower screen, WC flush twice to keep clean, around wash hand basin after used for the next person.
10. Please keep your toiletries in and hang your towels on the radiator in your bedroom to keep dry and ready for the next morning.
11. Curfew at 2am.
12. No application of hair dye or fake tan if you are please use your own towel.
13. Washing machine once a week.
14. Light breakfast /tea/coffee - will be ready for you in the kitchen. Please feel free to have when you feel like. Tea towels are in the draw below microwave
15. We have slipper for you to use, it's cleaned, our carpet is cleaned everyday and shampoo regularly.
16. We are looking for guests who are tidy and pleasant appearance. We love art, but NOT visible tattoos face, neck, hands and piercing.
Question: Many people asking how many people share in bathroom:
Answer: We have 2 super clean bathrooms: Our place don't normally have problem with untidy or dirty bathrooms as all our guests here are super clean so far. Everyone loves clean bathroom but clean at different level. We have a note in the bathroom for users to read and check bathroom before they leave. We have white towel in the bathroom for guests to wipe all wet area and ready for the next person or to it's original. This note reminds people especially for those who love clean bathroom but not pay attention to clean after themselves. The note will help to remind everyone to keep bathroom clean. This way will be fair to all parties and it's always nice to see bathroom clean at all times. For those who strict with clean bathroom will love our house rules. In my case, I always spend a few minutes cleaning and checking bathroom before I leave - if every use the bathroom the same way as I do, even 100 people would never know the bathroom has been used. This to ensure bathroom clean at all times. For those who have a child with them, you must keep an eye on after using bathroom as it can leave dirty. If this happens, if you ever book again - British people mostly don't say but most host families will not welcome you again.
---
---
---
---
Awesome hosts....will highly recommend that if you stay there also try out different dishes that Ru makes. Most delicious Thai food I have ever tasted. Ian is a very supportive person. If you are new in (URL HIDDEN) and Ian can give you a complete set of information that will help you get going asap. The stay highly exceeded the expectation and I will go back to them in future.
Dear Jaimin, Thank you very much for your kind review. I now know I did the job correctly : ). I am very honoured to have you at our place and that You are most welcome here. When you come back, your wife and your daughter will be well looked after, you can enjoy Scotland, I will sort out the rest for you : ). My sincere thanks again for your kind feedback. I hope to have the opportunity to serve you again. Yours Sincerely Ru & Ian
---
Ru and Ian are wonderful people. I felt at home from the very first day. When I first arrived I was helped with shopping and I was even given a great home cooked (URL HIDDEN) literally has a degree in hospitality! She is delightful to talk to, and her house is beautiful and well kept, not to mention the great views it has! You are close to bus stations and a mall/super market. I would definitely recommend!
Dear Aded, Thankss a million for your kind feedback. I am most delighted to hear that you are happy with your stay and feel at home just what we want you to enjoy, relax and feel at home. We are no doubt very happy to have you. We are very lucky so far, all our guests are just wonderful. I feel I am very pleased with my decision to join Airbnb. Thank you very much. Sincerely Ru & Ian.
---
Ru and Ian are just fantastic. The house is really beautiful and my room is quite big and really clean (at least four stars hotel standard). The location is really convenient too, bus stop on sight and easily get to the city center. Ian is really really nice, he gave me really great overview of the history of Edinburgh and pointed out many places to see, we had some nice talking during breakfast as (URL HIDDEN) is so sweet and considering, moreover, really a good cook! Highly recommend this listing. Amazing value and experience!
Dear Ryan, thanks a million for your kind words. It's very nice to have you too. You are another perfect guest for us. We can have you at any time, it's great to chat and good laugh. My house is always have friends pop in for a chat and lunch or diner. This my world is so wonderful. Have a great time in UK. Best Ru.
---
Espectacular, realmente una familia muy cálida y acogedora, recomiendo pedir la cena de Ru, es maravillosa, y deliciosa...los dos me trataron como de la familia, seguramente volveré a visitarlos, serán mis amigos para siempre
Good morning Andrea, Thank you very much for your kind feedback, I truly grateful, we are no doubt very honoured to have you here. Your are one of our perfect guests, hey please come back for Babette's wedding ceremony to the whom who has asked her...hahahaa...how great fun....See you soon. Once again thank you very much. Sincerely Ru
---
My stay with Ru and Ian was absolutely amazing. They are very friendly, welcoming, and generous people. I can't find anything negative to say. I absolutely recommend their airbnb! The room was tidy, the bathroom super clean, and the location of the house is good, not far from the town only 10 to 15minutes by bus, and the bus station is right across their house. Overall, everything was great. Thanks Ru and Ian for a very lovely time!
Dear Joelle, thanks a million for your great review and thank you very much for choosing us. We are so lucky to have another perfect guest like you! : ). Sorry for the delay, as you know I had a training in Aberdeen, heavy training each day I just came back from dinner. We are very pleased to have you here and wish you to stay longer and ask more about lovely people in your country. Our sincere tanks to you. We can catch up via (SENSITIVE CONTENTS HIDDEN) : ) Once again our sincere thanks to you for choosing us. We hope to have the opportunity to welcome you back again. Sincerely Ru & Ian.
---
I had not used the Airbnb, but I didn't worry it because I could often chat with Ru about accommodations, meals, and how-to come to her house via e-mail before staying. She is very open-minded and has full of hospitality. She often chatted with me during my stay, too. So, I didn't feel loneliness at all. I could stay comfortably because the rooms and the bathroom were very cleanliness. Never mind about moving to the downtown area of Edinburgh. The buses arrive and depart frequently in front of her house. I could go to the city centre within 15 minutes. It was very convenient. I want to stay her house again.
Dear Takayuki...Thank you very much for your kind feedback. Indeed we are very honoured to have you here. It just wonderful to have you here, we had a great time,chat,eat, laughed in the kitchen. I wish you stay longer : ). Next time you might like to come with the whole family if plan well in advance. Once gain thank you very much for choosing Krua Thai accommodation. You are our perfect guest. Yours sincerely Ru & Ian. (Ps. I now realised 'Leave public response means 'reply to the guest' what a complicate language they put for a non-native speaker.
---
What a lovely host! Convenient location righ on the Main Street that made it easy to get to the city. Perfect for my experience at the Festival and Fringe. Rujira was a really pleasant and well experience host. Provided a lot of resourceful information. A couple of times she went over and beyond to make me feel comfortable. Ithe accommodation very much for the description. Would definitely recommend staying here
Dear Jaci...Hey..Good morning Pretty.: ) ...Thank you very much for your kind feedback. Indeed we are very honoured to have you at our place. It was wonderful to have you here, we had a great time,chat,eat, laughed in the kitchen. I am so lucky and thankssss to Airbnb for giving me so wonderful guests just like you all the time. I wish you stay longer : ). Once gain thank you very much Yours sincerely Ru & Ian. PS. Well, Edinburgh is dull today, might be rain soon(URL HIDDEN) Hope to see you in Denmark : )
---
DISCOUNT FOR LONG TERM. Our guests are mostly post graduate students, researchers, visiting professors from Edinburgh University. We are willing to host guests that have the same values and principles as us. Our information for you to know us and to feel secure and safe at our place. In return, we expect the same return.

BEFORE YOU BOOK: For those who arrived after 23.00 hr. please notify me first before you book, as It can be very late especially sometimes the plane delayed.

Our booking rules: Please show your clear photo and read our house rules, failure to do so, we regret your booking will be declined. We don't want guests that hide their face and career, we believe this is nothing to do with your privacy but to show respect to both parties. Please introduce yourself - name and family name, your career, your work company workplace /full face recent photo/link to allow us to see and to know you and if you want to help us with our final decision. Our place is not suitable for those who have mobility difficulty.

I also own the 'Krua Thai Cookery School' in Edinburgh. Krua Thai students are from 30 countries most of them are chefs from superyatchs. I am a kind of regularly present Thai cookery on STV called 'FiveLive STV, The Fountainbridge show' Krua Thai also runs 'Thai cookery workshop with lunch' venue '376 for Edinburgh Fringe' every year ( I used to work for various top-flight clients ie. Hilton International Group which cooked for board executives of Hilton. As you know Thai people are known as friendly, helpful and courtesy people. That's how Thailand is famous in charming hospitality. I also gained Dip. in Culinary Arts with Management, BA (Hons) International Hospitality Management which I surely know the true meaning of customer care. My husband is a British Architect he used to work at Building Standard Scottish Government as a principal architect (happily retired). We are very helpful, friendly, laid back, tidy and highly responsible couple. We enjoy British/western standard quality, safe, clean place to live and that good area. We live around our great /helpful neighbours. We love travelling and meeting new people and different cultures.
I am no doubt enjoy cooking and eating. My husband loves films and reading.

You can search more about me 'Rujira Herd or Krua Thai Cookery School' as it is not allowed to put on this site. Why not join us if you wish to enjoy a bit of luxurious when away from home...you do not just sleep here. We promise - you will be well looked after throughout your stay. You will enjoy Jasmine tea and Thai food...while watching professional chef cooking live when you book a meal with us:). I can reply quickly from 11 am. - 12 midnight UK time. If you don't want to wait too long please book at the time suggested. Out of this time, you will have to wait for my reply.

语言:
English、ภาษาไทย