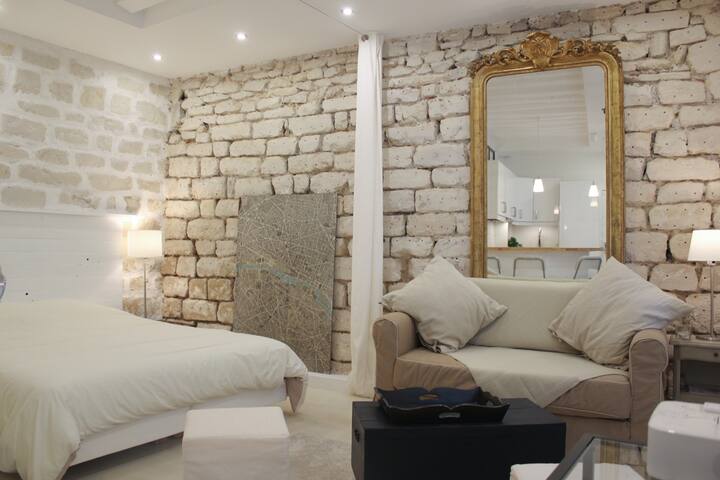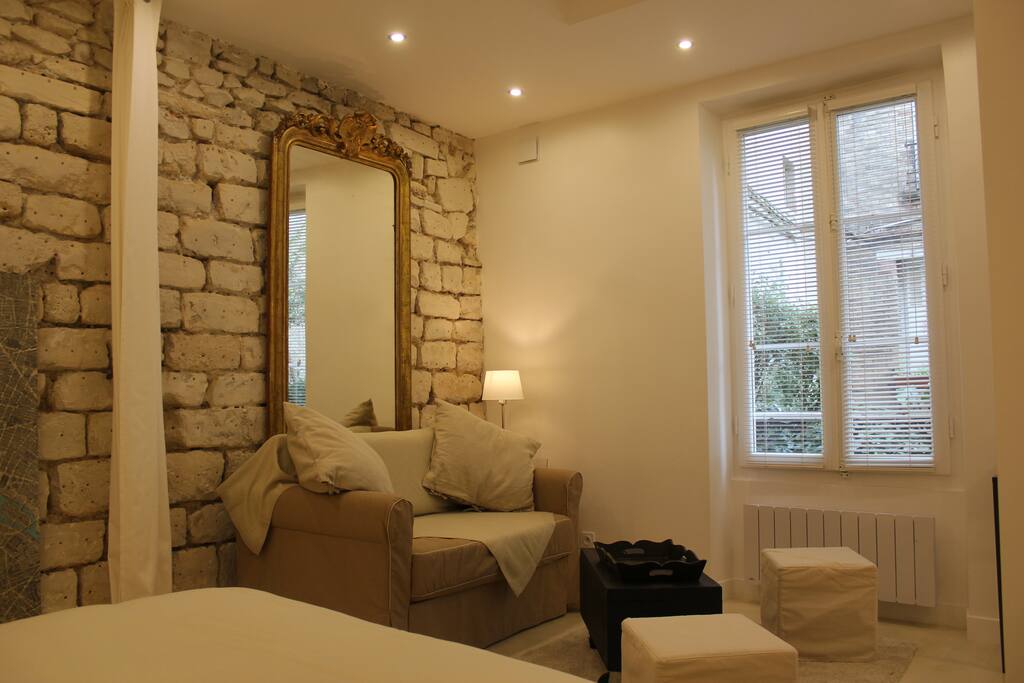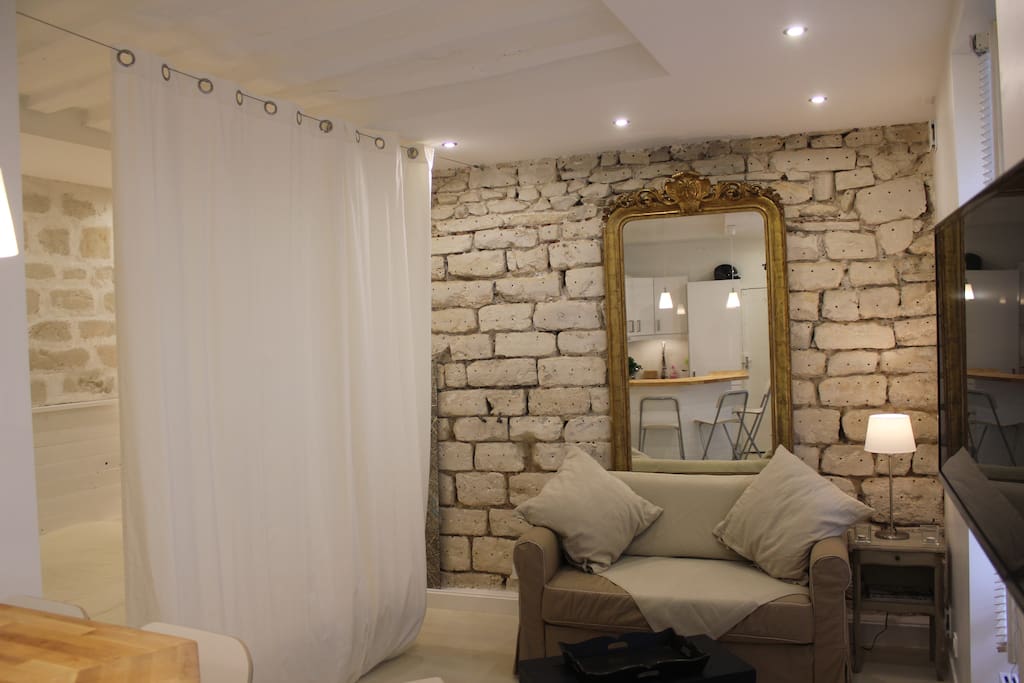 这个别致的巴黎工作室位于第五区,最近经过全面翻新,是租赁市场的全新设计。 清洁: 你的舒适是我们的首要合适。为了确保一切准备就绪,我们的公寓将收到一批新鲜的床单,被子和毛巾供您预订。
This chic Parisian studio is located in the 5th Arrondissement and has recently been completely refurbished and is brand new to the rental market.
CLEANING:
Your comfort is our top propriety. To ensure everything is ready when you arrive, our apartments receive a delivery of fresh linens, comforters and towels for your booking.
房源
该工作室位于一个最方便的位置和安静的社区,这个舒适,时尚的工作室将为您的巴黎冒险做完美的基地! 它位于一楼的庭院,方便行动不便的客人或大型行李箱! 工作室配有一个小型餐厅,配有全尺寸冰箱,Nespresso咖啡机,洗衣机和烘干机,炊具和餐具。附近有两家超级市场,容易购买用品。设有一间完整的浴室(仅限淋浴)和所有床单。 除了特大号床,客厅还设有一张非常舒适的沙发床,可以额外收看成人或两名儿童。公寓的布局使其成为一对夫妇的理想选择,也可以为3名亲密的朋友或一对夫妇与小孩子,与隐私窗帘分开两个睡眠区域。
The studio is in a most convenient location and quiet neighborhood, this comfortable, stylish studio will make the perfect home base for your Parisian adventure!
It is located on the ground floor, on the courtyard, making it convenient for guests with reduced mobility—or large suitcases!
The studio is equipped with a small eat-in kitchen with a full-sized refrigerator, Nespresso machine, clothes washer and a dryer, cookware and utensils. There are two supermarkets in the neighborhood, making it easy to buy supplies. There is a full bathroom (shower only) and all linens are provided.
In addition to the king-size bed, the living room features a very comfortable sofa-bed which can sleep additional adult or 2 children. The layout of the apartment makes it ideal for a couple but also possible for 3 close friends or a couple with small children, with a privacy curtain separating the two sleeping areas.
与房客的互动
一旦预订完成,并且我们的"房屋规则"已经得到您的同意,我们将直接向您的电子邮件地址发送详细的到达和指导文件。 当你到达时,我或我的一个同事会在公寓里见到你,告诉你,回答你可能有的任何问题。 如果您有任何疑问,我们可以通过邮件或电话获取,任何可能出现的问题,我们将尽快修复。
Once a reservation has been made and our House Rules have been agreed by you, we will send you a detailed arrival and direction document directly to your email address.
When you arrive, either myself or one of my colleague will meet you at the apartment, show you around and answer any questions you may have.
We are available by mail or phone should you have any concerns, any issues that could arise, we will endeavor to fix as soon as possible.
其他注意事项
清洁: 你的舒适是我们的首要合适。为了确保一切准备就绪,我们的公寓将收到一批新鲜的床单,被子和毛巾供您预订。
CLEANING:
Your comfort is our top propriety. To ensure everything is ready when you arrive, our apartments receive a delivery of fresh linens, comforters and towels for your booking.
---
---
---
ADDITIONAL FEES:
If you arrive at the apartment after 9 p.m or before 9 a.m : 30 Euros
If you arrive at the apartment after midnight: 40 Euros
No Smoking allowed inside the apartment !!
Absolutely NO parties and NO Events. This is a FAMILY HOME.
In the case that a neighbor in the building complains about the behavior of a guest, you will be asked to leave immediately.
ARRIVAL DETAILS: Arrival details are extremely important to ensuring you are met promptly on your arrival day. Arrival details will be requested at the time of reservation and again, 30 days prior to arrival, and if necessary, 14 days prior to arrival. If arrival details are not provided by 14 days before arrival, we cannot guarantee a timely meeting at the apartment and you will be met when the greeter is able to fit you into their schedule. We ask that guests understand that greeters do not live in the apartment buildings and plan their schedules around your arrival details, so please be respectful of their time by providing your arrival details as early as possible and keeping us updated with any changes.
If you are arriving by PLANE, please provide: airline, flight number & scheduled flight arrival time.
If you are arriving by TRAIN, please provide: your train arrival time & train arrival station.
If you are arriving by CAR, please provide: a meeting time at the apartment.
Additionally, for guests arriving by CAR: A 30 Euro late fee will be charged to the guest for each additional hour the greeter has to wait, should the guest not arrive within a maximum of one hour of their scheduled arrival time. We advise that car arrivals add sufficient time into their planning for traffic, breaks, etc. to ensure they will be on-time to their scheduled meeting at the apartment.
CHECK-IN PROCEDURE: We make every effort to check guests in upon their arrival in Paris. We will ask you for your flight or train arrival details, email you an arrival sheet with door codes and a contact cell phone number (after full payment) and arrange to meet you at the apartment to greet you. Please note there may be guests departing on your arrival day which may alter morning meeting times; see the "Same-Day Turnovers" section below. Nearly all arrivals after 2-3 p.m. are assured of arriving at a fully-cleaned and prepared apartment.
SAME-DAY TURNOVERS: If we have guests departing the apartment the same morning that new guests arrive, then the earliest new guests may access the apartment to drop luggage and get the keys is 10 a.m. At this time, we will show you how everything in the apartment works, give you the keys, answer any questions you may have, and give you an estimate of when the clean will be completed. You may leave your luggage in the apartment and then go out exploring or for lunch and when you return the apartment at the specified time it will be clean and ready for you. Please note that all guests must leave the apartment while it is being cleaned - no exceptions, please.
GUARANTEED EARLY CHECK-IN: The only way to guarantee access to a fully-cleaned and prepared apartment for morning arrivals is to reserve the night before your scheduled arrival day. Please inquire now if you need to add a night to your reservation.
CHECK-OUT PROCEDURE: Standard check-out time is 10 a.m., meaning ALL GUESTS AND LUGGAGE must be OUT OF THE APARTMENT before 10 a.m. Requests for late check-outs will need to be arranged well in advance and an additional fee may apply. Guests are asked to please leave the apartment in tidy condition by taking out all remaining trash/recyclables, and putting all used bed linens and towels in the bathroom.
LOST OR FORGOTTEN OBJECTS: Please note that we are not held responsible for any objects that maybe left behind in the property, you are 100% liable for all your personal belongings.
KEYS: You are 100% responsible for your keys. The keys will be explained at check-in; if you leave a key on the interior of the lock cylinder - even with the other set of keys - you will be locked out!! Locksmith charges are payable by the renter directly to the locksmith, and can run up to 1500 Euros, depending on the problem, day of the week, and time of day/night. Replacement sets of keys cost between 100-200 Euros.
Lock-out fee: 50 Euros (applies only to situatons where a locksmith is not required)
PETS: We love animals, but due to guest allergies, pets are not allowed inside the apartment.
MISCELLANEOUS: The apartments are fully cleaned before our guests arrival, however dishes (plates, glasses, cutlery etc.) are not included in the cleaning plan. We therefore ask that any dishes used must be cleaned before check-out. Failure to clean the your dishes will lead to the immediate forfeit of your security deposit.
TABLET WISHBOX: The tablet supplied to your apartment is to be used for it's specified purpose only. It's an expensive piece of equipment and needs to be used appropriately. Therefore any loss or damage, be that breakage or cosmetic, will lead to the immediate forfeit of your security deposit.
DAMAGE DEPOSIT: A refundable damage deposit of 300 Euros is required on all rentals. The amount of the damage deposit shall in no way limit the tenant's financial responsibility for damage or deterioration made to the apartment during the tenant's stay. The damage deposit will be held until you have vacated the apartment, and we have confirmed that any breakage or damage (normal wear-and-tear excluded), lost keys, out-of-the-ordinary cleaning charges and excessive phone bills have been paid for. You are responsible for maintaining the apartment in tidy condition. Apartments left in an unreasonably dirty condition in our opinion may incur additional charges to be deducted from the damage deposit. NO SMOKING IN THE APARTMENT. Smoking in the apartment will result in ZERO DAMAGE DEPOSIT REFUND.
Many thanks,
Ruben
---
---
---
Ruben and Sol were great in general and great communicators. The place is one RER stop from Notre Dame. Cute little place on the ground floor with a view into a sweet little garden. The apartment is right across from Gare D'Austerlitz. Wifi was fast compared to other places we stayed...the social media pics were flying! Thanks!
Thank you so much for your kind review Tanner! I endeavour to ensure all my guests have a fantastic visit to Paris, and I hope that they see the apartment as a home from home. I'm happy you enjoyed the free wifi. Your positive feedback is greatly appreciated Tanner, so once again, thank you very much from myself and all the team here at Paris Rentals By Ruben. I look forward to hosting you again soon.
---
We just loved everything. As long as you understand this is a small studio for short stays for a couple with one or two kids, everything is perfect. It's comfortable, nicely decorated, very well equipped, there is a complete "owners manual" for the studio, the person that welcomed us was super nice and efficient and the kitchen has everything you could possibly want on vacation. It's located on a very busy modern Avenue, but it's inside two courtyards and you'd be hard pressed to tell there was someone else in Paris at all so quiet the studio was at night. It's very close (a couple of blocks) to a metro station and to one of the main train stations in Paris, so you can get anywhere quickly and easily. It was our first stay in Paris and it could not have been better.
---
Hi! I'm Ruben Elmaleh, and I'm founder of Paris Rentals by Ruben. I'm a vacation rental property manager and vacation rental owner, and have been working in the service industry for more than 20 years. My team is multi-lingual and provides personal attention for travelers and Paris apartment owners alike. If you are searching for an apartment to rent for your next Parisian holiday, Paris Rentals by Ruben is here to help!

I enjoy greeting international guests, and spend vacations in Spain, Morocco and Las Vegas. When I'm at home in Paris, I enjoy playing tennis but most of all, I love spending time with my two children.

My services include:
Centrally-located Paris apartment rentals for short and longer stays in Paris, suitable for couples, families or business travelers. We handle reservations by email and greet guests upon arrival in Paris and remain on-call for emergencies and questions throughout your stay.
Personalized management service for vacation apartment owners, including taking reservations, greeting and orienting travelers, and organizing cleaning and repair services.
** Languages spoken include English, French and Hebrew **

语言:
English、Français