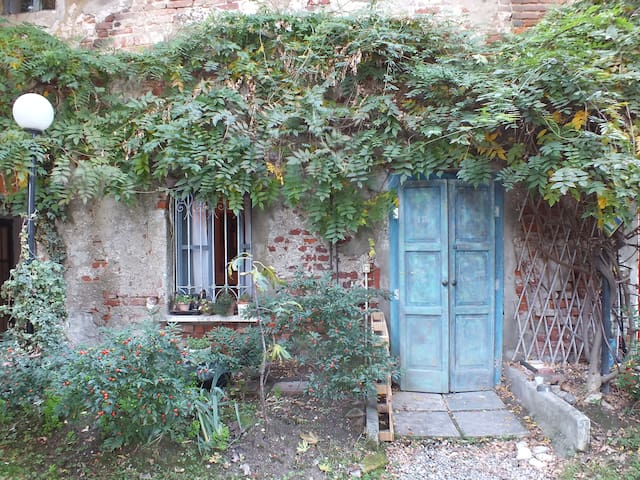 像一个"cottege",绿松石门是一个很好的小公园,在一个美妙的老法院里面。 这是一个神奇的地方,生活在很多艺术家身上。你可以感受到周围的神奇的"声音"。 这个职位是战略性的。
Like a ' cottege' , the turquoise door is a cool small apartement inside an a wonderful old court .
It's a magical place were lives a lot of artist . You can feel the magical 'sound' all around you.
The position is strategic.
---
Lorenzo's place was a wonderful oasis in the city. It was within walking distance of public transit and supermarkets. The apartment was small, but quiet and relaxing--perfect for two people! Lorenzo provided a map and information on the city, and left us a much appreciated bottle of wine. I would definitely stay here again!
---
Lorenzo's place was a perfect quiet get away. Having a grocery store down the street was very convenient. Communication for check in and check out was very easy with Lorenzo and the place is easy to find with his directions. The apartment is very comfortable and the courtyard setting is so beautiful!
---
The turquoise door is a serious gem in this city. I've stayed a couple of places in Milan before and this is absolutely my favorite! Lorenzo was always responsive immediately and so friendly. The quiet courtyard is something to be appreciated, especially at the end of the day. The apartment itself is perfect and beautiful, with everything you need. The bus is right outside but more often we opted to walk to the metro just about a block down the road. Super easy to get anywhere we needed. We would definitely stay here again. Thank you so much Lorenzo for providing such a unique experience! -Morgan and Garrett
---
We had an amazing time! The place was so cute, clean, and in a great location. It was only about a 6 minute walk to the metro station (and similarly, to a great little pizza place), so getting more into the center of the city was super easy. Exploring the Navigli area (getting to the main area from the airbnb was also a manageable walk) was also fantastic: we loved all the great vintage shops and cool bars around the beautiful canal. And after walking around all day, the airbnb provided a great place to unwind; for nights in, the little kitchen was great for cooking a simple meal in. Furthermore, communication with Lorenzo was always prompt and helpful. It was truly the perfect place for our short visit in Milan. We'd really love to stay again!
---
The Turquoise Door was a perfect place to stay for the last part of my trip in Italy. There is everything you need to feel at home with an Artsy flair! An 8 minute walk to the Metro green line (which was easy to navigate provided you have ridden a subway before), where you can transfer to the other lines depending on where your travels take you. The Navigli district is a short walk (10 minutes), where you will find restaurants, bars, small shops and lot's of local flavor along the canal. There is a courtyard that you have access to where the residents sit out to socialize, eat and enjoy. (Thank you for leaving me a few cold beers on such a hot day!) I met Cristina and Lorenzo the day before I left, they were lovely people, Cristina made a reservation for a taxi to pick me up the following day (to take me to the airport) because I did not speak Italian. I would recommend the turquoise door, it is as advertised. Thank you Cristina and Lorenzo! All the best, Terry
---
我们喜欢与客人互动并了解他们,但我们绝对尊重他们的隐私!
We love to interact with our guests and get to know them, but we absolutly respect their privacy!
I'm a happy 45 years man, I live with my wife and my daughter in a really nice house in Milan. We like travelling very much, in fact every year we go on holiday in a different place. Last year we went to the USA, this year we'll go to Spain. We love every kind of food, our favourite ones are japoneese, thai and indian food. We don't have a favourite genre of music, all music is beatiful, music is life. My job often takes me to be away from home, because I'm a sales manager, but as soon as I can, I practice my favorite hobby: cooking for friends.
My life motto is "Smile, it's a beatiful day". In italian it sounds like "Sorridi, è una bella giornata".
语言:
English、Français、Italiano