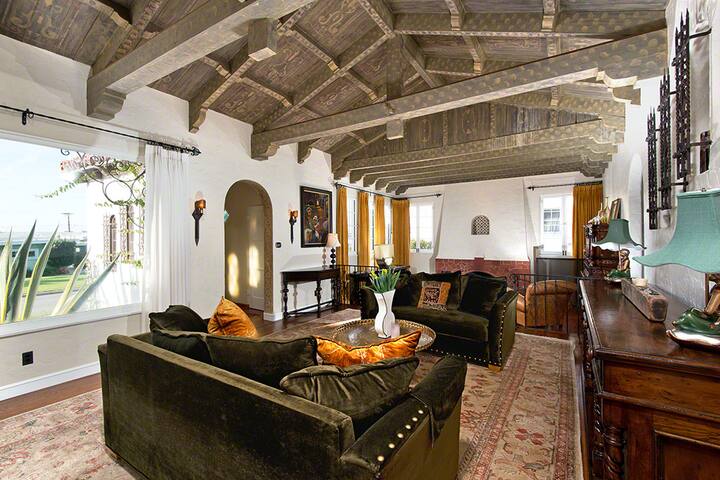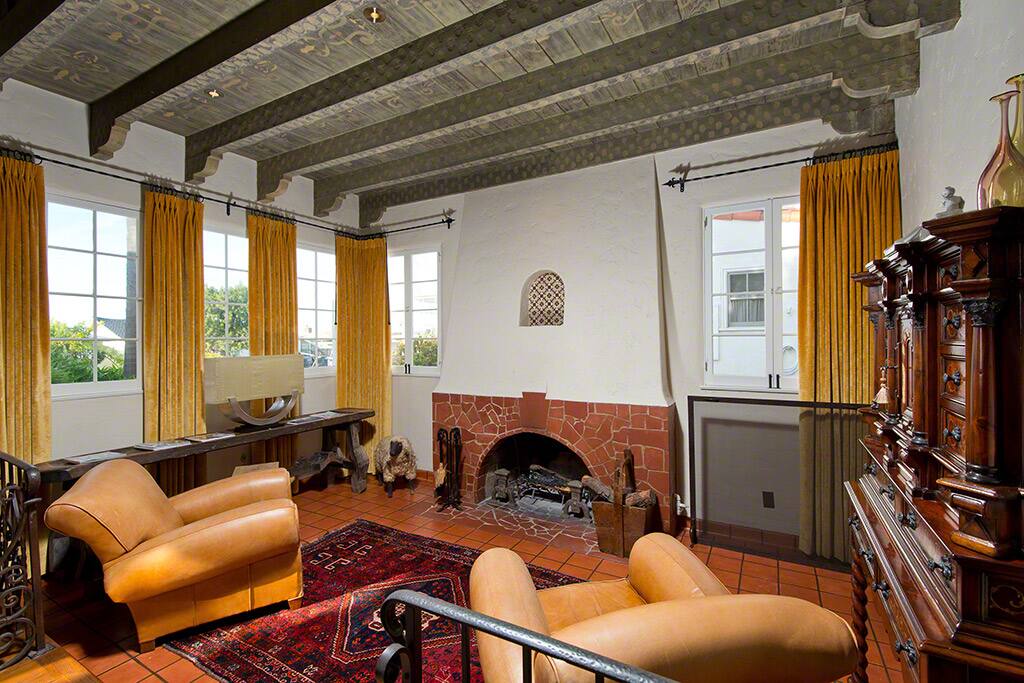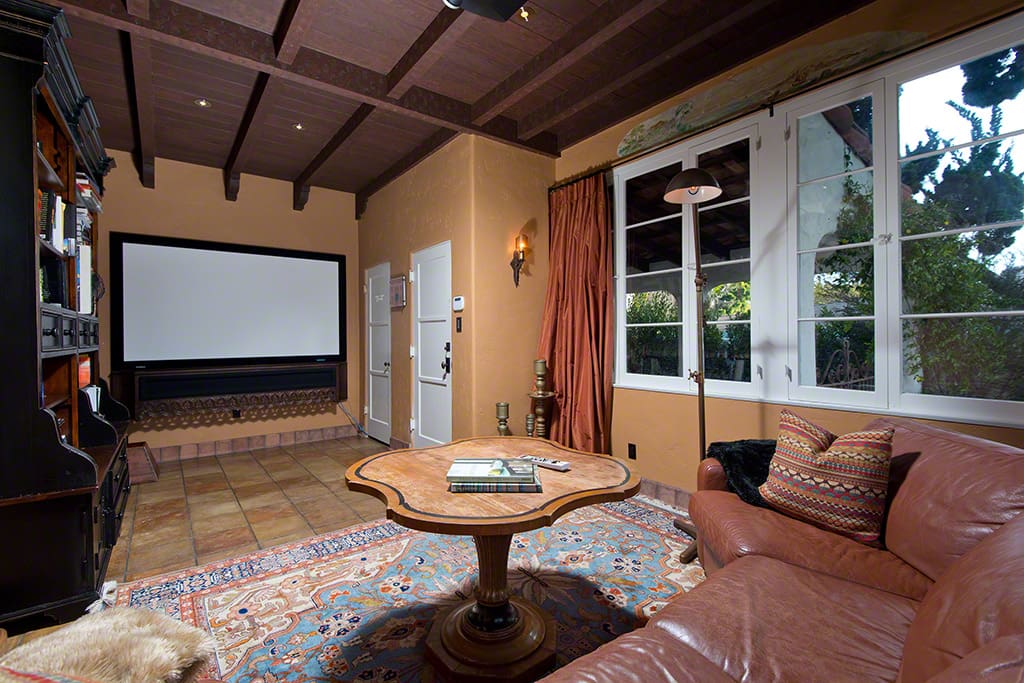 Staying here is an experience all in it's own! This 1926 Spanish style home has been restored to it's original beauty, with all the modern conveniences. Chef's kitchen, home theater, outdoor firepit and hot tub just a few of the amenities.
---
---
---
This home is a very special place and should be respected. The home has the original details that can not be replaced. We are happy to host guests that will respect the home and neighborhood.
---
---
---
---
Wow. Without a doubt, one of the most beautiful homes that I have ever seen. High painted wooden ceilings, romantic lighting, a giant screen home theater, an awesome gourmet kitchen and a private yard with a firepit and hot tub all in a tastefully restored historic Spanish home. The character and details in this home are amazing! It was clean, comfortable, and a short walk to Riviera Village and the beach. A perfect place to relax with friends and family.
---
The experience I had with this particular host was like no other. Not to say that she didn't have an amount of "friendly" to her communication, but the questions about my stay some may call intrusive. I've never been asked who, what, or why when booking an AirBnb... well, maybe "who"... definitely "when"... but the details that this host desired prior to approving our booking was a bit beyond what was normal, in my opinion. Asking me multiple follow up questions as to "why" my brother was coming into town. After what I imagined was "passing the test", the host then sent me another contract for the home that needed to be signed prior to getting the information for check in. This document included that you must cancel 30 Days in advance or she will keep your payment in full... and if given OVER 30 Days NOTICE, she will still KEEP YOUR $1,000.00 rental deposit!! So, WATCH OUT PEOPLE... Make SURE you are in good health and your family promises not to fall ill... because it will cost you! This lady is not messing around! Oh, and don't forget that it also mentioned that you have to do your own dishes upon checking out (not included in the steep cleaning fee) and that you are only allowed to have 3 loads of linens... (what determines a 'load", I wonder) Anyways, I answered all of her questions, signed all forms (after she charged my credit card $4,600) and we moved along with the booking. When I asked for an early check in, I was accommodated rather smoothly. My brother then secured a TV spot for the morning before check in, so I contacted the host and asked if it was possible to check in a day earlier, and instead of just saying no, it wasn't available, she responded with... "well, you said they were coming in the day after" (or something to that effect)... which was true but it was almost like she was accusing me of lying. Very strange energy, but I just thanked her and found him a hotel for that night. Days before check in, my brother's home was flooded in Houston due to the Hurricane, so I was even more determined to get him some time to relax, because he couldn't even go home to Houston to check on his home like planned prior. Tensions were high with all of the damage/loss he and his home suffered. My brother arrived to the home before me. He called me after being there for a little while asking me about instructions/whereabouts for A/C... as LA was in the middle of a heat wave at the time. He had opened all windows and doors to cool off the home, but it wasn't working as it was staying in the 90's well into the night. I went through all of the documents that the host had sent me and did not find anything about A/C and how to run it... but...
I am sorry Sarah was not happy with her experience. If you are reading this review, I encourage you to read the other 100- 5 star reviews we have received. We are a Superhost with Airbnb and have been in the Vacation Rental Industry for 15 years. We take great pride in our properties and do everything we can to host a enjoyable experience for our guests; from the initial contact, to check out, to their return stay! This guest has only stayed in two other Airbnb properties, so perhaps she does not understand the difference between staying in someone's home vs. staying in a hotel. When we have a local person inquire, we always ask if they plan on having a party or gathering at the house (which we do not allow). The home is a significant historic home in the area, and while we are happy to share it with respectful guests, we cannot allow large groups. Sarah told me she was booking the home so her brother could come here to rest after a long travel schedule. He actually was hosting a seminar in town, which turned into an after party at our home. Several neighbors complained to me about the large party. We certainly want our guests to have a good time while staying at our properties, but disrespectful and dishonest guests put a damper on what the sharing community is all about.
---
This was my first time renting a home. Angie was very helpful and is a very pleasant person to talk to. The house was exactly as described and location was perfect. Grocery store and restaurants are walking distance and my kids beach camp was only five minute walk. I had only one complaint and that is not Angie's fault but the cleaning crew. They did a lousy job overall but I feel bad to complain to such a wonder host.
---
I recently used this beautiful Historic Spanish Mansion for a client photoshoot. Everything about the location fit perfectly into the creative direction for the shoot and upon arrival, was blown away by how pristine the grounds and house was kept. The attention to detail both outside and inside the house was fantastic. The home was laid out beautifully, and if I had needed to entertain a large group, this home would have been perfect. The kitchen was stunning and the bedrooms and bathrooms were second to none. Everything about this home felt upscale, while making you feel welcome. Angie made the entire experience a breeze and I would highly recommend staying here or at any of her properties.
---
An absolutely amazing house in a great location near the Village. The house feels like the Chateau Marmont at the beach. Very stylish, luxurious, and comfortable with restored Spanish Revival architectural details. We entertained our family here and could not have been happier. Football in the theater and a great kitchen for cooking. Overall a wonderful experience!
---