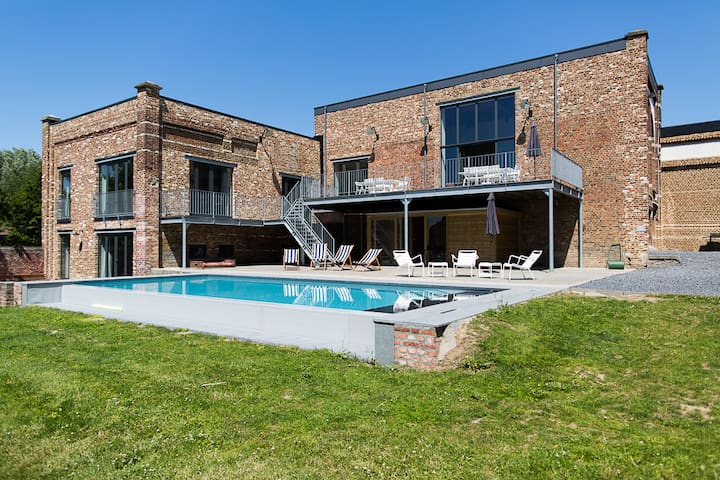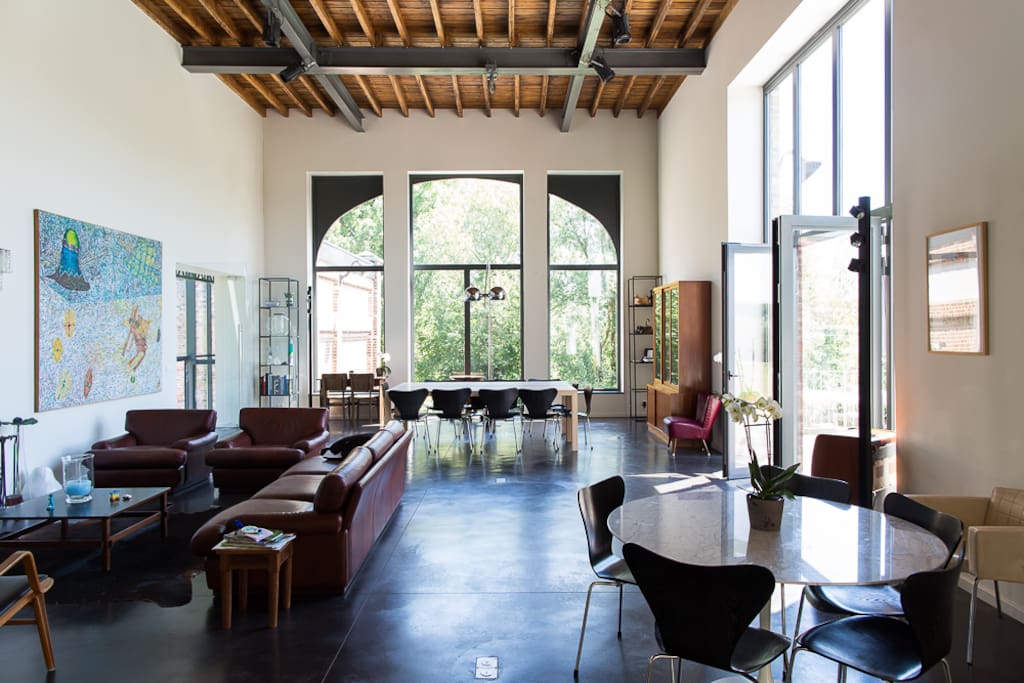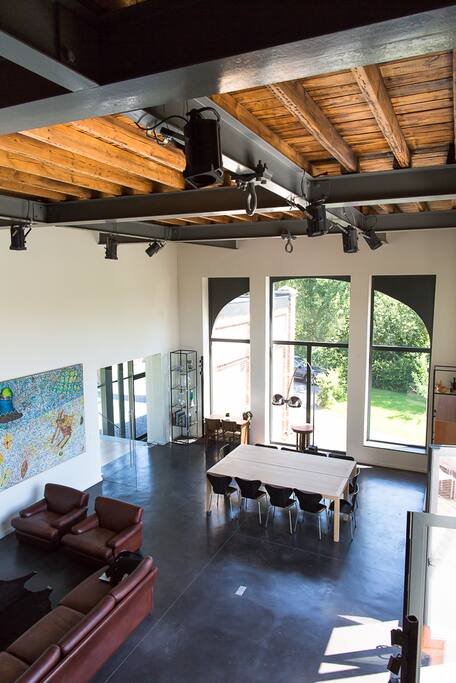 Les Bonneteries old factory
'Les Bonneteries', an old factory site that has been transformed into a fantastic holiday resort, located in the Flemish Ardennes and 'Pays des Collines'. This beautiful spacious resort can host both private as professional groups up to 20.
房源
Les Bonneteries is a holiday cottage with 6 bedrooms, which can sleep up to 20 people. The loft (covering more than 500 square meters) has all the modern comfort one can dream of and consist of a marvelous living space with a large south facing terrace and garden, offering a superb view on the Pays des Collines. You will also find a fully equipped kitchen, 6 bedrooms, 4 bathrooms and a library.
A fantastic swimming pool (11 by 6 meters) and sauna are completing this superb holiday location.
与房客的互动
Guests will be welcomed and we will help to make your journey unforgettable. We can also help with tips to organize your weekend (renting bikes, ...)
其他注意事项
The minimum stay is 3 nights
---
---
---
---
No pets are allowed and no smoking inside the building.
Please do not play loud music in the gardens or at the swimming pool.
For fire security reasons we cannot accept more then 20 guests in the house. If you plan to invite additional guests (even during the day), please contact us upfront for permission.
---
---
---
We were looking for a big, comfortable home to spend the Christmas holiday with our extended family and this place fit our needs perfectly. The property was absolutely stunning and we loved the festive touches like the beautiful Christmas tree and Wham on vinyl (it was the first actual record player our kids had ever seen). There was plenty of room for everyone and we especially enjoyed spending evenings in front of the fireplace. We had a warm welcome from the very beginning, and Kobe was available and helpful throughout our stay. One of the best surprise perks was that the house was located directly on a walking path, great for jogging, biking and short excursions with kids. We were admittedly a little disappointed with the immediate surroundings. Ellezelles is a bit of a ghost town and Ronse wasn't much better, but we did enjoy a great day trip to Lille, which was about an hour away by car. And to be fair, Kobe did leave us great tips for local restaurants, but they were either closed for the holidays or full during our stay. Overall, it was a great place for a family vacation and we wouldn't hesitate to recommend it!
---
We had such a lovely time at Kobe's place. Veerle, friend of her welcomed us when we arrived on Friday. The area around "Les Bonneteries" is quite rural and excellent for exploring, biking or day trips. Nevertheless, we decided to spend all our time in this beautiful mansion, - enjoying the pool, the sauna and the fireplace. The bar offers more opportunities for celebrations of any kind. I can recommend this place to anyone, who is interested in bringing together a bigger group of people and just have a good time.
---
The stay was absolutely extraordinary! The photos lied a bit, it is much larger in real life. It was easy to accommodate 18 people here. The factory is beautifully restored to a fantastic mansion. For cyclists it is perfect: close to all the famous hellingen, and with lots of space to store our bikes. We didn't even use the bar, as the main building was more than enough. I can highly recommend this place to all families and groups who are looking for a place in Blegium to relax and enjoy the countryside.
---
Amazing!! The property was excellent and location was great for cycling and exploring. Kobe and Veerle were very helpful, and put us in touch with a great cycle hire company that were able to deliver us 16 bikes. We all had a wonderful time and would definitely recommend it. Hopefully return again in the future!!
---
We can highly recommend this location. Clean, comfortable and ... Outstanding! We were a group of 12 and had enough space for everybody. The big dining/living room is perfect for eating and relaxing together! :) big bonus for the pool, we tried to swim in December, much fun after the Sauna. :D In the second building is the bar. We did not use it much, but the area is perfect for a party like wedding! :D
---
Superb! What a fantastic place and location! We stayed there to do some cycling and Kobe was great in offering tips, information and inside knowledge on both area and cycling information. We were wowed by the house and welcomed with chocolates, fresh flowers and fridged thirst quenchers - what more can you ask for? Both house and location are idyllic for groups and families looking for some seculsion and the village has a lovely bakery, charcuterie and supermarket. We highly recommend it and would definitely love to return there!
---