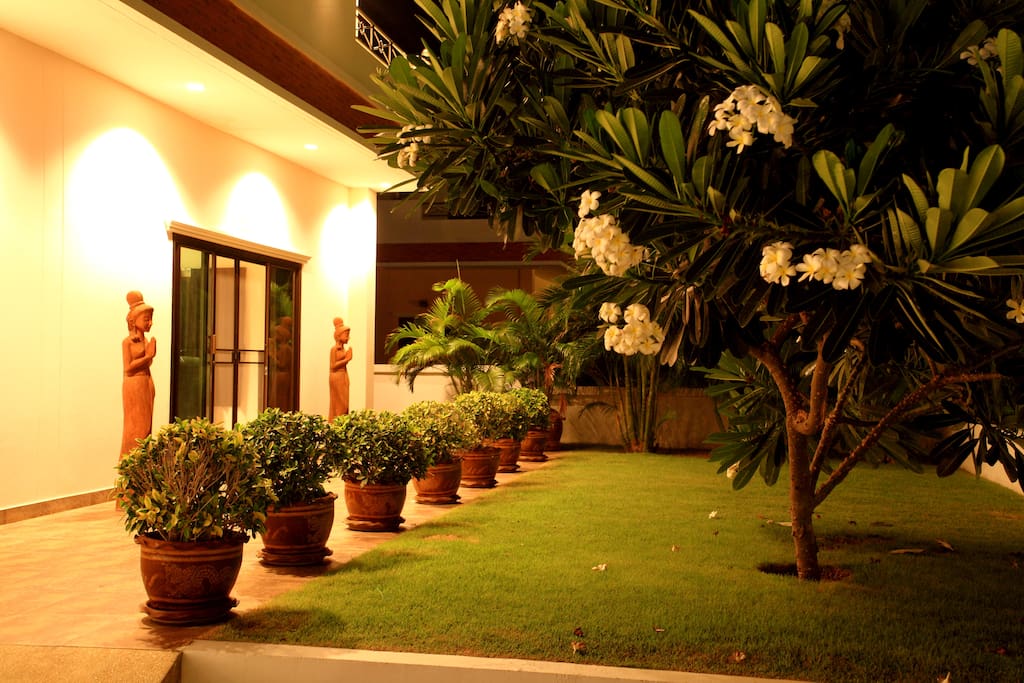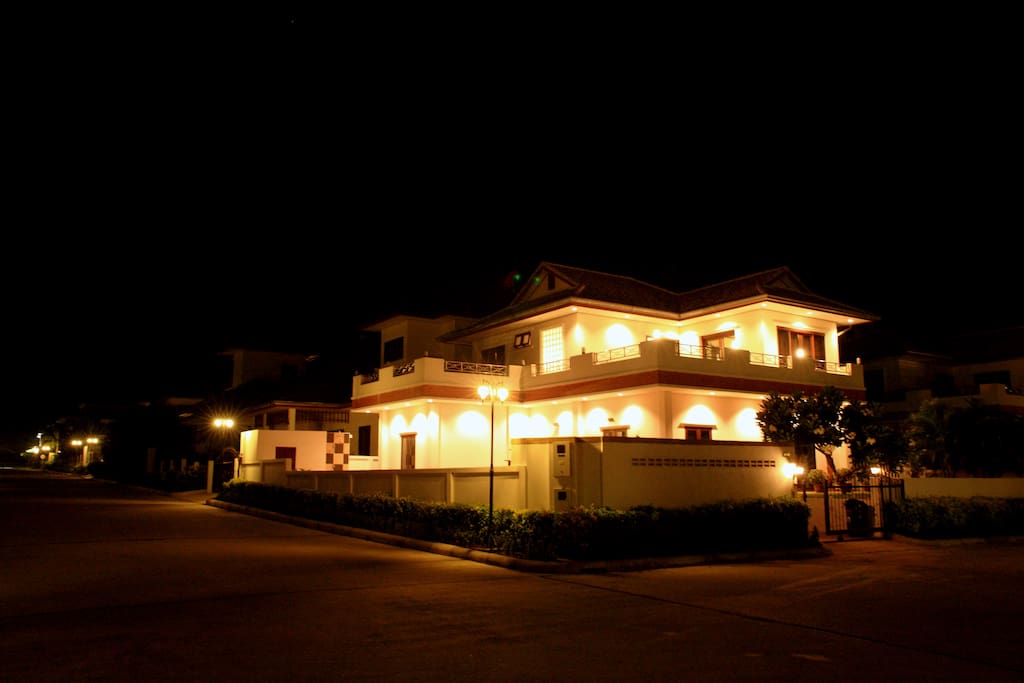 一个可爱和大的美丽的房子,房子内外的所有设施。细节作为室外淋浴间和室外厕所随时可以由游泳池使用。大型公共游泳池距离酒店有一个不错的小餐馆。 50寸电视和高速光纤互联网。为什么要租一个私人房子的时候,只需要一间酒店的房间呢?入住愉快!
A lovely and big nice house with all facilities in and outside the house. Details as an outside shower and outside toilet is ready to use right by the swimmingpool. There is a nice little restaurant 100 m away by the big common pool. 50 inch TV and high speed fiber optical internet. Why pay the double for just a room in a hotel when you can rent a whole private house? Enjoy your stay!
房源
这间别墅是适合2名4名成人和4名儿童入住的家庭的理想选择。房子在2015年8月再次被涂漆,不再粉红色:) 如果您喜欢高尔夫球,那么有几个高尔夫球场靠近别墅。 不包括电和水。 注意!第五间卧室现在用作私人商店。 在厨房里有一个反渗透水过滤器。这是喝酒的水,所以你不必打扰带着大量的水。 我们有两个别墅出租。 别墅是相同的,除了一个游泳池是正方形,另一个是像圆形曲线的莲花形状。两个游泳池都设有按摩浴缸。 这些房屋位于围墙住宅开发区,卫兵24/7 这是非常儿童友好,封闭区域没有交通。你可以放松而不受打扰。酒店的俱乐部会所设有一间小餐厅酒吧,健身室,网络电脑,按摩和一个免费为客人提供的大型游泳池。 情节是400平方米。 房子约350平方米。 室外:花园大面积,带按摩浴缸的海水游泳池,游泳池外的厕所和淋浴。还有一间独立的卧室,浴室和空调,自己的入口估计为女仆或客人。 1楼:3间空调大厨房,浴室和淋浴间以及带空调的一间卧室。 2楼:3间卧室,均设有私人浴室和独立的空调。每个大约50平方米的2个大露台。这是一种锌水和洗衣机和洗衣机。 距离: 到华欣中心乘出租车约。 12-15分钟费用约5美元。在曼谷的机场, 2.5小时乘出租车和费用约。 50美元。我可以帮助我的客人与私人司机,出租车,嘟嘟车或摩托车出租。当您想打电话给出租车,食品或其他服务时,请携带一张泰卡SIM卡是非常好的。 进入住宅区是通过一个24小时守卫的大门,卫兵也夜晚巡视该地区。 这些房子在有防护的围栏区域。它是自己的俱乐部会所,有各种设施,如大型游泳池,餐厅,健身房和按摩。还有一个有互联网连接的电脑可以在会所里使用。 所有付款都在现场向俱乐部的现场管理人员进行,并以相当于泰国浴的要价租金的任何有效货币支付。租金价格是每房,不包括用电和用水量。出租时计算电力和水量,并在租赁开始时要求存款。离开时您将支付水电费。为了节省电力,请关闭空调和按摩浴缸。
This villa is perfect for 2 families with 4 adults and 4 children. The house was repainted again in August 2015 and is no longer pink :)
If you enjoy golf there are several golf yards close to the villa.
Electric and water is not included.
NOTE! The 5th bedroom is used as a private store room now.
There is a reverse osmosis waterfilter under the zink in the kitchen. This is water for drinking so you don´t have to bother carrying around with tons of water.
We have two villas for rent.
The villas are identical, except for that one pool is square, the other is shaped like a lotus flower with round curves. Both pools have jacuzzi.
The houses are in a fenced residential developed area with guards 24 / 7
It is very child friendly, closed area without traffic. You can relax without being disturbed. The clubhouse on the site that has a small restaurant-bar, fitness room, computer with internet, massage and a large swimming pool which is free for the guests.
The plot is 400 square meters.
The house is about 350 square meters.
Outside: Large area with garden, saltwater pool with jacuzzi, and toilet and shower outside by the pool. There is also a separate bedroom with bathroom and aircondition with own entrance estimated for maid or guests.
1 floor: Large living room with 3 airconditions, kitchen, bathroom and shower and one bedroom with aircondition.
2 floor: 3 bedrooms, all with private bathrooms and separate airconditions. 2 large terraces of about 50 square meters each. The is a zinc for water and wash outside and washing machine.
Distances:
To Hua Hin center with taxi approx. 12-15 min. and costs about 5 USD. At the airport in Bangkok, it takes ca. 2,5 hours by taxi and costs approx. 50 USD. I can help to get my guests in touch with private drivers, taxi, tuk-tuk or motorbike rental. It is very good to have a Thai-SIM card when you want to call taxi, food or other services.
Access to the residential area is through a gate that is guarded 24 hours by guards also patrol the area day or night.
The houses are in a fenced area with security. It is its own clubhouse with various facilities such as large pool, restaurant, gym and massage. There is also a PC with internet connection to use in the clubhouse.
All payments take place on site to site managers in the club house and paid by any valid currency equivalent to asking price rent in Thai Bath. Rental prices are per houses and do not include electricity and water consumption. Electricity and water are calculated at departure and require a deposit upon lease start. You will pay for water and electricity when you leave. To save power turn off aircons and the jacuzzi.
房客使用权限
该地区有一个非常大的游泳池和健身和餐厅。这当然是免费的客人。
There is a very big swimmingpool and fitness and restaurant on the area. This is of course free for the guests.
与房客的互动
我将永远准备好我的电话和我的电子邮件,以帮助我的客人在任何事情之前和逗留期间,以使整个经验尽可能好。当然,在白天,办公室的工作人员将可以提出问题和帮助。获得泰卡SIM卡总是很聪明。当您在Suvarnabhumi机场降落约20美元时,您可以买到这个。它将持续一个月,包括通话时间和大约5 GB的数据。
I will always be ready at my phone and my e-mail to help my guest with anything before and during the stay to make the whole experience as nice a possible. And of course on daytime the staff in the office will be avaliable for questions and help. It is always very smart to get a Thai-SIM card. You can buy this when you land at the Suvarnabhumi airport for about 20 USD. It will last for one month including calling time and about 5 GB data.
其他注意事项
现在我们有光纤连接到互联网。下载速度是35 Mbs,上传是20 Mbs。记住这是泰国,有时连接可能会丢失一段时间。立体声和电视效果很好,但大多数都是泰国频道。我总是带着HDMI电缆将电影/电影等从笔记本电脑直接流到电视屏幕。有一个dvd播放器,所以孩子们可以带自己喜欢的电影。直接从Wi-Fi流式传输电影也是可能的。电视是一款来自LG和50英寸的新型智能电视机。电视声音连接到立体声,以获得更高的音质。请不要触摸电缆的设置,因为它现在工作正常。如果您想要频道,可以从办公室获得帮助以购买带有频道包的卡。
Now we have fiber optical connection to the internet. The download speed is 35 Mbs and upload is 20 Mbs. Remember this is Thailand and sometimes the connection can be lost for a while. The stereo and TV is working good, but there are mostly thai-channels. I always bring an HDMI cable to stream movies/films etc. directly from the laptop to the TV-screen. There is a dvd-player so the kids can bring their favourite movies. Streaming movies directly from the Wi-Fi is also an possibility. The TV is a quite new smart TV from LG and 50 inches. The TV sound is connected to the stereo for greater sound quality. Please don´t touch the set-up of cables as it is working well now. If you want channels it is possible to get help from the office to buy a card with a channel pack.
---
---
---
Electric and water is not included. The people in the areas club-house will provide you with the keys to the house and read the electric on your arrival. When you leave you pay for the used electricity and water during your stay. Every room have own air con and we suggest to switch off air con in rooms when you not stay there.
---
---