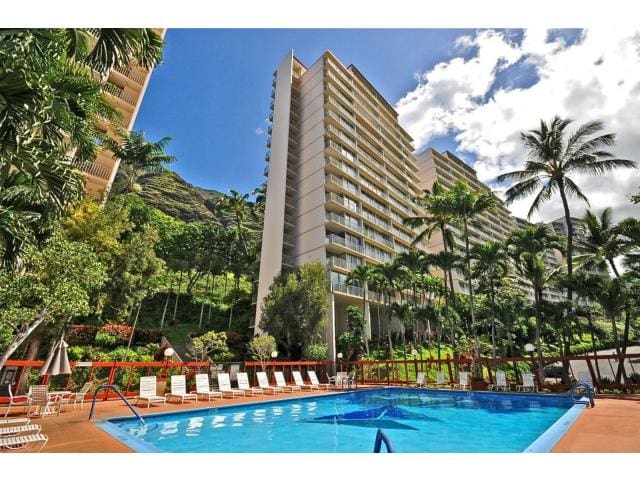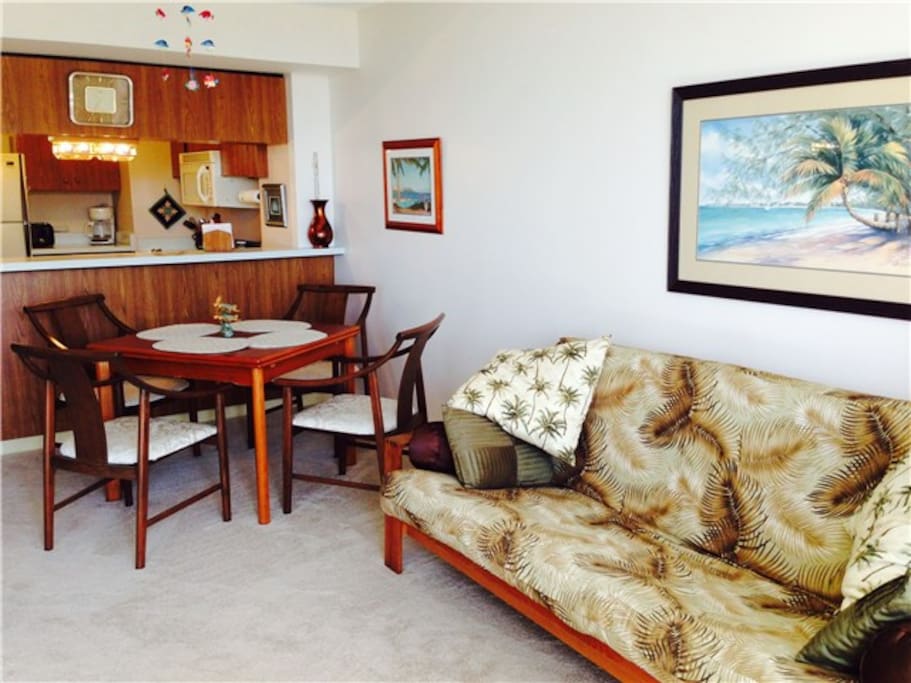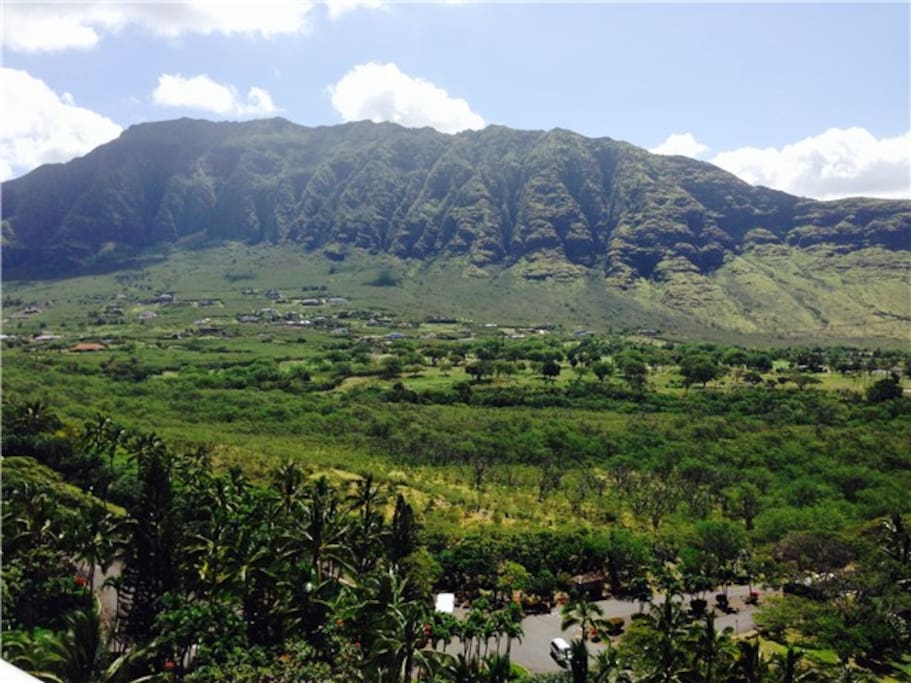 Million Dollar Views for just $61 per night! Our luxurious air-conditioned condo has floor-to-ceiling windows featuring jaw-dropping views of the ocean and beautiful Mākaha Valley. Enjoy unrivaled tranquility just 1 mile from the beach.
房源
Our condo is truly the best value on O'ahu. When we're off-island, it can be yours to enjoy. Our beautifully decorated 15th-floor condo features breathtaking views of Mākaha Valley, as well as a full kitchen, and a stunning heated swimming pool. Central air conditioning and sound-blocking concrete walls provide complete luxury and tranquility less than one mile from the famous Mākaha beach. Two twin beds that convert into a king, plus a cozy couch that becomes a queen bed, and two extra Japanese shikibuton mattresses, provide comfortable and flexible sleeping arrangements for you and your guests. And of course there is cable TV (even Showtime!) and free wifi.
For the price of three nights at Disney's Aulani Resort, you can stay for A MONTH at our beautiful Mākaha condo!
房客使用权限
Mākaha provides a tranquil old-Hawai'i oasis within driving distance of everything O'ahu has to offer. Beautiful beaches, great hiking trails, golf courses, and a few outstanding restaurants are all close by.
与房客的互动
You'll check yourself in; the front office will issue your parking pass and you'll get the keys from the lock box next to the front door. I'm available at all times to answer questions and help you navigate the condo and the local area. I can also arrange for extra maid service during your stay.
其他注意事项
Why is the pricing so weird? O'ahu zoning law prohibits vacation rentals for fewer than 30 days. This means that I am required to rent you the condo for a 30-day period at the full monthly price of $1890. You don't actually have stay in the condo for all 30 days -- with the low monthly rate, it's still a great deal if you only stick around for two weeks! But the condo is yours for the full 30-day period, so I encourage you to stay as long as you can to take full advantage of all the adventure and relaxation that Mākaha and O'ahu have to offer!
Airbnb's pricing calculator is not exactly compatible with these Oahu rules. So it will give you a weird price. Just send an inquiry and I'll give you the correct price of $1890 for up to 30 days, plus $63 for each additional night.
Also, Hawaii law requires me to charge tax, but don't worry -- it's already included in the price! The true price is actually $55.39 per night, plus $7.61 in general excise and transient accommodations taxes, which is why the booking price is $63 per night. Hawaii Tax ID numbers are TA-145-516-9536-01 and GE-145-516-9536-01.
Also note that the Makaha Valley Towers charges $80 for a monthly parking pass.
Hawai'i Tax ID Number: W19945269-01
了解这一数字
---
---
Don't smoke, don't bring pets, don't wear shoes indoors, and don't disturb the neighbors.
---
This was my first time using Airbnb, so I was a little skeptical at first. We were looking to find a rental on Oahu for about 25 days at a reasonable price, stumbling upon Matthew's place was a win for us. I love Oahu but not so much Honolulu (too many tourists) and with Mathews place being all the way on the West Side it worked out perfect. The Condo: Situated on the 15th floor of the Makaha Valley Towers with a million dollar view. The Condo had everything you needed and more. The Kitchen worked out perfect for our needs and there was plenty of room for the entire Family. The Washer and Dryer were down the hall about 8 doors down. Never had any issues and they were always empty and ready for us to use them when we needed. Look around for the electronic laundry cards. We found a couple in the Condo after already purchasing a new one for $5. We left ours with the others when we checked out. The pool and BBQ area was great. Heated pool and (6) BBQ grills. Security guards were very friendly and very attentive. You will definitely feel very safe staying here. The Peacocks on the property are such a sight to see, just be warned they do wake up early, as for us the kids loved them and the wife and I wake up early anyways. Location: Down the WestCoast of Oahu just passed the small town of Waianae. Waianae has a few small supermarkets and all of the fast food restaurants. The Condo is about 15-30mins from Kapolei where you will find a Costco, Target and Shopping mall. Beaches: We preferred the beach just down the road from the Condo(Makaha), it's a 1.2 miles straight shot as soon as you turn left out the main gate. Makes for a great jog in the morning and Yokohama Bay which is down the coast about 5-7miles. There is a cool tide pool where you can take the kids for a swim that is more protected from the crashing waves. Matthew communicates very well and informs you of everything before you get there so there really is nothing to worry about. My family and I will definitely be staying at Matthew's place again in the future.
---
Matt was a great host from the start! He was very communicative and helpful to my situation. Matt will make sure that you are situated with a great narrative of information and instructions shared after you've confirmed your reservation. He made sure that I understood the process and answered any of my concerns promptly. The condo was everything that was advertised and then some! The view from his place was just AWESOME!! And let's not forget about the A/C, just great with the loss of trade winds. Just a great place all together.
---
Mvt is located at west part of oahu. It takes about 40 min from airport an hour from waikiki. I liked the west part, it was no rain and humidity. Matt's condo is amazing! There's everything what you need. Not only Cozy but also has fantastic view. I was feel like just at home. and the host Matt, super kind!! He's the best host I've ever met. Responding very fast and caring us. thank you Matt, I want to visit again!
---
Matt, der Inhaber ist sehr freundlich, hilfsbereit und zuvorkommend, so dass eine vertrauensvolle, fast familiäre Atmosphäre entsteht. Das Condo ist in einem sehr gutem Zustand. Es ist sauber und komfortabel, so dass wir unseren 1-monatigen Aufenthalt sehr genossen haben. Das Gebäude ist sehr gepflegt. Wir vermissen schon jetzt das Frühstück am Morgen in der parkähnlichen Anlage sowie das gemütliches Barbecue in den Abendstunden. Die Nachbarn waren sehr zuvorkommend und freundlich. Es herrscht eine entspannte Atmosphäre. Makaha ist ein Geheimtip in Oahu. Da es an der Westküste liegt, herrscht fast immer Sonne, auch wenn es in anderen Inselteilen regnet. Die Strände sind hervorragend zum schnorcheln, baden und surfen. Das Preisniveau ist gegenüber Honolulu moderat. Wir werden sicherlich wiederkommen.
---