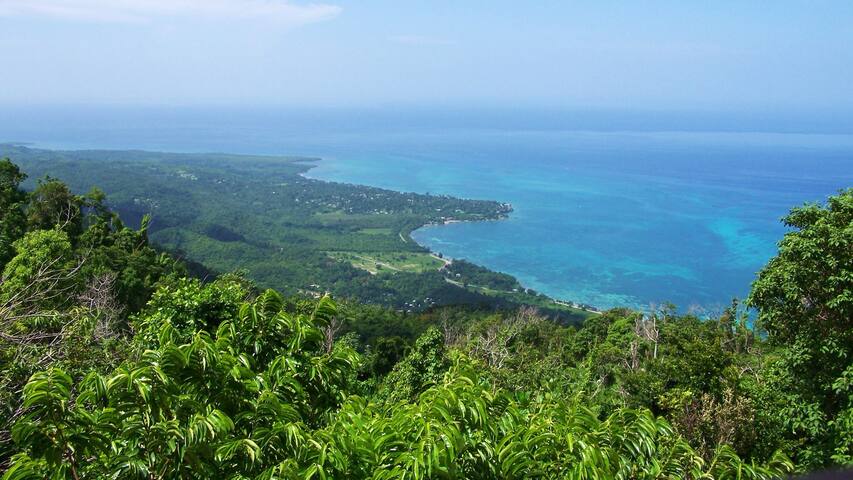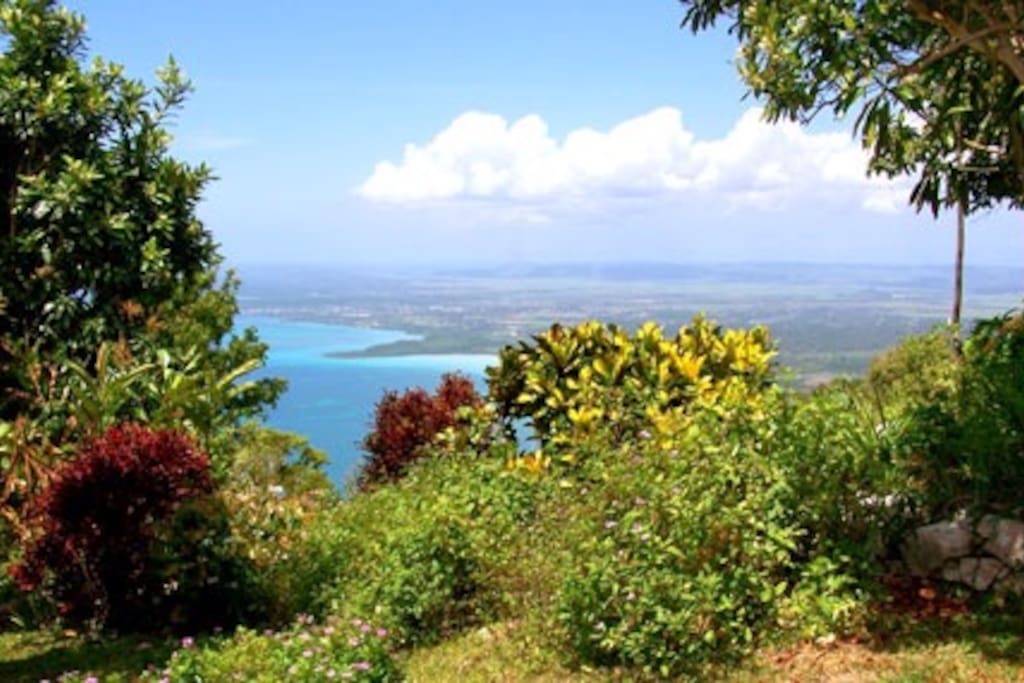 Mountain top cabins with ocean view
第一次在Airbnb订住宿,^_^. 一开始有一点点难找,但是司机打电话和Sean联系了之后很快就把我们送过去了。下着大雨,Sean不仅开着车来接我们,还帮我们把行李送到了小屋~很安静也很隐秘的一个小木屋。景色非常棒!而且Geneva做饭非常好。一定要试试meal plan~我吃到了很多以前没有尝试过的东西,炖牛肉,还有羊肉,还有鱼都超级棒。因为是雨季,所以我们并没有每天都出去(一般走路15分钟可以到一个学校,那里可以打车),如果步行,需要四个多小时一个来回: 从山顶走到山脚再回山顶. 这里适合行程相对松一些的人。不适合目的性很强,行程很紧的游客。但是这里可以体验到真正的牙买加~可以跟着Geneva去当地的集市~即使有些雨天我们什么都不做,光是看着海面上的雨,都很美。Sean和Geveva都非常体贴。我一开始没有地方晾衣服,很快Geneva就给了我晾衣绳和夹子。希望可以永远这样住下去~他们的两个宝宝也非常sweet。 很喜欢这个地方,很幸运可以在这个小木屋度过26岁生日~而且看到Austin 和Tobby那么可爱,我和我老公开始认真考虑生一个宝宝了
---
Definitely stay here! Good Hope Retreat is an escape into tropical bliss! If you love the outdoors, healthful and delicious home cooked food, a new adventure every time you step out the door; then you should be at Good Hope! Sean and Geneva have created a wonderful and loving environment for you to flourish in the raw beauty of Jamaican countryside. Take the hike down the mountain to Bluefields bay beach: it's a lot of downhill walking but so worth it once you hit the beach and its pristine. Play and adventure through the land of the retreat (so many great mini trails to check out-and the kids will happily tell you about great spots for flowers, pictures, fruit bearing trees etc...) and absolutely walk down to the shops and meet other locals they all have great stories, experiences, and life to share! I traveled out here on my own and I felt so safe every minute of my time with Geneva and Janel! Janel is the coolest tour guide/entertainment specialist/friend I have met! I am proud to say I not only had a wonderful introspective experience on this trip but I found new friends that are more like family!
---
Sean's place was great, exactly as advertised. Perfect place to come if you want to get away from the hustle and bustle of the city. It really does feel like you're in a tree house like I read other previous guests say. The view was AMAZING. The food was AMAZING. Geneva, Sean's wife is an amazing cook. Definitely take advantage of the meal plan because there aren't any restaurants close by. Also be sure to stop by the store before heading up to the cabin for snacks and water etc. The roads leading up to the cabin aren't the best so I would advise everyone to use Ron, Sean's driver to transport you up and down the mountain. Ron was also a cool pleasant guy , who grew up in the Cave District his whole life. He will be able to show you what there is to see and do on this side of the island. Overall great tranquil stay at Sean's place, we will definitely be returning. Thanks for everything Sean!
---
BEST Airbnb I have ever stayed at (by far.) The cabin is in the middle of a luscious mountain overseeing the beach. On the way up the mountain you'll pass unique villages. The view is breathtaking. The food is very tasty and the best we've eaten in Jamaica. Sean and his family are very chill, helpful and friendly. This is a unique experience. One of the most special moments I've experienced during my travels
---
This is a one-of-a-kind a place to stay in Jamaica. Situated on top of the mountain it provides a different experience than being on the coast. Sitting on the patio you are overwhelmed by the tropical forest and sea beyond.
房源
Good Hope Retreat is a private artists retreat now open to the public. It consists of three extraordinary hand-crafted wood, island cabin-style houses on an estate of four acres, situated majestically in the high Mountains of Westmoreland, Jamaica.

Our retreat is off-the-beaten track, amid lush vegetation, with our Jamaican hills overlooking the island's South Coast. Our sunset from this vantage point, 700 meters (2100 feet) above sea level, is an exclusive nightly spectacle of beauty. Cool evenings and warm but moderate daytime temperatures, individuals with heightened appreciations of natural wonders and phenomenon will be inspired to no end by all that is to be found and re-discovered in the rural tradition of Good Hope Retreat.
房客使用权限
Guests have access to the whole property, They can explore The fruit orchards, play pool in the game room or join me for a round of bad Minton.
与房客的互动
Our guest here at the Good hope retreat are like good friends we make sure all of their comforts are provided for there is nothing too much to ask for.
其他注意事项
Yes most people don't realize how nice the cabins are or how wonderful the view is until they arrive. We are somewhat close to the coast but at a very high elevation which provides an outstanding view. Also our Queen size beds are pillow top and fairly new. We have Wi-Fi access that is 4G and we also have hot water which is solar powered.most of the year we have fresh produce in our gardens for our guests to sample.
---
Hello my name is Sean Clark I have lived here at Goodhope all my life my mother and father were American artist looking for a tropical retreat to work and relax. Eventually my father started building these wonderful cabins that I now manage. Both me and my wife and my two sons for that matter, just love having guests around.we take pleasure in showing them the local community and having them try the local food.if you choose to stay at the Goodhope retreat you have my personal guarantee that you will not be disappointed. Thank you
Sean