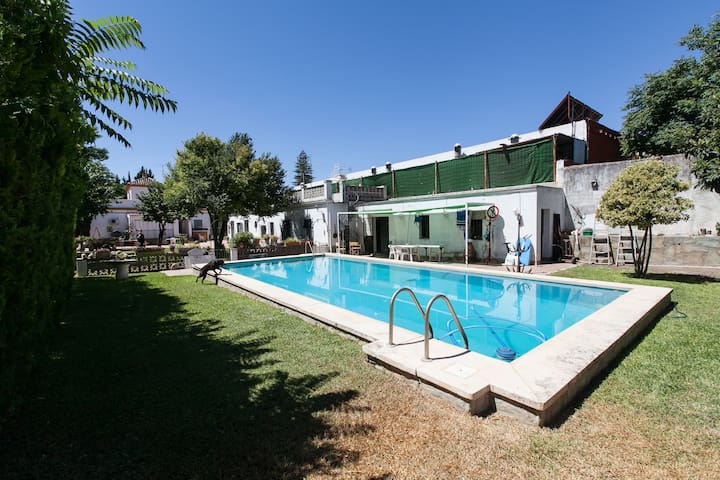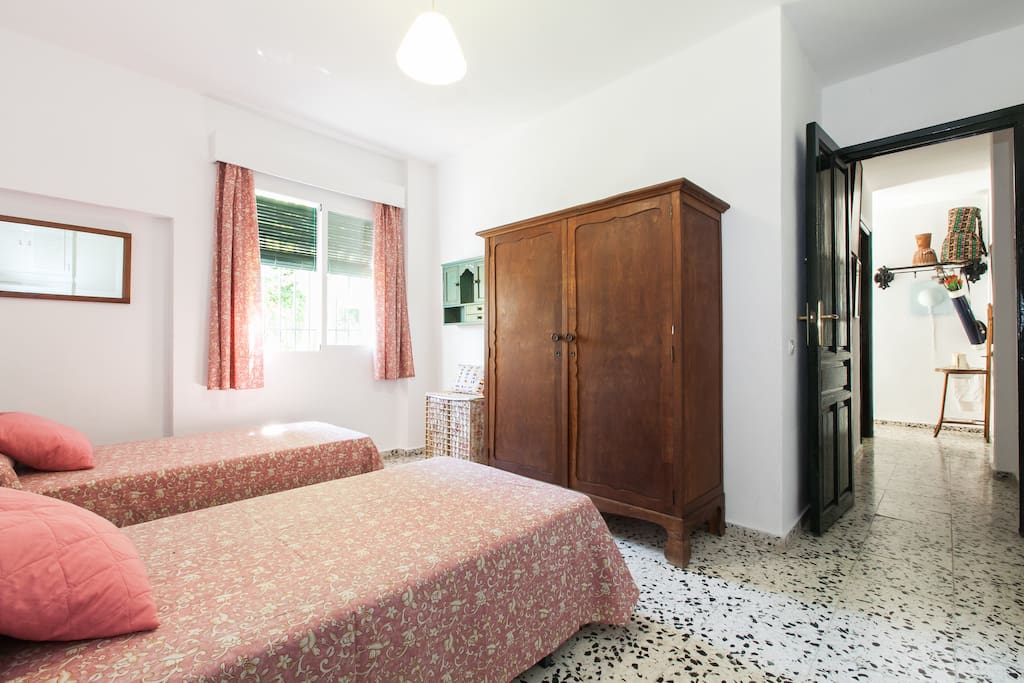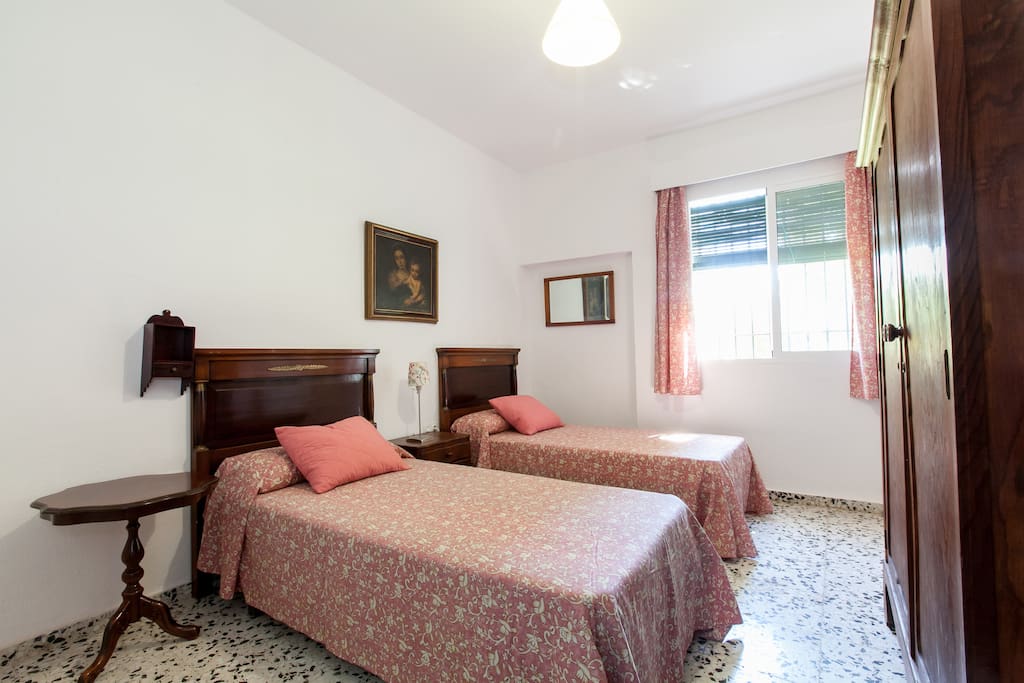 房源
独立式住宅出租在小屋。有用的100平方米,2间双人卧室。大客厅设有用餐区和厨房,配有所有必要的设备。浴室。所有新装修和完全在外面,看草坪和花园,非常宽敞。 冷静。 2辆汽车私人停车场。我们在一个村庄的郊区,与公共交通工具良好的沟通,靠近高速公路出口。 泳池可以使用。 我们在一个城镇的郊区的一个住宅区,但所有的需求都相遇而且非常接近。 附近有超市,商店,带电影院的购物中心和服装店,都没有搭车。 我们距离塞维利亚有7公里,约10分钟车程,20-25分钟乘坐公共交通工具。巴士站距离酒店不到100米,塞维利亚巴士时刻表宽敞,每15-30分钟一班。 我们可以建议您在城市看到什么,传统的东西,在塞维利亚有一个非常棒的体验。 每天的价格是全包的。
Detached house rented in chalet. Useful 100m2, 2 double bedrooms. Large living room with dining area and kitchen with all necessary equipment. Bathroom. All newly renovated and completely outside, looking at lawn and garden, very spacious.
Calm. Private parking for 2 cars. We are on the outskirts of a village, with good communication with the public transport and close to the motorway exit.
The pool can be used.
We are in a residential area on the outskirts of a town, but with all needs met and very close.
Nearby you will find supermarkets, shops, a shopping center with cinemas and a clothing shops, all without taking the car.
We are 7km of Seville, about 10 minutes by car and 20-25min by public transport. The bus stop is less than 100 meters from the house and the Seville bus schedules are wide and run every 15-30 minutes.
We can suggest you what to see at the city, the tradicional things, to have an awesome experience in Seville.
The price per day is all inclusive.
---
Victoria was very helpful and the apartment was clean and tidy and beautifully presented. Within easy walking distance to some tapas places and a shop across the rd. If you are staying when it is cold weather be prepared as it can get really cold. Although Victoria does provide heaters there was a cold snap when we were staying and we were really chilly. Beautiful little home.
---
This is the ideal place for a family with kids travelling to Sevile, especially if you have a car! The location is in a nice residential neighborhood which feels very safe. Very close to the highway with easy connections west to Huelva and Portugal and south to Jerez and Cadiz. Supermarkets, ATM, restaurants all nearby. You can park your car on the premises. Sevile is 10 minutes by car and you reach one of the many parking garages close to the center without a problem (you shoul dbe ready to pay 15-20 EUR per day parking). The house itself is built within Victoria's huge garden. You have free access to the garden and the pool, which is superb for kids. The house is beautifully decorated, and we immediately felt at home! Beds super comfortable! Kitchen is smallish but has everything you may need. The only minus is the bathroom - There's only one, and the shower itself is tricky with the hot water due to use of a gas system - our kids needed help. But it wasn't a big hassle. The house was clean and well maintained. Victoria was a great host! Communication was very good! We felt very welcome with the kids running around the garden. She even brought us toys to play with! The dogs are friendly. If you are considering this vs. a location within Seville, consider that no where in the city you'd get this value for money, and if you have kids along, this is the ideal place to settle after a busy day of historical monument sightseeing!
---
The house was beautiful, the pool was inviting and refreshing, the location was convenient for visiting Sevilla. The kitchen was nice because it was well equipped and was the first place we stayed with a kitchen that had more than just salt and pepper. There was oil, vinegar, and a good selection of spices. We thoroughly enjoyed our stay.
---
Beautiful house just as described. Very clean and comfortable. The pool is amazing. The hosts were lovely and super nice. Very laid back environment and exactly the relaxing experience we were hoping for. Also, they have 3 dogs that we just fell in love with. So sweet. They are around but don't come in the house so you can choose to interact with them or not. I would recommend that you do! (if you're driving) It's an easy drive into Sevilla, which is better than actually staying there since parking in Sevilla is a nightmare.
---
We had a most wonderful experience staying in this beautiful detached house for 3 days (for a family of 4). It is everything as advertised (and more). Pablo (the host's son) provided us, well in advance, clear directions and instruction on everything a guest would need. We visited Seville during the Santa Samana week and, despite the holiday bus schedules, we were able to fully enjoy the city center until late in the night and get back by bus even after midnight. The bus stop is a block from Pablo/Victoria's house -- and takes you right to the city center. Pablo spoke good English and we had a great time just conversing with him and his family. The accomodation is tastefully decorated -- Pablo is a painter and an accomplished artist -- you can see his art work in the house. Victoria has 3 dogs but they are very friendly.The house is quite secure, spacious, clean and we got to enjoy citrus fruits and Japanese kumquats from their garden. It did feel like home away from home. I have absolutely no reservation in recommending Victoria/Pablo's place to stay -- they are easily amongst the very best hosts we have stayed with.
---
Alegre y extrovertida. Me encanta conocer gente de otros paises y viajar.
语言:
Español