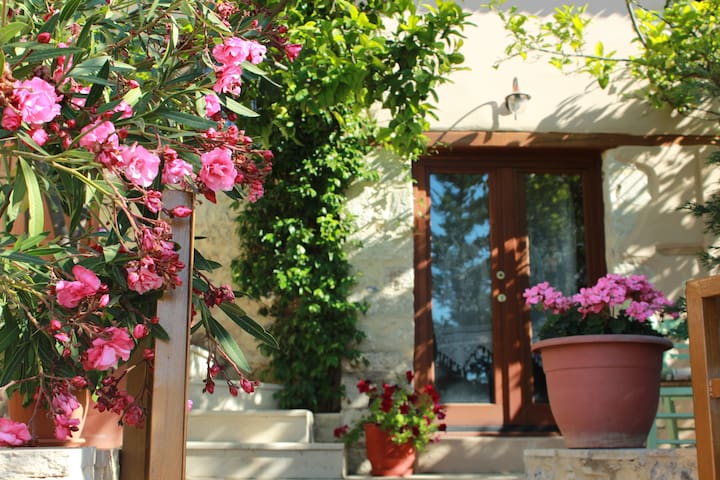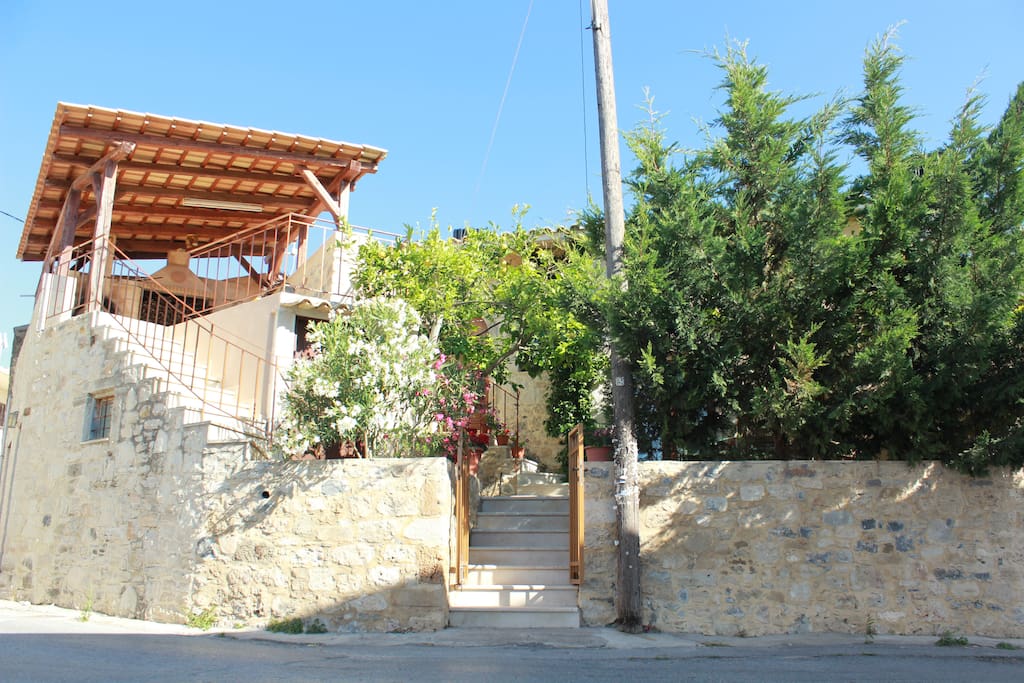 Wonderful little traditional villa located on a small agricultural village, 10 minutes drive from the beach, the airport and 15 minutes from Heraklion city center.
房源
It is an old House builded in 1860 which has been completely renovated in
2010. Belonged to a Turkish Agha of the region until 1902 that was bought by my grandfather Michael Chamalakis when he settled with his family in the village of Epano Vathia.
It was always a rural stone made house, which develops in three levels
according to the morphology of the land. The village was mentioned as early as the period of Venetian Crete with the same name and is located on the edge of a fertile valley with olive trees and vines that are the main source of income for residents.oannis and Tripiti.
Themistocles was an excellent host. He was busy so he sent his dad to pick us up at the airport and drive us to his place. The place was excellent, very rustic, exactly like described and had all amenities one could ask for. The beds were soft, the sheets, the pillows and towels were clean and soft. The location was exotic and beautiful. There was a restaurant 100 feet away that had some of the best Greek food I have ever tasted. His dad came back on day two to drive us around the Island to show us where everything was. He then came a third time to take us to the airport. I recommend this listing wholeheartedly. These were the best hosts I have ever stayed with. Thank you for all you did for us to make our trip so enjoyable.
---
We were welcomed by Themistocles's father. He was very gracious and gave us loads of ideas of things to do. He left a bowel of fruit and a lovely bottle of wine for us to enjoy. The terrace above and court yard are a plus!! How relaxing having coffee in the morning amongst the flowers and lemon tree. A washer was advertised but we did not find it. I just looked at other reviews and find that it was in the third bedroom which is locked from the outside. It was not mentioned and thus I assumed there was not one. We should have asked. I was able to hand wash some items and hang them on the rack provided upstair on the terrace. It was perfect, and all dried within hours as it was wonderfully warm. We had a fantastic time, and would recommend this home. We would certainly stay again!!
---
Some experiences and places are actually even better than description and photos, and this was certainly the case at Villa Sombra. Our host, Themistocles father, Manuel, could not have been more accommodating. It is not an exaggeration to say that he made the trip for us. We were able to get way past the tourist veneer and really get a genuine feel for Crete. The house was newly remodeled, with old world grandeur, just like the photos, in a quiet village away from the bustle of Iraklion. The little Taverna near the house was an extra bonus. There are infrequent buses to the village from Iraklion, so having a car might be helpful, but we did OK without, thanks to Manuel. Sipping morning coffee or a glass of wine in that beautiful courtyard with the ever present fragrance of lemon blossoms was just one more reason we loved our time in Crete.
---
A lovely house in a quiet little village, well equipped with three big bedrooms and two bathrooms. You definitely need a car here, we had several interesting drives through the narrow streets of the local villages. We really should have stayed for longer than four nights as we just ran out of time, there is so much to see in Heraklion the beaches and countryside. Emanuel was a wonderful host, greeted us late at night after our late flight in and he came and drove us to the airport to pick up our hire car next morning, fantastic service. There is a lovely small cafe just down the hill and a small supermarket just a short drive away. Be aware that some places in Greece are hard to find on a GPS, we couldn't find the village we stayed at on our GPS, not much of a problem for us as we arrived by taxi. Our only concern was that we had no WiFi, there is supposed to be a system that covers the village, we were given its name and password, but we couldn't find it. I would definitely stay here again.
---
Nous avons passé un très agréable séjour. Manolis, le père de Themistocles, nous a chaleureusement accueilli, notamment, en nous offrant une bouteille de vin et une corbeille de fruits. Sa maison est très agréable, idéalement située pour visiter la région: une belle demeure avec une jolie terrasse ombragée. Nous recommandons cette adresse. Merci Manolis!
---
I am a very well educated young man looking for opportunities to explore the world, take photos of all the new places and make friends around the world
语言:
English、Italiano、Ελληνικά