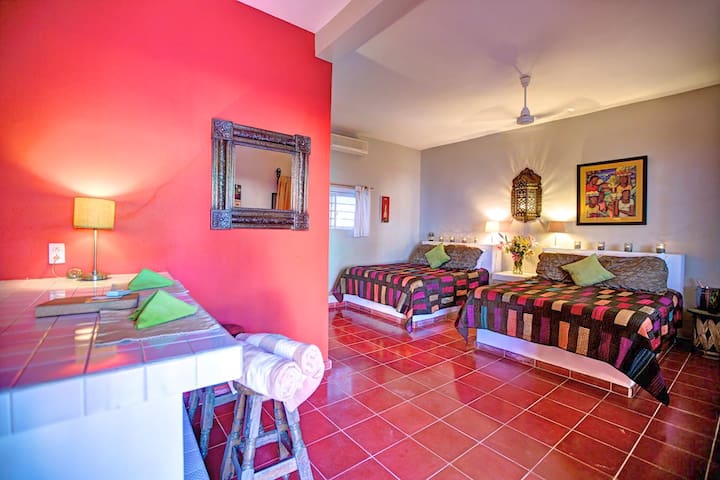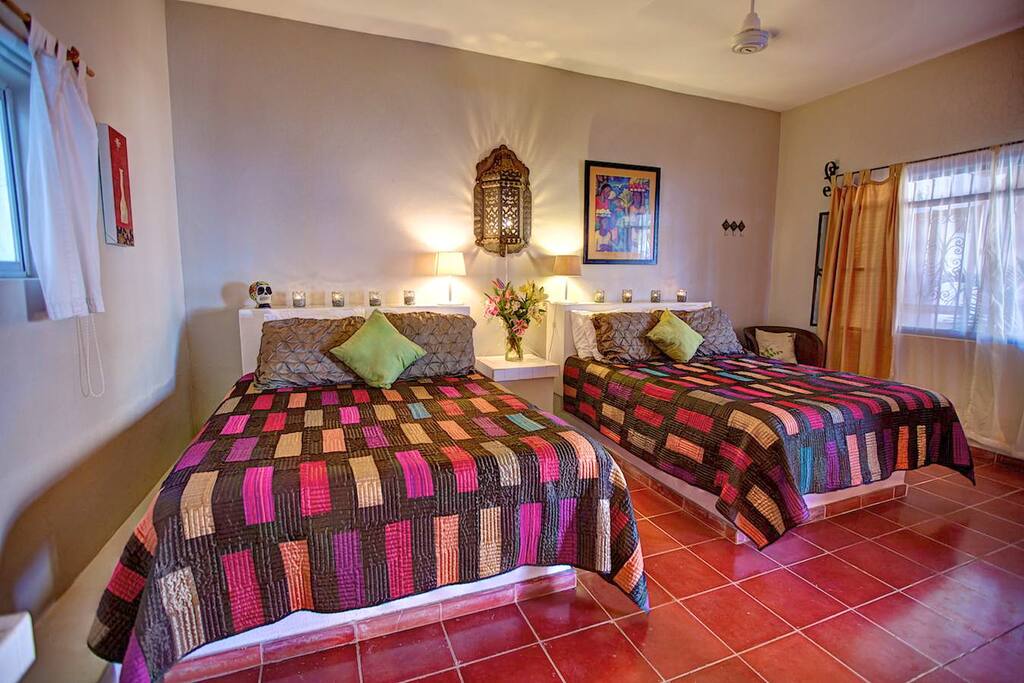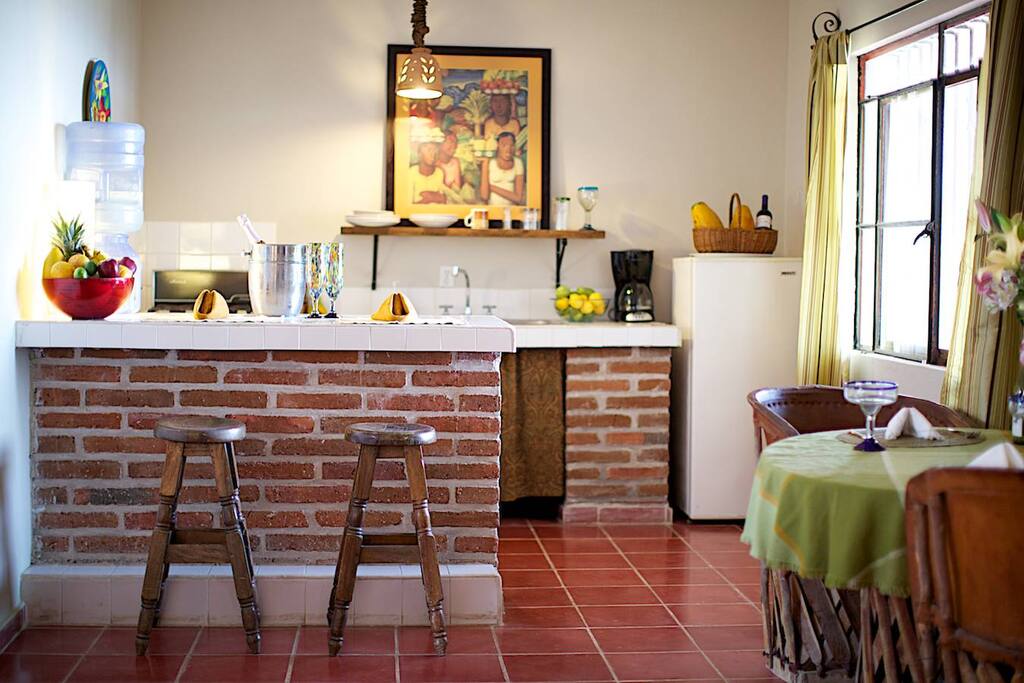 Located in Punta de Mita, Hotel La Quinta del Sol is right across from the beach with ocean views from all 7 studio-style rooms. Patio level rooms come w/ 2 queen beds (max 4 guests), kitchen, a/c, wifi and fantastic views from large, shared balconies. Amenities include roof-top deck and beach club with hammocks, umbrellas, palapas and bbq. Close to many incredible surf breaks and 3 minutes walking to restaurants and shops. Hosts live onsite. Enjoy a private apartment with the ease of a hotel!
房源
Centrally located in Punta de Mita, Nayarit, Hotel La Quinta del Sol is right across the street from the beach with amazing ocean views from any of our 7 studio-style rooms. These patio level rooms come with 2 queen sized beds for a maximum of 4 guests, fully equipped kitchens, air conditioning, wifi, and fantastic views from the large, shared balconies. There is a fantastic roof top deck and beach club with hammocks, umbrellas, palapas, and bbq which are perfect for socializing. We are centrally located close to all of the incredible surf breaks that Punta de Mita has to offer and within 3 minutes walking distance to all the restaurants and shops. The hosts live onsite at the hotel in order to assist with all of your vacation needs. Enjoy the amenities of a private apartment with the comforts and ease of a hotel.
---
Hotel La Quinta Del Sol is an amazing place to stay in Puta Mita, and especially for those who love to surf. You can literally watch the surf at stinky's beach right in front of the hotel. The roof top is beautiful, rooms are spacious, very quiet at night, wifi is strong, and hosts are extremely friendly. Would definitely return.
---
Please don't come here if you are looking for something other than a calm, warm, surf-friendly place to meet yourself, slow down, and enjoy one of Mexicos great surf base-camps. Mary and Nico have created a magical, peace oasis. So please, consider Cancun or someplace if that's what you're seeking.
---
Nico and Mary were great! They were waiting for us at check in, helped us figure out the BEST places to visit and eat, and showed us the paddle boards and boogie boards available! Even though there was a mix up with the suite we rented, the offered amenities to make up for it! We are easy going, and didn't mind.... The place was absolutely perfect for our needs/wants....mingling with the locals, right across from an awesome beach, quiet/casual atmosphere, just what we were looking for!
---
Mary was an excellent hostess and very responsive to any inquiries we had. The room was perfect, clean, and had a nice view of the beach. The only problem we had was with ants, you have to be very careful about leaving even the slightest crumb out after cooking or they will show up. Neighborhood is quiet and literally steps across the street from the beach and your own private cabana area with lounges. Punta Mita itself is a bit on the slow side, but the locals are friendly and the beaches are beautiful. If you are looking for more cafes, bars, nightlife, etc. I'd highly recommend Sayulita. Hotel also comes equipped with a garage that houses plenty of surfboards and SUPs for daily rentals. Overall, excellent hotel and fantastic lodging and would definitely come back.
---
The listing matched the images precisely and we had a wonderful time in Punta de Mita. There is not much to do in the neighborhood aside from enjoying the wonderful private beach and the tours to the Marietas. The eco-tourism is among the most incredible I've experienced and the proximity to the wide array of birds and sea life is unique. Travelling to neighboring cities is disproportionately expensive compared to similar beaches in Mexico - you can tell that most of the tourists in Nayarit are foreign, so you'll often find locals in the city attempting to make an extra buck for their services (taxi drivers, tour guides, concierges). Make sure you ask around for pricing before hiring tours, taxis, or renting equipment and you'll be fine.
---