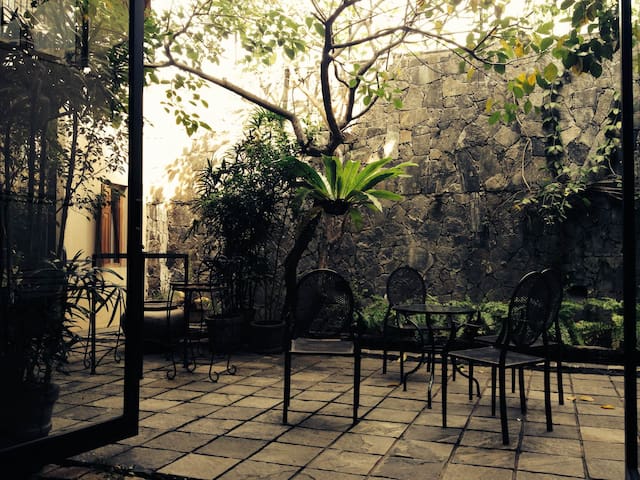 房源
温暖欢迎来到绿洲! 物业描述: 独特的建筑设计大房间! (空调和非空调),附有大型卫生间,可供外国人在科伦坡中心的所有设施-5位置,在斯里兰卡。 NB。我最近在房间里安装了蚊帐,尽管网上没有显示。 NB。我在Airbnb网站上上网了3个房间。 人们可以通过键入以下内容在Airbnb网站上搜索:"斯里兰卡,哈夫洛克镇",一个可以找到我们的其他3间房间在线列出与我们相同的家庭照片。 该物业靠近科伦坡市的以下景点: - 着名的拉维尼亚山酒店(坐落在开放的露台上,在日落时俯瞰着海滩的游泳池!) - 乘坐Tuk tuk约20分钟, - 赤脚画廊(理想的地方,由咖啡厅冷静,查看一些蜡染的衣服,书籍等) - 15公分笃笃, - 受追捧的Gallery Cafe餐厅(超棒的食物!) - 由Tuk tuk约15分钟, - 平静的Galle Face Green和壮观的Galle Face Hotel酒店 - 由Tuk tuk约20公里, - 绿色的小屋餐厅(斯里兰卡的好吃的食物) - 15公分的嘟嘟车, 匪帮佛教寺庙 - 笃笃20公里左右, - 嘟嘟车10公里左右的麦当劳,Pizzahut,Fab糕点店,美味餐饮等。 设备: 互联网,有线电视,洗衣房,24小时保安等。 在大型普通厨房区设有自己的咖啡/茶(自助服务),旁边还有一些很好的外带餐厅(步行十分钟)。 如果没有可用性,可以查看同一个Airbnb网页右侧指出的"我的其他列表"。 有一个大型公共休息区,一个大型公共厨房和有线电视休息区。 物业描述: 大独特的房间设计在一个非常独特和不寻常的建筑触摸,这将使我们的逗留在这里更加难忘! 一个人只需要留在其中一个房间,以体验大量的窗户和古董门,这些门已被放置在房屋内! 房间将定期清洁,包括床单。 它位于一个非常安静的住宅区。这个住宿被其他来自欧洲,亚洲和远东的外国人推荐。来体验我们温暖/温馨的款待,并在斯里兰卡的科伦坡5中心舒适的住宿。 我们可以在科伦坡市附近安排约35美元/嘟嘟车/三轮车的机场接送和下车,并在岛内旅行。 入住时间:灵活 退房时间:灵活 设施 有线电视,无线上网,独特的厨房,免费停车场,门卫,洗衣机,烘干机 互联网: 无线网络是免费的 我们主要照顾在短暂停留时间到达3个月或稍长时间的外国人。它位于中心位置,达到标准评级。 来自英国和荷兰的许多年轻研究生和医学学生一直与我们保持平息,位于斯里兰卡科伦坡的安全位置,并配有超级市场,方便前往附近的各个购物中心。 所以,来体验真正的温暖和好客,这是这个岛上简单的人的真正特质! 探索世界,有一个人有时间和手段,这样做之前到达一个人说,阿迪奥斯在这个地球上逗留! 在进行预约之前,请尽可能地联系主持人,并请告诉我们关于你自己的内容。 预约要求: 在确认之前,我们将要求每位客人提供完整的详细信息,每位客人希望与我们保持联系。 我们还有一个"独家别墅面临泻湖",当您在Airbnb搜索时,如何在Airbnb上线:"斯里兰卡Norochcholai",4间客房,附有大浴室,面向美丽的Puttalam泻湖! 距离国际机场约两个半小时车程。
A Warm Welcome to the Oasis!
Property description:
Unique architecturally designed large room! (aircon and non aircon) with attached large toilet, available for Foreigners with all facilities in central Colombo -5 location, in Sri Lanka.
NB. I have recently installed mosquitoe net in the room, although it is not indicated in the pictures online.
NB. I have another 3 rooms listed online on Airbnb website.
One could search online on Airbnb website by typing: 'Sri Lanka, Havelock Town', and one would find our other 3 rooms listed online with our same family picture.
The property is in close proximity to following attractions in Colombo city:
- the famous Mount Lavinia Hotel (it's wonderful to sit in the open terrace by the pool overlooking the beach at sunset!) - it's about 20 minutes ride by Tuk tuk,
- Barefoot Gallery (ideal place to chill out by the cafe, and check out some batik clothes, books etc) - 15 mns by Tuk tuk,
- the sought after Gallery Cafe restaurant (excellent food!) - around 15 minutes by Tuk tuk,
- the serene and calm Galle Face Green and the imposing Galle Face Hotel - around 20 mns by Tuk tuk,
- Green Cabin restaurant (good Sri Lankan food!) - 15 mns by Tuk tuk,
- the Gangaramaya Buddhist Temple - around 20 mns by Tuk tuk,
- MacDonals, Pizzahut, Fab pastry shop, Tasty caterers, etc around 10 mns by Tuk tuk.
Facilities:
Internet, cable tv, laundry, 24 hr security, etc included.
There is facility to make one's own coffee/ tea (self service) in the large common kitchen area, and there are some nice take away restaurants nearby (ten minutes walk).
In case there is no availability, one could look at 'My Other Listings' indicated on right side of same Airbnb web page.
There is a large common sitting area, with a large common kitchen and Cable TV lounge area.
Description of property:
The large unique room is designed in a very exclusive and unusual architectural touch that would make one's sojourn here all the more memorable!
One just has to stay in one of the room(s) to experience the ample number of large windows and antique doors that have been placed in the premises!
The room(s) would be cleaned regularly including bed linen.
It is located in a very residential quiet area. This accommodation has been recommended by other Foreigners from Europe, Asia and the Far East. Do come and experience our warm/ homely hospitality and have a comfortable stay here in central Colombo-5, Sri Lanka.
We could arrange Airport pick ups and drops at around USD 35/ and tuk tuk/ threewheeler hires around Colombo city and transport for tours in the island.
Check-in time: Flexible
Check-out time: Flexible
Amenities
Cable TV, Wireless Internet , large unique Kitchen, Free parking on Premises, Doorman, Washer, Dryer
Internet Access:
Wi-fi is available free of cost
We mostly cater to Foreigners who come here on short stays and also upto 3 months period or slightly a longer period. It is very centrally located and upto a standard rating.
Alot of young Research students and Medical students from the UK and Holland have been staying with us as its average priced and in a secure location in Colombo -5, Sri Lanka, with Supermarkets and easy access to various shopping centres nearby.
So, come and experience the true warmth and hospitality that is a true trait of the simple minded individuals of this island!
Explore the world when one has the time and the means to do so before the moment arrives for one to say Adios to one's sojourn on this earth!.
Kindly contact the host if possible before making a reservation, and also kindly tell us something about yourself.
Reservation Requirements:
We will require full details to be provided of each guest who wishes to stay with us, at the time of registration before confirmation.
We also have an 'Exclusive Villa facing the Lagoon' as how it is listed online on Airbnb when you search: 'Sri Lanka, Norochcholai' , with 4 rooms with attached large Bathrooms, facing the beautiful Puttalam lagoon!
About two and a half hour drive from the International Airport.
---
I am a down to earth person with an open mind towards the world. I welcome guests from all over the globe. It is my pleasure to meet and interact with people from different corners of the World, and to get to know about various cultures!. Come and experience an 'homely stay' with us, and immerse oneself in the local environment here!. Motto: Take one day at a time..., and try to appreciate and enjoy the little/ simple things in life...