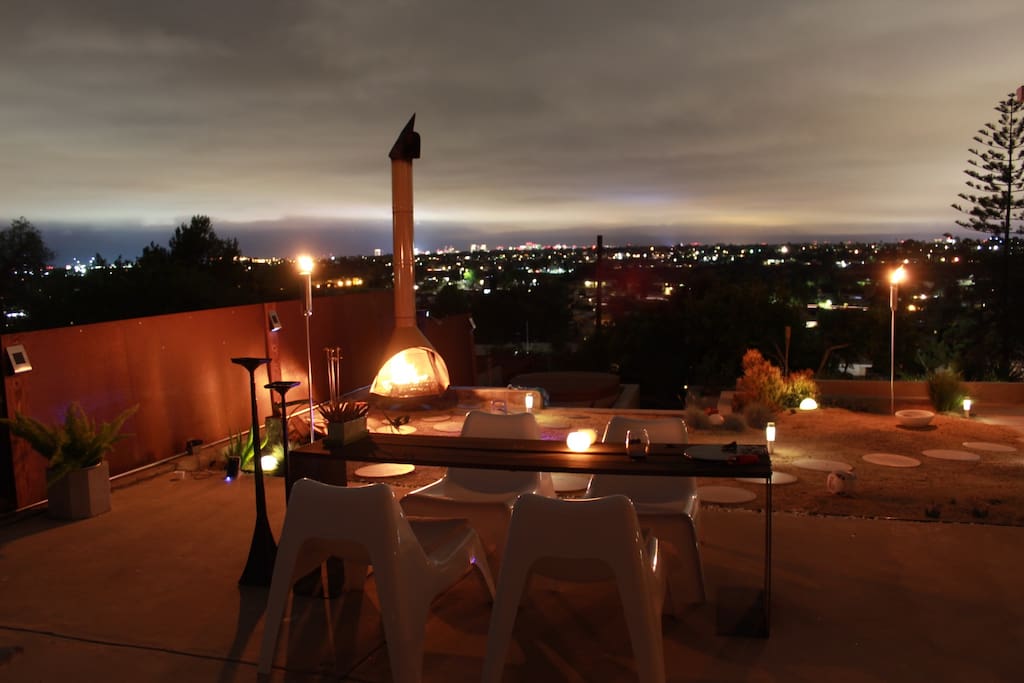 For rent our carefully restored beloved Mid-century Modern California Ranch!
Carefully restored in tune with the era, this property offers all conveniences of the modern place and feel of a Mid-century Atomic Ranch.
Tastefully decorated, and conveniently located, this house is a gem with a view to die for!
房源
The Mid-century style is certainly a huge plus. The view that soothes you to bed, and inspires you to get up. The proximity to downtown, park within walking distance, rich ethnic cuisine. Amazing sunsets!
The guest have access to most things in the house. As long as all treated with respect. ) The ranch comfortably fits 6 people, but if absolutely necessary we could accommodate 8. Please inquire about the details and extra costs before booking.
The ethnic diversity, cuisine, proximity to the city, people, park, views.
There is a bus leaving every 7 or so minutes from a stop nearby. Über or Lyft is only $15 to downtown and about 12 minutes.
房客使用权限
The guest have access to most rooms in the house, except for baby's room and shed only for laundry and drying.
---
---
---
House: Shoes absolutely off in the house. You can leave them outside by the door, should be safe.
Guest count: in the event your guest count is above of what was originally discussed or you violating any of the rules defined, YOU WILL LOOSE YOUR DEPOSIT. Please let us know in advance of any guest changes or other arrangements, we will do our best to accommodate.
If your guest count is over 6, you have an option of setting them up on a convertible couch in the living room, or an inflatable air bed-we will leave the air bed for you in the kitchen. DO NOT USE KIDS ROOM FOR ANY ACCOMMODATION OR LOUNGING. That room is off limits. Thank you.
Outside house: Put away trash and recycling bins off the street, if arriving late Friday or Saturday - the gate key is on the guest keychain. Always keep gate closed.
House: Use both handles to open the sunroom door to the outside.
Hot tub: No more than 2 people in a jacuzzi tub at any given time. Wash your feet using outdoor shower, before entering hot tub.
Make sure there is always at least one tablet of bromide in tub and turn off the outdoor shower after use.
Hot tub 2: Do not change hot tub temperature from preset 97 and do not turn jets off - it will make water cold. Always cover hot tub after use.
Outdoor fireplace: Only use precut wood from the store.
Tiki torches: There is always oil to get you started. Feel free to light them up, and add oil as needed (hardware store would have tiki torch fuel)
Parking: You can park anywhere on the street. We do not recommend parking in driveway alongside the house - too narrow.
Dish ware: please use only specially designated guest dish ware located in the bottom of the left cabinet over the sink.(read labels)
Guest sheets & Towels: you will see guest sheets set on every bed you will be using. Please do not wipe your shoes or dirt off the floor with these towels- they are only meant for your face and body. Towels that look unusually dirty will be charged back towards your security deposit.
Lights: the house lighting system is deliberately designed to be low to enhance your stay at the Midcentury Atomic Ranch. Use dimmers to turn on all lights and keep it half way up for best results.)
TV and entertainment: the living room has Apple TV system and an excellent quality plasma TV. Feel free to use our Netflix, but use your own account for iTunes programming.
Outdoor sound system works using channels, make sure both the crate and speaker are on the same channel, to work properly. Alternatively, you can use portable Libratone speaker (wrapped in pink/peach felt, located inside the house) via auxiliary, USB, or bluetooth connection as well. The charging cable for that speaker is located in the sunroom by the laval lamp.
Cooking and coffee: the kitchen is equipped with most things you'd need to prepare a meal. Please be respectful and sensible to equipment, dishwater, and utensils you use, and use condiments and coffee pods for an espresso machine within reason. We will be taking an inventory count of all dish ware upon your departure and charge anything missing or broken to your security deposit.
Always turn on the overhead light, located on the back wall of the kitchen, when cooking, as it activates the ceiling fan to evacuate the heat.
Neighbors and Neighborhood: this is a family neighborhood. Please be respectful to your surrounding and use caution and common sense when hanging out outdoors. Absolutely NO CIGARETTE BUTTS anywhere.
Checkout Instructions: please take off all sheets off the beds and place them on the floor along with towels. We will be taking an inventory of all sets after your departure. If anything is missing or damaged, we will charge the replacement cost to your security deposit.
Please make sure that all windows, doors and gates are closed and stow away the keys in the lockbox.
General Rule: Behave as if you were home, but don't forget you are visiting. No parties please.
Thank you for reading these instructions, ask away if anything is unclear, and have fun!
---
We love our space in Oak Park of San Diego, but we also love to travel. Thus our interest in AirBnB is born! We take pride in styling our place with mid-century modern furniture and unique art. We think simple is better, and love being able to be close to hassle of downtown,…
语言:
Русский