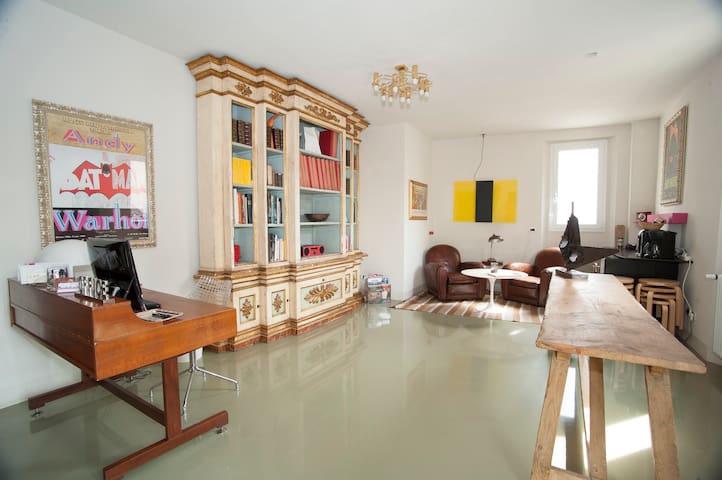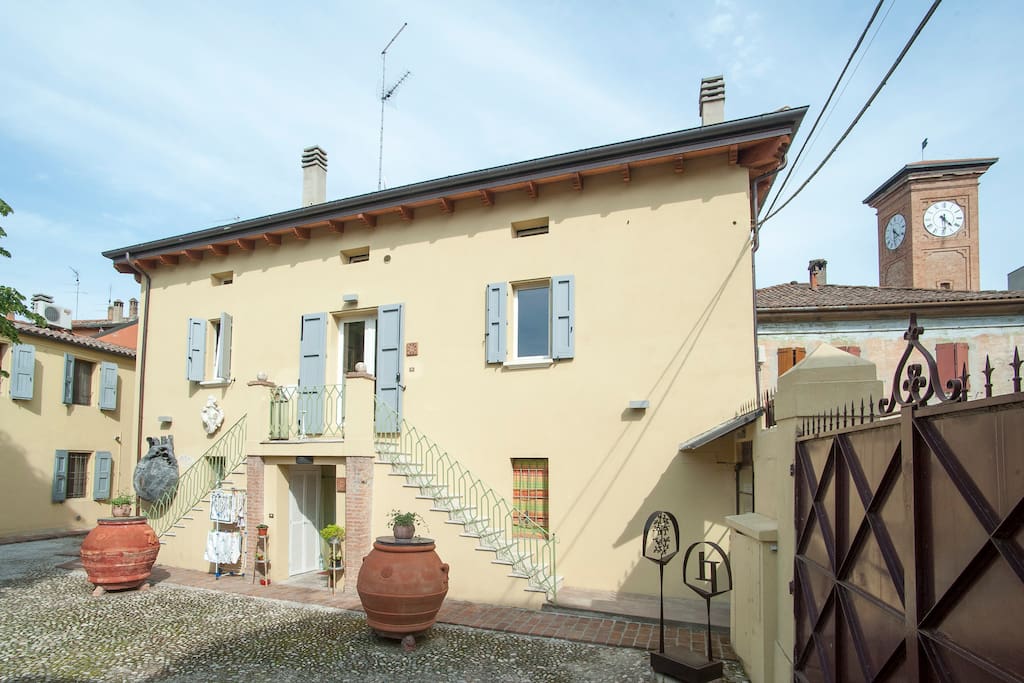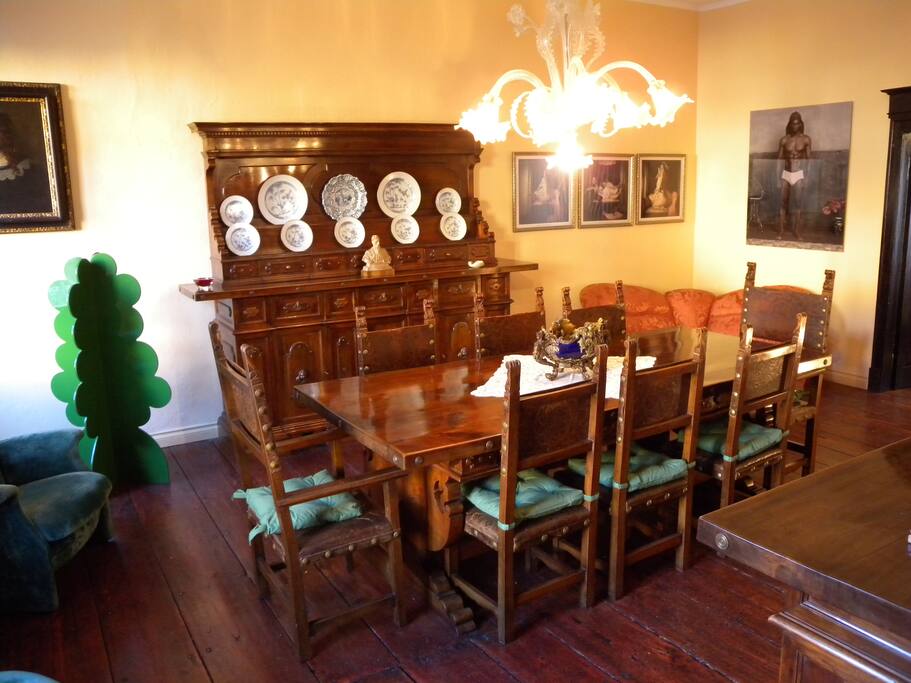 房源
一个住房是涉及谁不喜欢传统的酒店,想要一些特别的东西。因为我们的主人有点特别。 在Molinella的历史中心距离博洛尼亚几公里,在十八世纪小村庄的再生辉煌中,"Cesare Magli&Figli"客房与Sight客房和早餐在当代钥匙中恢复的历史氛围中提供温馨精致的款待。 床和早餐的每个房间都提供各种文化空间。 Po平原的一个普通的住宅的殖民风格,东非的财产的气氛,他们是意大利的30年,意大利设计的黄金时代,牛肉战士和牛仔的史诗,费迪南德的天才保时捷,摇滚音乐及其臭名昭着的明星。莫利纳拉是一个历史悠久的村庄,位于宝谷内,理想地位于由博洛尼亚(30公里),费拉拉(25公里),拉文纳(45公里)的壮丽城市形成的三角形中心。威尼斯(100公里),佛罗伦萨(100公里),维罗纳(120公里),里米尼(100公里)博洛尼亚和费拉拉出口中心距离当地不拥挤的乡村道路仅有很短的路程,距离酒店有25分钟路程。
A shelter being involved for who is not pleased of the traditional hotels and wants something of special. Because our hosts are a little special.
In the historical center of Molinella to few kilometers from Bologna, in the reborn splendor of a XVIII century hamlet, `Cesare Magli & Figli' Rooms with Sight Rooms and Breakfast offers a warm and refined hospitality in its historical atmospheres recovered in contemporary key.
Every room of the bed and breakfast offers a various cultural space. The colonial style of a padronale residence of the Po plain, atmospheres of the possessions of the East Africa them Italian of years '30, the age of gold of the Italian design, the epic of the bull fighters and the cowboys, the genius of Ferdinand Porsche, rock music and its infamous star. Molinella,is an historical village,within the Po Valley,ideally situated in the center of a triangle formed by the splendid cities of Bologna(30 km),Ferara (25 km),Ravenna (45km). Also close are Venezia (100 km),Firenze (100 km) Verona (120 km) Rimini (100 km)Bologna and Ferrara exibition centers are a short,and convenient,25 minutes away by local not crowded country roads.
---
This is my favorite place I stayed while in Italy. The air condition worked great. No one told me that AC wasn't a thing in Italy, and we came during a heat wave. It was refreshing for us Americans to stay in an air conditioned home. They also offered a fridge with complementary cold waters. That was all nice because all the water we had in Italy was Luke warm. Paolo was gone when we arrived but Ana was a wonderful host. Although we did not speak the same language she was extremely patient with us and so kind to us. The food was good and included fresh fruit. The only issue we had was that the power circuit kept flipping and cutting out our power. But we also were using every room and air conditioner within the home. The home was extremely clean, probably the cleanest we stayed in. The beds were so comfortable and the decorations were beautiful. We enjoyed the themed rooms. It was an absolutely wonderful stay and I highly recommend staying here if you get the chance!
---
Casa molto grande, accogliente, pulita e fornita di tutte le attrezzature necessarie (cucina, biancheria, elettrodomestici), come se foste a casa vostra. L'arredamento e la scelta di stile delle camere sono molto eleganti e curate. Posizione centralissima nel paese, che dista però circa mezz'ora dai grossi centri urbani. Grande disponibilità del proprietario e gestione complessiva ottima.
---
Paolo è un ottimo host, cordiale e disponibile. La casa è bella e confortevole. La consiglio a chi vuole visitare i dintorni (Bologna Ferrara etc)
---
The host was extremely helpful, from the moment the reservation was made Paulo was in contact with me to ensure a seamless experience until the arrival at his property. In addition, refreshments were served without being charged & not to mention the delicious breakfast that was served in a very homely environment. Rooms are superb & décor very chic but yet unconventional. In addition, Paolo the host made a reservation for dinner at an amazing restaurant within ten minutes drive of property that served authentic, delicious Italian food. I would highly recommend this property & would definitely go (URL HIDDEN) the perfect escape for a getaway in Italy.
---
Where should I start...? Perhaps with when I made the reservation... Paolo immediately reacted positive when I told him we wanted to stay at his place with 10 "bikers"... And why...? Because he is kind of a bad boy biker himself (while being a lawyer at the same time...)...! :) Not on a Harley, but on a beautiful classic BMW. When I asked him to book a good restaurant in the area, he immediately asked if he could come with us. "But of course", we replied! As soon as we arrived to his wonderful place, we wanted to park the bikes at the large parking in front of the house. Within a minute the big gate swung open and he looked at us as if we were crazy. "No no, you don't park your bikes there. Bring them inside the gate!" Simply wonderful! After the personal introductions we asked to get a beer. He showed us the mini bar inside the house and told us to take as much as we want. All price included! Within a minute the beers were gone, but Paolo simply got one of his staff to immediately restock the fridge! We took a shower, got talking to Paolo and we shared life adventures. This is exactly how one wants to be welcomed... To get to the restaurant, we did not want to go on the bikes so we could have some wine along with dinner. What to do? Paolo took care of it. "I will drive in my Porsche (2 persons) and I will have 2 of my staff members drive in 2 separate cars to take everybody." Awesome! But this meant that only 9 persons could go in one go. So 1 car would have to drive twice. "So what if I take one of the cars?", I replied. "Sure, Paolo said!" and handed me the keys to his brand new BMW. A beginning of mutual trust had begun... During dinner, stories and pictures went back and forth over the table. Paolo was a guy like us! Dinner was great, the wines even better! Then Paolo asked: "Do you like Brandy? I have a 21-year old bottle, distilled by a friend at home. Do you guys want to come to my house and open it?" What biker could say no...? And there we went, back to Paolo's house to have some more drinks! His house is right next to the "BnB" and as soon as we entered we got the "Grand Tour". Beautiful art, awesome design and more of that same hospitality as we had straight from the start. O yes, what about the BnB itself...? Modern, yet charming. Every room has a theme to it. I stayed in the Rolling Stones room while another stayed in the Racing room and so on... Details went as far as to the key chain, where we found the well known lips you find on several Rolling Stones album covers. Well done, Paolo! PAOLO IS THE BEST!!!
---
Parlare di sè stessi è imbarazzante.Un giornalista che mi conosce da tempo dopo avere visitato il mio Bed and Breakfast mi ha descritto così: "Il gusto del bello,quello per intenderci di chi non frequenta il "Mercatone" e l' "Ikea", ha preso ufficialmente alloggio al numero 16 di Via Guido Reni a Molinella.. Con le accattivanti camere a tema dell'originale Bed and Breakfast-Room And Breakfast ricavato nella corte di famiglia , l'eclettico Paolo ha inteso rappresentare la sua reale vocazione.Lo ha fatto in maniera esemplare,affrancandosi dallo stereotipo del bravio avvocato per rivelare la sua più autentica natura di nomade contemporaneo,accezione gradita al leggendario Bruce Chatwin,scrittore viaggiatore cui Paolo si è sicuramente ispirato nei tantissimi viaggi che gli hanno fatto conoscere i luoghi e le persone che non troveremmo tra le proposte convenzionali delle agenzie turistiche.
Di questi stessi posti e di queste persone è possibile rintracciare segni palesi nelle stanze che ospitano con disinvolta eleganza Jimi Hendrix e l'America dei Cow Boys,Steve Mc Queen e Ferdinand Porsche,Giò Ponti e gli arredi classici di una casa padronale della Pianura Padana dell'800,i trofei di caccia e Frank Lloyd Wright,Benito Mussolini , Stalin e Mao Tze Tung in versione Pop Art."
da:"L'albergo dei Magli" di Sandro Bertocchi

语言:
English、Español、Italiano、Português、Русский