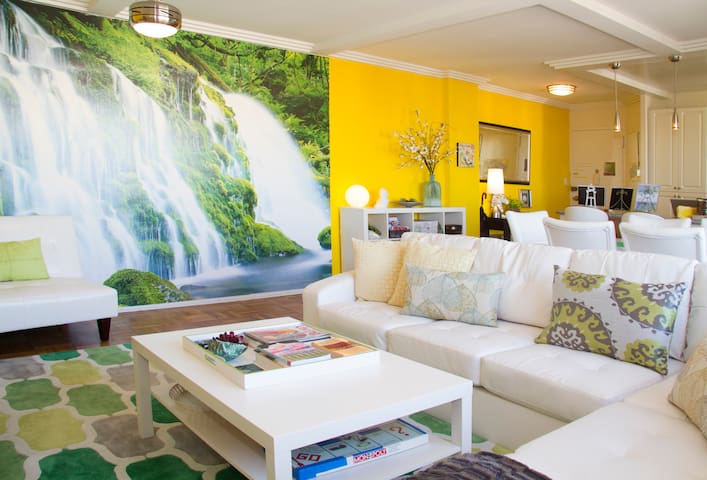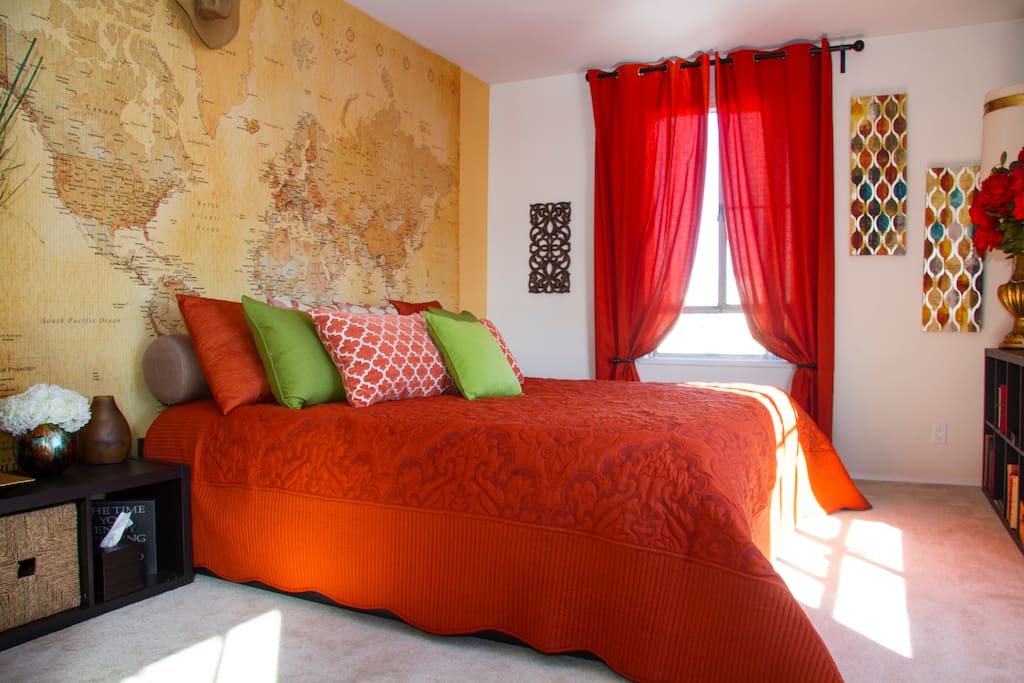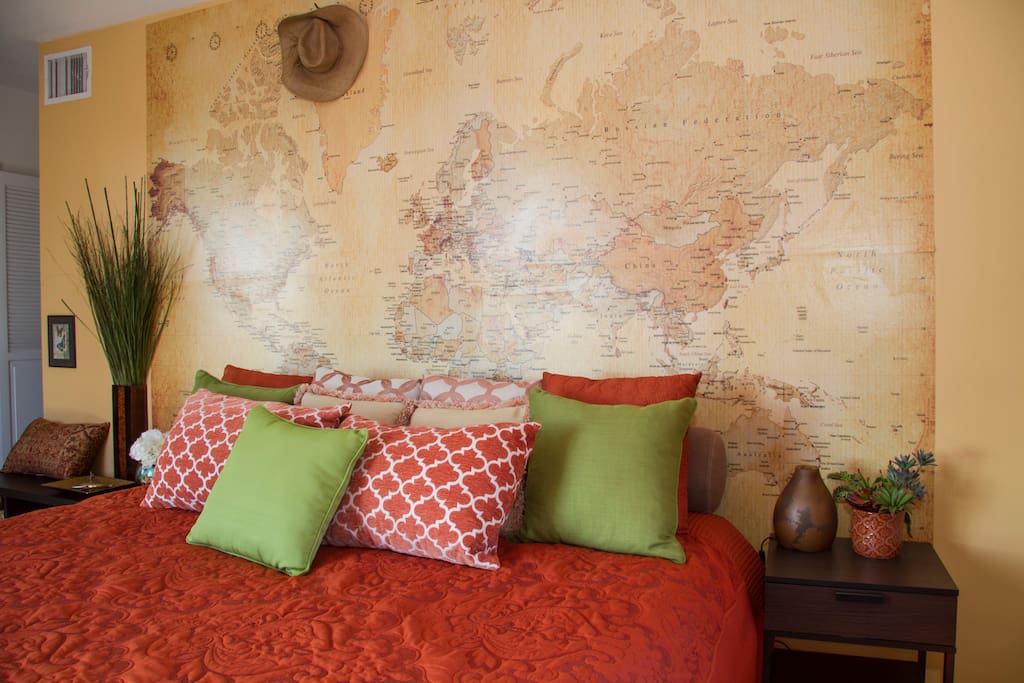 一个设计师的地方,就像是你自己的家一样舒适干净。它创造了令人难以置信的关心,注意细节,你不会在洛杉矶找到一个你会更爱的地方。优越的地理位置,美景,适合6位客人入住!
A designer place that is as comfortable & clean as if it was your own home. It was created with incredible care, attention to details & you won't find a place in LA that you will love more. Prime location, great view, fits 6 guests at a great price!
房源
一个设计师的地方,就像是你自己的家一样舒适干净。它是创造了令人难以置信的关心,注意细节,你不会在洛杉矶找到一个你会更爱的地方。优越的地理位置,美景,适合6位客人入住! 这个环保,豪华,明亮,阳光明媚的中央位置和大型公寓有墙到墙的窗户,美丽的城市景观,美味的舒适和异想天开的风格。 一旦您预订,我们将通过电子邮件向您发送公寓自己的网站,并提供将到达我们家庭的所有细节,非常方便,访问绝对的乐趣。 主要亮点: 整套公寓是为您而设 每个房间都有巨大的窗户 美丽的景色(日落夜晚以及) 中央空调加热 免费,室内,分配停车位! 免费的第二停车位 令人难以置信的中央位置 步行街附近,靠近景点 (我们的"Walkscore"是89!&"Transitscore是63!) 免费快速wifi 用无毒,环保的产品进行清洁 48"平板电视,数百个频道 HDMI电缆设置 流Netflix 餐桌座位6 特大号温度床 大号斜倚床 大号床,床高额外的空气床 双床大床垫/床 5 *酒店式1000个线数表 枕头各种坚挺 2个完整的浴室w酒店风格的产品 有机洗发水,沐浴露,+吹风机 走在衣柜里有吨衣架 额外的大衣柜空间 完全设置厨房 烤面包机,微波炉,搅拌机,水壶 Keurig和普通咖啡机 无毒绿锅和烹饪锅 全新的冰箱和洗碗机 有机香料,橄榄油,小吃为您的礼物 有机天然茶,咖啡,甜味剂包括 洗衣房在建,我们有肥皂给你! 额外的床单,毛巾,沙滩毛巾,枕头,毯子 婴儿床,高脚椅,玩具,儿童书籍 广泛的个人指南 高度详细的"指导书"为家 封闭社区 非常安全的区域,24小时巡逻 树木衬里的街道,花坛,草地草坪 有机咖啡馆在花园里由建筑物 步行距离几个景点 杂货店,市场,商店在拐角处 主机非常方便和有帮助 额外的清洁服务可以收取预订费用 在社区内,我们有干洗店,几家咖啡馆和餐馆,美发沙龙,美容院和日间水疗中心 我很想欢迎你在我的2间卧室,2浴室设计师的地方,新近创建,以帮助您享受您的时间,同时访问洛杉矶。它已经建立了对细节的爱护和关注,好像它已经是你的家几年了。 让我今年早些时候引用一位亲爱的客人:"总体而言,我觉得比一个付费客户更像是个人客人。" - 这是我的愿望,希望你在访问过程中会有同样的感觉。 无论你的理由来到洛杉矶 - 商务,娱乐,度假,浪漫之旅,学习,探亲 - 这个家是完美的所有场合!你甚至可以舒服地睡6个人。 当你走进公寓时,这个地方的轻盈,俏皮和乐趣将立即让你微笑。走廊是一个明亮的黄色门,你通过进入你的临时新家.... 还有一个室内装饰,在加利福尼亚的太阳是一件伟大的事情,因为你的车将会很好,很酷,当你进来。如果你需要你的车!这个位置是洛杉矶的几个地方之一,您可以在任何地方散步。 娱乐休闲?博物馆行(LACMA,汽车博物馆)距离这里仅几分钟的步行路程,电影院的Grove或未来的奥斯卡奖博物馆正在建设中,就在那里的拐角处! 外出就餐?邻里有很多餐厅,无论是休闲还是休闲。您可以欣赏到内部美食家,参观高度赞誉的胖牛,戈登·拉姆齐(Gordon Ramsey)的最新餐厅距离酒店仅有很短的步行路程,更不用说可以找到原始的Nobu,叫做Matsuhisa,从这里开车5分钟车程。我在这份简介的"指南"中标注了更多的内容,但也将在我们的欢迎手册中列出许多其他地方。 购物?位于贝弗利中心的第三条街是一条全新的"入口"地点,与其所有别致的小精品店购物!更不用说Grove和新装修的Nordstroms,闪闪发光的玻璃露台。 观光?双层甲板 公共汽车(我的家人访问的秘密武器!)停在距离美丽的女孩广场(The Grove)或LACMA的公寓前几分钟。您可以漫步到任何一个地方,并在甲板上捕捉一整天的乐趣! 每个人都总是认为洛杉矶是一个以汽车为中心的城市。留在这个地方,你会看到你可以探索多少,而无需驾驶任何地方。这个家是一个绿色的绿洲,在一个安静的区域,在好莱坞不间断的乐趣和疯狂的中间。你永远不会找到一个更漂亮,更方便,更经济实惠的地方。 从你走进来的那一刻起,你会感到宾至如归。您还可以在桌子上找到指导手册和欢迎书,更多关于地点和邻里的详细信息,方便您阅读 - 更不用说,您的女主人将会随时回答您的问题或整理出任何问题可能会出现!当您需要我们时,请随时联系我们! 期待与您和您的亲人见面! 您将可以使用整个大型公寓(1120平方英尺!)!没有任何限制,该地方将完全是您的访问期间 在访问之前,甚至甚至在您访问之后,我都是可以访问的。随时以最方便的方式与我取得联系,我将立即回复,回拨或文字。 在您离开旅行之前,请致电您的手机供应商,并确保您的手机将在您着陆后100%工作。唯一一次与亲爱的客人沟通的问题是由于这个问题。所以请在离开之前致电您的手机公司! 我不想让我们彼此没有联系。这是非常重要的,所以我可以有助于使您的访问无缝和快乐;-) 这是洛杉矶最好的社区之一,每个月和每年都会变得更好。该列表位于洛杉矶的少数几个地区之一,您可以在树林的街道上漫步到许多当地和着名景点!如果您搜索格罗夫和好莱坞,您将能够找到更多的兴趣点,我可以梦想在这里上市!我仍然会尝试进入更多的他们进入欢迎宣传册,等待你一旦你到达....另外,我疯狂的标记任何我可以想到的这本上市的指南!去吧,看看,需要几个月跟进他们所有的... 此外,AirBnb有一个关于洛杉矶的梦幻博客,如果您搜索"live-like-a-local-star-an-insiders-guide-to-la /" - 它会出现! ;-) 大多数提到的景点都超出了我上市的位置! 该地点是一个理想的地方,如果你正在寻找洛杉矶像当地的一样。您将靠近The Grove and the Farmers Market(在Grove),好莱坞和高地,您可以在那里乘坐红线到环球影城,贝弗利中心和Larchmont村。当地的Angelinos在Melrose,3rd,Beverly,Larchmont Blvd,Highland Ave,Beverly Hills和Rodeo Dr. 公共汽车线路在第三街和Wilshire大道附近,但您也可以沿着任何您选择的方向走在邻近的美丽和绿树成荫的街道上。我也可以在室内车库里找到免费的车位,这样可以让您的车在温暖的阳光下保持舒适和凉爽。 洛杉矶是一个开车的城市,所以大多数游客租一辆车,但是如果你发现自己没有你会发现自己步行距离所需要的一个伟大的经验,只有一个街区远离主要的南北和东西巴士路线。自从"Uber"的黎明以来,事情变得更加容易了。 Uber是车/出租车服务什么是Airbnb寻找住宿。下载应用程序,您可以轻松,便宜,安全地在洛杉矶与他们的车! 当你到达时,会有一个图示的欢迎书,其中包含细节和说明 - 我将尝试预测您可能对家庭的任何问题。如果有什么东西丢了,给我打电话,我会找到一个解决方案,你可以提出任何问题;-) 公寓和复合体也有: 24小时礼貌巡逻 门控物业通道 现场沙龙 现场干洗机 现场视频租赁 现场美发沙龙 商务中心,带复印机,传真,互联网 在泛太平洋运行轨道 提供70美元的中午清洁服务。这包括提供新鲜的床上用品,毛巾和公寓的全面清洁。请给我通知,所以我可以提前为你预订。 入住/退房要求灵活。让我们知道,我们将尽力满足您的需求。我一直设法帮助我的客人
A designer place that is as comfortable & clean as if it was your own home. It was created with incredible care, attention to details & you won't find a place in LA that you will love more. Prime location, great view, fits 6 guests at a great price!
This eco-friendly, luxurious, bright, sunny, centrally located and large apartment has wall to wall windows, beautiful view of the city, delicious comfort and whimsical style.
Once you book, we will email you the apartment's own website, complete with every detail that will make arriving to our home incredibly easy and the visit an absolute pleasure.
MAIN HIGHLIGHTS:
Entire apartment is for you
Huge windows in every room
Beautiful views (sunset & night as well!)
Central A/C & heating
FREE, INDOOR, ASSIGNED parking spot!
free second parking spot
Incredibly central location
Walkable neighborhood, close to attractions
(our "Walkscore" is 89! & "Transitscore is 63!)
Free fast wifi
Cleaned with non-toxic, eco-friendly products
48" flat screen TV with hundreds of channels
HDMI cable set up
Streaming Netflix
Dining table seating 6
King size tempurpedic bed
Queen size tempurpedic bed
Queen size, bed-height extra airbed
Twin size futon couch/ bed
5* hotel-style 1000 thread-count sheets
Pillows with variety of firmness
2 full bathrooms w hotel style offerings
Organic shampoo, shower gel, + hair dryer
Walk in closet with tons of hangers
Additional large closet spaces
Fully set up kitchen
Toaster,microwave, blender, kettle
Both Keurig & regular coffee makers
Non-toxic green pan and cooking pots
Brand new refrigerator and dishwasher
Organic spices, olive oil, snacks as gifts for you
Organic& natural tea,coffee,sweeteners included
Laundry in building, we have soap for you!
Extra linen, towels, beach towels, pillows, blankets
Baby crib, high-chair, toys, kids's books
Extensive personal Guide Book
Highly detailed "instruction book" for the home
Gated community
Very safe area, 24 hr patrol
Tree lined streets, flower beds, grass lawns
Organic cafe in the garden by the building
Short walking distance to several attractions
Grocery stores, markets, shops around the corner
Hosts are very accessible and helpful
Extra cleaning service is available to book for a fee
within the community we have a dry cleaner, several cafes and restaurants, hair salon, beauty salon and day spa 
I would love to welcome you in my 2 bedroom, 2 bathroom designer place that is newly and freshly created to help you enjoy your time while visiting Los Angeles. It has been set up with the loving care and attention to details as if it has been your home for years.
Let me quote a dear guest from earlier this year: "Overall I felt more like a personal guest than a paying customer." - That is my aspiration and I hope you will feel the same way as she did during her visit.
No matter what your reason is to come to L.A.- business, pleasure, getaway, romantic trip, studying, visiting relatives - this home is perfect for all occasions! You can even comfortably sleep six people.
When you walk into the apartment the lightness, playfulness and fun of the place will immediately make you smile. The hallway is a bright yellow gate that you step through to enter your temporary new home....
There is also an INDOOR GARAGE that in the California sun is a great thing since your car will be nice and cool when you get in. If you need your car at all! This location is one of the few areas in LA where you can walk anywhere you would like to.
ENTERTAIMENT? The Museum Row (LACMA, Car Museum) is minutes walk from here, so is the Cinema of The Grove or the Future Museum of the Academy Awards is being built right now, just around the corner from there!
DINING OUT? The immediate neighborhood has plenty of restaurants, both fine and casual. Satiate your inner foodie with a visit to the highly acclaimed Fat Cow, Gordon Ramsey's latest restaurant just a short walking distance from the house, not to mention you can find the original Nobu, called Matsuhisa literally 5 minutes drive from here as well... I have marked several more in the Guidebook of this profile but will also list many other places in our Welcome Brochure.
SHOPPING? 3rd street that runs around the corner all the way to the Beverly Center is the new 'in" place to shop with all its chic little boutiques! Not to mention The Grove and the newly renovated Nordstroms, glistening with its glass terrace.

SIGHTSEEING? The double decker buses (my secret weapon when my family visits!) stops minutes from the apartment right in front of the American Girls' Place at The Grove or by the LACMA. You can stroll over to either of these places and catch it for a whole day of fun on deck!
Everyone always get the idea that LA is such a car-centered city. Stay at this place and you will see how much you can explore without driving anywhere. The home is a green oasis in a quiet area smack middle of the nonstop fun and craziness of Hollywood. You will never find a lovelier, more convenient and more affordable place.
From the moment you walk in you will feel at home and at ease. You will also find the GUIDE BOOK and WELCOME BOOKLET on the table with more details about the place and the neighborhood for you to read at your convenience, - not to mention your hostess will be standing by to answer your questions or sort out any problems that may arise! Please do not hesitate to get in touch when you need us!!
Looking forward to meeting you and your loved ones!
You will have access to the entire large apartment (1120 sq"!) Nothing is off limits, the place will be entirely yours for the duration of your visit
I am absolutely accessible before, during or even after your visit. Get in touch with me anytime in the way that is most convenient to you and I will reply, call back or text right away.

Please call your cell phone provider before you leave for your trip and make sure your phone will work 100% once you land. The only time I ever had communication problems with a dear guest was due to this issue. So please call your cell phone company before you leave!
I would not like us not being in touch with each other. It is vitally important so I could be helpful making your visit seamless and happy ;-)
This is one of the best neighborhoods in Los Angeles and it is getting better each month and each year. The listing is located in one of the few areas in L.A. where you can walk in tree lined streets to many local and famous attractions! If you search for The Grove and Hollywood you will be able to find more points of interest than I can ever dream of listing here! I will still attempt to enter many more of them into the Welcome Brochure that will await for you once you arrive.... Also, I went crazy marking anything that I can think of on the Guidebook of this listing! Go ahead, take a look, it will take months to follow up on all of them...
Also, AirBnb have a fantastic blog about LA, if you search for "live-like-a-local-star-an-insiders-guide-to-l-a/" - it will come up! ;-)
Most of the mentioned spots are super close to the location of my listing!
The location is an ideal spot if you are looking to check out Los Angeles like a local. You are in close proximity to The Grove and The Farmers Market (at the Grove), Hollywood and Highland where you can catch the Red Line to Universal Studios, The Beverly Center and Larchmont Village. Angelinos in the area hang out on Melrose, 3rd, Beverly, Larchmont Blvd, Highland Ave, Beverly Hills and Rodeo Dr.
Bus lines are around the corner, both on 3rd st and on Wilshire Blvd, but you can also walk on beautiful and tree lined streets in the neighborhood pretty much to any direction you choose. I also have a free spot for your car in the indoor garage, which will keep your car nice and cool for you in the warm sun.
LA is a driving city, so most visitors rent a car, however if you find yourself without you will find yourself walking distance to all that you need for a great experience and just a block away from major North-South and East-West bus routes. Since the dawn of "Uber", things got even easier. Uber is to car/ cab services what Airbnb is to finding accommodations. Download the app and you can get around easily, affordably and safely in LA with their cars!
When you arrive, there will be an illustrated WELCOME BOOKLET with details and instructions - I will try to anticipate any questions you may have regarding the home. If there is something missing, call me and I will find a solution to any questions you could pose ;-)
The apartment and the complex also has:
24 Hour Courtesy Patrol
Gated Property Access
On-Site Salon
On-Site Dry Cleaners
On-Site Video Rental
On-site Hair Salon
Business Center w/ Copier, Fax, Internet
Running Tracks at Pan Pacific
A mid-day cleaning service is available for $70. This includes providing fresh bedding, towels and full cleaning of the apartment. Please give me notice so I could book it ahead of time for you.
Check in's/out's are flexible upon request. Just let us know and we'll do our best to accommodate you. I have always managed to help my guests to have a seamless check-in and check-out. We all know that traveling times rarely (if ever!) fit into the globally accepted hotel time-frames.
Commutes, outside of traffic hours:
Literally across the road: The Grove, Museum Row, Miracle Mile, 3rd St Shopping;
10 min - Beverly Hills, Hollywood Blvd
20 mins - Los Feliz/Silverlake
20/30 mins - Downtown, Century City, Studio City, Culver City, USC, UCLA, Burbank Airport;
30/40 mins - Santa Monica, Venice, Pasadena, LAX Airport;
45/60 mins - Malibu
---
---
---
---
I would love to ask you to take off your shoes at the entrance so together we can keep the carpet nice and clean. I really appreciate your understanding and help ;-)
I would also like to ask that please do not throw drinking parties at the apartment. It is not suitable for large events and it is not a good way to show kindness and respect to me and my home.
Also, absolutely no candles or anything else with a flame and that includes cigarettes as well.
That is all...
Thank you so much in advance for keeping these little notes in mind during your stay.
PLEASE do not contact me if you are interested in renting the place as a location for any form of film/video shoot. We are not equipped or available to accommodate a large, noisy group of people.
---
---
---
Hello Dear Wanderers, Travelers and Families on a Beautiful Journey! It is truly my pleasure to make your acquaintance in advance.... ;-)

I have been a hostess for a long while by now and I am loving every single moment of it. When I got my "Superhost" badge I danced around the living room in the silliest way you can ever imagine. Well, admittedly it wasn't the most dignified response but pretty much reflected my immediate need to celebrate! I genuinely care about my guests and I want to make sure that each and every one has the best possible experience staying at my place and their visit is seamless, happy and memorable.

Being a "Superhost" is like having superhero powers… - it is important to easily deflect unexpected problems, just like ducking from the punches of your arch nemesis; it helps if you see into the future by anticipating seemingly impossible issues and it is a bonus if you are crazy-caring and just generally want to save the world on a daily bases.

I have traveled the world all my life for work and fun and I know how important it is to feel comfortable, safe and relaxed when you arrive to a new destination and you just want to take a long shower and cozy up in the perfect bed. I can completely relate....

Nowadays I cannot imagine a better feeling than be on the other side of traveling: be a hostess to happily content travelers and also through my other work, empowering people to take charge of their own health and wellbeing.

I love this city with its vortex of amazing, caring, enlightened and fun individuals, its endless sunshine, its multi-faceted offerings. I am so truly blessed to be based here, I would love to host you and hope your visit to L.A. will make you as happy as this city has made me by living here.

It was a great pleasure creating these two homes with deep care and detailed attention. In the process I have even fallen in love with them and it is so hard not to just move in and live there myself! lol

It is my deepest wish that you will love it as much as I do…..
See you and talk to you soon!

Anita

语言:
English、Español、Français、Magyar