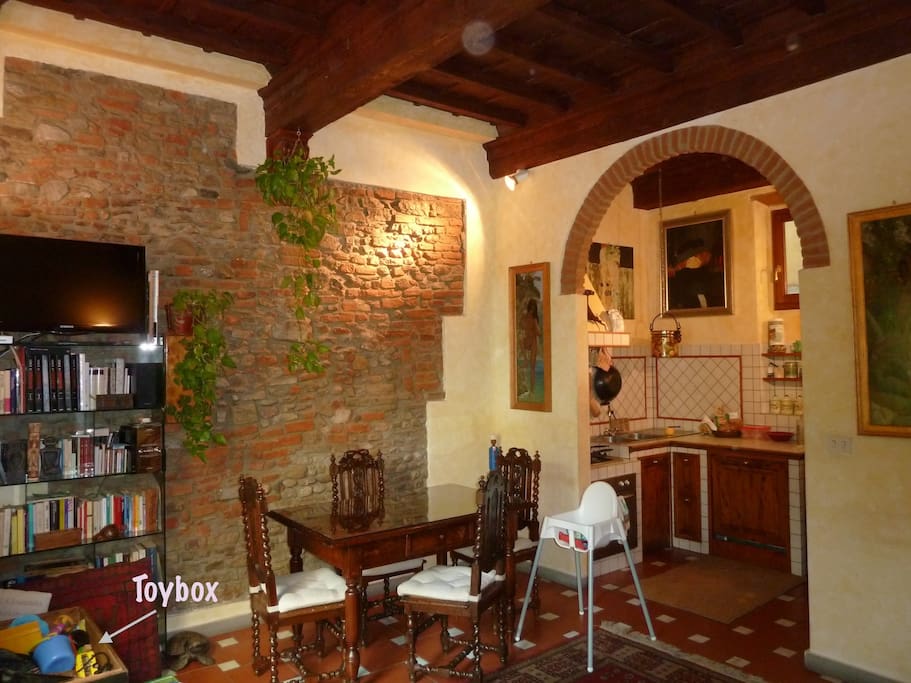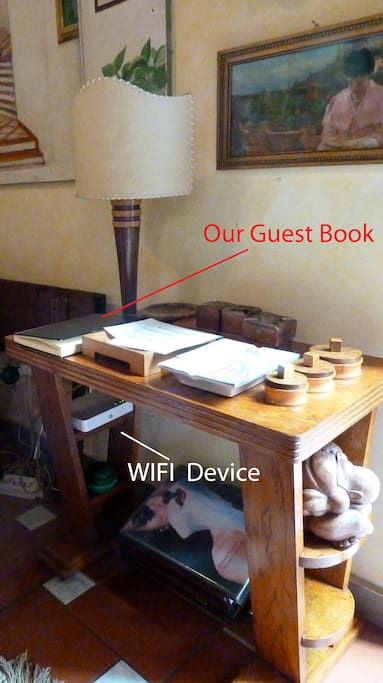 房源
About the home
"Live Florence as a Florentine"
Description…
Spacious apartment in the heart of the old Florence, located very close to Santo Spirito and a 5 minute walk to the famous Ponte Vecchio. The flat has four sleeping places along with a kitchen, living room, studio, terrace, two bathrooms, televisions, wifi internet, a hi-fi system, washing machine, dishwasher and air conditioning in the living room available upon request. Full equipped for kids and babies. Lovely terrace with tiled floor and dining table surrounded by Jasmine and rose plants and a lemon tree. The terrace is in-plane with the living room, perfect for having nice breakfast or dinner.
More…
The Flat is a fascinating and quiet apartment located in the old "Oltrarno", one of the most intriguing parts of the Florence city centre. Handcrafters have chosen this quarter for their quaint shops, which remain free from the tourist crowds. The flat is designed in the Florentine style which nicely reflects the unique Oltrarno flair, with terracotta floors, oak beamed ceilings, a stone and brick wall, and stylish rustic furniture.
A spacious apartment, with a large bedroom, two bathrooms, and a fascinating living room with a stone wall. The flat has the advantage of being silent and fresh. The living room has a pull-out sofa, an antique dining table, TV, wifi, and hi-fi system. The kitchen is fully equipped, with a fridge, oven, microwave, dishwasher, and four hotplates. In addition, there is a studio, washing machine and lovely walk-out terrace with dining table, perfect for sharing an intimate breakfast or dinner. The flat has two full baths, one with a bath tub and the other with a shower. Air conditioning in the living room is available upon request.
*** THE FLAT IS FULL EQUIPPED FOR KIDS (toys, a cot, little bath, little chair, ...)
Enjoy the amenities and comfort of home in a beautiful Florentine setting !
---
---
---
Further details indoors:
The flat is located in a very fascinating part of the old Florence with restaurants, internet points, bar and quaint shops. We will introduce you all the secrets to live Florence as a Florentine !
NOTE:
- We will offer you a welcome breakfast providing milk, fruit, biscuits... (stay longer than 3 days)
- Air conditioning available upon request (extra cost)
- Telephone available upon request (extra cost)
- English-speaking representative on hand to answer any questions
- This is a non-smoker properties BUT we have a very nice balconi.
- Well-behaved pets are generally allowed. Nevertheless, the presence of Pets should be discussed with the owner and could cause an extra cost.
Further details outdoors:
Lovely terrace with tiled floor and dining table surrounded by Jasmine and rose plants and a lemon tree.
The terrace is in-plane with the living room, perfect for having nice breakfast or dinner.

Further details
BOOKING PROCEDURE
Send an email or sms to the owner at least one day before the arrival date to indicate the approximate time of arrival to the house
---
---
---
Great location in center of town yet very quiet. The appartament was clean, it had everything needed in the kitchen. The terrace was a big plus. We were greeted by Rosa who was very nice and helpful. Walking distance from everything. Enjoyed our week tremendously. We ate 5 times at Restaurant Tamero located on Piazza Santo Spirito 3 mn walk from the appartament, we enjoyed it each time. Great pasta and fun ambiance
---
This apartment has a lot of charm and personality! It has original artwork and frescoes, a well stocked kitchen, and a great outdoor terrace area with plants overlooking a lively courtyard with lots of real Italian neighbors. Francesca and Rosa are really nice and helpful. It is in a great location, around the corner from hip Piazza Santo Spirito. It is quite lively in this neighborhood, but still away from the tourist hordes. There are lots of local shops selling foodstuffs, restaurants, and bars nearby, and it is only a short 10-15 minute walk to most of the major tourist attractions.
---
Francesca's flat is a good flat for 2/3 people, fairly comfortable and in a central part of Florence. We rented it for a month and had a few problems. The hot water system is very erratic, we managed to get a hot shower about every 3 days. Rosa tried to help but it is hopeless. When you have a shower, the bathroom floods badly and takes ages to drain. This also makes the floor very slippery. Finally when we left, Rosa, who doesn't speak English, was angry with us for not scrubbing out the whole apartment. In fact she was wrong as we had paid an approx. 37 Euro cleaning fee and left the place clean and tidy. Her bad attitude was unreasonable and left a bad taste. Francesca is very slow at responding to emails and sometimes doesn't reply at all.
---
Francesca's apartment is a mini oasis in the middle of busy Florence. We were there for an extended stay with our small baby and found it to be a perfect choice. The apartment is comfortable with the homely feeling of a more traditional Florentine home (not Ikea mass produced). The layout means that the living area opens onto a beautiful jasmine filled terrace (overlooking other peoples terraces and balconies which is picturesque) which is free from traffic noise and dust. The bedroom has a window onto an inner light well, meaning it is dark and quiet for sleeping which was perfect for the baby. There are two nice bathrooms, a little garden room at the end of the terrace, and a fully working kitchen with a large fridge and dishwasher (rare in Italy)! Francesca responded promptly to our emails and Rosa handled the check in and cleaning, as well as quickly sorting some minor issues with electricity and hot water. The neighbourhood is perfect for living as a "local" and exploring the shops and markets, but still close to all of the sites. We will definitely return.
---
When looking for a place to stay in Florence we liked the charming interior of Francesca's home as it appeared from the pictures. Combined with the location and price the offer did not make us think long. To no regret whatsoever. Francesca responded quickly and Rosa was very polite and welcoming to meet us and explain all the essentials and at the end to take the keys and say goodbye. The place is really nice, cosy and welcoming after a long day of wandering the streets of incredible Firenze. Even the lack of any TV channels in english language was not that bothering. My wife particularly liked the almost windowless bedroom for its tranquillity and darkness. She had the best sleep for the last many years.
---
We had a lovely stay in Francesca's apartment - which had a nicer ambiance in real life than the pictures could capture. We really did not want to leave. The area is great - two minutes from the Santo Spirito, lots of things to do (and eat) in the neighbourhood and easy walking distance to everything Florence has to offer. The directions were clear and helpful, and Rosa was there to get us installed. Highly recommended.
---
Welcome to Florence!
I spent a wonderful time in my flat and I hope you will also enjoy it!

语言:
Deutsch、English、Español、Français、Italiano、Português