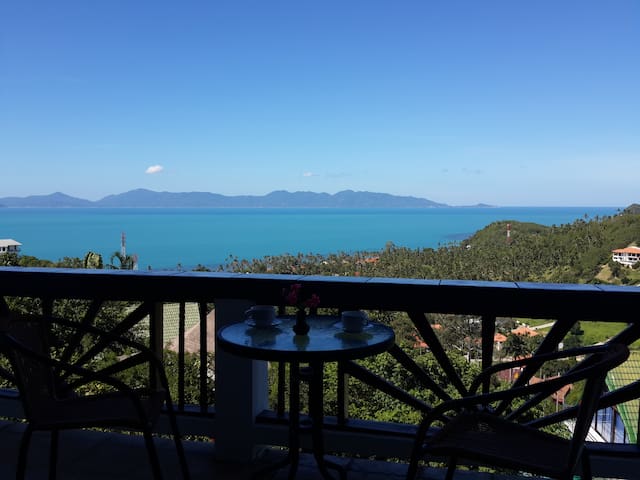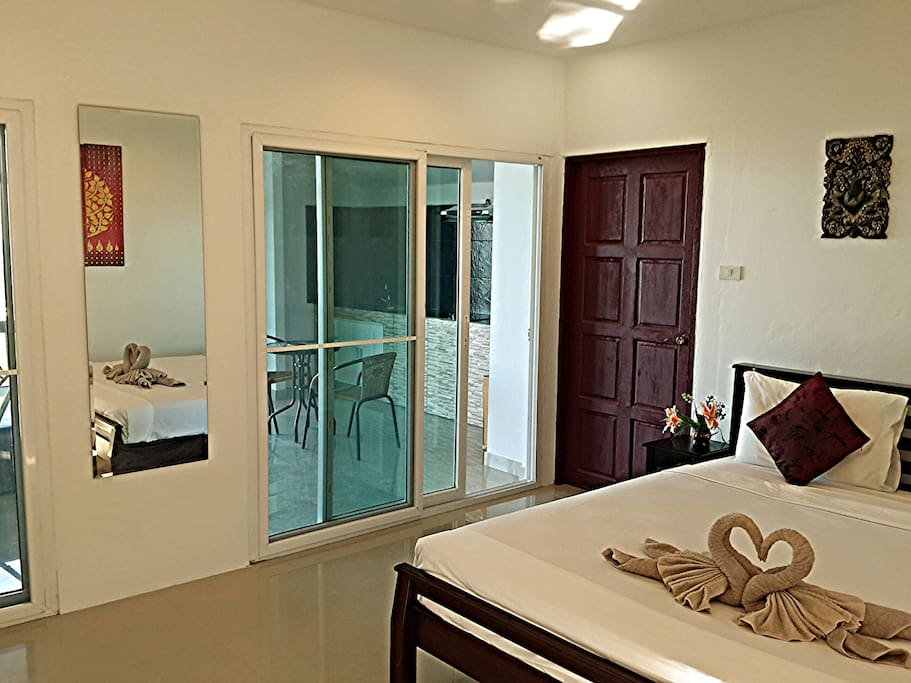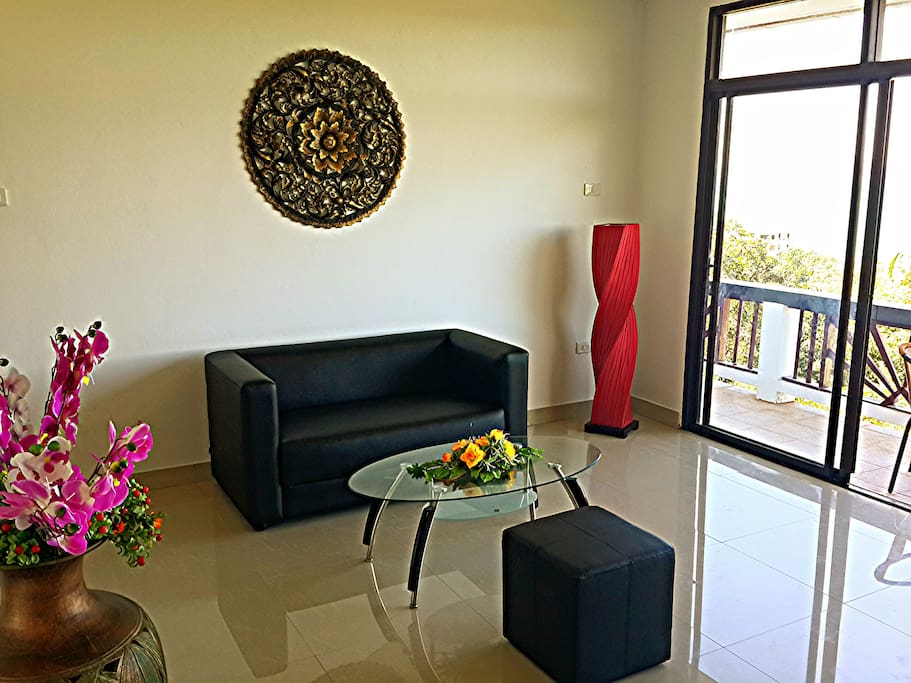 Villa Naak酒店的公寓位于Maenam宁静的Villa别墅,距离海滩仅有800米,苏梅岛仍然是放松身心的好地方,享受远离人潮的乐趣。 Villa Naak是山顶别墅之一,享有迷人的海景
The apartments in Villa Naak are located in a tranquil Villa estate in Maenam just 800m from the beach, where Samui is still a place to relax and to enjoy being away from the crowds. Villa Naak is one of the hilltop villas offering stunning sea views
房源
别墅Naak是山顶别墅之一,广泛的角度,从帕岸岛到Maenam海滩,Bophut海湾,Bangrak海滩,令人惊叹的海景,就知道大佛,苏梅岛的主要旅游景点之一。距离公寓最近的海滩是舒适的白色沙滩波尔波尔海滩,可以欣赏到帕岸岛的壮丽景色以及风景优美的日落。海滩的度假胜地,其中许多都是高端和高端的休闲区,提供饮料以致命日落。仍然保留原苏梅岛的Charme的长长的Maenam海滩距离汽车或摩托车约5至10分钟。岛上的首府与市区,餐厅,超级市场以及Angthong国家海洋公园的壮丽景色距离酒店仅有10分钟的车程。苏梅岛顶级度假村之一的代码是同一个方向,只有5分钟的车程。 在附近地区有一个小型迷你度假村,距离Sky Villa Naak旁边几米,迷你度假村可以使用无限海景游泳池,或者在那里吃饭,并免费使用。在环路下,有一个最小的和一个seveneleven商店,以满足您的日常自助餐需求,如果你想要自己做饭,不想享受许多便宜的当地餐馆的一天。公寓厨房配有陶瓷电炉,烤面包机,水壶,微波炉,冰箱等,方便烹饪,享受海景。我们推荐一辆汽车或踏板车,方便和灵活。去探索苏梅岛在岛上的广泛景点。有这么多。
Villa Naak is one of the hilltop villas offering stunning sea views in a wide angle from Koh Phangan over to Maenam beach, Bophut bay, Bangrak beach as far as the well know Big Buddha, one of Samui`s main tourist attractions. The beach nearest to the apartments is the cosy, white sand Bang Por beach, which offers marvellous views to Koh Phangan along with scenic sunsets. The resorts at the beach, many of them are upper and high end offer relaxing areas with drinks to salute sundown. The very long Maenam beach which still has kept the Charme of the original Samui is about 5 to 10 minutes by car or scooter. The island capital with it`s markets, restaurant, supermarket and fantastic views to the Angthong national marine park is only 10 minutes by car as well. The code, one of Samui`s top resorts is in the same direction and only a 5 minutes drive.
In the nearby area there is a small mini resort just a few meters walking next to Sky Villa Naak, the mini resort offers use of its infinity sea view pool at charge or just eat there and use it without charge. Down at the ring road there is a minimart and a seveneleven store to stock up your daily needs for self catering, if you do want to cook on your own and do not want to enjoy the many inexpensive local restaurants ervery day. The apartments kitchen has a ceramic electrical stove, toaster, kettle, microwave, fridge etc. to facilitate cooking your meal and enjoy it with a sea view. We do recommend a car or scooter for convenience and flexibility. Go and explore Samui`s widespread attractions around the island. There are so many.
房客使用权限
请告诉我们,我们可以帮助您提供便宜的渡轮或机场接送服务。如果你自己租一辆小型摩托车,一个125ccm就可以了。当汽车租用4WD车时,根本不需要。每辆车都可以开车,一般普通的汽车就像大多数业主和客人一样可以上坡,甚至还可以做一个小小的,尽管我们是山顶别墅。
Please let us know, we can help you with tips to book cheap ferry or airport transfer. If you rent a motorbike yourself a normal small one, a 125ccm will be ok. When renting a car a 4WD car is not necessary at all. Every car can drive up, a normal car like most of the owners and guests use can go uphill and even a small one can do, although we are are a hilltop villa.
与房客的互动
您可以通过邮件,电话或遇到别墅经理联系我们。我们可爱的工作人员将协助您办理入住/退房手续并清理帐单。 所有客人都可以快速到达我们的查汶酒店,并享受免费的无限游泳池。
You can reach us by mail, phone or meet the villa manager. Our lovely staff will assist you during check in / out and clear bills.
All guests are invited to have a quick stop at our Chaweng property as well and enjoy it`s two infinity pools for free.
其他注意事项
天空别墅Naak专为长期租赁而设计。一周以内的租金将被考虑。 房价须遵守以下账单: - 电力7泰铢每千瓦时/小时,房地产供应 - 每1000L水30泰铢,地产供应 - 光纤无线上网30泰铢每天 工作人员将在办理入住手续时检查米,退房时付款,需在办理入住手续时支付押金,具体取决于您的住宿时间。将提供一套亚麻布和毛巾。如果您想要女佣服务/清洁,只要让我们知道,我们可以安排。女佣服务/清洁服务收费。
Sky villa Naak is designed especially for long term rentals. Rentals below one week will be considered.
Rates are subject to following bills:
- electricity 7 baht per kw/h, estate supply
- water 30 Baht per 1000L, estate supply
- fiber based wifi internet 30 Baht per day
Staff will check the meters on check in and check out with, payment is on departure, a bills deposit will be required on check in depending on the length of your stay. A set of linen and towel will be provided. If you would like maid service / cleaning as well, just let us know and we can arrange it. Maid service / cleaning is charged.
---
---
Check in, 13:00, check out 11:00, complimentary early check in / late check out between 09:00-18:00 is possible and free of charge, depending on availability. For smooth check in / out please let us know the time at least 2 days prior to arrival / departure in order to check availability and inform staff.
Early check in / late check out other than the given time can be arranged at charge based on availability. The fee for it is 500 Baht per check in / out.

---
We enjoyed our stay here, it was very peaceful and the view was amazing just like in the images. The room was clean and the staff were friendly, it is quite remotely situated though so transport is needed, we had a car so this was not a problem. The only negatives were: The bathroom floor had the same smooth tiles as the rest of the apartment so became extremely slippery when wet, all 3 of us nearly slipped over on multiple occasions. If the tiles can't be replaced for proper bathroom tiles I'd recommend adding a non-slip bathroom mat as it was quite dangerous. Also, the water in the bathroom had a strange smell. Apart from that our stay was very nice, thanks!
Thank you for enjoying our peaceful and amazing views. We were lucky to acquire Villa Naak in time as it is situated in the most popular and largest villa estate overlooking Koh Phagan. It is a real gem. Thank you once again. Regarding the bathroom a western bathroom with separate shower and bath tub not a wet thai style bathroom. So we got no clue how guests flooded the bathroom to get the floor wet. As mentioned it is western style, water cannot run onto the floor from the shower etc and people usually use a towel to dry themselves, but I guess people are different, you never know. In summary thank you very much for your compliments about our property "our stay was very nice, thanks!" we appreciate that. See you next time.
---
Nous avons séjourné 3 semaines au mois de septembre. Endroit très calme avec très belle vue sur koh phangan, Difficile d'y accéder en scooter Privilégié les plus de 110cm3 sinon vous ne monterez pas. L'endroit se situe loin de chaweng ( 30min de scooter ). Les points négatifs : En rentrant dans les lieux nous avons été étonnée de là couleurs des draps qui était jaunâtre qui n'avais sûrement pas été changer,un gros doute sur le ménage avant l'entrée des occupants. À notre arrivée nous nous sommes retrouver bloqué l'après midi entière Nous avons dû attendre les techniciens à cause de la clim qui ne fonctionnait plus, Une demi journée de perdu à cause d'un problème que le staff aurait dû gérer eux même au lieu de nous demander de rester pour nous en occupé. Attention vous n'avez qu'une seule paire de clefs, suite à cela nous avons une belle surprise en rentrant un après midi Le staff voulais faire visiter l'appartement sans nous prévenir et rentrer dans notre intimité Si nous n'étions pas rentré à ce moment là nous ne l'aurions jamais su... Gros point noir il est très compliquer d'organiser un retour à l'aéroport en taxi Car les taxis connaissent très mal l'endroit et ne viendront pas vous chercher à la villa même, Donc nous sommes passer par l'intermédiaire de Klaus qui nous à demander 1200baths pour nous emmener à l'aéroport alors qu'un taxi coûte maximum 800baths. Faites attention aussi car il demande 500baths par personnes pour des départs hors horaires indiquer dans leurs descriptions !! En gros merci le départ nous a coûté en tout 2200 bahts !!
We are happy that the guest stayed with us at a low rate of just 1000 Baht per day, although it was very very difficult to have them guests. The guests a mono lingual whose native language was unfortunately not english could hardly understand even the simplest things in english. If I would not have been able to understand his native language a little, communication would not have been possible. It was impossible for staff to explain something to the guests in english. The guests could not understand how to use the aircon etc. Due to their language barrier the guests could not even organize something themselves. They could not even book a simple taxi and use an app on english. On short notice prior to the check out date, they mentioned that they need to check out a 03:00 in the night. Unbelievable to demand a night check out on short notice, if it is clearly stated when check out and in is possible. But we were able to arrange it get a taxi driver on short notice for the middle of the night, just to realize that the taxi driver had to wait an hour with the guests at the airport gates, as the airport was still closed that early. In summary we cannot recommend Vins a guest. Only if you are living next door to your rental, do night check outs in the middle of the night without appropriate info and speak Vins native language, you might want to consider giving them a chance.
---
Я жила месяц в этом месте. Тихое место. До ресторанов, пляжей и шоппинга очень далеко пешком. Я ездила купаться на байке на другую часть острова. Прекрасный вид. Хорошие кондиционеры. Стеклянные двери лучше не держать открытыми-слетаются насекомые. Особенно вечером.
---
Прекрасный вид, тихое место, обстановка как на фотографии. Квартира очень красивая, панорамное окно. Во время нашего проживания был плохой интернет: постоянно не работал в первую неделю и очень медленно работал далее, в спальне не ловит сеть. Большой счет за электричество, хотя в кондо, в котором мы использовали больше электрических приборов и 2 кондиционера, счет был в 4-5 раз меньше за такой же период времени.
Hi, thank you very much for reviewing us. We are happy that the guests enjoyed staying with us and loved the room and panoramic views. Actually the guests even wanted to extend their long term rental, but did not get a visa extension. We are happy as well that the guest mentioned that the rooms are as on the photo. We take care that our rooms do look like on the photos. Regarding internet guests forgot to say, that they did not needed to pay during the short period where internet was down, maybe they forgot that. The internet line is a 20 Mb line so it is fast enough unless you do multiple and extensive torrent downloads / uploads, that has might been the case, as other guests using internet as well mentioned internet became slower once the reviewing guests were in the rooms, which was usually late in the evening. For electricity it is very simple, it is paid by usage, there is nothing we can do about it is the guests decision if they leave aircons turned most time even when they are not at the property. Everybody can easily see his power usage on the meter at the entrance. Leaving aircons running all most of the time is the same as trying to heat your house in Europe during the winter to about 27 degrees constantly, few people do so and off course need to pay the high consumption. We do really recommend not to leave 2 aircons running most of the time. If guests leave the aircons turned on unnecessarily the bills add up and is not really environmental friendly. For example other guests staying at the adjacent apartment next door at the same time did pay three times LESS on their electricity bill, because they did not leave aircons running unnecessarily. We always try to be as helpful as possible, so please think of the environment, your electricity bill and do use power wisely, not waste power it please. We will all benefit from it.
---
Останавливались на вилле с 1 по 30 января. Вилла достаточно просторная, все как на фото, есть все что нужно для жизни. Район очень красивый и ухоженный, полное единение с природой, тишина, то что нужно для семейного отдыха. Вид на остров Панган и Сиамский залив, с другой стороны горы открывается вид на джунгли и водопад! И все это из за высокого расположения виллы, добираться лучше на джипе или на байке, пешком подниматься тяжело, особенно когда в руках сумки:) Хозяин все время был на связи, организовал трансфер, сделал все чтобы мы чувствовали себя как дома.
---