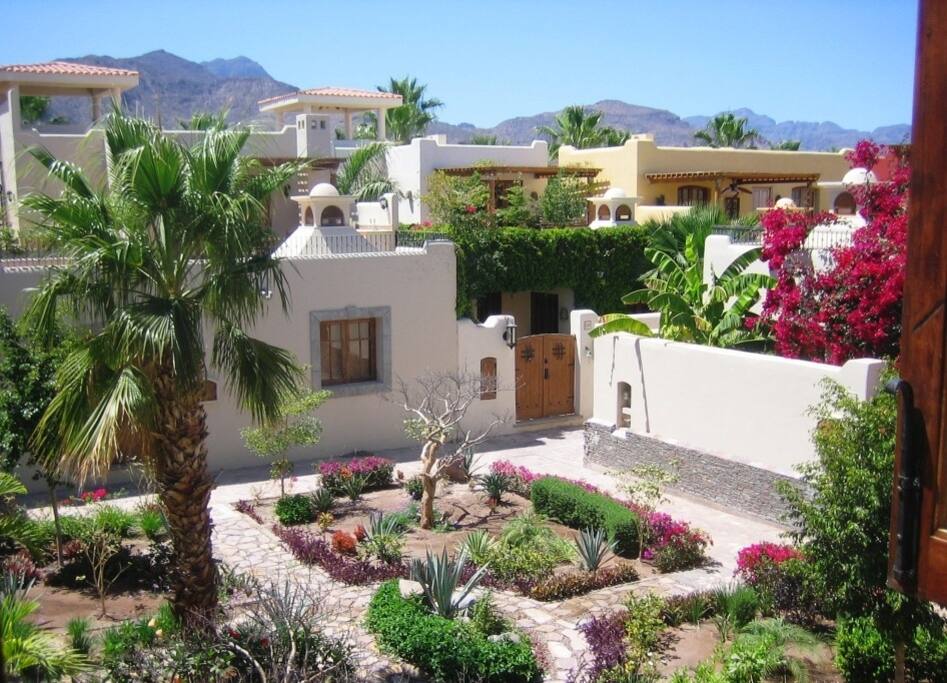 Enjoy this beautiful Mexican Villa steps from beach. Ideally located in resort community with golf, swim & hotel pool bar overlooking Sea of Cortez. Swim,kayak,fish&snorkel to see colorful marine life or read/relax under beach palapa with margarita.
房客使用权限
Guests have access to the homeowners' pools and the beach.
其他注意事项
Driving Directions to Loreto Bay
Head South on Hwy 1 past Loreto. Approximately 8 miles south of Loreto, you will see signs and a turnoff for Nopolo and The Inn At Loreto Bay. Continue driving past this exit for approximately 2 miles. You will pass a sign saying 066 and then a sign stating that La Paz is 344km. The next left turn is the entrance for Loreto Bay. It is not marked except for white rocks on the sides of the street. If you pass the golf course, you've gone too far.
Turn left to enter Loreto Bay. Go straight until you reach a round-a-bout. Go left around the little circle and continue going straight for about 1/10 of a mile. Look for rental bikes and ATV Rentals and a large leafy tree. Park in this area.
The security office is across the street next to a red building and near the community center.
---
---
---
1.KEYPAD ENTRY - Access Code: emailed prior to arrival
Unlocking: Enter the door code into the keypad and rotate the thumbturn toward the hinges.
Locking: Press the Schlage button and rotate the thumbturn away from the hinges.
Tip: If lighting is low, press the Schlage button to illuminate the keypad before beginning.
2.CHECK-IN time is normally after 3 p.m. and check-out is by 10 a.m. This is because I often have one guest leaving on the same day another is arriving, and I must be fair to the cleaning service to get the job done in between guests. However, I can usually work with you to adjust those check-in and check-out times, especially if I do not have a back-to-back departure/arrival situation. So if you cannot adhere to those deadlines, please let me know and we will work something out.
3.SMOKING: This is a NON-SMOKING house. Evidence of smoking will incur a $250 penalty. I do understand that some people may want to smoke outside which is permissible, however please be dutiful about removing butts (cigarettes & cigars) from the premises.
4.PETS: Pets are permitted in the rental house only with prior approval. There is a $100 per pet fee. Pet owners are responsible for cleaning up of any/all pet refuse. Pets are not allowed on furniture at any time.
5.Recycling: There are recycling bins at the dumpster. Please sort your trash and use them.
6.Any questions/problems please notify Ramon Peralta with Bahia Property Management, which is located a couple of doors down from the Security Office or (email hidden).
7.I have provided everything you need to do routine housekeeping. Please USE THEM. It is hard to clean up a mess if left for days or weeks. If you want to hire a cleaning service, notify Ramon Peralta. I am responsible for the departure cleaning, but while there, you should treat the house as you would your own home.
8.PLEASE PUT THINGS BACK WHERE YOU FOUND THEM (including kitchen stuff, closet stuff, or furniture for those who are really ambitious). I know each of you have your personal preferences for how you like the house to be arranged. Since I host around 20 or more different guests each year, it is courteous to everybody to simply leave the place as you found it.
9.There are TVs in the living room and each of the bedrooms with Cable TV.
10.I provide free high-speed wireless internet access. The identity of the wireless modem is casa132. The password to log into the wireless modem is snorkel132.
11.There should be an assortment of cleaning products, paper products, canned goods, dry goods, spices, condiments, first aid items, candles, and light bulbs. Some are usually stocked for your convenience. If you use any of these consumables, it would be considerate of you to replace them for the next guest.
12.When preparing to leave, please follow this checklist:
•Dispose of perishable food items and any garbage
•Take used sheets off the beds and leave in pile on the bed(s). Leave used towels on the bathroom floor.
•Please load and start the dishwasher
•Please check all small kitchen appliances and any electronics to make sure they are turned off
•Turn off lights
•Close and lock all windows and doors
•Turn the air conditioner / heaters / fans off
•Return the keys to the Security Office on your way out
13.Please sign the guest book and let me know what you think. THANKS !!!
---
---
---