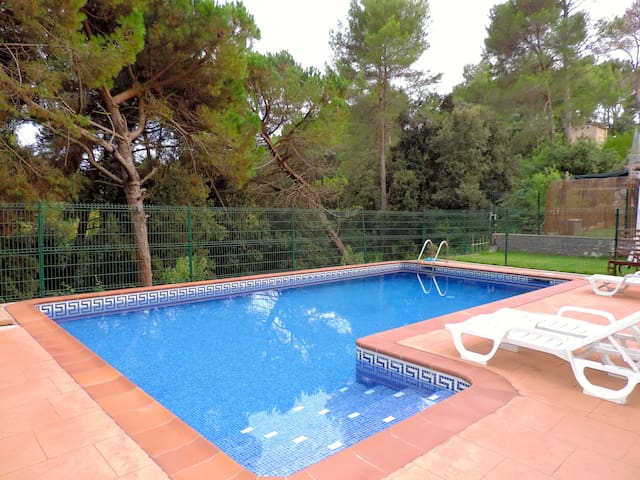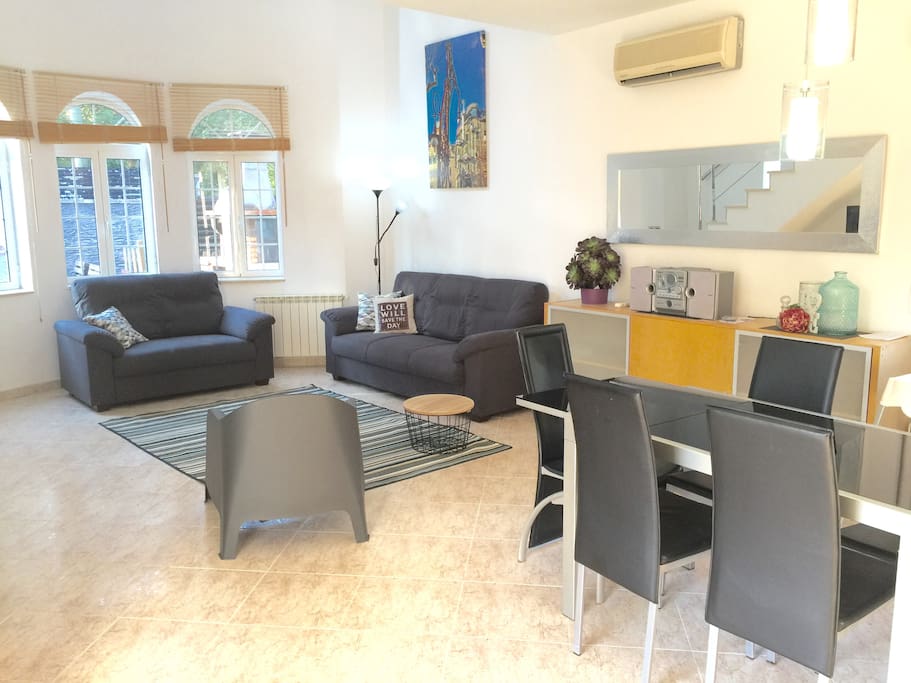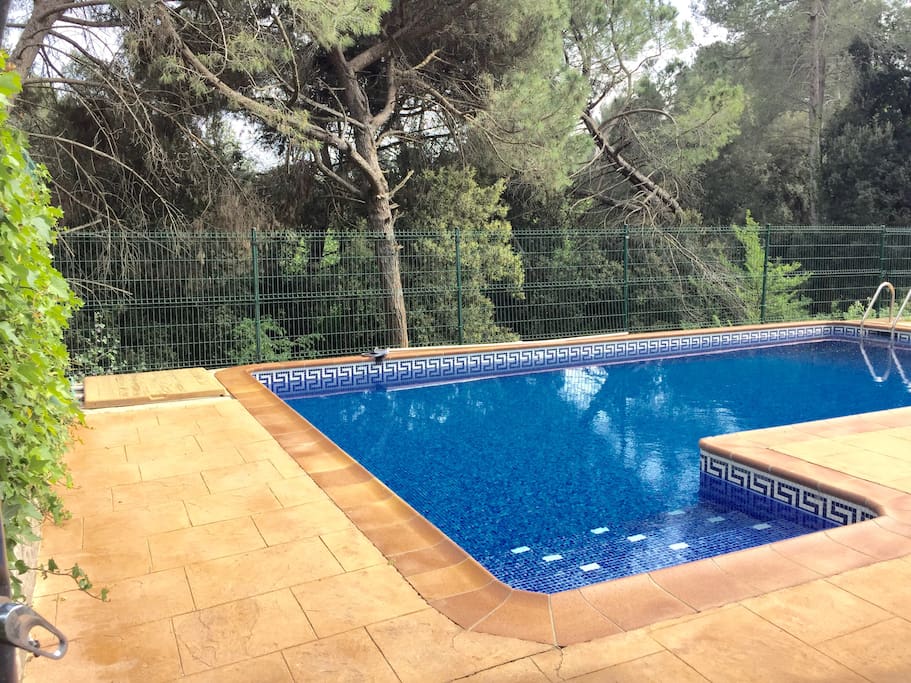 位于巴塞罗那罗马式热镇的Caldes de Montbui附近,靠近Santa Eulalia deRonçana边界的宽敞居所,非常适合探索城市的完美基地,无需处理城市的压力,噪音和空间。停车你的车 现代时尚的家居,是探索巴塞罗那的理想基地。我已经有一些伟大的人来留下来,所以我欢迎你到我家。
Spacious home in the borders of Santa Eulalia de Ronçana, closer to Caldes de Montbui, a Romanic thermal town in Barcelona, very much the perfect base from which to explore the city, without having to deal with city stress, noise and lack of space to park your car.
Modern and stylish home, It's the perfect base from which to explore Barcelona from. I've already had some great people come and stay, so I welcome you to my home.
房源细节
房子齐全。请随身携带,享受您的光临! Fantastic Designed House酒店距离巴塞罗那仅有18公里 两个不同的层次,2个厨房,一个级别是8人,另一个级别与游泳池访问是4人。 * 1层/ 8人:2层,2间浴室,4间卧室。 * 2层/ 4人:1层,1间卧室,1间浴室,1张沙发床,游泳池通道。 位于一条安静的街道上,距离巴塞罗那仅有半小时的车程,可直接通往AP-7高速公路或C-33高速公路,距离拥有最好保存的罗马浴场的Caldes de Montbui小镇仅有很短的车程。在西班牙。 在我们的家中,您可以找到:3间卧室配有双人床,2间卧室配有两张单人床,1张沙发床,1间宽敞明亮的客厅,您可以在此享用加泰罗尼亚风味的早餐和早餐,或在设备齐全的露台上品尝美味的烧烤。 这所房子被认为是毫米。 我没有一个停车场,但在街上舒适的空间可以容纳3-4辆车。 日期! 3天最少停留 夏季:7月和8月我们的入住日期从星期一至星期一,从星期一至星期四,请不要犹豫。 如果客人数量有变化,您可以随时通知我们,即使提前24小时,我们将尽全力满足您的需求。我们要你回家 我们将在抵达时取消预订不符合预订条件(如预订5人和12人入住)。您的预订总是可以在最后一刻调整。我们在这里让你感到欢迎。 Caldes de Montbui的中心距离酒店仅有5分钟的车程,是一个充满魅力的古老的罗马旅游城镇,还有一个很好吃的地方,可以冷静下来去购物。巴塞罗那是欧洲美丽的城市之一,距离这个宽敞宽敞的房子只有35分钟的车程。 我的房子在巴塞罗那之外,所以你需要一辆汽车来进出城市。我没有车库来停车,但停车是不是一个问题,因为如果你是一个大团体,那么在房子前方有足够的空间,甚至超过3-4辆车。 当我的房子被它包围时,你会拥有美丽的森林景观。这是一个理想的房子,作为一个基地,而您在步行距离探索自然,因为有一些路径走在大自然只有一条街我们离开。 记住,这是西班牙,所以如果你来自一个像Sweeden这样的地方,那么和西班牙的绿色森林一样好,但是非常绿,很可爱。鸟儿会在早晨醒来,和你一起在一起。 房子被设计为一个家庭的新鲜现代的外观,因为它可以托管你的家人,让你回家,它也可以举办大型团体10-12人,并保留所有现代舒适的家庭。 **这个房子在巴塞罗那以外,所以,如果你想走遍各地,请确保你明白需要一辆汽车,这最适合你梦寐以求的旅行。 但如果你有一辆汽车,而且你正在巴塞罗那不断地使用地下铁路,并且你有驾驶执照,这是很有可能留在这里是一个更好的选择,从房子开车到大部分的巴塞罗那"必须"更接近比在城市使用公共交通工具,如果你在一个3人以上的团队旅行,肯定会更舒适,因为我们距离高迪的圣家堂还有诺坎普只有35分钟的路程,雇用房子肯定是更好和更便宜的如果你是3-4人)比在城市的青年旅馆,并确定清洁...有什么想法...。 房子没有附着,整天都充满了光,游泳池在夏天从上午9点到晚上7点30分有阳光,好....... 带桌子,椅子和烧烤的瓷砖露台将在您进入酒店时欢迎您。旁边是一个"隐藏的花园",天然的河石覆盖在地板上,桌子和长凳和池塘。 由于这是一个现代风格的建筑天花板,特别是在休息室里有一个双重高度的额外的光线和设计,所以空间感觉是不错的。 每个房间都有衣柜或衣柜挂衣服/商店的鞋子等。还有熨衣板/熨斗和吹风机也保存在这里。 3间浴室有浴缸或淋浴,总是有热水和大量的毛巾供您使用。我们有工业锅炉加热水/中央供暖,这意味着在不断的使用你可以在三个浴室同时淋浴,即使用水龙头 厨房,但不要尝试使用浴室水龙头休息,而淋浴,因为它的工业!不是魔法!所以,大团体,特别是女孩:不要同意淋浴,化妆,一下子做牙,因为它还是一个家!什么不行,在你的地方,不会在这里工作!请明智 然后通过大厅的主门,是开放式的生活空间。 主要休息室内设有一台电视机,但我没有电视机用于游泳池区域。但是整个房子都有免费的WiFi。我有一个音乐/广播播放器。加卡和棋盘游戏。也会尝试让孩子们开心。 一个大型厨房空间与花岗石和所有现代的消费者,洗衣机,烘干机,制冰机和冰柜,洗碗机,烤箱,水壶,微波炉,电磁炉灶等。 在泳池区,我们有一个第二个厨房,没有设备齐全,但有冰箱,烤箱,燃气灶和微波炉,作为第一个和主要的厨房。 我不喜欢住在公寓的假期,甚至没有任何基本的烹饪,如盐和橄榄油,所以厨房备有所有常见的食物,以帮助自己,如果你在做饭加咖啡,是的请。 旁边是他的厨房是宽敞的用餐空间与玻璃餐桌和六把椅子+凳子。 有10间客房的5间卧室: (PHONE NUMBER HIDDEN)张双人床, (PHONE NUMBER HIDDEN)双人床, 1具有90x200双床单人床可以拉在一起, 1张双层床配有90x200张单人床。还有一个 1个80x200"沙发床"在泳池区,将变成一个160x200适当的双人床。 公寓的主客厅面积有两张沙发和一张沙发,还有一个阅读和天花板灯,完美的社交,也有一本好书安静的时光。 游泳池区的第二个客厅里有一张沙发床,还有两张单人沙发。还有一个玻璃餐桌,4个eames设计椅子+ 3个额外的凳子,以防其他人出现!这个地区的自然光将令你惊叹不已。 房子很震惊所以如果你想在这里使用闹钟,欢迎你!更多的细节,当你来! 期待你的回信。我非常乐意回答有关巴塞罗那/ Caldes de Montbui /餐馆/酒吧等的任何问题或建议 祝一切顺利 伊丽莎白 整个房子都是给你的,不是和别人分享的。 我应该能够亲自见到你,让你进来,告诉你公寓并回答任何问题。有时,由于您的到达时间以及我要做的事情,我无法亲自见到您,所以将安排将钥匙放在安全的编码框中,以便收集。我会给你更多的信息,并私下安排。您可以在住宿期间随时通过电话或airbnb联系我。 办理入住手续的时间通常为下午5点后退房时间为上午10点。但是,我很灵活,我会尽可能地尝试并适应你的时间表。所以记住这一点,知道你的旅行计划真的很有帮助,所以请让我知道你打算什么时候到达和离开,什么方法的交通工具,当你预订。 巴塞罗那是那些令人印象深刻的欧洲城市之一,而卡尔德是一个美丽而历史悠久的城市。全年忙碌的人群和不断的庆祝活动。 您可以乘坐飞机,火车,汽车或渡轮前往巴塞罗那。 巴塞罗那是一个骑自行车,步行的城市,但如果你想有一个非常好的公共旅行系统。 Caldes de Montbui是历史悠久的,市议会投入大量资金,在数十年的时间里使它变得有趣,所以你可以做一个漫长的历史性步行,你会爱上!安全的一天为它带来舒适的鞋子! (URL HIDDEN) 您还可以购买2天无限制的旅行车票,每人14,50€。 (URL HIDDEN) 出租车很容易被浪费和预订,而且它们的价格并不像欧洲其他国家的短途旅行那么昂贵,特别是如果你觉得(4人),但如果你需要跨越城市还是出来!火车时刻准备便宜! 如果你带一辆汽车(而且想去这个城市)这些都是选择... 在巴塞罗那老城区停车是罚款,但是没有直接的免费停车位,因为它的小而历史悠久,寻找地下停车场。在街上,你会发现什么空间是居民(绿地),如果街道上的机器不允许你打勾,你的车很有可能被删除
House fully equipped. Please, move around and enjoy your stay!
Fantastic Designed House located at just 18 km from Barcelona
Two different levels, 2 kitchen, one level is for 8 people, another level with pool access is for 4 people.
* 1 Level/8people: 2 floors, 2 bathrooms, 4 bedrooms.
* 2 level/4people: 1 floor, 1 bedroom, 1 bathroom , 1 sofa bed, pool access.
Located in a quiet street at only half an hour's drive from Barcelona, with direct access off the AP-7 motorway, or C-33, and just a short drive from the small town of Caldes de Montbui, which has the best preserved Roman baths in Spain.
In our home you can find: 3 bedroom with double bed, 2 bedroom with twin beds, 1 sofa bed, 1 large and bright living room where you can make a dinner and breakfast the Catalan style or cook a delicious BBQ in your fully equipped patio.
This house has being thought to the millimeter.
I do not own a CAR PARKING SPACE, but there is enough space to park 3-4 cars comfortably in the street.
DATES!
3 days minim stay
SUMMER: JULY AND AUGUST Our Check in days are from SATURDAY to SATURDAY even that airbnb shows them from Monday to Monday. please, don't hesitate to ask.
If there is a change on the amount of guest, you can always inform us, even with 24 hours in advance and we will do our best to fit your needs the best we can. We want you to feel home.
WE WILL CANCEL bookings that don't meet your reservation on arrival, (like booking for 5 people and 12 people coming). Your booking can always be adjusted in the last minute. We are here to make you feel welcome.
The centre of Caldes de Montbui is just 5 minutes drive away, and it is a Roman touristic town full of charm and great places to eat, chill and to go shopping to. Barcelona is one of the beautiful cities of Europe, and it's just at a 35 minutes drive from this quite and spacious house.
My house is outside of Barcelona, so you are going to need a car to drive in and out the city. I do not own a garage to park your car, but car parking is not a problem, as there is plenty of space to park right in front of the house even more than 3-4 cars if you are a big group.
You will have beautiful sights of the forest as my house is surrounded by it. This is the perfect house to have as a base while you explore nature at a walking distance as there are some paths to go for walks in the nature just a street away from us.
Remember, this is Spain, so if you come from a place like Sweeden, this is as good as the Spanish green forests get, but seriously very green, quite and lovely. Birds will wake you up in the mornings and be with you all day.

The house has being design as a family home with a fresh and modern look, as it can host your family and make you fell home it can also host big groups 10-12 people, and retain all the modern comforts of a home.
** This house is outside of Barcelona, so, if you want to walk everywhere, make sure you understand that a car is needed and this is most probably inappropriate for your dream travel.
But if you have a car and you are thinking of using the underground constantly in Barcelona and you have a driving license, it's very possible that staying here is a better option and driving from the house to most of the "musts" of Barcelona is closer than using public transport in the city, and definitely more confortable if you are traveling in a group larger than 3 people, as we are only 35 minutes away from Gaudi's Sagrada Familia, or Camp Nou, and hiring the house is definitely nicer and cheaper (if you are 3-4 people) than a Youth Hostel in the City, and for sure cleaner… something to think about….

The house is not attached so it's full of light all day and the pool has sun from 9 am till 7:30+ in the summer, nice.......
A tiled patio with table, chairs and barbecue will welcome you when you enter the property. Next to it is a "hidden garden" with natural river stones covering the floor, with a table and a bench and a pond.
As this is a modern style construction ceilings are hight, specially in the lounge where there is a double hight for extra light and design, so the space feeling is nice.
Every room has wardrobes or drawers to hang clothes/store shoes etc. There is also an ironing board/iron and a hair dryer kept here as well.
The 3 bathroom have either a bath or a shower, there is always hot water and plenty of towels for you to have. We have and industrial boiler to heat water/central heating, which means that at a constant use You can shower in the three bathrooms at the same time, even with the tap kitchen on, BUT don't try also using the bathrooms taps on an off while showering, because it's industrial! not magic! so,large groups, specially girls: don't agree to shower, make up, and do teeth all at once, as it is still a home! what doesn't work in your place, won't work here! be wise please!!
Then through the main door off the hall, is the open plan living space.
There is a tv in the main lounge but I don't own a TV for the swimming pool area. But there is free wifi throughout the house. I have a music/radio player. Plus cards and board games. Will try and make kids happy too.
A large kitchen space with granite stone and all the modern cons - toaster, washing machine, dryer, icemaking fridge and freezer, dishwasher, oven, kettle, microwave, induction hob etc.
In the pool area we have a second kitchen, which is not fully equipped but has fridge, oven, gas stove and microwave, which works as support kitchen to the first and main one.
I hate staying in apartments on holiday where there aren't even any basics to cook with like salt and olive oil, so the kitchen is stocked with all the usual larder fare to help yourself to if you're cooking in. Plus coffee, yes please.
Next to he kitchen is the generous dining space with glass dinning table and six chairs + stools.
There are 5 bedrooms for a 10+2 guests:
2 have 140x200 double beds,
1 has a 160x200 double bed,
1 has 90x200 twin single beds that can be drawn together,
1 has a bunk bed with 90x200 single beds. There is also a
1 80x200 "sofa bed" at the pool area that will turn into a 160x200 proper double bed.

The main living room area of the apartment has two good size sofas and a single sofa, there is also a reading and ceiling light perfect to socialize and also have quiet time with a good book.
The second living room at the pool area has a sofa bed in it and two single sofas in it. There is also a glass dinning table with 4 eames design chairs in it + 3 extra stools in case anyone else turn up! Natural light in this area will amaze you.
The house is alarmed. So if you'll like to use the alarm while you are here, you are welcome to! More details when you come!
I hope to hear from you. I'm more than happy to answer any questions or give advice about Barcelona/Caldes de Montbui/restaurants/bars etc
All the best
Elizabeth

The whole house is for you and is not shared with anyone else.
I should be able to meet you in person to let you in, show you the apartment and answer any questions. Sometimes, due to your arrival time and what I'm up to, I wont be able to meet you personally and so will arrange to leave keys in a safe coded box so you can collect them. I will give you more information and arrange it privately. You can contact me by phone or on airbnb at anytime during your stay.
Check-in is usually any time after 5pm and check-out times are 10am. However I'm flexible and I will try and accommodate your schedule whenever possible. So with that in mind it's really helpful to know your travel plans so please let me know what time you intend to arrive and depart and by what method of transport when you book.
Barcelona is one of those European cities that are impressive and Caldes is a beautiful and historic place. It's busy all year round with the crowds and constant festivities.
You can get to Barcelona by plane,train,car, or Ferry.
Barcelona is a city made for cycling, walking, but if you want there is a very good public travel system. Caldes de Montbui is historic and the town council has invested lots on making it interesting over decades, so, you can do a long historic walk that you will love! safe a day for it and bring confortable shoes!
Underground, bus, train single tickets cost 2,15€ per journey of £4.00 for day (URL HIDDEN)
You can also buy a 2 day unlimited travel tickets for 14,50€ per person. (URL HIDDEN)
Taxis are easy to wave down and book, and they are not as expensive as they would be in the rest of Europe for short journeys, specially if you feel it up (4 people) but they can be expansive if you need to get across the city or out of it! while trains are well scheduled and cheap!
If you bring a car (and want to visit the city) these are the options...
Parking in the Old Town of Barcelona is fine, but there is no direct free parking as its small and historic, look for underground car parks. On the street what spaces you'd find are for residents (green areas) and if the machine on the street doesn't allow you to get a ticked, your car will be most likely removed and taken by a crane and that will cost you 180€. If the machine allows you to get a ticket it will be limited for two hours maximum stay. If there are blue spaces to park you will be fine.
Do not try to leave your car with out the ticked on the green areas. I strongly recommend you no to do so. Town Councils have discovered on them a way to cash in. So the will find your car if it doesn't have ticket.
Caldes de Montbui, blue areas works by time, so, blue areas will allow you to park 2hours for free, but you must inform of your time of arrival, a paper with the time will be enough or you can use a time wheel that you will find in the house. If you park properly anywhere else that is not a "blue area", you won't be limited by time.
Barcelona; If you are looking for something more long term and without to much hassle there is also free parking you can park in most shopping centres for free (La Maquinista) and then use underground to move around the city.…… if you go to the any city after 20.00, you will be able to use most yellow areas (for delivery during working hours). Even though, please, do not forget to check vertical signs above every "limited"(yellow, blue, green) area.
Blue, green and yellow areas in Barcelona normally are access free after 20.00. Still, always check vertical signs above every area you go to.
Most underground car parking spaces in the city have special rates if you decide to stay for longer than 12-24hrs for whatever reason.
If you are looking into hiring a car at your arrival there are a number of car hire business in Barcelona Airport or Girona Airport that work really well. Talking to earlier guest, we found that most of them will give you a better rate and deals if you book it ahead online or as a package with your flying ticket.
房客使用权限
这个房子不是普通区**** 我们为您提供的私人设施: 游泳池,围栏儿童安全。 草地完美播放, 露台区带烧烤桌椅,旁边 河石花园放松远离压力。 这是一个私人的家,没有与邻居分享的"共同点"。 一切都是为你的私人使用!
THERE ARE NOT COMMON AREAS IN THIS HOUSE****
OUR PRIVATE FACILITIES FOR YOU TO USE ARE:
Swimming pool, fenced in for children safety.
Grass area perfect for playing,
Patio area with barbecue with table and chairs, and next to it
River stones garden to relax away from the stress.
This is a a private home, there are no "common areas" to share with neighbors.
Everything there is for YOUR PRIVATE use!
与房客的互动
2017年7月和8月完全预订 这个家有两个独立的"家"。如果您与家人预订,并且您不需要整个房子,我们将不会吸引另外一个家庭的分散公寓。其中一个公寓不会被雇用和关闭,以确保您的隐私。 我们将打开游泳池地板(4人睡2 + 2人),预订超过9人(12是我们的最大比例,2岁以下的人不支付)如果需要,我们有一个旅行摇篮。 我们希望您在家中感觉到,所以我们会尝试尽可能地中断最低限度,但是我们将可以使用,您将可以在提供的手机中找到我们。我们有一周的维修人员,游泳池,草地等,如果你的议程见面,不要惊讶! 我们希望你享受你的住宿和感觉在家里。我们将尽力完成此项工作。
July and August - 2017 FULLY BOOKED
This home has two separate "homes". If you book it with your family, and you don't need the whole house, WE WILL NOT HIRE THE SPARED APARTMENT FOR ANOTHER FAMILY. One of the apartments will not be hired and closed, in order to ensure your privacy.
We will open the swimming pool floor (4 people sleep inn 2+2) for bookings over 9 people (12 is our maximum ratio, under 2 year olds do not pay) We have a travel cradle if you need it.
We want you to feel at home, so we will try to interrupt the minimum as possible, but we will be available and you will be able to find us in the provided phones. We have maintenance people coming during the week, pool, grass, etc. don't freak out if your agendas meet!
We want you to enjoy your stay and feel at home. We we'll do our best to accomplish it.
其他注意事项
- 9月1日至6月31日期间最少3天 - 7月1日至8月31日期间最少7天。 请确保您已阅读我家的完整描述,我们很乐意拥有您!但是让我们谈谈一下... _我的房子在巴塞罗那市外,需要汽车,也不需要停车的问题。 请保持音乐噪音水平下降,窗户在晚上11点左右关闭邻居,这个社区有长期居民和其他假期客人。 这是我的家,所以请尊重房子,好像是你自己的房子。这不是一个"派对单位",我信任客人预订的唯一的人,而且我们会明白你们一天过得很累,但是一天结束的时候,只是客人。 事情破裂并被破坏,这是一个生活的事实,我对这些事情有所了解,所以请在离开之前告诉我,直到之后,我们可以在直接进入"存款"阶段之前对其进行整理。 如果有东西不起作用,有时甚至不知道。请让我们知道,我们将尽全力使您的逗留愉快。在您离开评估后,您的逗留或为我们作为主持人"得到新闻"是不利的。我们喜欢听和说话,所以请让我们进行交流! 需要喝一杯让我们知道!这是一个大房子,即使你想花费大量的时间,外面还有很多事情要做,我可以告诉你哪些是更好的,去哪里等等!不过请不要派对或"回到我家"随着噪音在附近传播。 房子里没有吸烟。但你可以在庭院外面吸烟。我们不提供烟灰缸,或像吸烟者后的清洁。所以请尊重你,请尊重我们,抽烟后清理干净,让我们的大部分客户都是"小"的家庭。 记得在游泳池灯之前要转,看起来很神奇,但森林里的鸟不像我们这样做! ;)
- 3 Days minimum stay from 1 September until 31 June
- 7 Days minimum stay from 1 July until 31 August.
Please make sure you have read the full description of my home, We'd love to have you! but let's "talk" a little...
_my house it is outside the city of Barcelona, Car is needed, nor problem for car parking your outside the property.
Please keep music noise levels down, and windows close after 11:00pm to respect the neighbors, this neighborhood has long term residents and other holiday guests.
It's my home so please respect the house as if it was your own. This is not a "party flat" I trust the only people there are the guests booking, and we would understand you bringing some faimily over for the day, but please, at the end of the day, just guests.
Things break and get damaged it's a fact of life, I'm understanding to these things, so please tell me before you leave or straight after so we can sort it out before it goes straight to the 'deposit' stage.
If there is something that doesn't work of function, sometimes, we are even not aware. Please, let us know and we will do our best to make your stay marvelous. It's not good for your stay or for us as hosts to "get the news" after your departure on the evaluation. We love listening and talking to you, so please, let's make communication flow!
Need a drink? let us know! It's a big house and even that you would like to spend lots of time in it, there are lots of things to do outside and around, of which I can tell you which are the better ones, where to go, etc! but please, no Parties or "Back to my house!" as noise travels in the neighborhood.
There is no smoking in the house. But you can smoke outside in the patio. We do not provide ashtrays, or like cleaning after smokers. So please, as we respect you, please, respect us and clean up after smoking and leave the space clean, as most of our customers are families with "little" ones.
Remember to turn of swimming pool lights before going to be, it looks amazing, but the birds in the forest don't understand it as we do! ;)
No pets are allowed.
RESERVATIONS ACCEPTED ONLY OVER 18 YEARS or accompanied children.
The apartment is ideal for families.
1. We have only one neighbor next door and silence hours must be respected.
2. Avoid nuisance to neighbors
3. Is silent from 22:00
4. This is a really safe neighborhood, but please, remember to close the windows and live the doors locks when you live the property.
5. Violating the rules is cause for immediate dismissal without payment of your stay or bail.
6. Deposit 300 euros
7. Bookings in July and August will be from Saturday to Saturday
您还必须确认以下情况
需爬楼梯 - 3 steps from street to the property. Stairs from ground level to top floor. We have a ramp that connects to the pool or steps from a differ side.
便利设施缺陷 - We have Netflix. We don't have satellite tv. There is wifi so that you can connect your devices or connect to your account.
This home is just as described in the listing. Although we didn't get to meet Elizabeth she made herself available at all times. The check in/check out process was seamless and we were accommodated for an early arrival. You definitely need a car but we were expecting that for our trip. It's about a half hour away from Barcelona and an hour or more away to places like Girona or Besalú. The kitchen is fully stocked with anything you might need. From pots, pans, plates utensils, etc. Overall our stay was excellent and would highly recommend staying here!
---
We are passionate about music, art, sculpture, decoration, food and of exploring other cultures.

We are fascinated about sports, architecture, language and nature.

We could not live without our family, friends, music, a nice cold drink and good tapas.

We also apply our engineering skills to everyday life, and we believe that you will be able to tell while being at home with us, we use it as much as possible so you can enjoy the most of this Vila.

We hope you enjoy your stay with us so much that you will not only come back  but also recommend us to your friends and family!





语言:
English、Español