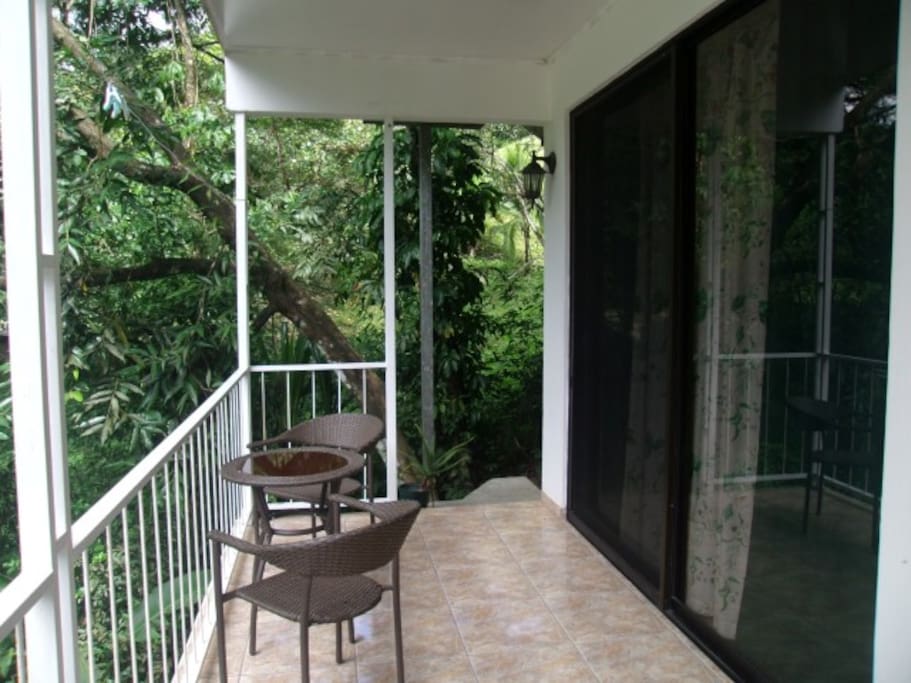 View to Mountain Ocean and Quepos
The Brunxu apartment is strategically located between the port of Quepos and Manuel Antonio National Park. This apartment located on a first floor has kitchenette, 1 bed, 1 bathroom, balcony and top roof terrace with mountain view.
---
Grettel is an AMAZING host. We booked a few month before our trip and was able to always ask her questions (not just about the airbnb but Costa Rica questions in general). She is super friendly, knowledgeable and helpful and if she didn't know the specific answer, she would point us in the right direction. As for the actual place, it had everything we needed. The room did get a little hot as there isn't any air conditioning but with two fans we didn't suffer too much! The rooms are located literally less than 2 blocks from the bus that takes you to the national park for only 310 colones. The roof has a beautiful view. One night when it was too rainy to go outside, my boyfriend and I went upstairs to read our books in the hammock and chairs on the roof. It was incredible to be outside but safe from the rain! Overall I definitely would recommend Grettel's place. She is an amazing host, and the place has everything you need. Thank you Grettel!!
---
We enjoyed our stay at Grettel's studio apartment. Even though the apartment is small, it has all the conveniences. The view from the porch is spectacular. It was more of a country atmosphere, with the neighbors rooster waking us up every morning. The town of Quepos is just a short walk from the apartment. Grettel is a gracious host and is always available to help when needed. The only problem we faced was with the cabbie at the bus terminal when we arrived in Quepos. The bus stop to Manuel Antonio Park is very close to the apartment, and the cost is only 310 colones. We recommend Grettel's place if you are looking for a quiet and relaxing vacation.
---
We really enjoyed our stay at Grettels apartment. The location is great, you have great access to public transportation. The apartment is pretty small but still very comfortable for two people. Grettel is a really attentive and kind host, she answered all our requests immediately and even provided us with fresh towels and bedding after a few days. I would recommend staying at Grettels apartment!
---
Amazing little studio. 2 minute walk from the bus stop, 5 minutes from downtown. Lots of little groceries close by. Basic kitchen but was not lacking for cooking food in. Very clean and comfortable. Never got too hot during our stay. Grettel is an amazing host that was great at meeting and exceeding our (constantly changing) needs. Would recommend to anybody looking for a nice stay in quepos.
---