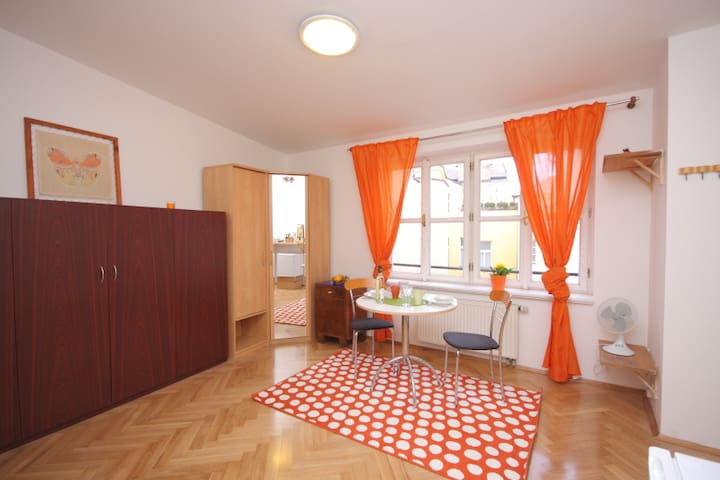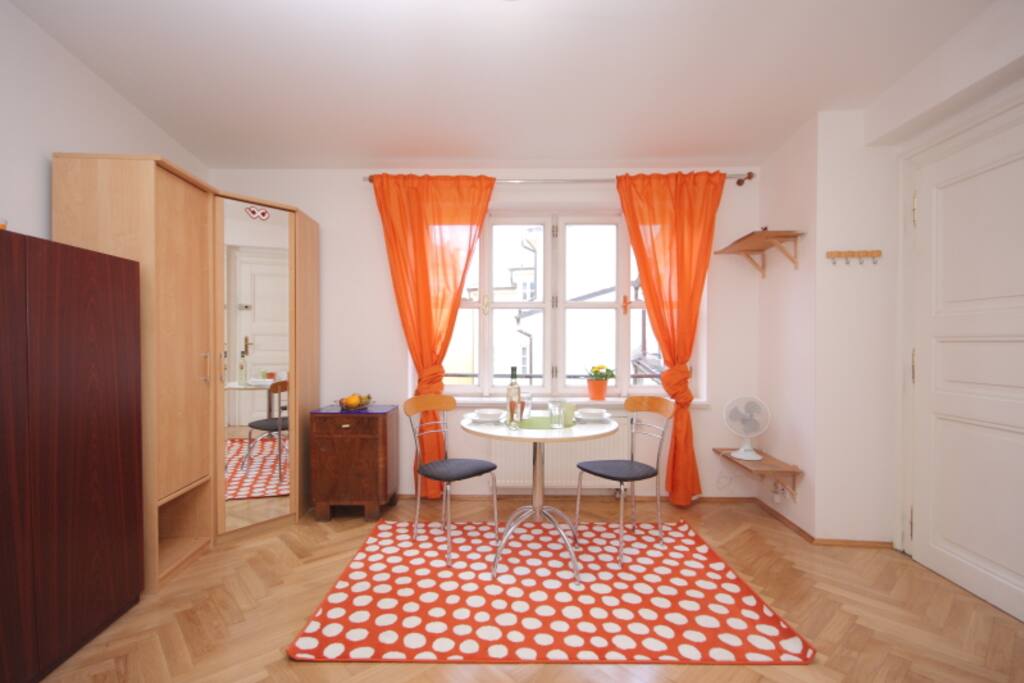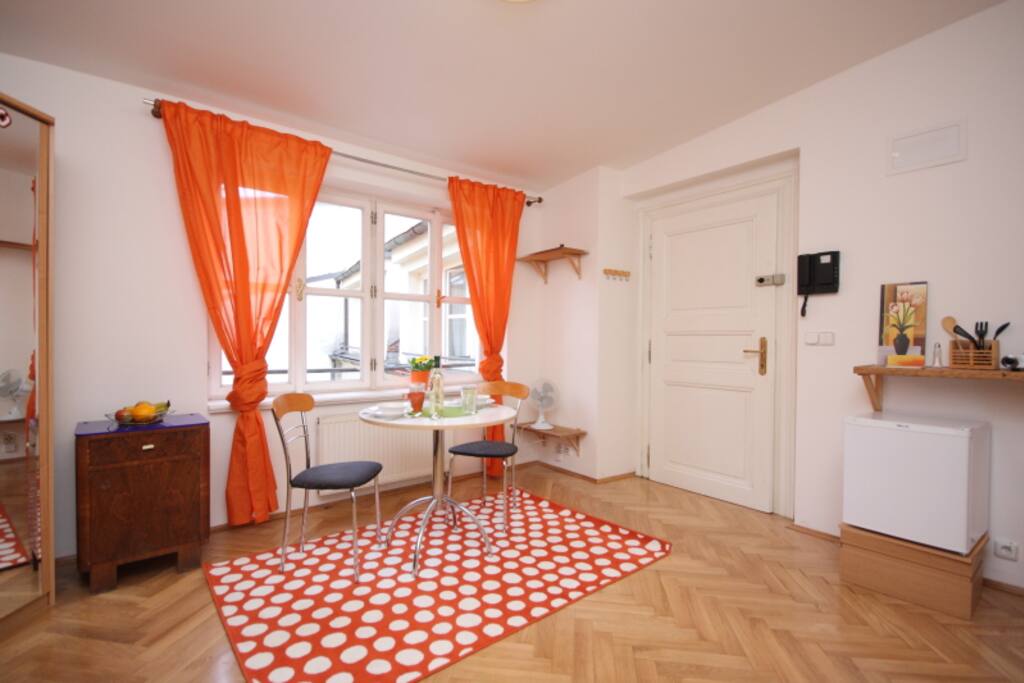 Comfortable studio in heart of Old Town
时尚工作室公寓位于老城区中心。公寓非常巧妙地设计了一张折叠床,确保了公寓的舒适和额外的空间。还有一个大衣柜,用餐区和宽敞的浴室。公寓有一个美好的位置。距离旧城广场,犹太区,市政府,粉塔有3分钟的步行路程,距离所有主要的布拉格景点仅有几步之遥。最好的位置!
Old fashion studio apartment in the heart of Old Town. The apartment is very cleverly designed with a fold-out bed, which ensures comfort and extra space in the apartment. There is also a large wardrobe, dining area and spacious bathroom. The apartment has a wonderful location. Located 3 minutes walk from the Old Town Square, the Jewish Quarter, Municipal House, the Powder Tower and is within walking distance of all the major Prague sights. The best location ever!
---
Romana has the perfect studio for a short stay in Prague! Could literally not have a more perfect location, walking distance to everything, it really made the trip so much more enjoyable. Don't even think about having to use a cab other than to and from the airport. There's no A/C but leaving the windows open and having the fan on that Romana provides is all you need when you in the room (which should only be short periods of time during you're visit to Prague!) Enjoy!
---
Dominika made me feel very welcome with great responsiveness and attentiveness to detail. The apartment was very clean and exactly what I expected. The location was second to none right in the heart of Prague. If you want an easy and comfortable place to stay where you'll find all the mystery and magic of Prague, there's no better choice.
---
Markéta is not the owner of the flat, but a representative from a real estate agency that handles rentals for homeowners in Prague, so this review will have two parts. Part 1: The Amazing Markéta First, I have to say without reservation that Markéta is just phenomenal, she went above and beyond to accommodate all of our needs and requests. She is very courteous and professional, she answers emails and calls promptly, and goes the extra mile to make sure you are satisfied. When we first arrived there were a number of issues with the accommodation. We were on the top floor and the elevator was not working. The table pictured in the listing was completely broken and the toilet was cracked in half. I emailed her right away in less than 24 hours all of the issues were remedied. I was really impressed because it was right before Christmas, and I know it must have been difficult to get someone to make the repairs at that time of year. A week later we had a minor disaster when the washing machine flooded the apartment. I called Markéta, who sent someone immediately to clean up the flat. She was very kind and apologetic. She even offered to move us to a new flat, which was very kind of her to do. Marketa assisted us in numerous other ways, including finding a new flat when we decided to extend our visit. I asked her a million questions about the place, and she always replied in a friendly and kind manner. Part 2: The apartment. I would only recommend this apartment for a single person wanting to save some money to stay in Prague for a week or less. It is hard to tell from the photos, but it is very small and several things are in need of repair. There is an issue with ventilation and there are areas in the apartment where mold is visible. Overall the place is not well cared for, and it is evident in the details. Honestly if it wasn't for the help that Marketa gave us, we probably would have moved out. The owner really has her to thank! I gave this apartment one star... this rating reflects the APARTMENT, not Marketa, if I could rate her, she would get five out of five!!!!
---
Hello beautiful traveler! Me and my colleagues are taking care of several apartments in the beautiful city of Prague. If you like something in my offer and it is not available, don't hesitate contact me anyway, I might be able to find something similar for you :-)
语言:
English、Čeština