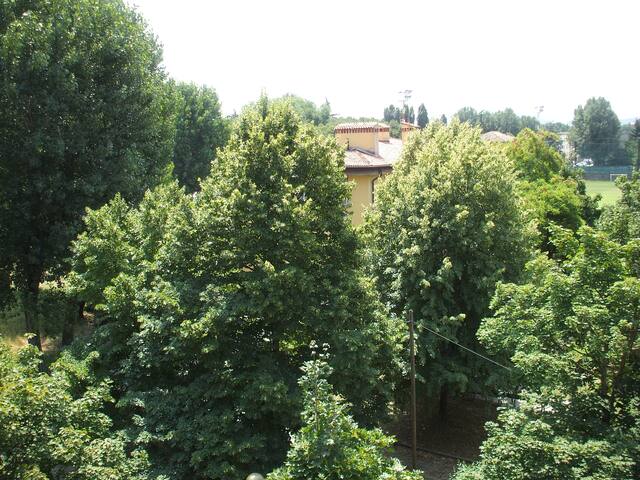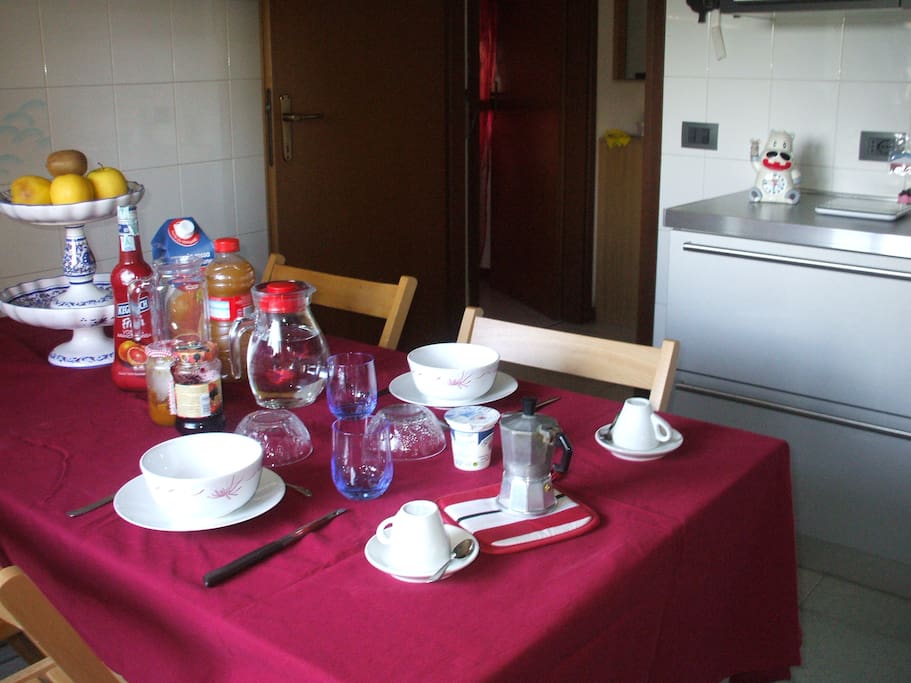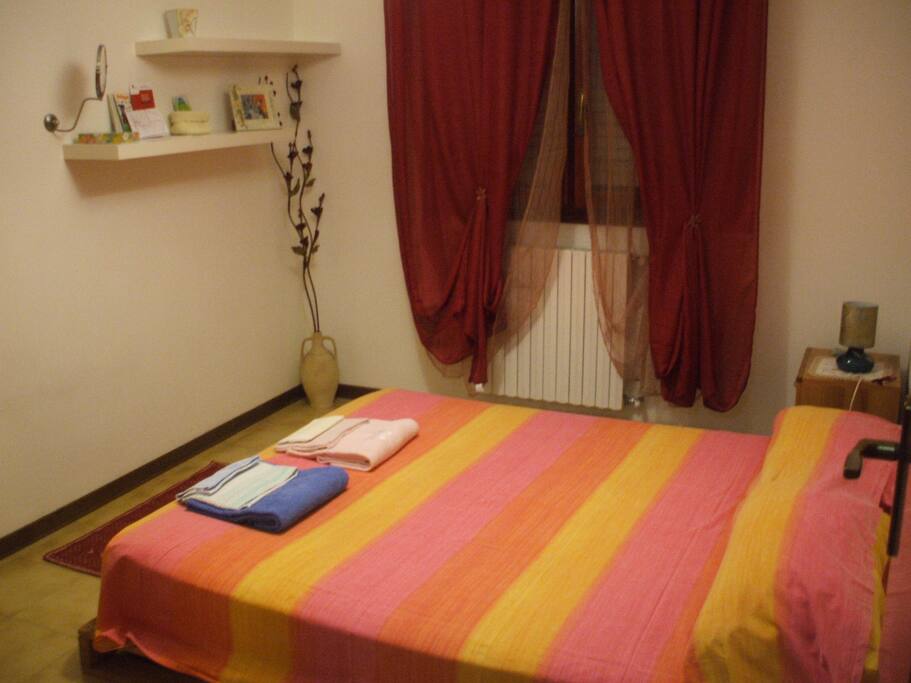 房源
The apartment is located 2 km from Bologna city center, surrounded by a park and with a beautiful view of the church of San Luca.
The neighborhood is quiet and parking is available for those who want to reach by car.

We are less than 2 km from the motorway and 3 km from the airport Guglielmo Marconi. A bus that comes frequency can reach the center in 10 minutes and we provide a couple of bikes to enjoy at liberty the beauty of the city and its surroundings.

The rooms are large and very bright; a bathroom, a kitchen and a lounge to relax with wi-fi, CDs and books in the home, are at guests usability. Furthermore, on the small terrace you can have breakfast during the summer months in the quiet and cool.

- we have two rooms, with a queen size bed. Each room can hosts 2 person, and the charge is 23\35€ for the first guest (depending from week) and 10€ for the second (price per night).
-It's possible to use a single bed and hosting 3 person in a room....but it must be an exceptional case.

If you have any questions feel free to ask :-)

---
---
Hi guests!
We are happy to host you in our home, we hope you stay fine and enjoy the city.
Bologna is a small city, but so ancient and rich of monuments, museums, alleyway where you can find what are you looking for.
The home has simple rules, above all good sense. Therefore:
- Be respectful, with other hosts and neighbor….and with us! :-)
- If problem or question, or missing things, or special necessities….don't worry, we are here to support you!

-We love walking barefoot and we prefere that you don't walk into the house with shoes, so we have a shoe rack at the entrance and in case you forgot your slippers we give you a new pair of them.

-The breakfast is from 8.00 AM to 10 AM.
-The linen is weekly changed, and bathroom and kitchen daily cleaned. WE GIVE YOU THE TOWELS, SO DON'T USE THOSE OF HOSTS!
-The use of the kitchen for lunch or dinner requires a little weekly amount: but, if we make handmade pizza, your only duty is ….buy the beer and eat with us!!!
-The use of washing machine and flatiron: 5€ (detergent included)
- Daily cleaning of your room, making the bed: 5€ (where required)
- The use of bicycle requires a deposit of 35 €: if all goes fine, you'll keep your money back. If you lost it, or someone steal it, you must pay 120 €. We give you a hardy chain and a heavy-duty padlock: always use them!!
-We have a safe, so you can use it.
-If you lose the house key, you must pay 130 €.
-In condominium, absolute silence is from 2 PM to 4 PM, and from 10 PM to 7 AM;
-There's no tv in your room….the same in mine. Life is too short for watching tv!! It's however possible watching tv in living room were are available sat channels.
-It's in the guests availability a (SENSITIVE CONTENTS HIDDEN) account for European calls, included in the room price. Please, request it at the booking.
-Please, don't smoke in your room or in the house: there's a Patio where you can seat and relaxe….and smoke….
-Clean what you dirty;
-Ask before taking something from kitchen cabinets where we have our personal stuff
-Use the recycle bins under the kitchen sink.
-We have: soaps, detergents, shampoo, conditioners, slippers....etc. So, ask for them in case you have forgotten something at home and avoid to use the first you find.
---
Ok ! The best thing about AirBNB are the people! Loved this couple . Andrea and Susanna are the perfect hosts. They are delightful ! This was my last impression of Italy and once again I was enchanted by the people . This is a comfortable safe cheerful environment and every effort was made to ensure my stay was memorable. I arrived before a public holiday so not much was happening . I was quite happy to stay low and I felt more than welcome here. Conversation ,amenities and company were exceptional . The big bonus was Susanna's art of cooking. Sheis amazing ! And this was the only AIRBNB that provided BFast ... It was all fantastic but most of all I will remember the genuine openness . ...
---
Great place, nice area, hospitable hosts. Always I had a delicious breakfast and coffee. Very close very good trattoria Vaporino. I recommend! Прекрасное место, хороший район, гостепримные хозяева. Всегда был очень вкусный завтрак и кофе. Совсем рядом очень хорошая тратория Vaporino. Рекомендую!
---
We had a great welcome as Andrea made us lunch and gave us a few tips like the buses and the neighborhood. Andreas apartment is lovely clean and close to everything we wanted. There were some difficulties but due to their personal situation it couldn't be helped and we can always manage by ourselves. The only downsides were the pillows weren't as comfortable as we would have liked, it was warm in the room as the outside noise made keeping the window open not possible and the apartment is very close to the airport and planes fly overhead from 6:30. The restaurant IL Vaporino is great value and good food lots of good food!!! This is a good place to stay for convenience in Bologna if planes don't bother you.
---
We loved staying with Andrea and Susanna. They were lovely easy going hosts and we really enjoyed sharing our time with them. It was also great that they recommended some great sights to us. The flat is very convenient the bus stop to get to the city centre and it was great that we could park our rental car. Flat is clean and tidy and the breakfast was great with yummy cake.
---