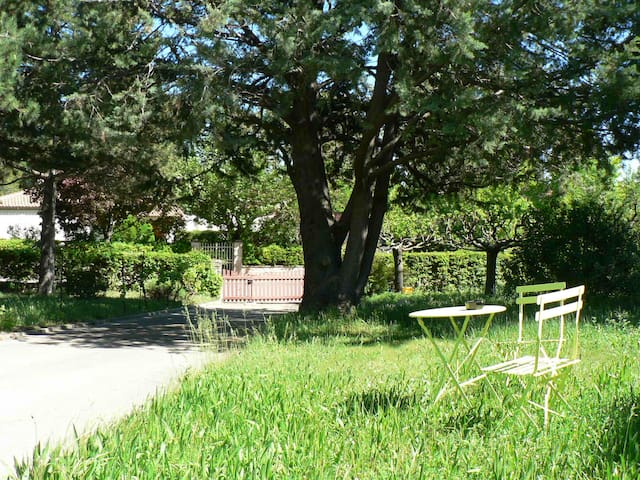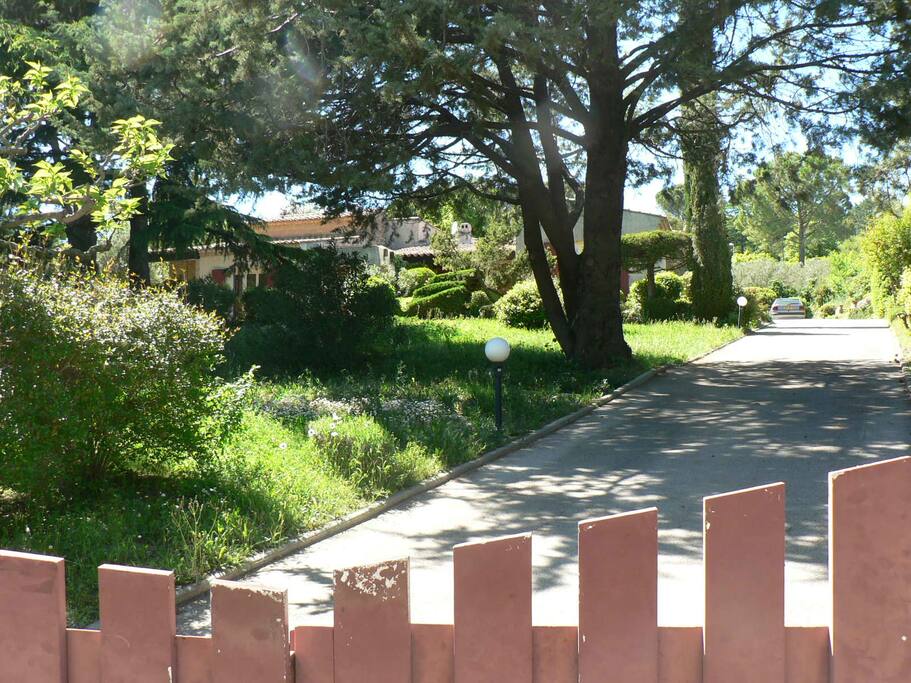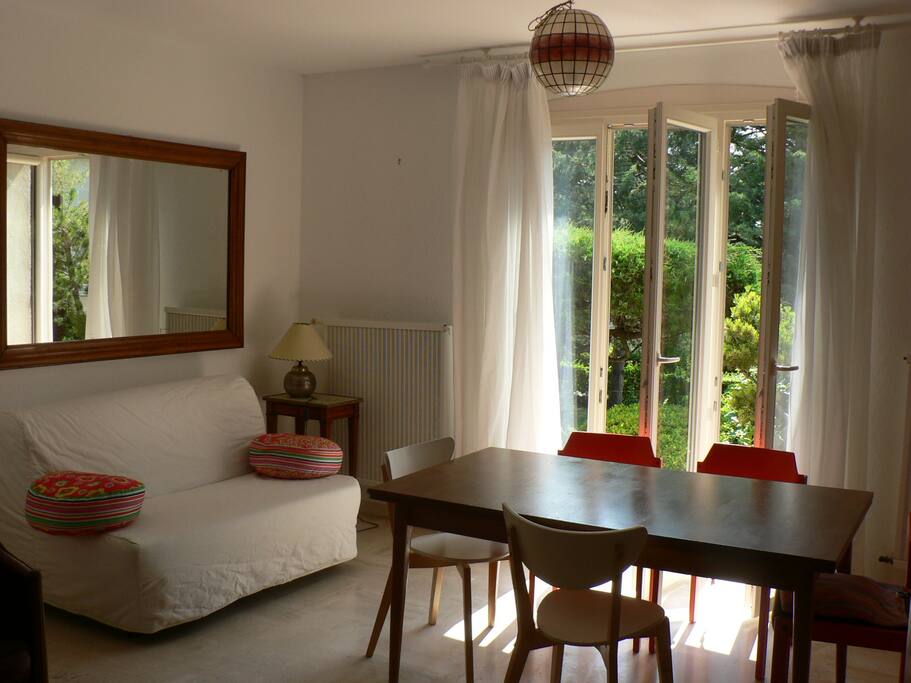 Idéalement située à 10mn en bus du cours Mirabeau, cette villa se trouve au calme entourée de verdure. Idéale pour visiter la région (6 à 7 personnes au total si 3 couples+1 ).
Durée minimum de location : 1 nuit.
房源
La ville à la campagne !
Cette petite maison bien que située en ville, se trouve en haut d'une colline qui surplombe Aix et se trouve au calme dans une quartier constitué de petites maisons et de verdure.
Location du samedi au samedi : 7 nuits minimum
---
---
---
不适合儿童(2-12岁)入住,或不能为儿童提供安全的住宿环境
Vous êtes les bienvenus dans cette petite maison sans prétention qui attend de vous le respect de la rendre telle vous l'avez trouvée.
Merci de ne pas fumer à l'intérieur et de mettre vos mégots dans une poubelle afin qu'ils ne souillent pas le jardin.
En partant, n'oubliez pas de vider les poubelles.
Je vous en remercie d'avance !
---
---
---
---
Corinne and I were in touch shortly before our arrival, but when our travel plans changed a couple of times we missed a chance to meet her. Her house was a little hard to find in the dark, but once inside everything was as described. Since we were traveling by car, it was great to have a place to park while we were in Aix-en-Provence.
First of all, thank you for coming in my house. I agree with you about the dust, so sorry for that ! I should have checked under the bed... "upset" is a bit too strong but I admit I was frustrated not meeting you, because I like to exchange with travellers and (as I had some unrespectfull visitors in the past) I like to see what kind of person come into the house. I whish you a pleasant end of the year ! Corinne
---
The villa we rented was to our liking, very large, quiet and spacious with a beautiful garden. We had a great week in Provence. the location is ideal for visiting the South of France and Provence. Corinne is a great host, very friendly and nice. Corinne recommended some great restaurants for our dinners. We recommend staying in this house near Aix en Provence
---
First of all let me say that my family had a wonderful stay at this place. We stayed for a whole month (a few days less). But, the aftermath has been unpleasant and therefore I believe that I should be clear about this place. When I arrived to the house I felt like the place was misrepresented in the announcement. The house itself is quite old, it is connected to another house (where the real owner lives, a very pleasant lady), half of the lights in the place didn't work, electric sockets falling out of the wall, problematic toilet (stinky and it was even leaking during the first few days) and above all Corinne actually isn't the owner of this place but only an agent. It's very true that Corinne made an effort to be helpful by providing us with some items to make our stay more comfortable, but her response to our problems with the place (toilet, electricity) was late and without any real solution. We did our best to take care of the place and respect it but apparently it wasn't enough since I received an email telling me that the place has been left in very bad condition (I don't agree). I don't remember if there's a cleaning fee added to this place, there should be if cleaning is a problem (and we did clean up before leaving). I even asked in an email if there's anything important to keep in mind regarding the checkout but got no answer. I'd say this is the problem with having an agent dealing with a place: it's just too much work for her, as she wrote me. I paid a whole month rent for this place, so if she were the owner it wouldn't really be too much trouble, but since she's an agent...very disappointing. As I said, our stay was wonderful, despite the condition of this place. And my kids had a great time in the garden looking at all of the wonderful trees, playing in the garden and blowup swimming pool, collecting snails and enjoying a wonderful holiday. The neighbor which is also the owner was a very pleasant and kind woman. We saw her most days, she's present on the grounds. Maybe I should have insisted more on fixing the problems the house had but I didn't want it to influence my time in Aix en Provence so I let Corinne know about these problems but I didn't insist on fixing them. Well, that was my mistake because later on I was accused of leaving the place in terrible condition, not leaving enough money for a key duplication and basically causing too much trouble. This is very unfortunate and I'm very sad and disappointed that my memories of this wonderful summer will always be mixed with this bad feeling. All and all experience: House - old but comfortable Agent - trying to be helpful but actually just doing her job.
For the very first time I had to face such a situation with Eyal family who was first very friendly. They came and stayed a month with their 3 children. When they left I found the house so dirty that I had to make the cleaning woman come twice. I had to buy new sheets (too stained) and change the lock because they had lost the keys the day before they left... Not quite pleasant when other people are coming just after... I wish Eyal have had as much application to clean and take care of the house as the application he had to write his comments. The e-mails that he wrote me just before leaving the house (asking to come back next year without AIRBNB), show to what extent his comments are dishonest.
---
Week end très agréable dans cette jolie maison très bien placée. Corinne nous a merveilleusement bien accueillis et nous recommandons vivement cette adresse pour profiter du soleil de Aix en Provence!
---
Corinne is very friendly, helpful and welcoming and replied practically straight away. She accommodated our needs and met us at the house and showed us everything. The house is an older house with older style furniture but it suited our needs as there was quite a bit of space as well as the outdoor area for the kids to play. It is a very quiet area as you are quite a way off the street with the garden in front. It wasn't far to the centre though and only took us 5 mins by car.
---
When I was 18, I stayed in a very nice american family in Nebraska. They were farmers, that means they could not travel easily because of the fields to irrigate and the animals to feed. So the women told me "since I can not visit foreigner countries, I make them come to my house..." She used to welcome foreigner travellers at her place and I find it really cool !...

语言:
Deutsch、English、Français