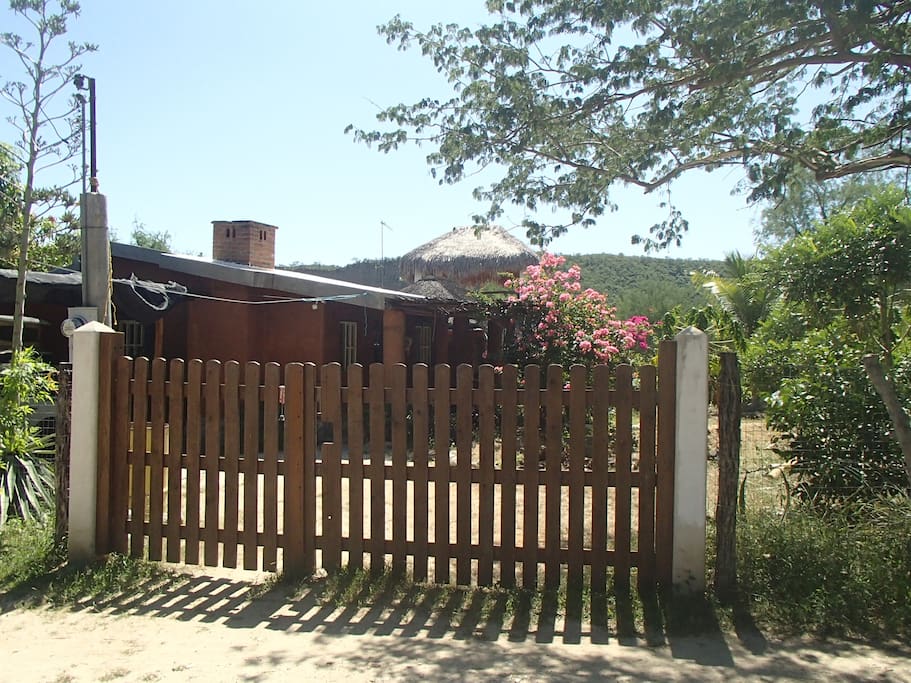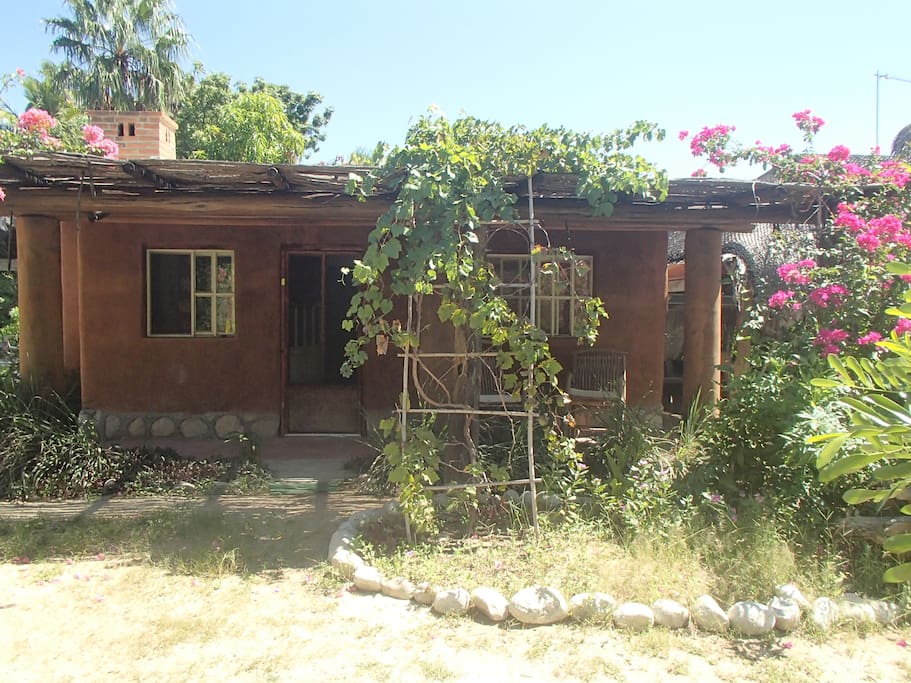 Private bed/sitting room with en-suite bathroom in hand-made cob house. Solar hot water, jetted bathtub and shower. Room has queen size bed, sofa, armchair and fireplace as well as electronic piano and variety of musical instruments. Shared outdoor kitchen and dining spaces. Upper palapa sitting room with view. A short walk from the Sierra la Laguna Biosphere Reserve with natural hot springs, pools, rivers, waterfalls and mountain canyons. Great hiking, bouldering and swimming.
房源
Natural cob construction using local materials maintains comfortable temperature. Solar hot water. Organic fruit trees.
房客使用权限
Access to outdoor kitchen, shared outdoor patio and upstairs palapa with a view of surrounding mountains, laundry facilities, wi-fi, parking.
与房客的互动
I enjoy meeting and interacting with visitors, playing music, talking and sharing meals.
其他注意事项
The closest store is 3km away and has basic supplies. Bringing food supplies that you will need from the city is recommended. You're welcome to use my simple outdoor kitchen and will have your own fridge. I can prepare meals here for a cost, upon request in advance. Also, I can provide a professional guide to assist you in exploring the area.
---
Staying with Jeanette for two days gave me a genuine glimpse into Baja culture that you just can't get most places. Her property is absolutely marvelous. I enjoyed my time relaxing and eating meals in the open-aired palapa, hiking in the near-by mountains, soaking and swimming in the river and hot spring, having conversations with visiting village neighbors, and watching the sunset from the second-story deck. Jeanette is a marvelous, accommodating host with a fascinating story. Her garden is lush and extensive and I enjoyed many great home-cooked meals with fresh ingredients. Stay here. You're guaranteed a fantastic, relaxing adventure.
---
My stay at Jeanette's was a step into an authentic rural Mexican village with many of the creature comforts from home- the perfect balance, just steps from a gorgeous canyon with waterfalls and natural hot springs. She is a wonderful host, a great cook, a talented singer, and a generous friend and neighbor to all who know her. She makes a mean pesto if you want to pay extra for home cooked meals! While you are essentially out in the middle of nowhere at her place, you don't feel like it, with various friends of Jeanette's stopping in throughout the day. One of her friend's spontaneously showed up and even took me up the canyon to the waterfalls on my first day. I thoroughly enjoyed my visit at her home and strongly recommend staying there if you're looking to get away from the tourists of Baja, and to drop into communion with some peaceful and stunning nature. Jeanette was very thoughtful about my needs throughout my stay, and she even drove me to Santiago to catch a bus, since I had a major drama with my rental car. She is one of those people who has created a beautiful slice of paradise, and she wants to share it with her guests. Her home is beautiful, with an open air kitchen and living area, and a 2nd story palapa, which is a great spot for your morning yoga routine. Jeanette's home is just what the doctor ordered for this stressed out, overworked gringa from the north! Her place is inspired, and her story of creating it is equally inspiring for anyone looking to start a new life in retirement! She is a true manifestor, showing us that all you need is a strong vision, a little money, a lot of hard work, you need to treat people well, and you too can make your dreams come true!
---
Jeanette's cob house in El Churro is a pleasant setting for an authentic Baja experience once the concrete highway and big resorts are left behind. You can feel the fast-paced world slip away as you drive out of Santiago on a dirt road heading along a large arroyo toward the base of the Sierra Mountains. The clean, comfortable house has elements of rustic Baja living with all basic amenities provided (including plenty of hot water, flush toilet, and Internet). Close proximity (5-10 minute walk) to a mountain canyon at the head of the arroyo allows visits to seasonal waterfalls, refreshing pools and hot springs. Tasty breakfasts are provided but Jeanette was willing to provide other meals at nominal cost. Jeanette welcomed us with a big, warm smile; we felt like friends right from the start. She has been living in the area for a number of years and is a fount of knowledge about most things Baja, with many great stories of her own to share. Jeanette's connection to Edgardo of Baja Sierra Adventures was an unexpected but highly welcomed bonus. He took us many miles into the Baja to visit a couple of ranchos. We saw vistas, canyons, wildlife and plant life that we would never have encountered on our own. Along with the privilege of getting a glimpse into their everyday life, the ranchos' owners had collections of fossils, gathered from their land, that Edgardo knew would be of interest to us. If you want to treat yourself to a tranquil and out-of-the-ordinary Baja experience, we highly recommend a stay with Jeanette.
---
Staying at Jeanette's place is the best Airbnb experience one could hope for. First off, spectacular location with a five minute walk to the hot springs. From there one could swim/scramble upstream for a full day adventure in a very scenic canyon that rivals anything you'd find in the American Southwest. Second, the house Jeannette has built is unforgettable, with two separate rooms divided by an open air kitchen, all covered with the classic palm tree palapa roof. Then a staircase leads to an upstairs patio and palapa, giving view of the mountains to the west. Full bathroom in the guest room, bed and couch, books, musical instruments and the all important fan. Lastly, the host Jeannette was what made the experience special. The local restaurant was closed, so we got her homemade Italian food, which is amazing. She is a friend of ours now, and is welcome at our place anytime. Our time at her place was a special experience, highlight of our trip.
---
Our stay in Jeanette's cob casita was Magical! Jeanette has two houses, and the guest house is a deluxe suite with living room, flush toilet and eco friendly shower. Jeanette's house is in a little town called El Chorro, which is a working ranch with a handful of houses and one amazing rustic restaurant. Jeanette's place is only a couple houses in from the entrance to a national park and biosphere preserve in the Sierra de la Laguna mountains. The kitchen is outdoors, we had our own fridge, and there was a beautiful deck where we could watch the sun set over the arroyo full of the sounds of both domestic and wild birds and animals. Jeanette has lived in the area for 10 years, and is fully invested in the health of the local economy and education system. She is retired from being a full time music teacher in Canada, and you can tell, as the guest house has a plethora of instruments in all the nooks and crannies. She volunteers as a music teacher, helps raise money for local education, and employs people from the town to help her run the Airbnb house. She also assists town locals, who aren't as internet savvy, but who want to share their accommodations on Airbnb. The stay with Jeanette comes with a super delicious breakfast made from local eggs, veggies and cheese, and the best coffee we had on our trip (this coming from two Seattleites). The hot springs were only a 10 minute walk from the casita. At night we soaked in the upper springs, where a ring of rocks and against the source created a large soaking pool and the stars spread out over us with no light pollution to disrupt the view. The tighter you pile rocks, the hotter the pool became (I think we got it from 104F to 108F). If you get too hot, just step over the rocks into the cool mountain river water. During the day we swam in the giant pool below the damn, which is mixture of river and hot spring water forming a giant, naturally heated, fresh and free flowing swimming pool. Both pools were filled tiny fish that nibble whenever you stand still. It was like a wild version of a health spa. Jeanette gave us directions for following a black igneous rock vein along the river for 1.5 miles. About an hour later, we were swimming in cool mountain river rock pools under waterfalls and sunning ourselves like lizards on the surrounding boulders. We snacked on tamales that we had bought that morning from a vendor who came to Jeanette's gate. If we had a few more days, I would have loved to take a day trip each to Cabo Pulmo, Los Barriles and Santa Rita Hot Springs from Jeanette's house. We only had the two days, so we spent them in the area, which I believe was the best use of our short time.
---
We had a wonderful time staying with Jeanette out in El Chorro. She's in a beautiful spot, with fruit trees, vegetable gardens, and the mountains --oh the mountains-- just a short walk down the road. (We highly recommend a day hike with her friend Edgardo! He knew all the plants I asked him about and where some really sweet swimming holes & waterfalls are.) If you like eating citrus, exploring the mountains, and coming back to relax in front of a small fire, then this is your spot!!
---
I am an older Canadian woman musician, and retired elementary school music teacher, living most of the time in Baja, Mexico.
语言:
English、Español、Français