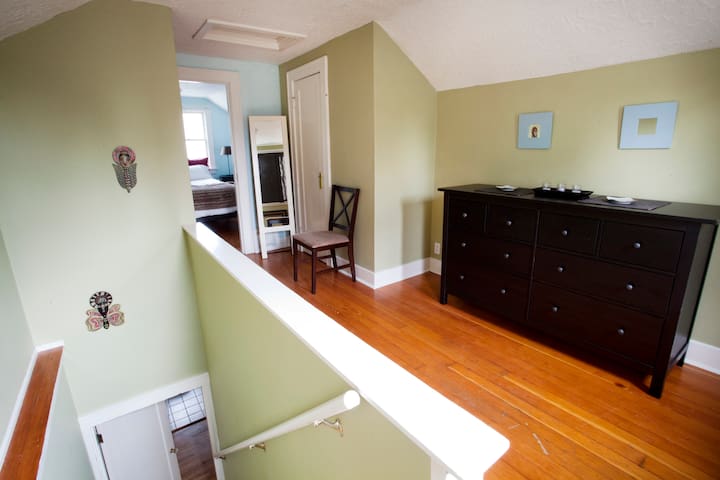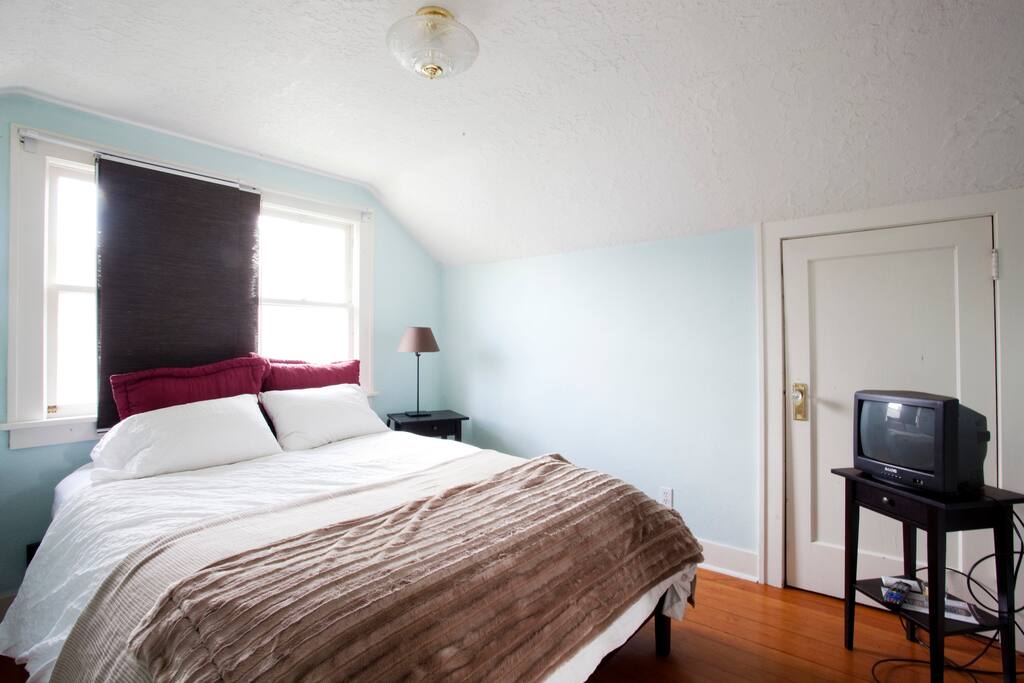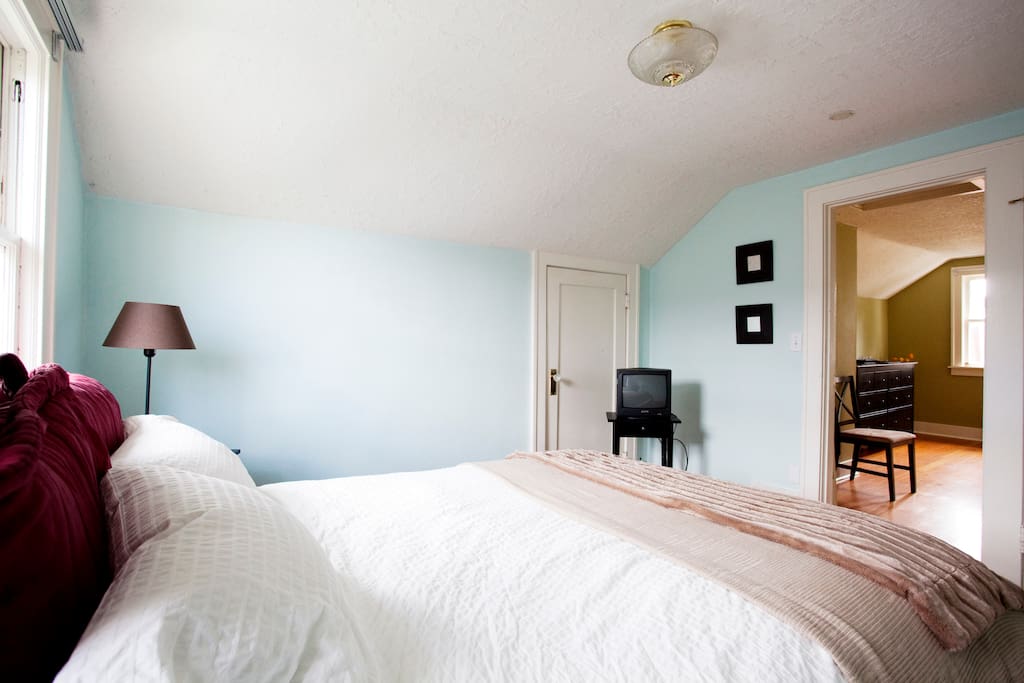 Private top suite near Alberta
Bright top floor bedroom with added bonus room in entry way. This a great space for couples for a weekend or a long term guest who wants to have their own privacy from the rest of the house once they walk up the stairway. I have added a small fridge, microwave and dishware.
---
---
---
---
SInce it is a shared space my only concern during the work week is that it starts quieting down between 10-11pm (unless it's summer break!) in the main living areas.
---
---
---
Jeanne is a really friendly and warm host. Her house sits in a quite neighborhood, 5 minutes walk from the hippy Alberta street, where there's tons of choices for food. Jeanne arranged for a BBQ in her backyard during my stay. I had ra good time.
Thanks Yixin. While staying in a shared living environment you are welcomed to hang out or give a hand in cleaning in the shared spaces. I work full time as a teacher and although your room was dusted, swept, cleaned and mopped. It's not realistic to maintain that degree of cleanliness throughout my house during my school week when I put in 40-60 hours with my caseload of children and life going on around me. Best wishes to you and your future family. Contact me if you'd like to stay again, but this town has so many fun areas to explore and stay. Jeanne
---
My husband and I and our dog Fox took a last minute trip to Portland over Memorial Day weekend and stayed at Jeanne's upstairs suite. The room was adorable and Jeanne was a very gracious host. It was like staying with a friend! She and Rob had lots of suggestions about where to eat around the neighborhood, and even gave us some passes to the Chinese Garden (although we returned them unused as our plans took us elsewhere.) Fox had a great time with Lucy and Little Lou! Portland is quite dog friendly, so we were able to take Fox with us to many restaurants and shops. However, when we went to a concert and out for dinner on Sunday, Jeanne and Rob offered to let Fox hang out with them and the dogs (instead of alone in the room), so that was an extra added bonus. Thanks so much Jeanne & Lucy and Rob & Little Lou. There's still much more for us to see and do in Portland and we'd love to come back soon!
---
Jeanne is a wonderful airbnb host- a rare combination of being 110% there for her guests while also being totally laid back. It felt more like staying with a friend than renting a room. The top floor suite is exactly as described and beautifully put together. The bed is very comfortable, and my partner and I had a great time there. The two weiner dogs who reside in the house were an adorable extra bonus!
---
We had a wonderful stay in Jeanne's upstairs suite. The space was private, the bed was super comfortable and the furnishings and storage spaces were more than adequate. Jeanne was a fantastic host - with a wealth of great tips about Portland. She is an accomplished traveler and really seems to enjoy hosting. The location is amazing, with tons of great spots within walking distance.
---
I am an ESL teacher that likes to travel several times a year to foreign countries---especially the ones that my students are from. My motto is, "Eat my way through Asia, dance my way through South America. I have been very fortunate to be able to my own home to be able to trek around the globe, but now after numerous tenants and housemates, I am ready to start hosting other travelers from around the world. I enjoy playing soccer, cycling, dancing and cooking. I adore Lucy, my mini dachshund, and enjoy doing as much as I can with her. I am slowly turning my garage into a craftsman studio with the help of my longtime friend and contract manager, Rob. He will be available by phone for any maintenance issues while I'm at work or to answer any questions if I'm on vacation. He''ll also be feeding Lucy, watering plants, and yard while I am away...
语言:
Deutsch、English、Español、Русский