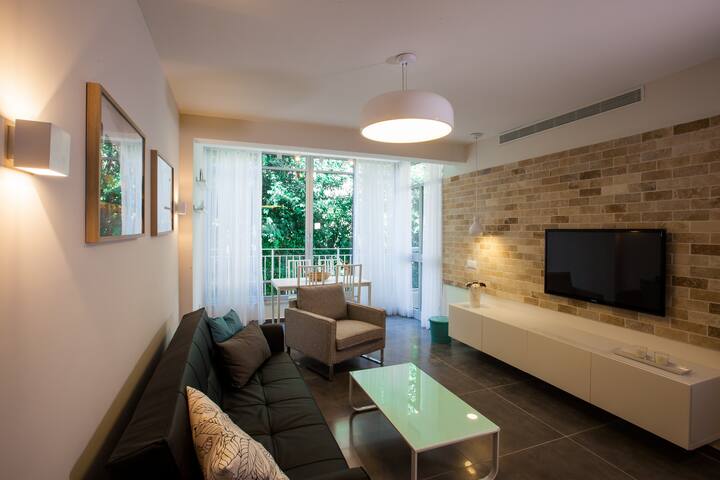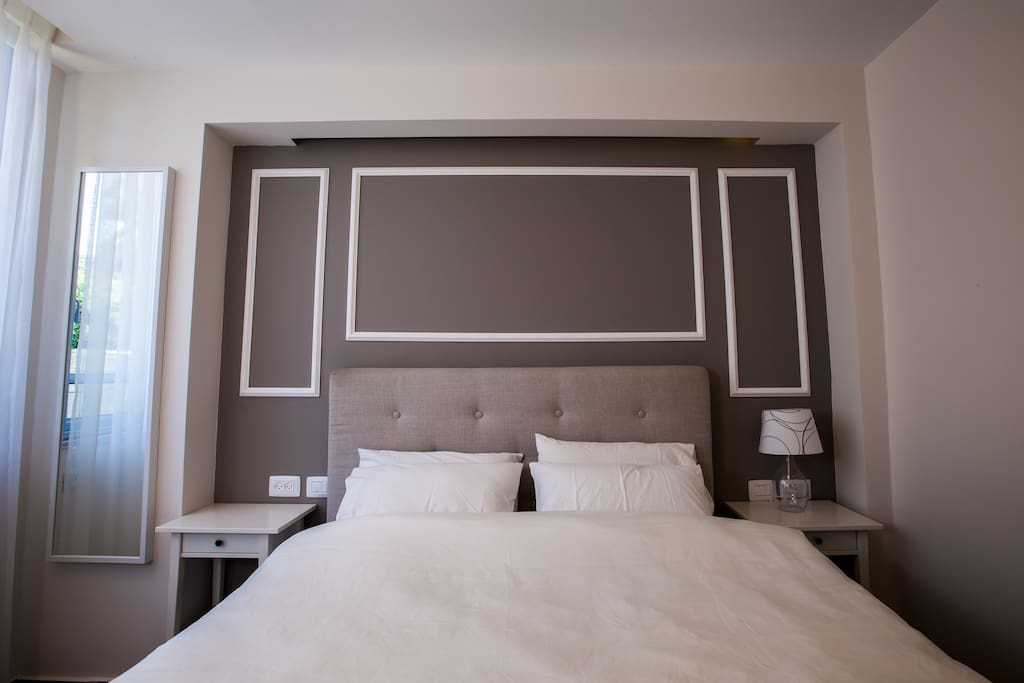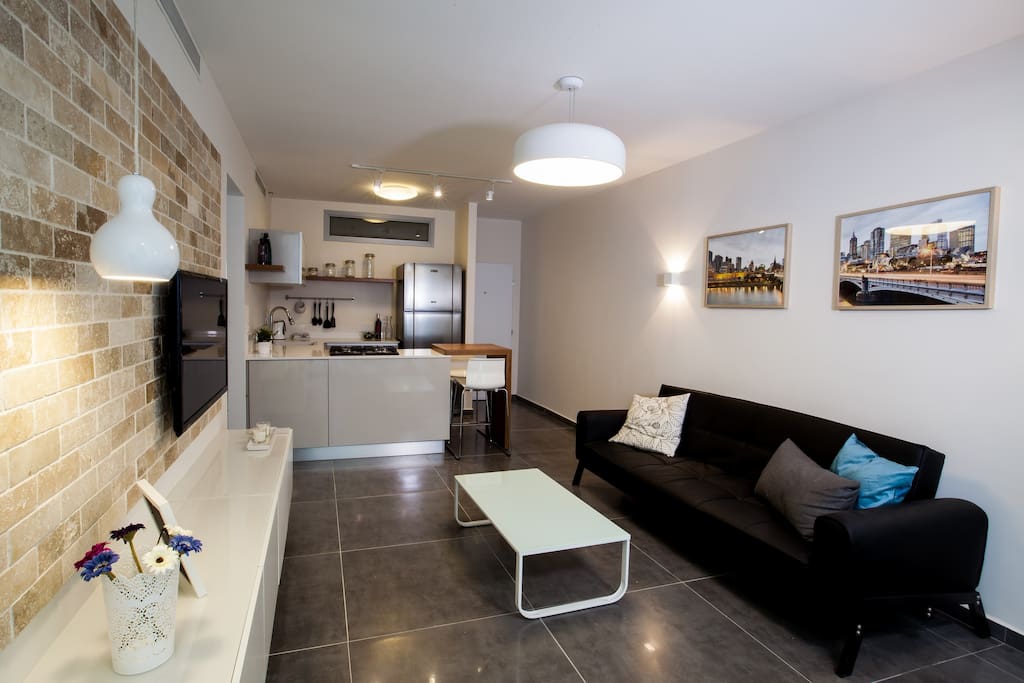 Welcome to Park Hayarkon. With trendy local restaurants and cafes on your doorstep, a 7 minute walk to the best beaches in the city, and the park across the street, this newly renovated apartment is the perfect location for your stay in Tel Aviv. Enjoy.
房源
A new and beautifully renovated 2 bedroom apartment, in the best location of the Old North. All modern amenities and conveniences are here, and at your disposal. The apartment boasts a full and modern kitchen, updated bathrooms, and a gorgeous balcony to enjoy.
---
Golan's apartment is in a wonderful location and was roomy for my family. Golan answered any and all questions immediately. I felt this was one of the best airbnb experiences we have ever had. Stay here and you will enjoy your experience. If you are a runner, you are in the perfect place place right across the street from a wonderful park. I look forward to staying here again.
---
I really can't say enough about how fantastic this apartment was. I've rented a lot of apartments in many cities, and this place really takes the cake. My entire stay I felt like I was in a gorgeous French luxury hotel but with the ability to make my own breakfast. The beds are fantastic, the kitchen has everything you need...a real kitchen in Tel Aviv!, and the bathroom and shower are absolutely wonderful. The apartment has lots of natural light and windows so if the weather is nice, its easy to invite the breeze in! Its stocked with all the appliances you might need, hair dryer, straightener, iron, great washer/dryer, etc. etc. Located right on the park, the street in front is quiet but you are literally 30 seconds walk from Dizengoff and a range of fantastic cafes, restaurants, and bars. Walk a little further to Nordau and Hayarkon (5 more minutes) and you're right at the beach. Another great convenience is there is a green bike share stand right in front of the apartment. If you're looking for a peaceful home away from home in one of the most fantastic parts of Tel Aviv, right by the beach, with all of the amenities you could dream of and more, don't look any further. Just don't rent it next time I come back to Tel Aviv because I want this place back :) 5 stars! Don't miss these spots within a 5 minute walk from the apartment: Dizengoff: Nam Thai Kitchen, Falafel Gabay, Pasta Basta Ben Yehuda: Adora (unbelievable dinner/brunch) Yermiyahu: Ruby Bar (next to the gas station), Bar 22 (22 shekel drinks)
---
Beautiful apartment and good location. No parking at all. Lousy maintenance. Moisture bathroom. Good value.
Adi, In regard to the parking situation, the apartment doesn't list that amenity and can't affect the lack of street parking here in Tel Aviv. As for the maintenance, we apologize for the issues you mentioned - and assure you that they have been resolved. We appreciate your feedback. You're welcome back anytime, and I'm happy to offer you a special rate on your next trip.
---
For quality short term rentals with an extensive selection, more people trust Tel Aviv Home for all of their top of the line furnished and fully equipped apartments in Tel Aviv. We offer one of the most comprehensive selections of top rated short terms rentals in the region, all designed for that way you live and to immerse you into the rich culture of our city. When you want impeccable service, an extensive selection and competitive rental prices, Tel Aviv Home is just a mouse click away; we are standing by to serve your needs.
Our Philosophy
Regionally headquartered in Tel Aviv, Israeland serving the local rental and tourism community, Tel Aviv Home was founded in 2008 under the principle of providing the Tel Aviv tourist industry the latest, top of the line rental properties available. We strive to offer our customers a higher level of service and support they just won't find anywhere else in the short term rental industry and our commitment to customer satisfaction shows in everything we do and every property we book.
Why Choose Us?
Tel Aviv Home only rents top of the line furnished and fully equipped apartments in Tel Aviv. We are top and our staff works very hard to ensure our guests are happy with their stay. We want to make you a customer for life; if there is anything we can do for you to make your stay more enjoyable, please let us know; Tel Aviv Home is happy to help.
We offer competitive pricing, friendly service and some of the best properties you'll find anywhere. Book with us today and experience the difference quality and service can make for you.
Here's what some of our valued customers have to say about us:
"Golan, the apartment manager, was very helpful and friendly. The apartment is more than we needed all equipment, dishes, TV ... are modern, useful and clean. There are no surcharges for Wi-Fi or any other services. Golan even provided a free phone for local use. Location is perfect to explore the center area of Tel-Aviv. Nevey Zedek area a walk, but if you do it via Carmel Market it is interesting. Short walk to Tel-Aviv museum, Camery, Rabin squire and other attractions. Parking is continent and will cost $10 per night extra. An excellent place if you would like to stay in the center of Tel-Aviv."
"We had a wonderful stay in Tel aviv at Golan's apartment! The apartment was lovely! Everything there that we needed and so lovely decorated! It is located in the center of the city in a quiet little street. There is loads of cafés, restaurants and shops in the area."
Connect With Us
To learn more about Tel Aviv Home and our collection of short term Tel Aviv rentals, contact us and let one of our friendly, knowledgeable representatives assist you with booking and answer any questions you might have.
We appreciate your continued patronage and would like to thank you for visiting us today and for making Tel Aviv Home your first choice in luxury rental properties in Tel Aviv.