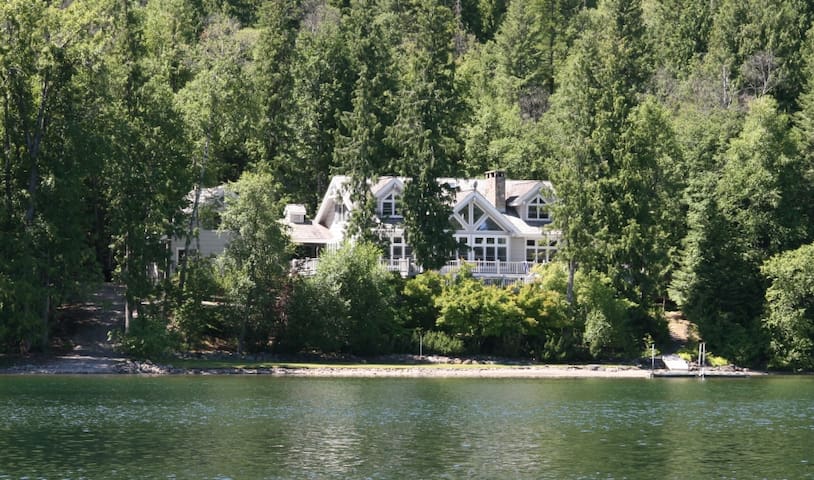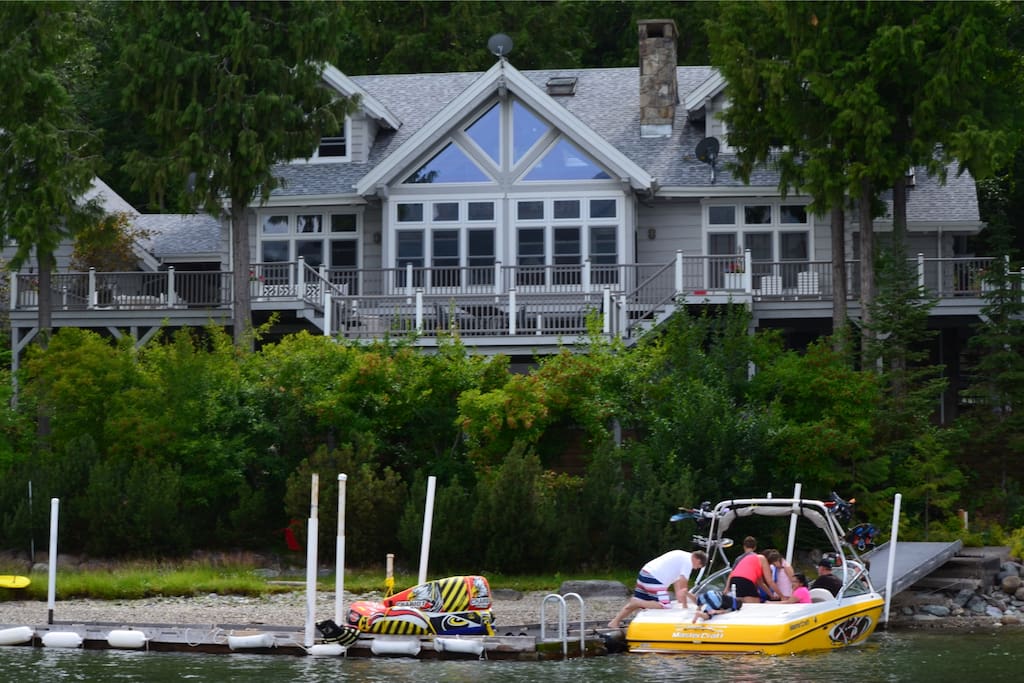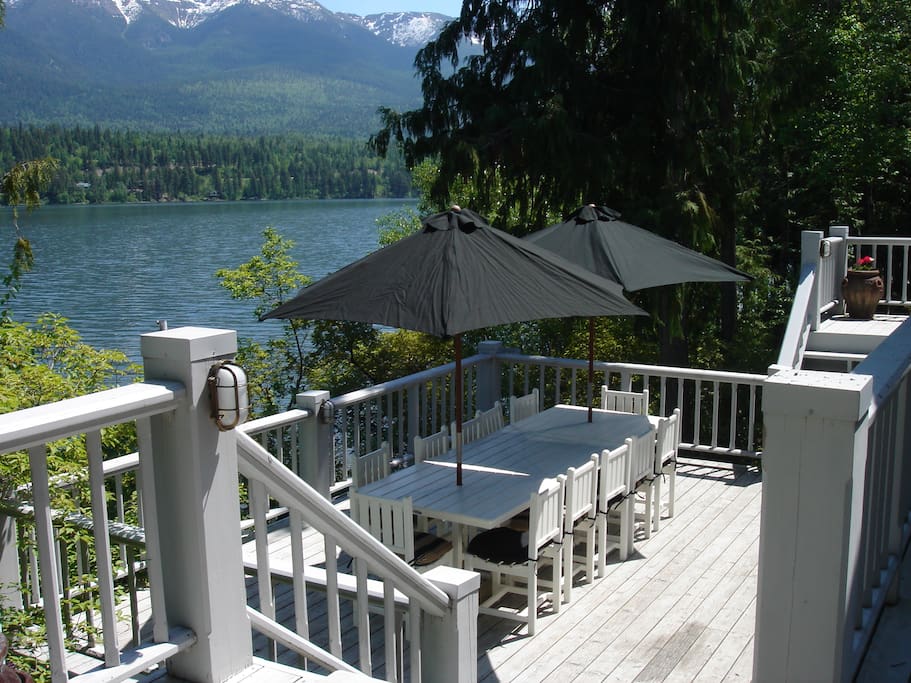 Swan Shores Lodge 200 ft of Lakefront on Swan Lake
Swan Shores Lodge a magnificent lakefront home with spectacular views, a one of a kind square log home with 200 feet of waterfront privacy on pristine Swan Lake. Amenity features include a boat dock and large game room.
房源
Swan Shores Lodge offers magnificent lakefront views and is a one of a kind square log home with 200 feet of waterfront on pristine Swan Lake. This square log home was architecturally designed to take advantage of the expansive lake and mountain views. The home his multi levels with spectacular lake views from every room. 5 bedrooms 5.5 baths makes this home the perfect gathering place for a family vacation. Bring your boat; our home has a boat dock that is available during summer from late June through Labor day weekend.
The home sits on one acre in a park-like setting and is sheltered by cedar trees. Walk through the front door of this impeccably maintained home with open great room floor plan, ideal for entertaining. Our home has been designer decorated with beautiful upscale nautical-style furnishings and designer theme touches and has wood floors throughout. This is true luxury vacation home that is considered to be one of the finest homes in the Flathead Valley.
Main Floor: The master bedroom is located on the main floor and features a king size bed a Jacuzzi tub and walk in shower is in the master bath, a second guest bedroom is located on the main floor with queen size bed and full size bath room with another walk in shower. A large gourmet kitchen features every small appliance imaginable, top of the line Monogram stainless steel double oven, microwave and a six burner gas range, warming drawer and Bosh dishwasher and compactor. The dining area has a large dining table with seating for 10 guests, a nice breakfast bar is wide an open for family entertaining. Also, on the main floor is a half bathroom and large laundry area with large capacity washer and dryer, this area also serves as a mud room.
Second floor: Two guest bedrooms are located on the upper level with a walkway bridge that separates the two bedrooms providing really nice privacy. Both bedrooms are very spacious #3 bedroom has two queen size beds, #4 bedroom one queen beds. Both bedrooms have larger dormer window seats, and both bedrooms have full bathrooms with double vanity sinks and shower over tub.
Lower Level #5 bedroom has a queen size bed with adjoining bathroom. Also on the lower level is a large game room with pool table and a private office set up for those that need keep in touch with work.
For planning sleeping capacity the bedroom layout at Swan Shores Lodge is as follows:
#1 Bedroom Master Bedroom main floor – King size bed
#2 Bedroom main floor – Queen size bed
#3 Bedroom upper level – two Queen size beds
#4 Bedroom upper level – Queen size bed
#5 Bedroom lower level - Queen size bed
Maximum Occupancy 10 people including infants (Sorry No Exceptions)
房客使用权限
48 hours prior to arrival we will provide our guests with the keyless entry code for the stay.
与房客的互动
We have a wonderful caretaker who lives a few miles away from the property. She has been with us for many years and is very familiar with all aspects of our home and is very attentive to our guests.
其他注意事项
*Our insurance carrier requires that we have a signed rental agreement in place prior to arrival that includes driver's license or passport information along with the names of all occupants and the ages of all children. Once a booking is made through Airbnb we will request that the guest provides us with their mailing address for processing the booking through our own reservation system which will enable us to process the rental agreement by email for digital signature.
•Suitability: Families are welcome. No children under the age of 2 years old on the upper level level. Very steep stairwell with open stairs and no baby gate at the top of the stairs, in emergency the only way out would be through use of a rope type fire ladder. The railings around the upper level hallway does not go to the ground. We have one baby gate which is located on the main floor stairway going down to the lower/terrace level.
Please include all occupants including infants. Total occupancy for every human being is 10 people (including infants).
Lake Level and Boat Dock availability: The Swan lake level is highly dependent on the water flow from the Swan river. Guests are advised that the boat dock cannot be installed until the Swan river has reached its crest which ranges from mid to late June each year. The lake level will also drop which is typically during the end of the summer season. No guarantees can
be made as to the availability of the boat dock as we have no control over the lake level.
---
---
---
不适合婴幼儿(2岁以内)入住,或不能为婴幼儿提供安全的住宿环境
Our insurance carrier requires a rental agreement from our guests. To simplify the process we have incorporated the terms into the Airbnb.
Booking Requirements:
After receipt of the Airbnb Booking Confirmation please provide text us a copy of a Government ID or Passport to confirm your identify. If the address on the government ID is different please provide us with a current mailing address. A copy of the rental contact will be sent for signature, please include the First and Last names of all guests and the ages of children for the registered guest list (approved occupancy list).
Rental Contact
This agreement is hereby made between OWNER OR AGENT VACATION HOLDINGS, and AIRBNB GUEST hereafter known as RENTER.
Reservations
The Space "Cabin": Swan Shores Lodge, address provided at time of booking on Airbnb Booking Confirmation.
Dates: arrival: based on Airbnb Booking Confirmation
Rates, Accounting and Payment Schedule: The terms, rates are based on "bedrooms two guests per bedroom", payments and balance due are based on Airbnb Booking Confirmation.
Cancellation: Terms of Cancellation are based on Strict Airbnb Cancellation.
Cleaning Fee: The cleaning fee covers the time to prepare the cabin for a guests arrival, the fee is not intended to be a fee for cleaning up after a guests departure. Please be respectful of guests that may be checking in behind you and plan ahead for your departure tasks.
Refunds: All representations made by owner/ owner's representative are complete and accurate to the best of their knowledge and made in good faith. Owner/ owner's representative is not responsible for issues outside of their control. Sorry No refunds will be made for early departures or delayed arrivals. No refunds or schedule changes will be made due to weather, airline, road conditions, power, gas, electrical, heating, water supply, pest and insects, air conditioners, appliances, BBQ, electronics, televisions, internet, satellite service, outages or failure of any of the electronic equipment in the home to work properly. We will endeavor to arrange for any such problems to be corrected as soon as practical. If you have any such problem during a rental period, you must notify us immediately so that we can try and remedy the problem as quickly as possible.
Reservation Changes: Please select your dates carefully as we are not able to accommodate Reservation date changes.
Security Deposit Forfeiture: Renter agrees to leave the house neat, tidy, undamaged and to follow the House Rules. Failure in doing this may result in the loss of all, or part, of the security deposit. We hope we never have to do this; but the following are considered to be immediate forfeiture of the entire security deposit along with the loss of your entire stay (you will be required to leave immediately without refund) Unauthorized guests on premises (visitors), unauthorized pets, and any cigarette smoke inside the cabin.
Repairs & Service Calls: We cannot guarantee against mechanical failure of heating, TV's, Satellite Receivers, DVD players or other appliances. Promptly report any equipment that is not operating properly and we will make every effort to resolve the problem as reasonably possible. Renter agrees to allow repair personnel immediate access for the purpose of making any emergency repairs.
Check-In Procedures
Check in time is 5:00PM. There's no such thing as a check-in time that's too late, so no worries. Let us know if you'd like an earlier check-in time than 5PM. It can usually be arranged, depending on other bookings. Worst case scenario, we can store your luggage and you can lounge on the deck while we are preparing the cabin. Guests should not arrive until the property is ready for occupancy unless approved to insure that gusts do not set off the alarm. We will make every effort to have the cabin ready for guest occupancy at check-in time, but cannot guarantee the exact time of occupancy on back to back stays.
Directions and Entry Code: 48 hours prior to arrival we will send your arrival confirmation with detailed directions and the keyless entry code for the entry door.
Parking & Security: House has a central burglar, fire alarm and video surveillance system which monitor's the parking area and entry way. The home is located on a narrow one lane road, emergency access is required at all times; please do not block the lane leading to the cabin or driveway area. We have parking spaces for 4 cars. Two spaces down next to the house and two on the upper driveway. We are not able to accommodate campers, boat trailers or any type of recreational vehicles.
Checkout time is 10:00 AM but variable if we do not have a back to back — you can sleep in or linger a few more hours longer if we do not have a back to back. Please ask for approval, we will let you know right away and if we can accommodate by sending a written confirmation showing the later check out time has been approved.
Supplies: Linens, blankets and pillows are supplied along with one set of towels for each guest, robes and beach towels. We provide an initial starter supply of toilet paper (container holds three rolls) a roll of paper towels, amenity soaps, shampoo, and trash bags etc. for your convenience.
House Rules:
Please remove your shoes when you are inside the cabin.
Departure Tasks: Just a couple of simple tasks; Please leave our cabin neat and tidy. We ask that you please do not strip the sheets or pillowcases off the bed(s) we prefer to do this ourselves, just put the beds back the way you found them upon arrival with bedding left flat on top of the beds and pillows in the same location. If towels are damp please hang them over the towel rack to air dry. Please wipe down kitchen counter tops, load and start the dishwasher, if you are unsure where kitchen inventory belongs please leave on the counter. If grill has been used please brushes grill down and wipe down side trays. Turn lights and ceiling fans off, check to make sure all doors are locked and bag all trash from kitchen and bathrooms and just toss your trash in the bin on the side of the driveway on your way out.
No Visitors: Please do not invite visitors, the space and all the amenities we provide are only for our registered guests. Visitors are considered to be unregistered guests therefore considered to be trespassing, signs are posted as you entry the driveway.
No Pets: Sorry this home is not pet friendly so please do not bring pets. We pride ourselves in the cleanliness of our cabin and want to insure that the cabin continues to be an allergy free space.
No Smoking: No smoking is allowed inside the cabin our near the cabin doors or windows. The only approved smoking area is on the gravel driveway located near the garage. All cigarette butts must be disposed of in the approved cigarette receptacle.
Suitability/Safety: The cabin may not be suitable for guests that have difficulty with mobility or for infants and toddlers. The stairway leading down from the upper level and the lower terrace level are quite steep. Safety concerns for babies and toddlers as the railing on the upper level around the stairs does not go to the floor. Pathway's around the house leading to the dock are a bit steep with cobblestones in some areas and no safety railing around the dock or around the edge of the lake. Maximum occupancy is 10 guests (including infants and babies).
We want to keep our cabin clean and sanitary, children in diapers are not to sleep in or on top of the beds, and at no time are children in diapers to be changed on any of the furniture or on top of the beds.
Occupancy Compliance: Due to the unique construction, remote location and distance to the volunteer fire department our insurance carrier has placed an occupancy restriction on our policy and all vacation rentals are governed by the county. We cannot have our permit put in jeopardy or our insurance policy put at risk so occupancy on the premises by additional persons, beyond the specified maximum is a serious infraction. The occupancy list must be accurate at all times, occupancy by additional persons, beyond the specified maximum occupancy without authorization, will result in the forfeiture of your security deposit and/or early termination of your rental period immediately, without refund or rental fees paid.
Neighbors and Property Boundaries: Please be respectful of property lines and boundaries between our cabin and our neighbors, and guests must observe "quiet hours" between 9PM & 7AM each day of your visit.
The Legal Stuff
Disputes: This Agreement shall be governed by and interpreted in accordance with the laws of San Juan County, Washington. Guest(s) specifically consent to such jurisdiction and to extra territorial service of process.
Hold Harmless: Renter acknowledges and understands that each and every guest, or guardian, is solely responsible for any accident or injury to any person while in-residence, and neither the Owner nor the Agent accepts any legal or financial responsibility. Renter(s), guests, and guardians, assume all risk of injury or other loss resulting from any recreational activity and will hold the Owner /Agent and Caretaker harmless with respect thereto. Renters(s) hereby agrees to indemnify property owner, agent, caretaker and hold harmless from any and all claims, including those of third parties, arising out of or in any way a result of the Renter(s) use of the premises or items therein.
Insects/Wildlife Risk: It is likely that you could encounter bugs of various types, including wasps and/or hornets, mosquitoes etc. The property is located near national forest, although rare raccoons and bears have been sited on or near the property, food should never be left outside unattended and trash receptacle barrels must be locked and contained in area provided. Owner/Agent or caretaker cannot accept responsibility for any injury caused by said insects or wildlife.
Waterfront Risk: The cabin is a lakefront property any recreational lake activity is at renters own risk. In consideration of my being allowed to use the lake area, renter releases Owner/Agent, Caretaker from any and all claims, demands, actions or cause of action whatsoever, and from any and all liability for any loss or personal property damage, or personal injury of any kind, nature or description, including death, that may arise or be sustained by myself, a child, or any of my guests. This release will be binding upon my relatives, guests, children, ministrations, executors and assigns.
, the undersigned Renter acknowledges that I have read the above Agreement and I understand and agree to the terms. Further, I also agree to abide by all restrictions on the use of the Property imposed by the Owner/Agent.
---
---
---
We were extremely lucky to find this place at relatively the last minute. Had never been in the area before. We appreciated being in Swan Lake rather than the much larger and busier Flathead Lake. The house has EVERYTHING included. It may have a slow internet but for us that was a blessing, not a drawback. The location was ideal for daily daytime outdoor activities. So much to do! If we have to come up with a minus, it would be the pillows, which were too soft for our preference. We most definitely would love to return to this beautiful house and hope to do it SOON!
---
We were fortunate enough to discover Orcas Island back in 2003, it was then that we made the decision this was where we wanted to retire. In 2011 we made this a reality and focus on our vacation homes full time. We enjoy working on projects where we can find a ugly ducking of a house and turn it into a beautiful swan. My husband is incredibly handy so we can do all the work ourselves. We work well together as his talents combined with my passion for interior design makes for a winning team. Favorite hobbies are cooking, entertaining and sailing. Our children are very precious to us as we lost our youngest son a few years ago and now realize how important it is to to slow down and make time for family and friends. Everyday is Precious!