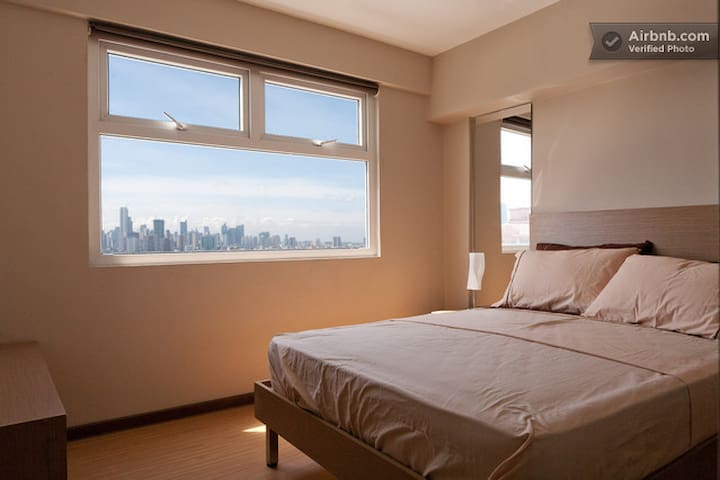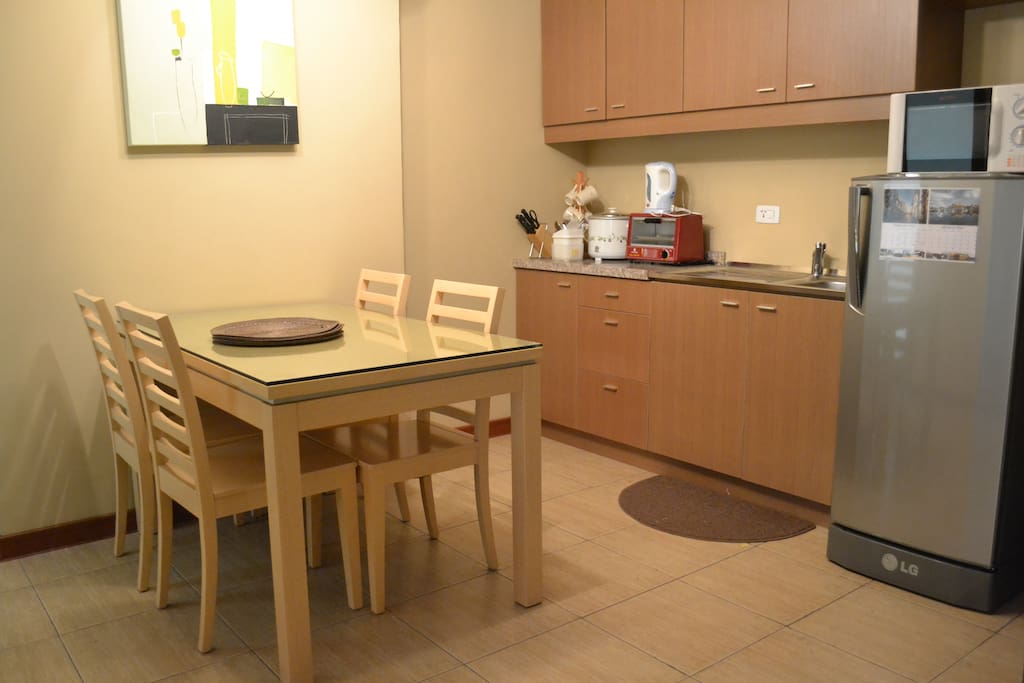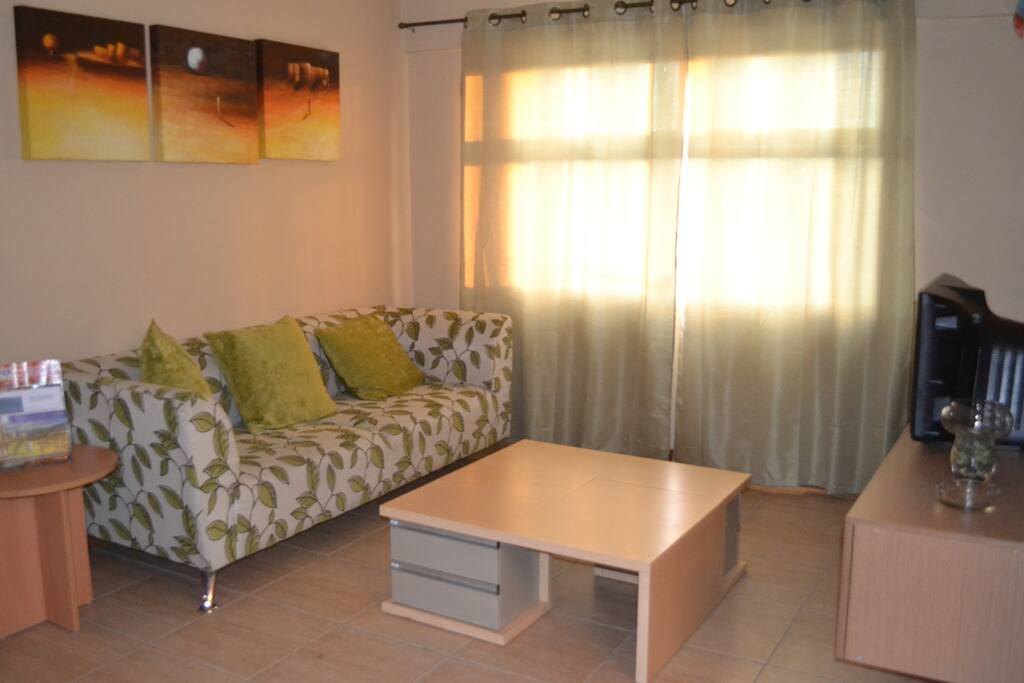 Our spacious 2 bedroom loft is conveniently locate din the center of the city. We are across a supermarket and many restaurants within walking distance. Major malls are a few minutes away. We have support staff 24/7 to assist you.

房源
Our unit is ideally located near some great shopping malls. SM Mega mall is known as one of Asia's biggest shopping centers with literally hundred of stores, restaurants, entertainment outlets and a gigantic department store with a tagline of "We've got it all!". Shangrila Mall beside it carries a lot of higher end brands and wide selection of restaurants. Greenhills Shopping Center has been featured in Vogue for its reasonable PEARLS (yes the real ones!) plus a lot of clothes, shoes and what nots.

Fully Furnished Two Bedroom (Loft Type) condo Short term / Vacation rental

VERY ACCESSIBLE LOCATION : 5 MINUTES TO EDSA/MRT, SHANGRILA MALL, SM MEGAMALL, ORTIGAS CTR

15 MINUTES TO MAKATI CENTRAL BUSINESS DISTRICT
15 MINUTES TO GREENHILLS SHOPPING CENTER , HOME OF BARGAINS FOR CLOTHES, SHOES AND JEWELRY ESPECIALLY PEARLS

BANK ATM AT THE GROUND FLOOROF THE BUILDING
PUREGOLD SUPERMARKET RIGHT ACROSS
VARIETY OF RESTAURANTS NEARBY, KFC, JAPANESE, THAI, RED RIBBON BAKESHOP, GOLDILOCKS, GRILL RESTAURANT, SHAKEYS PIZZA AND MORE.

5 MINUTES TO CARDINAL SANTOS MEMORIAL HOSPITAL/LOURDES HOSPITAL .
UNIT AMENITIES :

*Our unit has a stove.
-2 bedrooms Fully furnished with airconditioning (Masters Bedroom has a Double Size Bed and 2nd Bedroom has 2 Single Beds)

-Privacy & spaciousness of loft type unit with bedrooms on the 2nd floor

-2 toilet/bath

-Fully furnished living with aircon and dining/kitchen areas

-STOVE, Refrigerator, TV, microwave, rice cooker, bathroom water heater & electric fan

-Electricity & water charges included already (for short term rentals only)

-Kitchen utensils, dishes, glasses and cutlery provided

-Bed linen and towels provided

- Internet access

- Unit is Brand New

BUILDING AMENITIES

Recreational Facilities & Amenities:
outdoor swimming pool
children's wading pool
fully-equipped gym
children's playground
multi function room
billiard hall
business center
sauna
Utilities:

3 high speed elevators
individual intercom
stand-by generator
provisions for cable tv & telephone lines
sewerage treatment plant

Laundry at ground floor (laundry service billed separately)
Lobby / Elevator Lobby:
finished with granite walls & floors
elevator lobby on each floor has generous natural lighting & ventilation with a scenic view
Parking Levels:

5 parking levels provide ample & convenient parking spaces for unit owners
2-way exit & entrance ramp leading to all levels.
Security System:

administrative office
guaranteed 24-hour security system
electronic keyless entry system for the main entrance
closed circuit television on each elevator lobby.
fire alarm system with smoke & fire detectors and automatic sprinklers.

与房客的互动
I'd love to meet you and aside from that I have staff 24/7 to assist you.
---
---
---
Sorry but no smoking and no pets.
We require a refundable security deposit (20% of rental cost) and identification upon check in.
We can arrange car rental services, airport pick up, cleaning, laundry .... just let us know what you need ahead.
Monthly rentals do not include electricity and water. This will be billed based on actual metered consumption.
Please just take good care of the unit and enjoy!
Don't hesitate to let us know if you need anything to make your stay more comfortable or have questions.
---
---
First I want to say that Philip and his assistant are excellent. They take care of any issues immediately. The staff at the condo are the issue. Know all the details in advance of what you are expecting or they will try to charge you extra for every little thing. When we arrived, there was no cooking stove in any of our condos. We called the front desk and they immediately brought one up but wanted to charge for it. I contacted Philip and the issue was dropped just like that. But when we checked out the girl at the front desk told me the stove was not paid for yet, so there is some communication gap somewhere as well. Anyone knows in the Philippines that most girls and women wear shirts and shorts to swim. They are uncomfortable wearing swim suits. They are modest. My relatives who were staying in some of the condos we rented were confronted by a worker at the condo telling them they could not swim due to this issue. My sisters-in-law were so upset by this confrontation that they swam in their underwear. I was so surprised by the impact this worker had on them. He probably just wanted to see them in their underwear. From then on I made sure I was there and there were no more issues. But those were the kind of issues we had. When a clogged drain was an issue, they pretty much ignored my families request to fix it, but when I called it was taken care of. The staff seems to respond to the foreigner but not if they are native to the Philippines. My wife made Philips assistant aware of the situation and we had no further issues. Just make sure you know when they will clean, get you towels, etc or you will be surprised.
Thank you for your kind words and I apologize if you felt the staff became an issue & the miscommunication. We appreciate your comments as it will only allow us to improve but let me clarify : 1. ALL AIRBNB BOOKINGS ARE SUPPLIED STOVES and the fact THAT IT WAS EASILY RESOLVED CLEARLY POINTS OUT THAT IT IS MERELY A MISCOMMUNICATION AS YOU HAVE STATED and NOT an attempt to charge extra from our guests. Our local bookings oftentimes request to remove the stoves to get room discounts (as they will be using less electricity and they plan to be out most of the time) so the staff knows that sometimes some guests change their minds and ask for stoves. Rest assured this was a miscommunication and not an attempt to charge extra but thank you for bringing this to our attention is important as it will help us improve our internal office coordination. 2. Re the swimsuit, our building is governed by House Rules that apply to all unit owners and guests. This is something we adhere to and is NOT ARBITRARY on our part or of our staff. Around Manila private country clubs and condominiums, the rules are oftentimes stricter as I have experienced, example no boardshorts in the pool only fitted swim trunks. I am sorry your relatives felt upset but we have no choice but to enforce the rules but I have spoken with them to improve their way of communicating the rules. So please feel safe in knwoing that our worker did not mean disrespect and definitely didn't ask them to swim in their underwear which is also not proper swimming attire. 3. Re the clogged drain, as explained to your relative at Unit R (I think you were not present at that time since you are at Unit S) the drain in the laundry area could not be immediately fixed at the exact time we received the complaint because we had to access the drain from the unit below yours. We had to wait to get the approval of the guest on the lower floor before we could do maintenance work. Definitely we respond in as timely manner as possible (as can be seen in all our other reviews) but if there are restrictions we inform the guest. We respond to all guests whether they are locals or foreigners. In this situation the delay was merely as explained and not because of any bias or inattentiveness. 4. As stated in our airbnb ad, cleaning fee is $10 per cleaning. Actually even if you did not request or pay for the cleaning fee, we just gave it to you for free for all 3 units and throughout your stay. I never mentioned charging it to you because I normally give this complimentary even if stated in the ad that there is a payment. WE GIVE OUR AIRBNB GUESTS FREE cleaning. So I hope that explains the issues and we apologize for the lapses that may have caused you inconvenience. But rest assured, our intentions are always for the comfort and enjoyment of our guests. We are very easy to talk with and easy to reach anytime. Thanks and God bless!
---
I want to thank Philip for making our stay at Shaw Residenza as comfortable as possible.  He was very accommodating right off the bat.  He was quick to respond to our inquiries and requests.  During our stay, he kept in touch to make sure we had everything we needed and resolved issues as quickly as possible.  Front desk people were also helpful and courteous.  Thank you also to the security guard for helping us cross the street and call taxis when needed. The units itself are spacious.  Lots of room for kids to play.  Clean except the floor.  My 2 yr. old likes to walk barefoot and her feet were blackened from the floor.  Our unit at 12U always had wifi issues.  We seemed to have connection every other day.  Luckily, front desk staff were quick to fix it. I definitely recommend this place!
Thank you for the overall positive review about the spacious unit and staff service. I'll be sure to let them know about it. I'll definitely look into wifi issues in that unit and improving cleaning. Though one factor may be that Manila does tend to be drier and dustier then other cities and dust does collect easily within the day in spite of cleaning. But I'll definitely work on improving that aspect. Thank you for being a great guest and hope you have a great year ahead!
---
Overall, we have a wonderful experience at Shaw Residenza. :) Ann and the receptionist were all very helpful. The place is big and very much family friendly. The place can accommodate a family/group of 4. We have received excellent service and would definitely recommend this place. Only thing to consider for other guest is the traffic around the area and since it was Christmas season when we stayed here, traffic was really a problem in getting around the city (but this is the problem all over Metro Manila during the Christmas holidays!)
---
Philip seemed like a very cool guys, his unit was clean and had everything a guest could need, from coffee, to a hundred TV channels, to towels. The receptionists were also very helpful. All in all I was a bit surprised that we got such a good deal.
---
I frequently travel for business so I understand how important it is to have a home away from home that's comfortable, clean, well located, gives good value and dealing with helpful people in the process. I hope to provide our guests with all that PLUS that special personalized touch.




语言:
English、中文