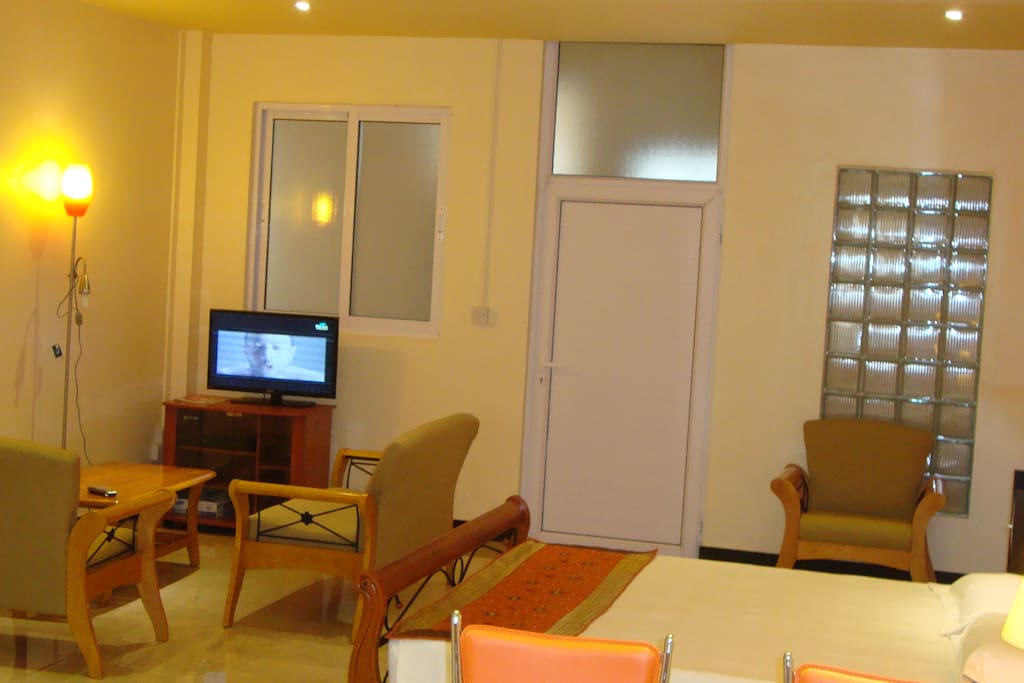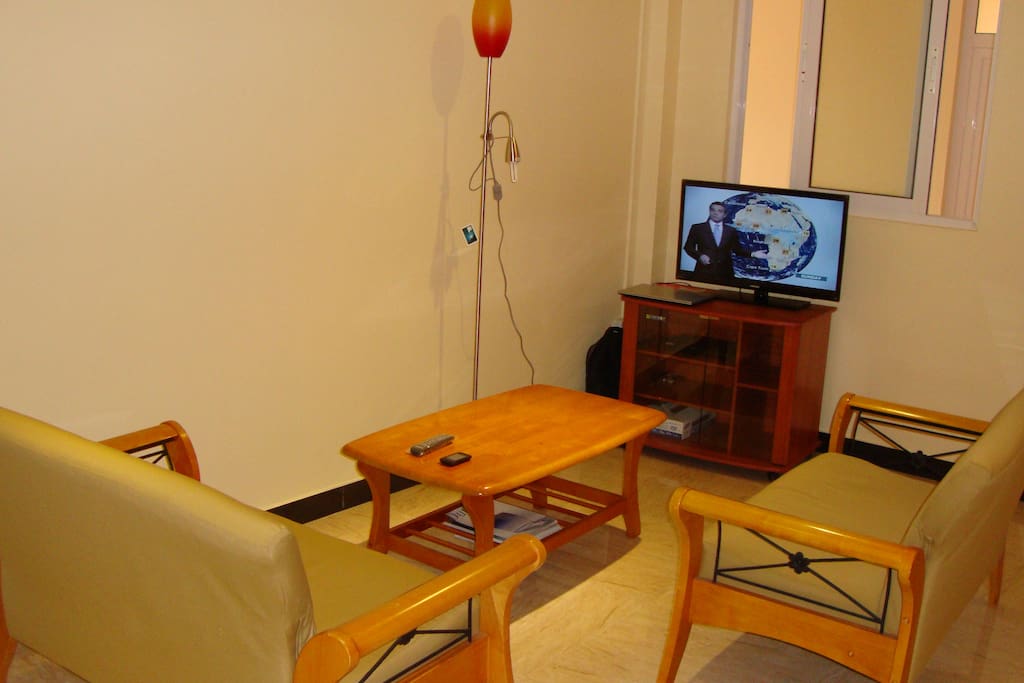 Sun Plaza Studio,Flic en flac
Sun Plaza Studio is suitable for individuals or couples seeking a quiet & enjoyable vacation in the popular resort of Flic en flac.
A hotel room with a well equipped kitchen.
Near one of the best beaches,commercial facilities and public transport.
房源
A first floor studio with the unique feature of a roof terrace for sun-bathing, breakfast,a quiet read or sipping a cocktail watching the sun set!
房客使用权限
Guests will have access to the roof terrace .
Airport transfers, tours and boat trips can be arranged.

与房客的互动
Having lived in the UK for some 25 years and travelled extensively, I enjoy meeting travellers from all over the world.
其他注意事项
You will be offered advice on all relevant issues! Please note that guests will be charged for electricity used beyond a minimum charge. This is important to prevent abuse and to have an ecologic conscience. However this charge is waived if there's no abuse !!
---
Super séjour ! Aucune mauvaise suprise ! La chambre est très bien entretenue. La femme de ménage passe 1 fois par semaine pour nettoyer la chambre et changer les draps et les serviettes. Kessah et Dolorès sont vraiment sympas et sont très disponibles. L'appartement se situe à 5 minutes à pied de la plage. Je vous recommande de louer un appartement de Kessah si vous allez sur l'île Maurice.
---
Studio conforme à la description, très propre et agréable. La terrasse sur le toit est très appréciable lorsqu'il fait beau. A 2 minutes de la plage et au dessus de commodités l'appartement est bien situé mais un peu loin du "centre" de flic en flac. Le supermarché en dessous est beaucoup plus cher que le Spar, mais ce dernier nécessite l'utilisation de la voiture. Kessah est un hôte sympathique et discret, il s'agit ici d'une location touristique plus que d'une location chez l'habitant. Kessah est disponible et répond à toutes les questions ! Point négatif pour le bruit et la quasi impossibilité de dormir après 7h du matin. La femme de ménage passe très tot (je suis restée 13 jours, j'ai donc pu la voir 2x) et la vie à l'étage du studio commence parfois à 5h du matin où les gens (hôtes à priori car cette partie de l'étage nous est réservée) parlent et vivent sans trop faire attention aux sommeils des "lèves tard" (j'estime qu'avant 8h30 on peut quand même exiger un peu de calme...) le studio est situé au dessus de boutiques et les volets métalliques peuvent surprendre la première matinée, après c'est un bruit qui est court mais vif, ça réveille mais pas longtemps ! J'ai été dans l'ensemble satisfaite de mon séjour, je n'étais pas en vacances mais je m'installe à Maurice, j'étais donc en "transit"
---
This is the second time that I have stayed at Kessah's apartment and again I have to commend Kessah on being a great host and providing a comfortable space to stay at. My only suggestion is that Kessah provide more basic amenities to the flat such as salt, pepper, sugar, oil, dishwashing soap etc. I understand that it is a self-catering apartment but to have to purchase these items new, for a short trip, doesn't make sense to me. Otherwise, I would suggest these apartments to everyone.
Point taken Lawrence. In fact we used to place the items mentioned initially but found that guests would not use them so we discontinued the practice. Difficult to predict the needs of such a variety of guests. Rest assured that we have the same problem when travelling abroad! As for the Air-conditioner ,we are in Winter with temperatures ranging from 15 to 20 degrees Centigrade and you did have a Winter tariff Lawrence!
---
Kessah really is a nice guy, open minded and we felt very welcomed with every message we got from him even before our arrival. He also offered to pick us up at the airport and bring us there at the end of our stay - we really enjoyed having some nice conversation with him. The studio was much bigger than we've expected and is well equipped. Like it's written in the description it is very well located ( 5 minutes to the beach), you'll find some nice restaurants around and the supermarkt downstairs offers all the small things you'll need for the moment. Nevertheless there were a few aspects which made us feel not so happy about it - one could definitely say this is complaining at a high level but it's just a feedback. During our stay we hade some trouble with the wifi, we were able to login but most of the time we did'nt receive a signal. We spoke to Kessah but he said that nobody else in the other studios has problems with it and maybe be should configurate our phones - unfortunately that wasn't really helpful but we managed to organize our stay there without having wifi at the studio most of the time. Like I have mentioned before the studio really was huge and as you can see on the picture it only has this one window in the kitchen area of the studio. There is air conditioner in the room so it wasn't a problem because of the heat. But I think it is importent to mention that the window isn't so big and therefore there isn't much daylight in the room and the view out of the window wasn't really that pretty aswell. We looked directly to an old swimming pool with some dirty green water in it... and we weren't sure if it came from this old pool or if it was just a really aggressive cleaning agent with whom the studio was cleaned before, but there was a really penetrating smell in our studio. Even after a few days the smell was still there and when we were back home our clothes still smelled like it when we unpacked our suitcases. But all these things can be fixed or changed and we still would recommend this studio because of Kessah and his welcoming nature.
I maintain what I said about the wifi system; in fact one of the guests whom we hosted at the same time has given us 10 out of 10 for our wifi performance in his review on another site. As a traveller myself I also experience such problems abroad. If there was a smell from the unused pool some 15 metres away with about 10 inches high of rainwater it would in the first place affect the 2 properties adjoining the pool and all the studios, not just the one occupied by Penelope! Amazing that one cannot distinguish the difference between the smell from an unused pool and that of "aggressive cleaning agent". If the smell was really that invasive I am surprised that not only once did you mention it to me especially when you spent lengthy periods in the studio. Like it says the studios are purely for vacations, and vacationers generally spend their time outdoors visiting etc, only using the studios for showers and sleep. That is also why we recommend our guests to utilize our open roof terrace with superb views . !
---
I lived in the UK for some 25 years and now enjoying retirement in the beautiful seaside resort of Flic en flac and cannot do without my daily early morning beach walk and swim.Its just bliss!
I have visited many countries and so know the expectations of travellers on vacation
I think we should all care for the environment and adopt eco-friendly practice in our daily lives.
We'll go a long way in this turbulent world if we show respect and love towards one another.
语言:
English、Français