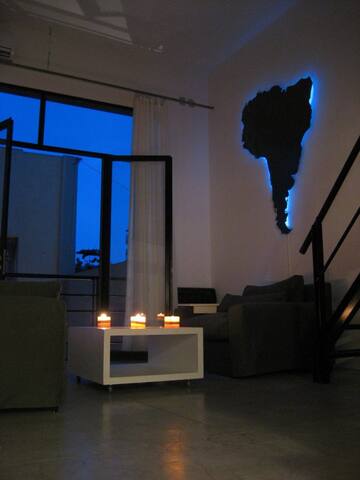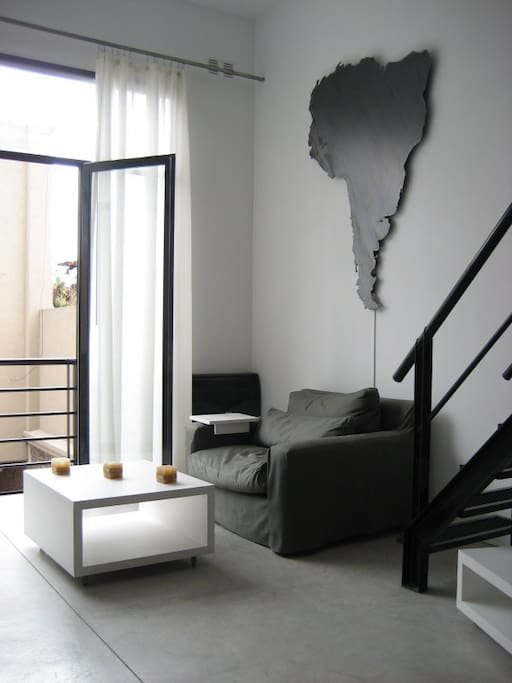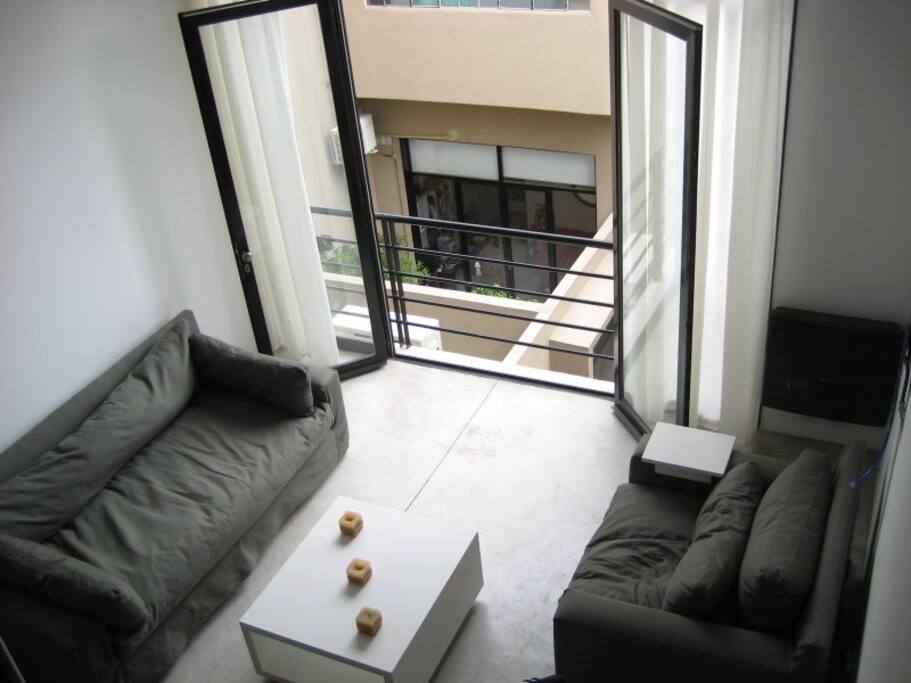 房源
https://www.airbnb.com/rooms/356282
My apartment, named by the builder as Casa Buena Onda ("house of good vibes"), is my home away from home in Buenos Aires. It's a private, fully-furnished condo unit in a cozy 12 unit building located in the heart of Palermo Soho, Buenos Aires, Argentina.
It's full of life, especially in the mornings. An immense amount of light enters and the huge wall of windows (14' or 4.5m tall x 12' or 4m wide) can open to welcome the breeze and make the entire living room like a terrace. The apartment is a loft style, whereby the mezzanine sleeping loft overlooks the living area. For sleeping, there are black-out curtains in the sleeping loft. The apartment is in the back of the building, therefore it's away from the noise of the street.
Furnishings: It is fully stocked/furnished and ready to jump right in, including Wifi internet. I lived in it when I was a student. Feel free to ask any questions about specific items that you want to be sure about.
Internet: High-speed wifi-internet is in the apartment. If you (website hidden) "black-outs Buenos Aires" you will see that there are electricity and Internet connectivity issues in Argentina. My apartment can and has been affected by these black-outs.
Sleeping: The upstairs sleeping area is two twin beds that combine into one king size bed with a padded cover so you won't feel the seam. There is a twin size wide sofa that serves as a third bed, however, it wouldn't be very comfortable for more than one week, in my humble opinion. Sheets are provided.
Note: The upstairs sleeping loft is about 5'10" (180cm), so really tall people might have to duck a little. My 6'4" (196cm) Dutch cousin lived here for a year and only bumped his head once he says!
Bathroom: Clean and very modern with a sink, a bidet, and a combo tub/shower. Towels are provided.
Laundry: There is not a laundromat per se, which I believe implies a do-it-yourself type of system. Buenos Aires is replete with drop-off / pick-up. There are a number of places within 1.5 blocks whereby you drop-off in the morning, and you pick it up clean, fresh, dry, and folded in the afternoon, same-day. Cost was about USD$4 per wash/dry when I was there last August. I group everything together whites/colors, and it's never been more than one load unless I'm also washing the sheets/towels.
Neighborhood / Transportation: This is the "best" neighborhood in Buenos Aires for shopping and restaurants. The apartment is a 6 block walk away from Plaza Serrano, the square that I'm sure you've read about already. The bus lines are there, as well smack dab in the middle of two subway metro lines that are about a 15 minute walk away to whisk you downtown for a visit to Plaza Mayo and Florida Street.
No pets and no smoking permitted.
IMPORTANT: I am traveling most of the time myself, so if you are renting my apartment, you will most likely be greeted by my manager rather than by me. If that would bother you, I understand and wish you luck in your search!
Come delight in the "Paris of the South" that is Buenos Aires!
---
---
- No smoking and no pets permitted.
- There is a very strict garbage removal policy in the building. All necessary info will be given at check-in by myself or my manager, and reminders are posted by the apartment entrance.

The apartment keys are coded for limited duplication by the building. If you lose the keys, there is a USD$500 charge. Please DO NOT lose the keys.

Note: The upstairs sleeping loft is about 5'10" (180cm), so really tall people might have to duck a little. My 6'4" (196cm) Dutch cousin lived here for a year and only bumped his head twice he says!

- Check-in and check-out are unfortunately not available before 8:30am or after 7:30pm
- Extra USD$50 fee for check-in or out after 5pm, but before 7:30pm
- Extra USD$50 fee for check-in or out on weekends & holidays

- Extra USD$50 fee for 3 or 4 night stay. Waived for 5 nights or more.
---
Hi! I'm a traveler, too, and a non-smoker, clean, quiet, respectful and low-key. In traveling, I enjoy meeting the people, learning the cultures, practicing the languages, delighting in the foods. I love the outdoors: Cycling, skiing, sailing, snorkeling, and I use these favorite activities to explore the world. All of this is good, but it's even better sharing with friends!

Vail, Colorado condo:
Our condo in East Vail is perfectly situated for winter and summer activities.

Denver, Colorado duplex home:
Delight in the charms of Washington Park, both the neighborhood and the green space in either our 3 bedroom or 1 bedroom apartments.

New York sailboat:
Stay on our 41' sailboat docked on the Hudson River with breathtaking views of the Manhattan skyline!

Buenos Aires loft (Palermo Soho):
Welcome to your home away from home in the Paris of the south!

语言:
English、Español、Português