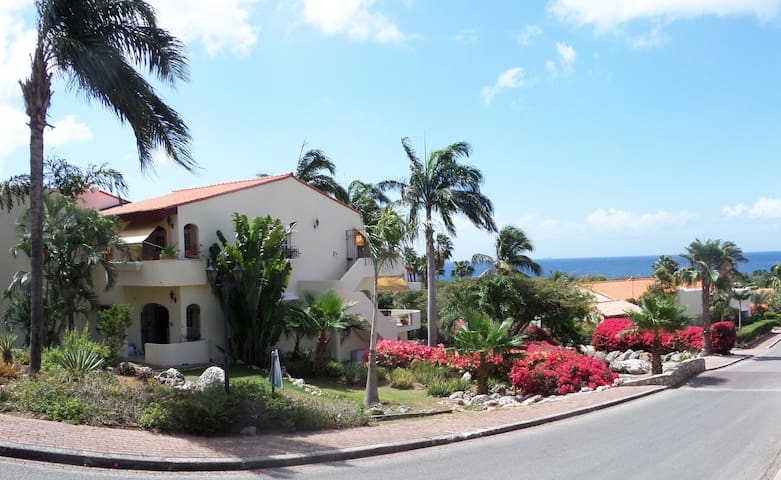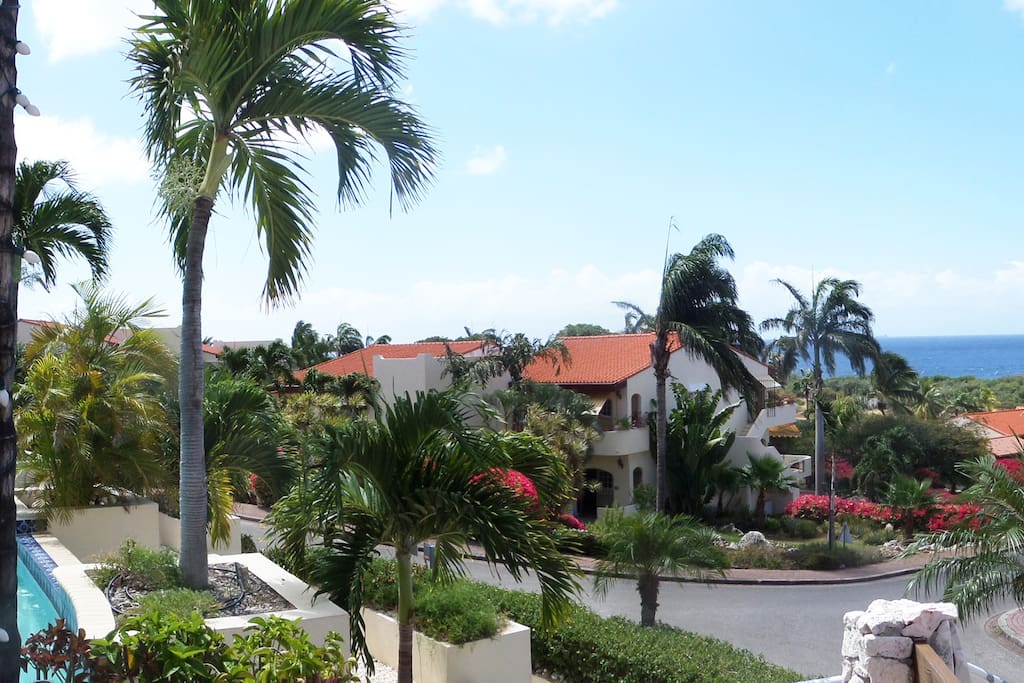 My parents had to cancel their trip due to health reasons - last minute bookings more than welcomed!! 10$ off per night for may - july :)
房源
Beautiful 2 bedroom apartment with huge terrace! I think pictures tell more than words, but check the amenities :)
***edit april 2015: there's a brand new oven and my parents just built in sliding screen doors, so now you can have the living room completely open, enjoy the ocean breeze and don't have to worry a bit about mosquitos***
Ok, so here you go with all you need to know (and if you have any questions, please go ahead and ask):
This is my parents winter get-away I am offering here. They are too old to manage the account, and so I m in charge of renting it out whilst they are in our hometown Berlin.
I have been visiting them in Curacao and lived in this flat myself and it's absolutely stunning. It's so well designed and entirely awesome equipped. Examples...
... The kitchen:
Of course you have cutlery and plates and pots, kitchen towels and cooking devices, but also a dishwasher and an extra fridge for beverages. This makes a stay quite comfortable.
... The living room:
Kitchen and living room are one huge room. Air Condition is available in all main rooms, so no worries, it works really well - which is necessary in Curacao.You have a dining table and a nice sofa lounge facing a big flat screen TV where you watch cable TV (soooo many channels, omg) or hook up your laptop to stream something - wifi is very fast and available in the whole flat.
... the bedrooms:
There are 2 bedrooms, each with one big double bed. Both bedrooms have each and en-suite bathroom, the slightly bigger one (master bedroom) has a bathroom with shower and tub, the other one a shower and washing machine and dryer. My parents also bought a baby bed for the little one you might bring and it fits perfectly into the master bedroom. Between the 2 bedroom is a little storage room where you can put clothes and your suit cases for example.
... the terrace:
This is where I spent most of my time. My parents don't smoke so with this warm weather you can easily keep the smoking outside and chill on the sofa or have dinner outside. There's a beautiful sea view and you can see the big cruises on the horizon coming closer to go to Willemstad.
The flat has 2 entries - one via stairs from the parking space, which you can use of course and one over a little bridge that allows you to enter on one level. The latter is comfortable if you wanna carry home groceries or maybe you have a baby stroller with you or so.
There is a wonderful community pool with an even better view on to the sea - and I never had problems finding a place to lay down.
All in all, the community is very quiet, which I appreciated.
As I said above, my parents and me are currently in Berlin but we are available via phone and email and also our neighbor in Curacao that lives above is very sweet and would help out if need be.
---
Lovely place, nice terrace and ocean view, the resort have a swimming pool and nearby there is a beach and a beach promenade in which you can walk or jog in the mornings or afternoon. Ask for what you need to Susanne, she can make arrangements so they are ready upon your arrival and once there Josette is always around to help.
---
Die Insel ist auf jeden Fall eine Reise Wert und wird mit dem Aufenthalt bei Susanne abgerundet. Die Wohnung befindet sich in einer ruhigen Wohnanlage und wird rund um die Uhr bewacht. Nicht das wir auf der Insel das Gefühl hatten, dass wir das bräuchten, aber man schläft doch besser. Die Wohnung hat alles, was man zum Leben benötigt. (Leider hat während des Aufenthalts die Spülmaschine eine Woche nicht funktioniert). Die Ansprechpartnerin vor Ort hat sich aber immer um jedes Problemchen bemüht. Wir waren immer in Kontakt. Das Grillen auf der Terrasse mit Meerblick war Abends stets Programm und wir haben lange den Ausblick genossen. Kleiner Tip: Auf jeden Fall etwas gegen Stechmücken mitnehmen, da man ansonsten aufgefressen wird. Wir empfehlen die Wohnung auf jeden Fall weiter und würden immer wieder in der Wohnung Urlaub machen.
---
Very spacious and lovely apartment with fully equipped kitchen and an American fridge, as well as a wine fridge. The terrace is huge and you can enjoy your breakfast with a sea view watching the cruise ships arriving early in the morning. The neighbors are very friendly and it is situated in a quiet gated community. The location is perfect, close to the city Centre (10min by car) and the best beaches (Kokomo, Cas Abao, Porto Mari and Koraal Curacao) are not too far (15-20min drive). If you like running or walking in the morning, as many locals do, try the running track (5min walking distance), which directly by the sea. Thank you for a lovely stay in Curadise!
---
Absolutly perfect! Beautifull quiet location! We had more than we coul'd asked for, from juice maker to american fridge with cold water and ice! We rented a car who was delivered directly at the flat! What a service! We slept in very comfortable beds and the huge terasse was a dream. Thank you for everything it was lovely!
---
Ein sehr schöne Unterkunft! Es hat alles toll funktioniert - von der Buchung (schneller Kontakt) bis zur vor Ort Betreuung durch Josette. Die Lage der Wohnanlage / des Appartments war für uns genau richtig. Man ist mit dem Mietwagen schnell in der Stadt aber auch bei den Stränden der Insel. Man sollte jedoch unbedingt einen Mietwagen buchen, denn nur damit kann man die schönen Punkte der Insel stressfrei erreichen. Das Appartment war mit allem ausgestattet was wir benötigten. Der 'Ocean View' von der Terrasse ist herrlich. Allerdings sollte man Anti-Moskito Spray nicht vergessen. Moskitos sind insgesamt ein Thema auf der Insel.
---
Hi there, I'm Sanna, originally from beautiful Bavaria but now living in Berlin since over a decade. My husband and me like traveling a lot and are planning to leave Europe for good some time soon... I started on airbnb to adverstise my parent's flat in Curacao, cause their e…
语言:
Deutsch、English、Español