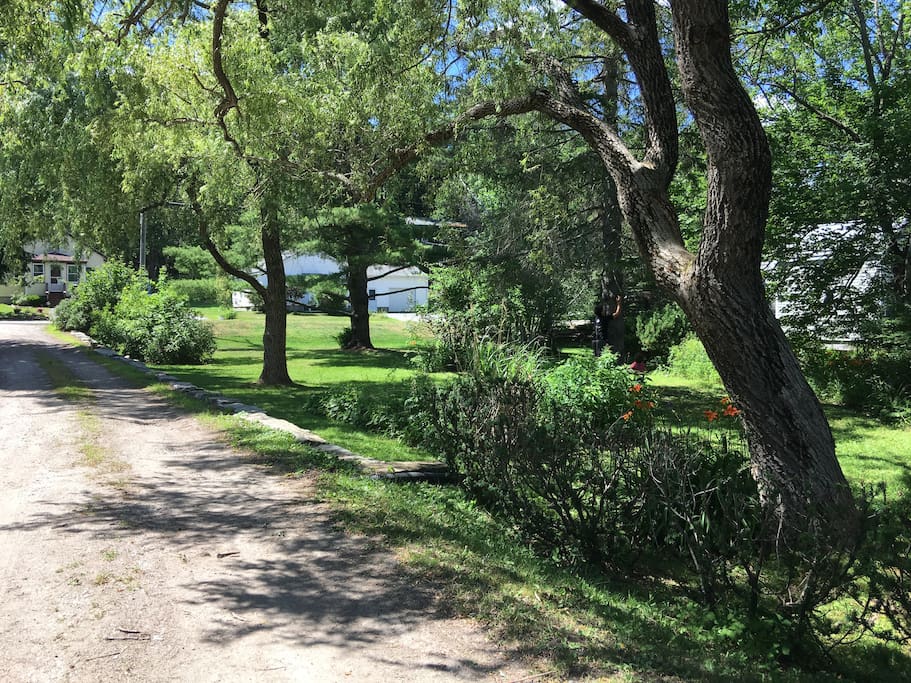 Gorgeous riverside studio, the smaller of two AIRBNB properties on the outskirts of beautiful and historic Bath, Maine. (The other, "Charming Waterfront Cottage in Bath," is a separate Airbnb rental). Galley kitchen, bathroom/shower, living room, and bedroom, Simple, modern decor. Close to great shops, restaurants, and beaches, and just a 20-minute drive from Bowdoin College. Adjacent to a boat launch, and a short walk from the Bath Marine Museum and a scenic dog park.
房源
This gorgeous studio, which we call "the nest," is the smaller of two properties on a beautiful piece of land on the outskirts of Bath. (The other property, "Charming Waterfront in Bath" is rented on Airbnb separately). It has a galley kitchen, a small living room with windows on two sides, an open bedroom two steps up from the living room, and a loft space (accessed by ladder) where there are mattresses for kids. There are two dedicated private parking spaces.
与房客的互动
We check in with guests to make sure everything is OK, but guests have the house to themselves.
---
This is a wonderful little cottage in an amazing location. The host is great. Although we did not see him, his communications made us feel like he was there to offer help or suggestions. It is small and quiet. Perfect for a little escape. Plus the sunrise is spectacular with all of the wonderful windows.
---
The Nest was the perfect spot for my husband and I. The size and layout is perfect for a couple. The decor was charming, but not overwhelming. It was clean and had all the amenities we needed. The location was great for our mini adventures including a trip to Morse Mountain and into downtown Bath for brunch and shopping. We also caught the Farmer's Market which was very impressive, lots of vendors and variety. We would highly recommend the Nest to anyone interested in visiting the area.
---
Really wonderful place to relax for a few days. The Nest was clean and well kept. Easy bike ride to town which we did twice. Quiet at night which was what we were looking for. The dogs were exhausted at the end of the day from the day's activities including hiking and running on the beach. Pip checked in just to make sure things were running smoothly. My only regret was not having time to use the fire pit. Will likely be back!
---
Wonderful place! The river view is small but possibly spring and summer would allow more visibility. The neighborhood is quiet. The property is a distance from downtown, but the area is wonderful for walking anyway The fridge is SMALL so it was challenging for our 3 night stay to keep everything cool. Plan ahead! Great place for the price!!
---
No coffee or tea provided, and it lacked decent kitchen utensils, plus the kitchen is tight. Also no luggage rack or place to hang clothes. Parking was not ideal. Would be difficult to park a Suburban or Tahoe bc parking is tight and boulders are placed around. Otherwise the cottage was clean and pleasant and had a fan. We were happy that we had more room than the Hampton Inn.
---