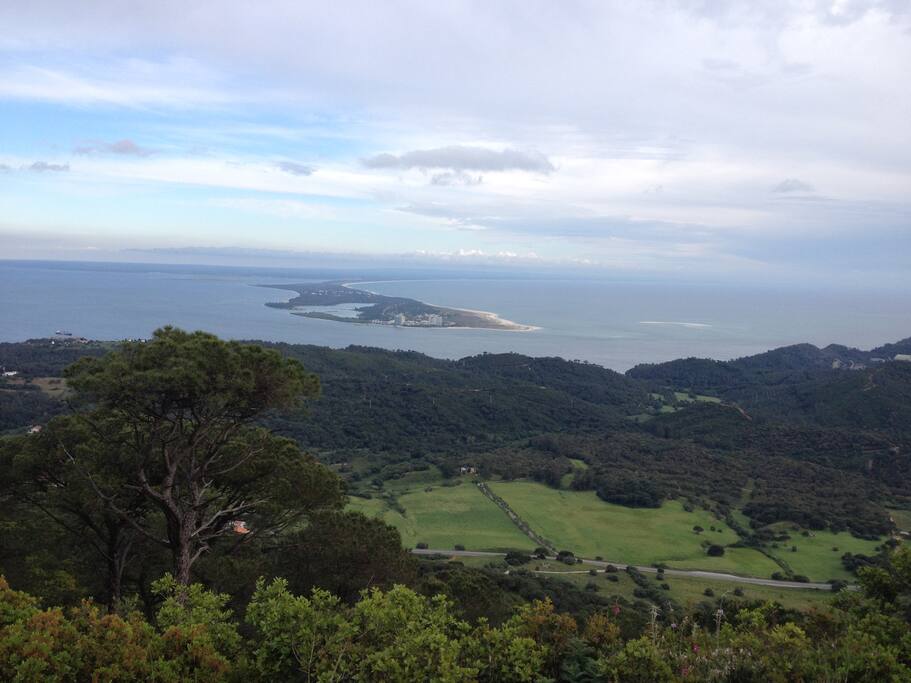 Situada no coração do Parque Natural da Arrábida, a Biovilla é uma cooperativa sem fins lucrativos que pretende fomentar o desenvolvimento social, económico e ambiental de forma integrada e equilibrada através de práticas de sustentabilidade
房源细节
Situated in the heart of the Arrábida Natural Park, Biovilla is a non-profit cooperative that aims at promoting social, economic and environmental development in an integrated and balanced way through practical and innovative business models that put sustainability at the centre of its activities. Biovilla is situated in an area where one can meet and discover various natural environments, participating or taking care of our land, or simply relaxing, observing and enjoying life. If it makes sense for you to share and enjoy sustainability experiences, then Biovilla is ideal for you and for your leisure time in lonely isolation from the urban world, or in the company of your beloved. The surrounding area of its 55 acres, with the Arrábida sea nearby and the pure air of the mountain, allow you a pleasant stay. So we invite you to enjoy our rooms in a Nature Tourism style in Palmela. Furthermore, this county is very rich from several points of view, namely cultural, economic and recreational.
We have 4 bedrooms available with triple or double accommodation. Kitchen, decks, living room with projection screen for films, equipped toilet for handicapped, all this in a shared format. People have the opportunity to participate in the daily work of gardening and trainings. Summing up, this is a place where you can enjoy as your own holiday home.
We are proud of and it is our responsibility to take care of a part of our dear Arrábida Natural Park, as well as to show, protect and multiply native plants, and also encourage the development of local fauna. The Biovilla family will be present to explain how to reach special and natural places in the surroundings, full of beauty and life, as well as to give all the information on how to get to the best beaches and to some tracks with natural beauty, unique and stunning sea views, such as the Sado, Tróia, Palmela, Peninsula de Setúbal, Lisboa, Sintra, among other places also as a reference, which can be seen from the top of our field.

房客使用权限
O alojamento com pequeno almoço:
Confortáveis quartos com casa de banho partilhada por cada 2 quartos, equipadas com produtos de higiene biológicos. Serviços de limpeza diária assim como todos os cuidados higiénicos dos quartos, casas de banho e zonas públicas. Está incluído no alojamento base um saudável pequeno almoço.
与房客的互动
Situada no coração do Parque Natural da Arrábida, a Biovilla é uma cooperativa sem fins lucrativos que pretende fomentar o desenvolvimento social, económico e ambiental de forma integrada e equilibrada através de práticas e modelos empresariais inovadores que coloquem a Sustentabilidade no centro da sua actuação. A biovilla reserva-se assim num reduto nacional onde se pode conhecer e descobrir vários ambientes naturais, intervindo, e cuidando da nossa terra, ou simplesmente relaxar, observar e conviver. Se para si faz sentido partilhar e beberde experiências de sustentabilidade, então a biovilla é ideal para si e para os seus momentos de lazer em isolamento solitário do mundo urbano, ou na companhia dos seus mais que-tudo. a Envolvente Nos seus 55hectares de intervenção,com o mar da arrabida aqui ao lado e os ares da serra à porta, convidamos todos a desfrutar da nossa casa em formato de Turismo de Natureza em Palmela, sendo que o concelho é em si mesmo, um local riquíssimo do ponto de vista cultural, económico, recreativo e radical.

Temos disponíveis 4 quartos com alojamento triplo ou duplo. Cozinha, deques, sala de estar com tela de projecção para filmes e casas de banho equipada para pessoas com mobilidade reduzida, tudo em formato partilhado. Há possibilidade de envolvimento nos trabalhos diários de horta e formações. No fundo, temos um espaço para usufruir como se fosse a sua casa de férias :)
Temos o orgulho e responsabilidade em poder cuidar de uma parte do nosso querido Parque Natural da Arrábida. Mostrar, proteger e multiplicar plantas autóctones da Arrábida, assim como propiciar o desenvolvimento da fauna local. A família Biovilla estará presente para explicar como alcançar os recantos naturais na envolvente, cheios de beleza e vida, assim como dar toda a informação sobre como chegar às melhores praias ou alguns trilhos com uma beleza natural e vistas únicas e deslumbrante sobre o mar, o Sado, Tróia, Palmela, a Península de Setúbal, Lisboa, Sintra, entre outros locais igualmente de referência como se podem avisar do cimo do nosso terreno.
其他注意事项
Transporte próprio é muito recomendado / self transportation strongly recommended.
Temos todo o prazer em preparar as experiências especiais do grupo.
When booking Biovilla you will really contribute to a greater environmental and social cause performed by us. Biovilla's lodging is the alternative to the irresponsible tourism you found almost anywhere. Situated in the heart of the Arrábida Natural Park (45km away from Lisbon), Biovilla is a cooperative without the purpose of making profit by profit, but rather it aims at promoting social, economic and environmental development in an integrated and balanced way through practical and innovative business models that put sustainability at the centre of its activities. Biovilla is situated in an area where one can meet and discover various natural environments, participating or taking care of our land, or simply relaxing, observing and enjoying life. If it makes sense for you to share and enjoy nature and sustainability experiences, then Biovilla is ideal for you and for your leisure time in lonely isolation from the urban world, or in the company of your beloved, family or friends. The surrounding area of its 55 acres, with the Arrábida sea and beaches nearby (6/8km away) and the pure air of the mountain, allow you a pleasant stay. So we invite you to enjoy our rooms in a Nature and Sustainable Tourism style in Palmela. Furthermore, Portugal is very rich from several points of view, namely cultural, economic and recreational, so in Biovilla we promote also some local traditional products and activities also.

We have 4 bedrooms available (must be booked separately in B&B format) with double accommodation with extra bed option (with breakfast, linens and towels included), that have a shared bathroom for each two double/twin rooms, with hygiene products 100% natural. Kitchen (for guests), decks, free car and bike park, meditations spots, a library, free wifi, some board games and a living room with projection screen for films or documentaries, all this in a shared format. There are two mountain bikes to rent in place. People have the opportunity to participate in the daily works of permaculture, natural agriculture, gardening and trainings happening in place. Summing up, this is a place where you can enjoy as your own holiday home with some services like cleaning, breakfast and natural/biological products supply (seasonal food products).

Here each room has to be booked separately. We like to offer to our guest comfort in the middle of nature and with sustainable practices. As an example, all the products like hygiene or food products at the disposal of the guests in Biovilla are natural and it is out of question to put any chemicals in our land. Depending of the season we have biologic and natural vegetables, fruit and other kind of natural products at the disposal of our guests or of any person who prefers to buy biologic and natural products. We also prepare vegetarian meals (with natural and biologic products of course, this is a granted principle in Biovilla) for our guests (subject to availability of Biovilla staff and must to be requested 3 or 2 days in advance, if not it is subject to availability).

Biovilla is proud of and it is our responsibility to take care of a part of our dear Arrábida Natural Park, as well as to show, protect and multiply native plants (we are responsible for the reforestation of one part of Arrábida), and also encourage the development of local fauna. The Biovilla family will be present to explain how to practice sustainability and also how to reach special and natural places in the surroundings, full of beauty and life, as well as to give all the information on how to get to the best beaches and to some tracks with natural beauty, unique and stunning views, such as the Atlantic ocean, Sado river, Tróia, Alentejo, Palmela, Peninsula of Setúbal, Lisbon, Sintra, among other places also as a reference, which can be seen from the top of our hill.

We are not just a tourism, we have also a nature food center (biologic and natural food production) and a learning center on sustainability (we perform courses and workshops about sustainability with social scholarships). In the tourism part, we are the alternative to the irresponsible tourism, we are a sustainable tourism, nature tourism, eco agro tourism and a comfortable eco rural tourism, all in the same place.

Our exact location is:
Herdade do Pinhal de Bastos, Vale de Barris
Palmela
语言:
English、Español、Français、Português