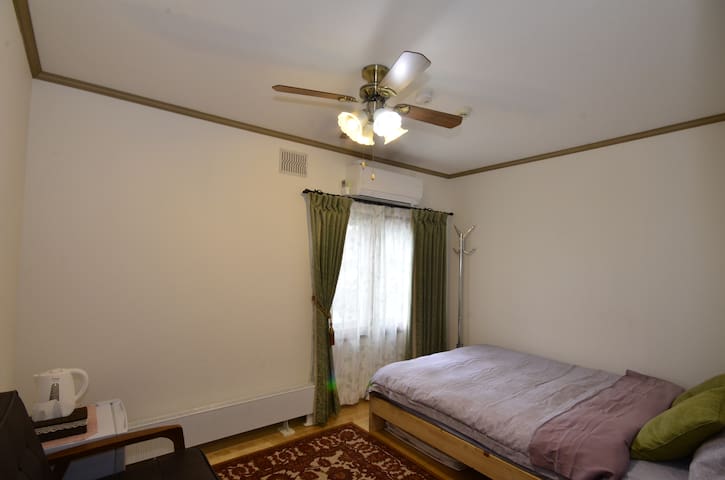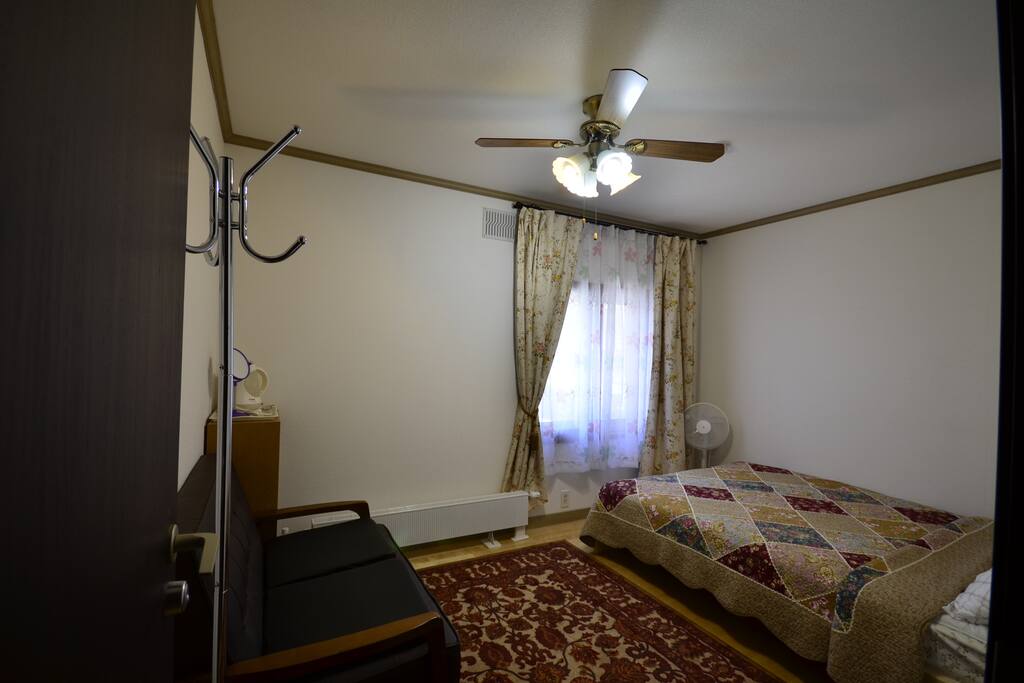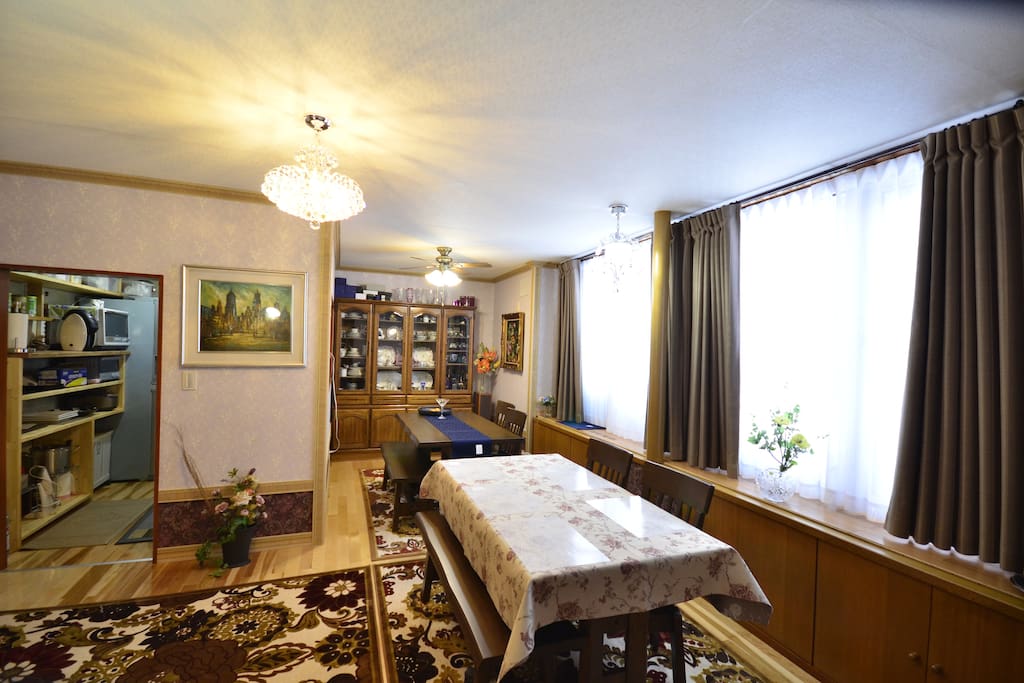 Sapporo House NA Susukino F @Walk downtown 10 min
非常喜欢的小洋房,各种细节,体现出Sangun用心呈现的完美居住体验。很喜欢他家的厨房、客厅。夫妻俩热心的为我们介绍札幌周边游,为我们订好的行程指路。感谢!离中心购物区域有点远,拎重物的话建议乘地铁,打车到札幌站1100日币。
---
太喜欢Sangun家了!入住的那天因为行李多又有孩子,选择了出租车,从札幌站也只需1300元。后来几天分别使用过地铁、巴士都比较方便,但相关信息一定要问Sangun,完全靠电子地图还有有难度的。我们是好在老婆会日语,一路问。因为Sangun本人也住在里面,门铃一按就有主人来迎接,这种感觉非常好!Sangun家非常干净漂亮,基本上看不到一根头发丝。各种设施也都一应俱全,非常方便。只是下次我们会选择离客厅较远的房间,安静一点,早上能多睡一会儿。早餐是冰箱里的各种原材料自由选择,很自由很方便。Sangun是非常专业的host,回复及时、沟通顺畅。最后走之前,得知我们也是host,Sangun还跟我们分享了他的经营经验,超nice。非常感谢Sangun和太太!还有幸碰到了来自千叶的日本家庭,虽然语言不通,但女儿和他们玩得好欢。非常愉快难忘的体验,推荐Sangun的家!
---
The house is run by a Korean host, therefore lots of Koreans choose to stay here. But the breakfast is not traditional Korean dish, it's self service of baking toast and having cereal with milk. You can also use their coffee machine. The host is also run a tour business for sightseeing lavender farm in Furano. The host is kind. The bedroom is big but air conditioner is weak.
---
There could be many other guests staying here, and they may be noisy late at night. Nearby hotels may provide cheaper accommodation, and you would have your own bathroom.
You visited Sapporo when its busiest season of tourism, which means almost every accommodation in downtown was fully booked and the price was highly increased. Even then, I provided you the room rate around 40% of a hotel charge. It's the busiest time of a year for the hostel, thus there could be some noise by all the guest around. And I think this is even a good thing. I mean hostels are like a community where people come and meet another and make memories together. 당신은 삿포로 관광 풀 시즌에 저희 숙소를 사용하였다. 당신이 숙박을 하는 시기는 삿포로시내 모든 숙소가 부족한 상황이였고 숙박시설 즉 호텔등 룸 가격 매우 비싼시기이다. 나는 당시 당신에게 호탤가격의 약 60% 다운하여 40% 의 가격으로 당신에게 나의 숙소 룸 사용 승인을 하였다. 1년중 게스트가 가장 많은 시기 숙소는 사람의 소음이 있다! 이것은 게스트 하우스의 장점이다. 이유는 해외에서 사람과 사람의 만남의 장소는 게스트 하우스이고 모든 게스트들의 소통의 공간이다.
---
clean and tidy room with well organized amenities. But quite noisy due to it was not a noise cancelling room. 방음이 잘 안돼서 시끄러우니 이부분 유의하세요 그리고 스스키노까지 걸어서 15분 삿포로 역까지는 30분 걸립니다. 가쿠엔마에 지하철역까지는 걸어서 8분쯤 걸리는데 길이 좀 외져서 밤에는 무섭습니다. 방은 깨끗하고 넓어서 좋았고 화장실 샤워실도 매우 깨끗했지만 샤워실 화장실 한 층에 한 개 입니다 참고하세요. 바로 앞에 편의점과 드럭스토어 있어서 편리했습니다.
---
Thank you for visiting our house!
Our house is located in the city center offers a variety of convenient for travelers.
Traffic access
Take a limousine bus to go downtown to the airport!
Get off the platform in front of house house about 3 minutes to arrive.
When going to the airport, about 4 minutes on foot access
The city bus stop 2 minutes walk access
Sapporo subway station 6 minutes walk academy Station / Station 8-minute walk giku level access.
Restaurants and other lifestyle st
房源
** 특약사항
저희 숙소는 손님의 요청이나 숙소의 사정에 의하여 동일한 이용객수의 예약룸과 다른 룸간이동을 예고없이 제공하고 있습니다!
이점 숙지하여 주시기바랍니다!

Our house is homestay type. Hokkaido is the 17th year owner,
In addition, 46 years experience from Hokkaido will guide you to pleasant trip and the best place!
Above all, the accommodation focuses on maintaining cleanliness and offers cozy bedding, including a goose down comforter purchased at Daimaru Department Store, which is neat and luxurious for a relaxing stay.
We will help you make a special trip.
If you can use it as your home while traveling, you will not be any better.
Our hostel has a genuine guest kitchen.
All cooking utensils used at home are available and some seasonings are also available.
It takes about 4 minutes on foot.
You can also use the free bicycle.
We will guide you to your accommodation.
Airport limousine bus is very convenient!
Travel always accompanies heavy loads.
How to get to the hotel When you use the bus which is very convenient, you take your luggage from the bus and drop it!
Arrive at Toyohira-bashi platform and follow directions as soon as you arrive at the destination building.
It's easier than finding a hotel at the Toyohira bus stop!
It is not a good idea to use the railway and get back on the subway!
It takes time to get to the subway station from Sapporo Station.
So you have to pay extra for the extra subway fare and the heavy load and climb up and down many stairs.
Our house can be picked up at the airport, but it is a waste of each other.
If you take the airport bus, it takes about 4 minutes by foot (according to bus company information) (bus ride from airport to "Toyohira bus stop" 1 hour 5 minutes fare 1030 yen).
If you go to the first floor of international flight, you can get off at Bus Stop 65 / Domestic Route 22 at the bus stop "Toyohira-bashi"
(豊 平 橋) It takes about 4 minutes to get off at the platform and walk slowly.
It takes about one hour and five minutes to get to the airport if you use the bus platform in 5 minutes' walk.
Major sightseeing spots in Sapporo are concentrated in the city center area!
Our cottages are the best place to save your precious time and travel expenses, as well as the seasonal attractions you need to travel to Sapporo and Hokkaido,
And for the best prices for the price, you will be able to enjoy various events held in Odori Park and other places.
 Moving on foot?
Where to go! Sapporo's largest tourist destination! If you are on a walkable destination, you will save a lot of time and money!
Using public transportation to and from the city (sightseeing spots and restaurants) round trips are a waste of expensive travel expenses and trips that have made a break in a short time!
10 min. ~ 32 min. Walking distance from the hotel
Susukino - Nijoichiba - Tanuki Highland - Odori Park - Toyohira River - Peak Golf course - Zitosetsu (Cheongju Factory) - Old Town Government Building (Akaran) - Clock Tower Building - Sapporo Station
- Nakajima Park - Museum of Modern Art - Toyohira Park - Sapporo Factory - Shinto Tea - Misukoshi Department Store - Marui Mallu Department Store - Daimaru Department Store etc.
- From Susukino - Sapporo Station is the largest central downtown area in Sapporo! It is composed of ground / underground roads and connects to the whole subway and important buildings.
Walking nearby Restaurants nearby Restaurants
Sushitorito 7 min. / Ramen Sanpachi 5 min. / Seven-Eleven (check card, exchange without credit card fee) 30 sec / Soup curry 3 min
/ Duty-free shop Sapporo Drugstore 3 minutes (cosmetics, medicine, groceries, brewery, beer, food, food) The cheapest in Sapporo!
/ 12 minutes (Sapporo's largest hair crab restaurant) / Nanda On foot 15 minutes (unlimited meal buffet, crab dish, sushi, Genghis Khan, saury, dessert etc.)
/ Ramen Kozo, Genghis Khan Daruma 15 minutes / Genghis Khan Kirin Biru 11 minutes) / Hokkaido Biru 12 minutes (unlimited meal buffet) / Yukichi 12 minutes (fish course)
Sapporo factory first floor cooking hall
房客使用权限
Guests can use facilities
Bathroom 3 points / 2 points bathroom / kitchen, living room (limited hours)
Washing machine (contact manager)
First floor you can use refrigerator.
For breakfast meals ready to cook stuff!
(Lunch and dinner are not included)
For safety management
Guests booking a stay than others is unavailable House.
Man smokes a cigarette is a smoking place and get guidance to administrators.
Always use the kitchen gas use after receiving instructions on how to use the administrator.
Fire extinguishers are furnished porch and living room each room kitchen.
23:00 After the absolute silence!
22:00 living room lights off
与房客的互动
It is recommended that you create together a program to enjoy Hokkaido.
1) Hokkaido, enjoy Sapporo Travel Guide
The planning of the initial trip to contact us, try to design (Free)
The guidance of a practical price is inexpensive in travel-related companies to you.
2)It is not a rumor of good food, and will introduce feel the direct taste seen ourselves
Please contact us.
3) shopping and gift seafood is needed.
For seafood, please check the presence or absence of the amount of money and goods, depending on the time
4) Guidance and event information
The breakfast, prepared bread, milk, eggs, cereals, vegetables, dressing, ramen and more!
Guests can cook yourself a meal free!
其他注意事项
We have a guidebook for guests.
Please read this!
To our guests Sapporo event, Hokkaido tourist area guide, ACCESS Destination,
Japan's life experiences such services are.
Please contact us if necessary.
---
---
---
额外房客 $46 / 晚 (房客超出一人后的人均费用)
始终通过爱彼迎进行交流
为了保护您的账号隐私和付款安全,请不要相信其它任何平台的折扣或优惠券代订,并始终在爱彼迎站内转账和交流。
了解更多
---
Hostel (reserved) use, rules,
# 1 person, no appointment / more than 2 persons available!
# Always use the kitchen and get guidance on how to use the administrator!
(Hotplate gas equipment usage instructions)
# DO NOT SMOKE!
(When smoking accommodation refusal)
# Absolute quiet after 22:00!
(For the rest of other travelers)
# 23:00 after the kitchen / bathroom / living room use restrictions!
(The limit for the sleep of the other guests late jointly used facilities)
# Washing laundry, guest are required to contact the administrator!
All rooms are non-smoking and no-pet.
# For use in the kitchen and living room
A space for a all guest use.
The meals are available.
It is not possible to use it for a long time like party after 10pm.
---
---
---
---
Japanese is always best here tourist city Sapporo!

Is the central city of Hokkaido with Sapporo snow, clean natural environment,
Hokkaido travel
Is where it serves as a base camp, it is a city where there is a fresh and delicious food.
From the center of Sapporo Susukino There are NA House in a 10-minute walk away.
The peripheral NA House,
There is a beautiful Toyohira that can be trekking sucking the clear air early in the morning,
Odori Park through the Susukino across monopod, modern and contemporary
You can see the Sapporo figure coexist.
Sapporo in more than 15 years
In a living have experience, while exploring the important sights of Hokkaido directly,
Whether where is happy trip to the molar fun heart struck by feelings of travelers
Has been studied.
In Hokkaido and Sapporo
And where it was already well-known, it looks well in your thoughts
It has been introduced to Nukimu after seeing back looking for hidden attractions directly,
Short trip period
It operates a helpful tour guide to use more efficiently.
Four seasons is clear in Hokkaido, has beautiful unexplored region is hidden here and there.
The world can be changed if you happened to sleep every day, you want to you to show you to everyone,
Rivers and mountains and fields,,
Then you out on a journey in search of beauty visible.
And, I will present the information about the results to everyone
NA House, facing a 2015
I am waiting for the family to share the happiness.
As the best of the bedding to the newly made space in the renewal,
You comfortable resting place, you are ready to carry comfortably.
There is a comfortable and value, and we believe a safe trip to the first
** Photo of creating, is a service, such as Hokkaido coverage support.
** Only because their favorite camp I will camp life with you.
** By the travel guide tour is the ultimate goal of the trip to Hokkaido,
To the destination I will introduce the driver to carry safely.
NA House, will do our best so that you can return home to have a happy memories of Hokkaido.

Thanks you.

日本是在这里总是最佳旅游城市札幌!

是北海道的札幌与雪,洁净的自然环境的中心城市,
北海道旅行
是它作为大本营,它是一个城市,那里是一个新鲜和美味的食物。
从札幌薄野中心有NA House酒店有10分钟的步行路程。
外围NA楼,
有一个美丽的丰平,可以徒步吸清气一大早,
大通公园对面,通过独脚架,现代和当代的薄野
你可以看到札幌的身影并存。
札幌超过15年
在客厅有经验,而直接探索北海道的重要景点,
无论在哪里开心之旅摩尔乐趣心脏遭旅客感受
进行了研究。
在北海道和札幌
而且它已经熟知,它看起来好你的想法
据介绍Nukimu看到后面直接寻找隐藏的景点后,
行程短时期
它的工作有帮助的导游更有效地利用。
四季显然在北海道,有美丽的未开发的区域,在这里和那里隐藏。
世界可以,如果你碰巧睡觉每天更换,要你向你展示给大家,
河山和领域,,
然后,你出去寻找美容可见的旅程。
而且,我将介绍一下,结果给大家的信息
NA楼,面对2015年
我在等待家人分享快乐。
作为最好的铺垫到新的空间做了更新,
您舒适的休息场所,你就可以轻松随身携带。
有一个舒适和价值,我们相信一个安全之旅第一
**创造的照片,是一个服务,如北海道报道的支持。
**只因为自己喜欢的阵营,我会军营生活与您联系。
**通过旅游指南之旅是前往北海道的终极目标,
到了目的地,我会介绍司机进行安全。
NA房子,会竭尽所能,让你可以回老家北海道有一个美好的回忆。

感谢您。


日本人が常に最高ここ観光都市札幌!

札幌雪、清浄な自然環境を持つ北海道の中心都市であり、
北海道旅行の
ベースキャンプとなるところであり、新鮮で美味しい食べ物がある都市です。
その札幌の中心部すすきのから徒歩10分の距離にNAハウスがあります。
NAハウス周辺には、
早朝澄んだ空気を吸ってトレッキングすることができる美しい豊平川があり、
一脚渡るすすきのを経て大通公園まで、近代と現代の
姿が共存する札幌を見ることができます。
札幌で15年以上
生きてきた経験に、北海道の重要な観光スポットを直接探訪しながら、
どこが旅行者の感情に打たれ楽しく心に盛る幸せな旅行になるかを
研究してきました。
北海道と札幌で
すでに有名になったところや、自分の考えで良く見える
隠れた名所を直接探して戻って見た後ヌキムに紹介しており、
短い旅行期間
より効率的に利用するのに便利なツアーガイドを運営しています。
四季がはっきりして北海道には、美しい秘境があちこちが隠れています。
毎日寝て起きたら変えられる世界を、皆さんにお見せしにしたい、
川と山、そして野原、
そして、目に見える美しさを探して旅に出ます。
そして、その結果についての情報を皆さんにプレゼントします
NAハウスは、2015年を迎えて
幸せを分かち合う家族を待っています。

일본인들이 항상 최고로 여기는 관광 도시 삿포로!

삿포로 스노우, 청정한 자연환경을 지닌 홋카이도의 중심 도시이자,
홋카이도 여행의
베이스캠프가 되는 곳이고, 신선하고 맛있는 먹거리가 있는 도시입니다.
그 삿포로의 중심부 스스키노에서 도보 10분 거리에 NA하우스가 있습니다.
NA하우스 주변에는
이른아침 맑은 공기를 마시며 트레킹 할수 있는 아름다운토요히라강이 있으며
다리하나 건너면 스스키노를 거쳐 오도리공원까지, 근대와 현대의
모습이 공존하는 삿포로를 보실 수 있습니다.
삿포로에서 15여년
살아왔던 경험으로 ,홋가이도의 중요한 관광 명소를 직접 탐방하면서,
어느곳이 여행객의 정서에 맞으며 즐겁고 마음에 담는 행복한 여행이 될 것인가를
연구하여 왔습니다.
홋가이도와 삿포로에서
이미 유명해진 곳이나, 자신의 생각으로 좋아보이는
숨은 명소를 직접 찾아서 돌아본후 느킴대로 소개하고 있으며,
짧은 여행기간
더 효율적으로 이용 하시기에 편리한 투어 가이드를 운영하고 있습니다.
사계절이 뚜렷한 홋가이도에는, 아름다운 비경이 곳곳이 숨어 있습니다.
매일 자고일어나면 바꾸어지는 세상을, 여러분에게 보여드리고 나누고 싶어,
강과 산 ,그리고 들판,
그리고 눈으로 보이는 아름다움을 찾아 길을 떠납니다.
그리고 그 결과에대한 정보를 여러분에게 선물합니다
NA하우스는 2015년을 맞이하여
행복을 함께나눌 가족을 기다리고 있습니다.
리뉴얼로 새로워진 공간에 최상에 침구로,
여러분에 편안한 휴게소 , 편하게 모실 준비가 되어있습니다.
편안하고 가치있고 안전한 여행투어를 제일로 생각하며
**사진작성,홋카이도취재 서포트 등 서비스 합니다.
**자신이 좋아하는 캠핑이기에 여러분과함께 캠프생활을 합니다.
**홋카이도 여행의 최종목적인 여행가이드 투어를하며,
목적지까지 안전하게 모실 드라이버를 소개합니다.
NA하우스는 여러분들이 홋카이도의 행복한 추억을 가지고 귀국 할수 있도록 최선을 다하겠습니다.

감사합니다.



语言:
English、日本語、한국어