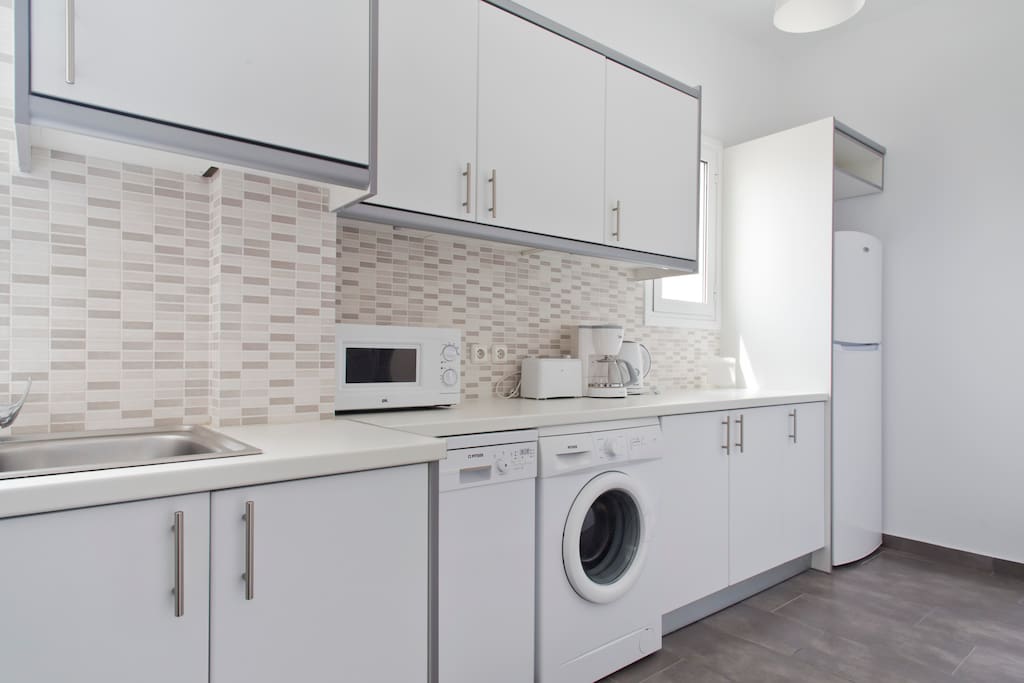 Center 4, Penthouse, Metro in 40m
This is a cozy 2-bedroom - 6 floor - 72m2 - PENTHOUSE with a great 30m2 BALCONY (10x3m).
Located in the very inner center circle of Athens, offers easy access to the Metro in 40m and 35 bus and trolley bus lines in 80m.

房源
Sleeps 4 people in 2 bedrooms plus 2 more in a double sofa bed in the living room.
There are also 1 folding bed (fits anywhere)
and 1 baby cot
There are: 3 Air-Conditioners - fast WiFi, 40" Smart TV - fully equipped kitchen - all electric devices.
房客使用权限
The apartment is located in walking distance to the great majority of the sites.
500m from the beginning of the Historical Center
1200m from the Old Town & the Acropolis
150m from the National Archaeological Museum
40m from the Metro
100m from the Central Orange Bus Station (to the beaches)
Taxi rank at the corner
---
---
---
---
- rates are based on 4 persons
- additional guests pay 15 eur/day for each guest after 4
- cleaning fee 50 Euro once/stay
- check in after 02.00 pm. - check out before 10.00 am (flexible when no other checking-in-out intraday)
---
---
---
Nikos is a true Airbnb professional. He manages things in a way that is straightforward and effortless, and he is extremely quick to respond. He also is able to give any recommendations and tips you might need. The flat is comfortable and clean, and while it may be a little impersonal, it offers a comfortable living room and an amazing outdoor deck. The strong points of the location are its proximity to the Archaeological Museum, the Victoria metro station, and the lively and historically interesting Exarchia neighborhood. But with Athenian taxis as affordable as they are, a more central location is hardly worth the price.
---
Appartement parfait pour une petite famille de deux enfants. Nikos nous a réservé un très bon accueil avec les bons conseils. Merci
Thank you dears Mari & Guillaume. A little comment: Apartment-Acropolis 35' walking distance with 2 little children, stopping every other step to see something new sounds normal. Other guests have done the same distance in just the half time (without children). The distance is about 1000m.
---
Aside from being a nice guy who gave us some good pointers upon settling in at our apartment in Victoria, there were a few things about Nikos: 1) He appeared to be sort of disoriented in the beginning... Was late, directed us towards the wrong apartment, picked up his phone while speaking with us. Guy didn't seem super professional. Either that or he's just really busy and tries to over compensate. Still, nice guy though. 2) We went to a restaurant he suggested, and he ended up being there at the same time as us. He immediately told us to put our menus away as he would order for us. We were under the impression that if he was ordering for us, that he would pay for the meal. That's the culture we come from... you order for someone, it's your treat. I don't think Nikos knew we were on a budget if he thought we would pay for a 4 course dinner (or that we needed a 4 course dinner for that matter?). Wallet took a huge hit that night... Unexpected. Didn't help that half the ATMs weren't working in Athens. 3) Nikos kind of failed to share that Victoria is considered a dangerous neighborhood of Athens. We were okay. But you definitely felt the vibe, especially when half the locals you met (including one of the cabbies) kind of made a face at you when you told them you were staying in Victoria. So yea. 4) Nikos, God bless his soul, but I'm not sure if he's ever walked to any of the places that he said were "walking distance" from our apartment. Besides the national archaeological museum, not a whole lot of things to see were within walking distance. We took cabs everywhere as most sights to see were about 4-5 km out. Can't expect to walk that much in +30 degrees Celsius weather. 5) No complaints about the actual apartment. He disclosed everything we needed to know in the ad and in the message he sent us once we booked. He also stuck around for a little bit as we settled in and told us a few things to keep in mind about the place. Overall it wasn't a bad experience. We had a great time in Athens and Nikos provided a clean space for our stay.
Dear Inderpal, I'd like to thank you for recognizing that the apartment was nice, clean and as described in my ad, that I am a "nice guy" (...!!) as well as I took some time to explain the apartment's and area's amenities (no surprises here as this is what I always do it). Even if I find the whole thing ridiculous I'll take some time to give my point of view on the issues you mention. I understand that it took you time to write this…book and I feel obliged to return the curtesy: 1) As I let many apartments in the area, yes I made a (human) mistake and lead you to the wrong apartment. The last 500 times I didn't make this a mistake…!! The right apartment was just at the other corner of the block. It took us 1 minute to change. Am I disoriented in your vocabulary? I wasn't late at all. We both arrived at the same time, I stopped my car in front of you and asked you to wait a minute while I was looking to park. 2) The question always made from my guests on arrival is where they could find a nice local and genuine Greek restaurant. You made the same question and I gave you 4 restaurants. Two days later while I'm having lunch in one of them, you and your friends, all of a sudden, appear there telling me that you are starving. As I had finished my lunch, I sat with you and, answering to your question on the menu, I recommended a few of my favorite courses. It's you and your other 3 friends who decided which ones to order no matter if you followed my recommendations or not. Correct me if I'm wrong but the prices were in the catalogue (catalogue in English language…!!) ... or not?? Me, to pay for your lunch? I wonder why such a thing crossed your mind, or it would be convenient to you if I did... (you were on a budget as you said). I didn't invite you for lunch, you found me there, remember? In your "culture" (your words), whoever is being polite with you is obliged to pay your lunch..??? 3) Athens is a very safe city, except of a few pick-pockets in the Metro we almost have zero criminality. Of course you were OK living there, as they were OK all the other guests of mine who have stayed in my apartments in the area. Glad to hear saying that. Your assumptions are not based on facts but in your imagination since I don't believe your stories about …cabbies' head shaking. 4) Whoever takes a look in (SENSITIVE CONTENTS HIDDEN) Maps and counts the distances (there is a tool for this thanks to (SENSITIVE CONTENTS HIDDEN)) is able to see that you either lie, or in your "culture" you have different measurements to count the distances (I'll not mention your origin in order to avoid insulting other innocent people from your country). The Historical center starts right after Omonia square, in about 700-800m from the apartment's door, that is about 10' walking. The National Archaeological Museum, once you mention it, one of the must see in Athens, is in just 150m from the door (2-3 minutes). (SENSITIVE CONTENTS HIDDEN) maps don't lie, but you do. Cabs: an average taxi fare in the central Athens is 4-5 EUR for 4 passengers, when 4 tickets by the metro or bus is (PHONE NUMBER HIDDEN) EUR. So, why you mention the use of taxis as a downside? This is the smartest and cheapest way for 4 people to move in this city. Conclusion: I find you very absolute and strict for a 24 years old young man. To me this shows inexperience of the world. Life will soon teach you that things are not only white or black, not to say that most of the times all colors are on the table. You should be more open-minded. I don't excuse your comments in this review, your intention is obvious to me even if I can't understand why. I regret that in MY REVIEW, I recommended you to the future airbnb hosts. If I had read your review I would have warned them to be very careful with you since they wouldn't know what to do (or not do) in order to protect themselves from your bitter tongue. We have only met twice, once on arrival (when everything was OK as you say) and the second time by luck in the restaurant two days later. I assume that it was then that you decided to "burn" me with your review. I'm glad because you yourself mentioned the reason (...the bill of course that I didn't pay...sorry about it..!!). Hopefully I have many other reviews written by people from of other "cultures". You are just a "statistic exception" to verify the rule. Nikos
---
Nikos is a professional in this line of business, his advices were perfect and we had the best food in Greece. We had a great stay at his apartment and the location he gave us was quite close to the metro. He also allowed us to have a late check out as we had our return flights in the evening.
---
Hi, I'm Nikos, living and working in Athens for almost all my life, except of a period when I was working for a multinational firm and been living and working in many European countries.

I am married to Kiriaki and we have 2 sons.

I own and manage many apartments in the very inner center circle of Athens (some of them beside the Metro, in 30-50m) and a few others in the larger Athens.
All of them are either brand new or recently fully renovated.
Depending on the apartment, they dispose free private Parking, extraordinary views of the city, Smart TVs, Satellite TV connection (1200 free channels), etc. They all beautifully decorated and dispose fully equipped (for long stays) kitchens, 42-50" LED TVs, Home Cinema, DVD collection, WiFi internet, A/C in all rooms, outdoor space (terrace, balcony, patio).

What I love mostly in my work is to meet different people & cultures from all over the world and to share our experience of life.
What a wonderful feeling is when my guests thank me after having spent some unforgettable time in one of my apartments in this great city - Athens.
I wouldn't exchange this for the world.

I'll be very happy to host you in one of my apartments and provide you with all necessary information and tips on what you "must see", where and how to go, where to eat (and where not...!!) and so make your life easy and save a lot of your vacation time.

I can organize your transports inside/out of Athens (with VIP vehicles), starting from your pick-up from/to the airport, then a tour around the sites of Athens or a short daily escape to the larger Attica or your trip to Delphi, Mycenae, Epidaurus, Ancient Olympia, etc.

Don't hesitate to contact me for further charge...!!).



语言:
English、Français、Italiano、Ελληνικά