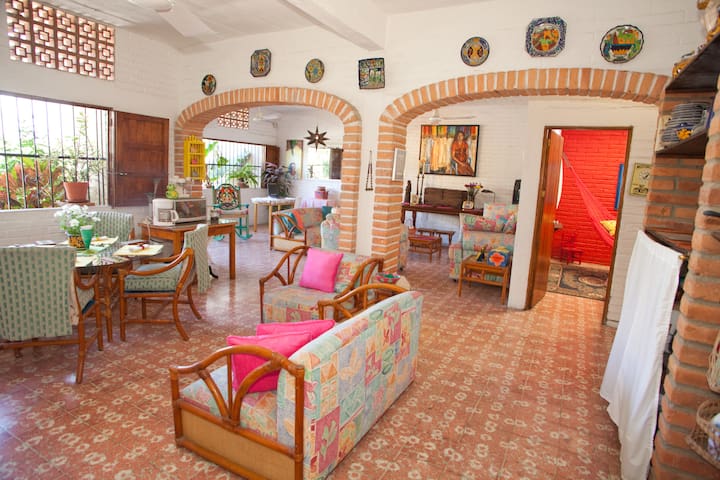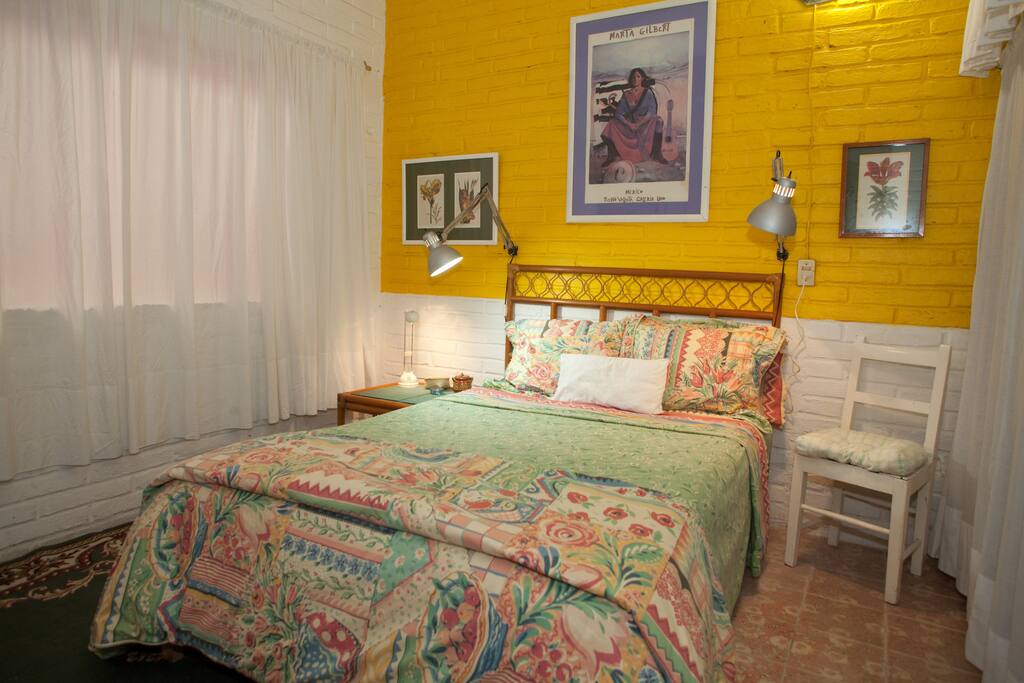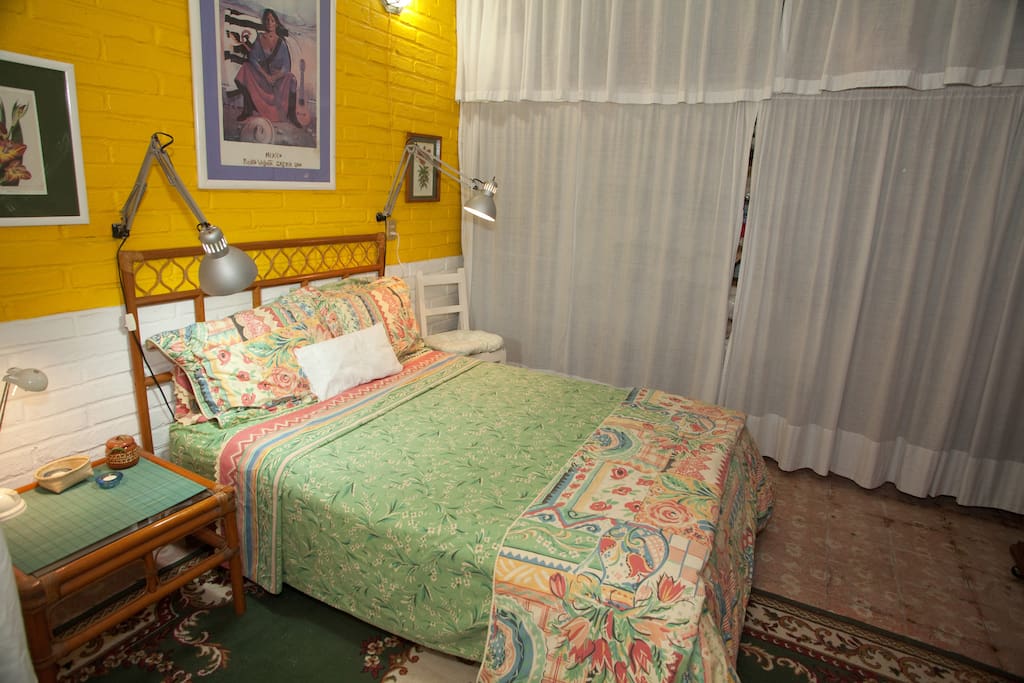 Heidi Hammock Hacienda PV Mexico 2
The weather and the beaches are perfect. Guests request this room after staying in it and sleeping in as we tip toe around waiting for them to awake. Sweet really. This is a double bed .This room has no outside window. People who have trouble sleeping love this (URL HIDDEN) a single and a queen as well. Authentic Mexican neighbourhood and a home that is safe, friendly, clean, comfortable and beautiful.
Serving a continental breakfast. 20 min walk to the beach or less.
---
---
---
YOU HAVE TO ENJOY YOUR HOLIDAY HERE IN PUERTO VALLARTA AND THE SURROUNDING BEACHES.
RELAX AND DO SOMETHING SPECIAL EACH DAY.
BE AS GOOD TO YOUR HOST AS
SHE IS TO YOU.
COME BACK AND STAY WITH US AGAIN.
Smoking cigarettes is allowed outside of my home. There is a small garden out front and a private patio out back.
---
---
---
---
Heidi is an excellent host who truly takes care of her guests and treats them as if they were family. She is very knowledgeable and helped my boyfriend and I navigate Puerto Vallarta. She gave us tips on where to go, how much things would cost, and even called us cabs when we needed them to get around. She's a very fun and hospitable person. We will definitely go back!
A very cute couple. Keen to explore and enjoy life here in town. Enthusiastic and positive. Hope their visit was all they hoped for. I can still see their smiling faces. Hope you come back some time and we can do it all over again. Will try to get up to that place in the mountains something Patricia's wasn't it ?
---
I had a good experience staying there. I felt at home.
---
Heidi is great and a lively person, very helpful if you ask and her house has a true mexican feeling. Her home is not a turist zone, but close to it by local bus for full experiance.
Very sweet and his son is cute too. They blew in and I packed them off to the beach to swim and enjoy the sundown. Didn't see them that night or the next morning when they headed out again. So much fun here and they are keen to explore. Hope their last day today is a wonderful as the last.
---
I've stayed in a lot of AirBnBs in several different countries around the world and none of them compare to Heidi's place. Part of that is because the home is beautiful, but also Heidi is just a pleasure to share space with. Warm, welcoming, and she even went the extra mile to organize a celebratory dinner because she knew it was my birthday. She got a cake and everything! As enticing as it may be to stay in a resort on the beach, I wouldn't have changed my mind if I had the option to. I can't imagine staying anywhere else if/when I visit Puerto Vallarta again. I'm glad Heidi, Betye (her house assistant), and Piper (her dog) were part of my trip.
It was a lovely week. Usually I have guests and they rush out the door alot. This past week I was blessed with Tempestt and 3 other guests who were happy to hang out and gell here. Cooking and reading and on the net and napping. We all went out to dinner for Tempestt's Bday and the Mardi Gras parade here which was a hoot. Friendly cosy week. I really enjoyed her company and hope Tempestt comes back to hang out with me here again.
---
Terry and I hail from the same part of the world. At least we both started out there. Felt like having a cousin visit. English from Quebec. Didn't see him a whole lot in the 2 days as we were on different shifts. Night life here is really fun and I used to go out alot 20 years ago. Not so much now. So it was fun to see someone on that schedule and having a delightful time.
---
Staying with Heidi is synonymous of staying in your home but with the advantages of being in vacation. Is a nice, safe, and above all pleasant place that makes you feel like not returning to your routine. It is an experience totally different from the ones offered by hotels and makes you feel more a member of the family, a neighbor and of course one more habitant of the beautiful city of Puerto Vallarta. I truly recommend Heidi´s Hacienda to anyone going to Puerto Vallarta. Is cheap and gives you a grateful vacation.
Very sweet. His English is better than my Spanish. Came for a wedding. So busy and I didn't get to spend much time with him. Luckily this morning before driving home to Guadalajara we got to have breakfast together. A fine young man. Needed to buy coconut candy for his Mom. Perfect.
---
I've been home for just a few days and miss Heidi's warm, colorful, inviting home already! She was so sweet and helpful, making sure I felt comfortable, was well-fed, knew where I was going, and had everything I needed. Coffee was great, breakfasts delicious, rooms clean. I spent the first half of my trip staying in the hotel zone and much preferred my time here, a little ways outside of downtown, in a more residential neighborhood, where I felt closer to the heart of Mexican life and culture. I could not recommend staying here enough and definitely hope to return!
Although not a religious person I have been blessed again this year with a plethora of interesting and kind guests who love my home as much as I do. ELLEN was no exception. I love bright creative young people and ELLEN is one. I hope her fab new business thrives. She makes mucho bucks and comes back here soon.
---
I have good people skills and I grew up working in my Dad's resort hotel. So as a child I worked at different jobs there growing up. Now I love having guests in my home. Puerto Vallarta and the surrounding areas are outstanding when it comes to a winter vacation as the weather is unbelievable and consistently fabulous. I am in my late 60's on the outside and still somewhat of a child within. Left home very young and travelled far and wide for years. Speak english, spanish and french. Love kids and gardening. Never married or had kids. My partner of over 30 years Arturo
has been gone for 6 years now. Life seems to be about changes and realignment and charting fresh exciting courses. Let me know what you dream of doing while in and around Puerto Vallarta and I will do my utmost to help fulfill them. See you here I hope. Chao for now.

语言:
English、Español、Français