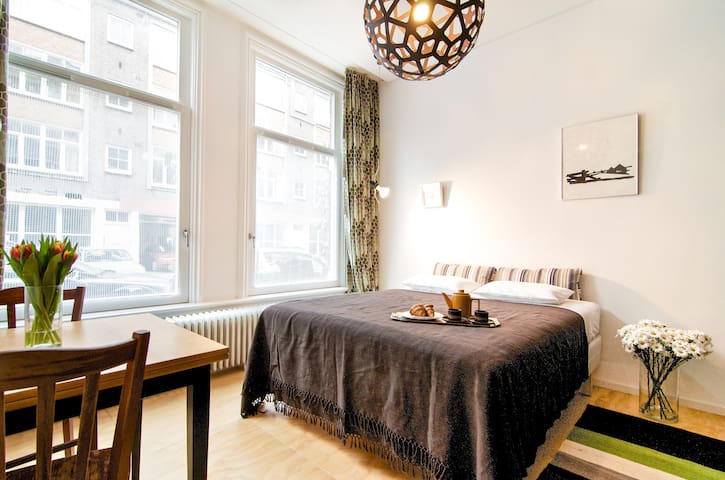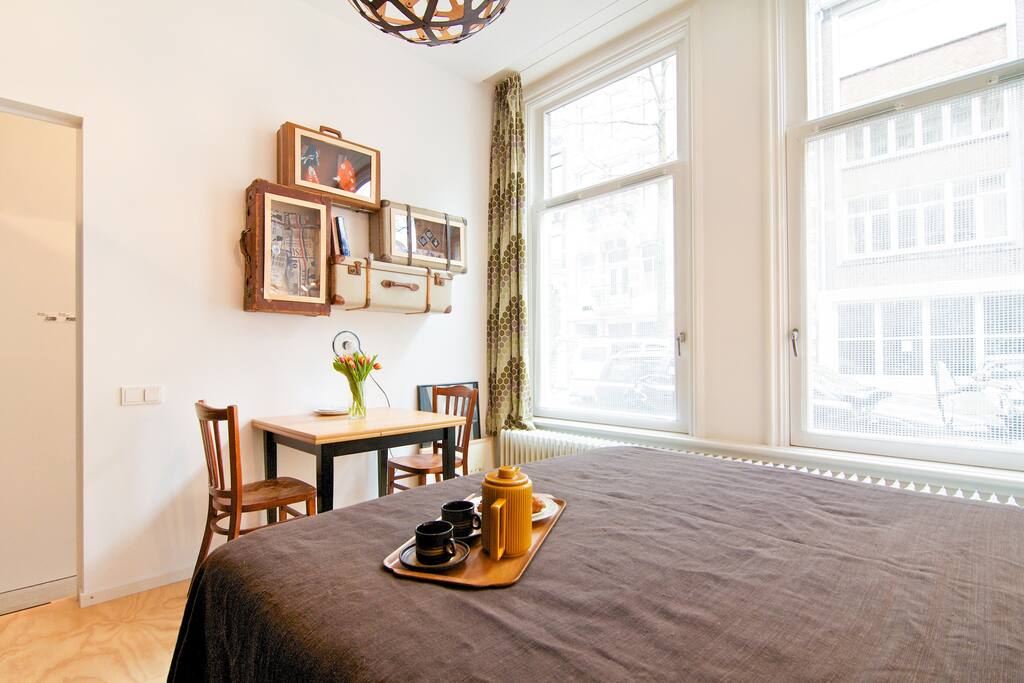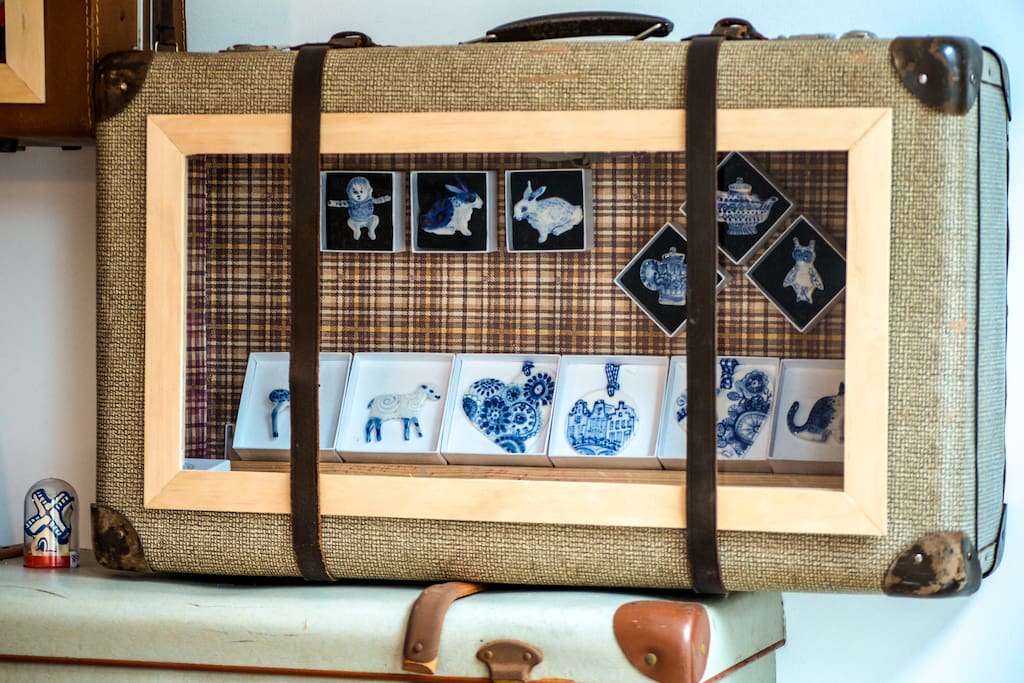 Amstel Nest - an urban retreat
Amstel Nest酒店是一家新装修的客房,适合那些正在寻找优质住宿的客人。 我们位于Amstel Riverside Boulevard的一条安静的小巷,您可以在那里漫步,品尝真正的荷兰国内文化,没有仓促的游客交通。我们的地方在一个越来越受欢迎的住宅区与轻松的气氛,虽然一个也可以找到一个迷人的,时尚的当地咖啡馆和餐馆在拐角处。
Amstel Nest is a newly furnished guest room for those who are looking for a quality accommodation.
We are located in a quiet side street of Amstel Riverside Boulevard where you can take a stroll, taste the genuine Dutch domestic culture without the hasty tourists' traffic. Our place is in an increasingly popular residential area with relaxing atmosphere, though one can also find a handful charming-, stylish- local cafés and restaurants just around the corner.
---
Wir haben uns sehr willkommen gefühlt! Das Haus ist sehr schön. Es ist ruhig gelegen und dennoch in direkter Nähe zum Zentrum. Wir sind meistens zu Fuß ins Zentrum gelaufen und haben nur selten die Metro genutzt. Fang & Rob sind sehr freundlich und hilfsbereit. Sie haben sich Zeit für uns genommen und uns viele Tipps gegeben (Sehenswürdigkeiten, Shopping, Cafés,...) So haben wir auch viele Tipps bekommen, die nicht in einem Reiseführer zu finden sind. Wir haben die Zeit sehr genossen. Herzlichen Dank Fang &Rob!
---
The place was beautifully organized and felt like a perfectly personalized hotel room. The room is secluded and private whilst sharing a space with Rob & Fangs family. Rob and Fang were incredibly helpful hosts and have a family-friendly environment. Highly suggest this AirBnb to singles or couples traveling through Amsterdam!
---
We went about planning our trip in Amsterdam in the following way... Price...hotels are pretty expensive. Rob an Fang's place is a little more expensive than we spent on other AirBnB's on our trip but much better than hotels. Location...Central City is great for the party times. If you want to see what the Dutch do in their city life, this is a great location. We walked or took the tram to most places. The Amstel River is right there! Private Room...Sleep, dress, shower. If you wanted to bring a few things in from a store, you have a small refrigerator. We slept until 9am and didn't get back until after 10pm... Open windows to the street cool the room...but you can hear most conversations, construction activity and rolling luggage carts of other tourist in the area. Rob takes the time to make sure you are planning a great tour of the city. We thoroughly enjoyed getting to know their Dutch Lifestyle and flow of the day (don't get that at a hotel).
---
My boyfriend and I visited Amsterdam for the first time and truly fell in love with the city. That is partly do to our incredible hosts, Rob and Fang! They were extremely helpful from the very beginning by taking the time to show us on a map the various essential spots to visit in the city. It was very easy to communicate with them and they were always friendly faces around the home. The location is ideal if you'd like to be close to the city center, but not directly in it; it's about a 20-30 minute walk to the city center. The room is street level, but it is relatively quiet. It is located right off the main hallway as soon as you enter the unit. There is an innovative closet space that Rob designed that also functions as the sink/shower space. You have room for some clothes, microwave, mini fridge, glasses, and mini coffee maker. There is also a custom-made sink and stand-up shower, which is adequate for a single person to use at a time. A few doors down the hall, is a toilet and sink that is shared during the day but private at night. The room is spacious and bed is comfortable. We will certainly miss our nice conservations we've had and would surely recommend their place!
---
Fantastic hosts & extremely friendly. Rob, Fang and their family made us feel very welcome with a helpful guide to the area and great recommendations to restaurants & trips out. Complete privacy when needed and a lovely accommodation for anyone. Would recommend to all looking to experience Amsterdam.
---
This place is in a great location. You are able to walk or bike to just about any location. Fang sat down with us right when we entered, made us tea, and showed us all the locations we could visit while we were there. We were able to go to some nontouristy areas that were pretty hip and cool because of their help. Even though you technically share a house, it is very private. You pretty much have the entire front house to yourself. This includes a bathroom, shower, and place to make food.
---
We are a family of 2 kids and 2 creative entrepreneurs, working at home with few independent projects.
We love making 'slow coffee' with fresh grained coffee beans, and share it with our guests. We enjoy improvisational travels, and have tips about hidden treasures (café & boutique stores) in Amsterdam.

Besides Amstel Nest, we are working on Architecture In a non-profit website that welcomes everyone to share stories about architecture around the world with a focus on sustainable development. Welcome and thank you for staying at Amstel Nest! Your stay will contribute to the development of our projects and particularly sustain the activities of Architecture In Development.
语言:
English、Nederlands、中文