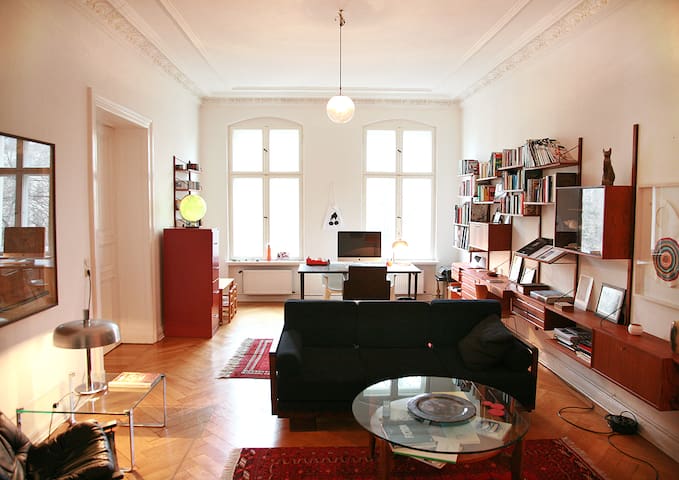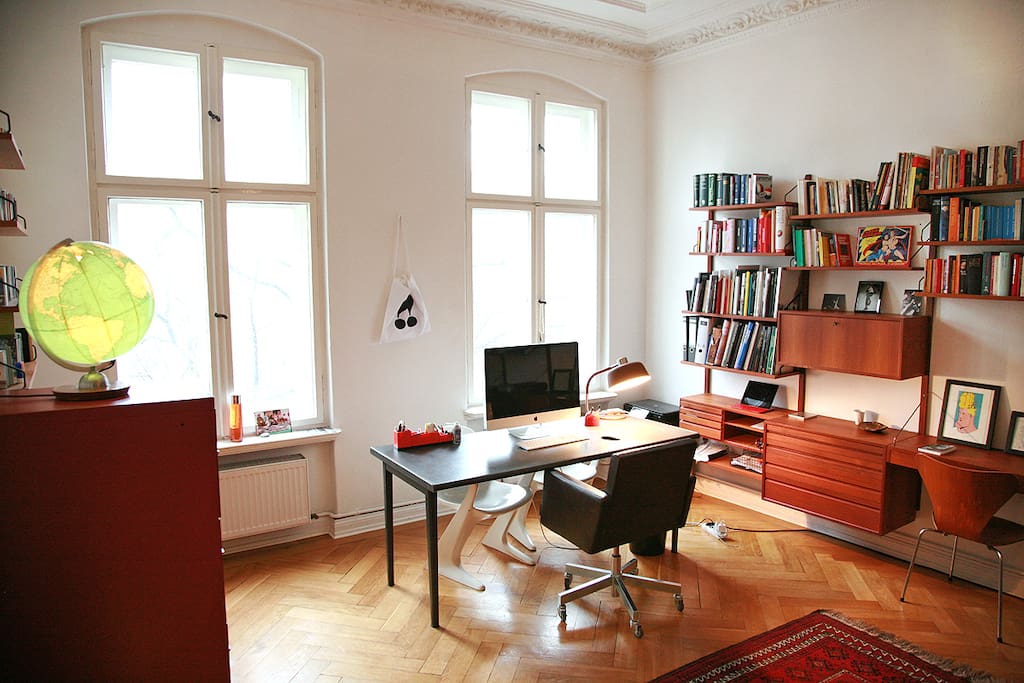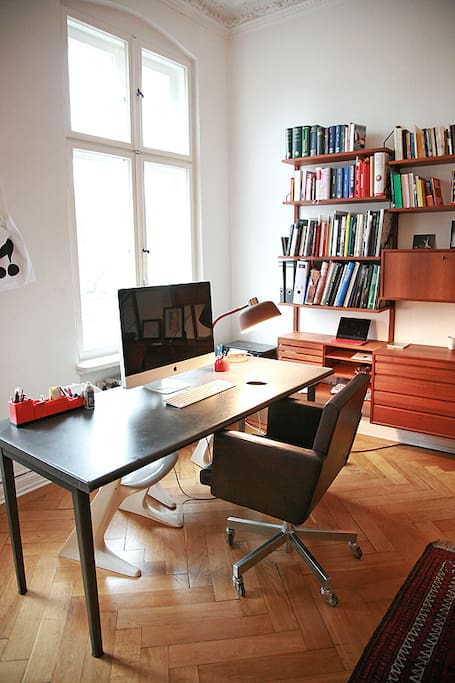 This centrally located Kreuzberg apartment is large and bright, tastefully furnished.
The apartment has 3 bedrooms. A large room with a double bed, which can be split in to two single beds and a small bedroom with a double bed and a children room
---
Bessaam's apartment is large, airy, stately and contains an eclectic assortment of wonderful furnishings. It is a pleasure to spend time in the apartment. The kitchen is well equipped for any cooking and there is a grocery store on the corner and a indoor market with vendors of everything you could want about a 15 minute walk away. The master bedroom is spacious and the king bed was very comfortable. The second bedroom, with double sized bed is very small - just big enough for sleeping, no room for luggage etc. The apartment is up 3 large flights of stairs, which gave us a workout. But the view is of the trees and there is good sound insulation when the windows are closed. It is very convenient to the bus and a ten minute walk to the U-Bahn (subway). Very nearby is the delightful Mr. Minsch, a delicious cake shop and cafe that we frequented regularly. It was quite warm during out time in Berlin but the apartment never got hot or stuffy. A very pleasant stay, thank you Bessaam!
---
One of the best Air BnB apartments I've ever stayed it. Magnificent, spacious light-filled, amazing location near transport. Communication was perfect, we were greeted on arrival, and had communication during our stay to make sure everything was ok. 10/10 and 5 stars. Very highly recommended.
---
Bessaam's apartment is by far the most stylish that we have ever stayed in. If you are interested in art, design, or interesting and stylish furnishings, this is the place for you. It is also huge, extremely clean, and comes equipped with all of the things that are good to have when traveling: a fully stocked kitchen, a washing machine and detergent, a nice audio system, tons of towels, etc. There is a grocery store across the street, a U-bahn station a 7-minute walk away, and the area is full of cafes, restaurants, shops, etc. There are also a couple large parks, and lots of smaller playgrounds, within a short walk, great for travelers with children. Because Bessaam's apartment is so nice, and so full of paintings, statutes, and other art, I would hesitate to recommend it to families whose children might be prone to running around, knocking into things, or playing with whatever they find. And it is probably a bit pricey for travelers who are mostly going to use the apartment as a place to sleep. But the apartment is beautiful, in a great location, and the photos are absolutely accurate, and Bessaam was great about communicating and checking in to see if we had any questions or other issues. We had a very good experience staying at Bessaam's apartment and would definitely recommend it to others.
---
This is a wonderful apartment. Huge! Two really great living rooms to spread yourself out in, lots of nicely designed furnishings and striking art pieces and art and design books. The place is beg enough that we didn't even find the third bedroom (a kid's room) for the first two nights. Location is also great, very near all the cafes and bars in central Kreuzberg, Ubahn nearby, and 30-45 mins walk to lots of stuff in Mitte. One note just to be aware of. The main bedroom is absolutely superb, but the two other bedrooms are both compromises. One has a double bed, but feels quite claustrophobic because it's only just bigger than the bed (although with a very high ceiling, while the other bedroom is nice, but set up as a kids room, and with a midsize bed that nobody much above 1m65 should sleep in
---
Bessaam's apartment is in a wonderful neighborhood in Berlin. We enjoyed the cafes, restaurants, and nearby shops. We were close to public transportation and my relatives were always able to easily find a car nearby on their car share program. The apartment has big, beautiful windows, a well-stocked, kitchen, and a comfortable master bedroom. The biggest disappointment was that the third bedroom was really, really small. It barely fit a double size futon. The futon was on a twin size futon frame and the bed would slide around. It really was uncomfortable and my son would wake up half off the bed. Although there is a washing machine, the dryer was not working, which was inconvenient. This really is Bessaam's home. You are staying in the midst of all of someone's stuff. The fridge was about 1/3 full of his food and condiments. He was concerned about a package arriving and contacted my Berlin relatives about it. Later he stopped by. There were a few things broken or flimsy in the apartment. The plug to the bath tub was not on the chain and had to be dug out overtime we took a bath. The shower is very slippery and two of my family members slipped and sustained nasty bruises in the shower. The blinds in the bathroom were old and came off the first time someone tried to gently pull them up. Overall the positives outweighed the negatives and I would recommend Bessaam's apartment, especially for the wonderful location.
---
Hi, I am Bessaam. I am from Belgium living in Berlin since 8 years.
I am the advertising manager of DAMn° Magazine since 14 years!