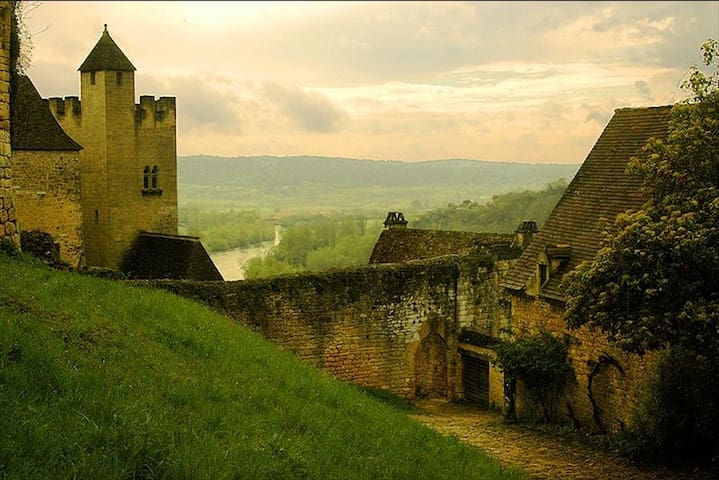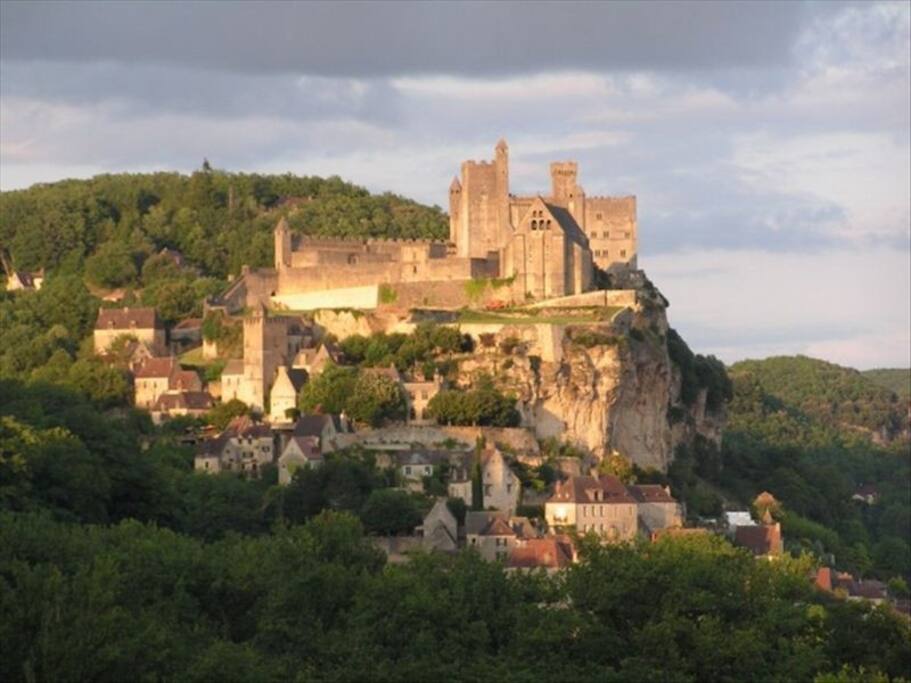 Medieval Cottage Next to a Castle!
Resting atop an enchanting Medieval village and right next to a pristine castle lies La Maisonnette du Coteau. Recently renovated, this exquisite cottage offers numerous luxuries, while maintaining a deep respect for it's Medieval roots.
---
My family and I stayed almost 10 days at La Maisonnette and enjoyed an amazing time there. The house was perfectly clean, tidy and carefully arranged with high qualities amenities (bed, kitchen...) and a nice decoration. The house is so well located at the heart of the village offering many opportunities to discover and visit Le Périgord. And we were so warmly welcomed with many tips and helpful informations. I highly recommend to stay there !
---
Ben's home is a lovingly restored stone French 'maisonnette ' , the photos can't begin to capture how beautiful the home and setting is. Outstanding ! We especially enjoyed siting in the garden eating and drinking what we picked up in a nearby market and enjoying the views of the Dordogne valley and castle from the 1st floor window. Check-in was seamless and Ellen extremely helpful and friendly. Would not hesitate to recommend this beautiful home.
---
My wife and I stayed in La Maisonette for four nights (originally we booked three, but had to add another!), we also had two friends join us from London for a few days. We were all in agreement that the place is simply stunning!--the setting in Beyanac-et-Cezenac is heavenly. The cottage itself provides the perfect platform from which to explore the castle (literally right next door, and a genuine treat on its own) and the immediate surrounds, where you can perch yourself on a myriad of vantage points to glimpse the glorious beauty of the Dordogne and its sprawling valley or wander down into the old town area (albeit via very steep cobblestone paths) to find drinks and dining. Or, if the walk is a bit challenging, there are a couple of very nice restaurants adjacent to the castle, with some amazingly helpful and friendly staff. La Maisonette itself is full to the brim with gobsmacking wow-factor. Beautiful decor and abundant charm coupled with everything you need for a fully equipped, self-catered stay. Ben is a great host with excellent communication. We were able to easily arrange contact for meeting either Elly or Martine (caretakers, as Ben lives in the US) on-site for check-in and an introduction to La Maisonette. Everything was great, stress-free, easy... Henry Miller once wrote something to the effect of "seeing the Dordogne region is something to be grateful for all of one's life"--he's not wrong, and La Maisonette is the perfect place to do it from. We'd be truly blessed to stay there again if the chance arose (we live in Australia), and we wholeheartedly recommend this airbnb to anyone.
---
This historical cottage that has been restored to a high spec. Beynac is quaint and centrally located in the Dordogne. The staff are well organised and helpful. The property may not be ideal for those who have limited mobility as it is located on the public walkway below the castle. We were delighted to be able to spend some time at La Maisonnette and thank Ben for his attention to every detail.
---