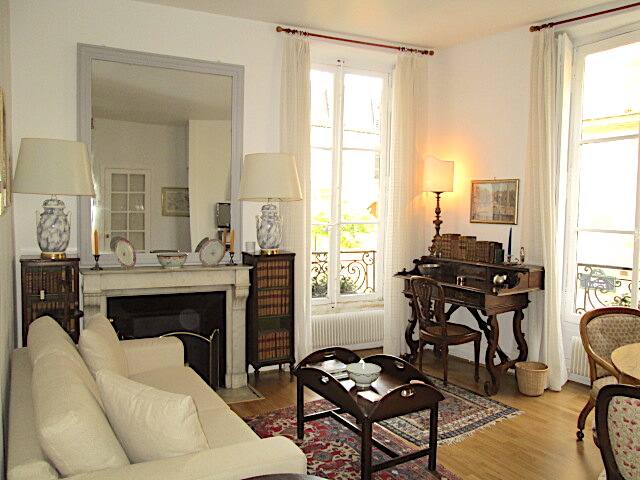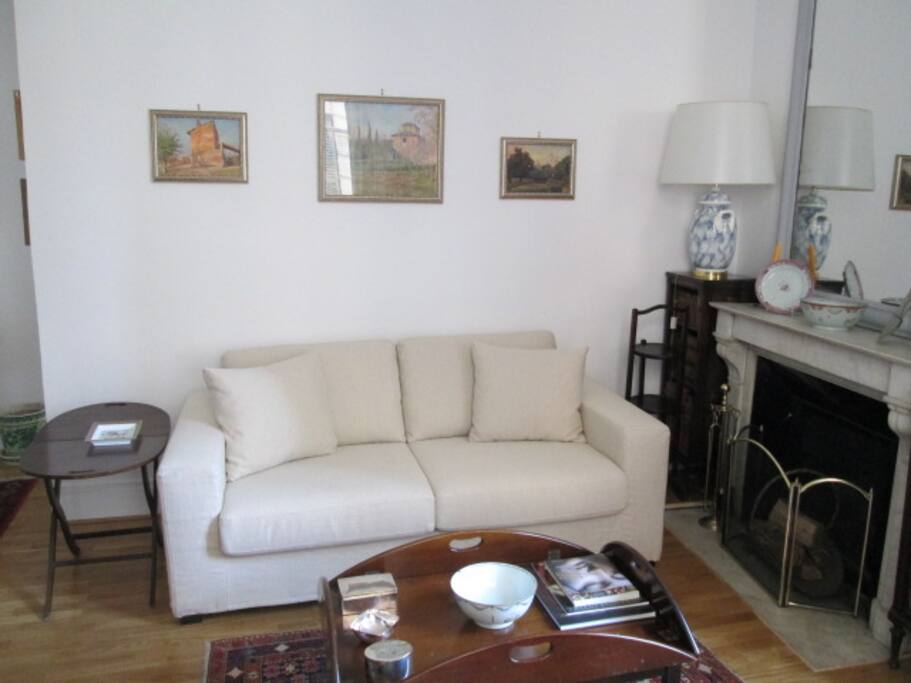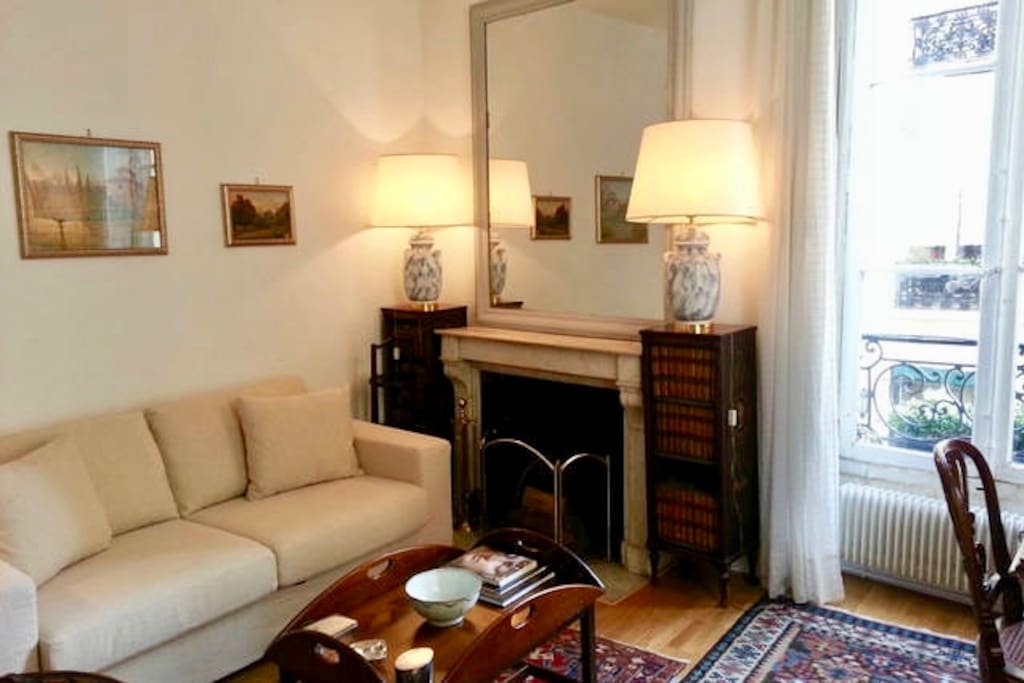 Très bel appartement de 40m2 dans un bel immeuble du 17ème siècle, très confortable pour 2 personnes, lit d'appoint dans le salon. Décoration raffinée, meubles anciens, peintures. A deux pas du métro Sèvres Babylone et de Saint Germain des Près.
房源
L'appartement se situe au 1er étage, il n'y a pas d' ascenseur dans l'immeuble.
Il se compose d'un beau salon éclairé par deux grandes fenêtres. Les fenêtres sont équipées de volets intérieurs en bois.
Une belle cheminée, un canapé convertible qui peut servir de lit d'appoint pour un adulte.
Un bureau, une table de salle à manger et des fauteuils.
Une télévision avec des chaînes étrangères.
Dans la chambre vous trouverez :
- un lit double confortable en 160 cm, des placards, deux grandes fenêtres avec volets en bois, un joli écritoire.
La cuisine est entièrement équipée, machine à laver la vaisselle, machine à laver le linge, belle vaisselle.
Une salle de bain avec fenêtre, équipée d'une douche et lavabo.
Vous aurez l'internet haut débit dans tout l'appartement, nous vous fournissons des serviettes de toilettes et les lits sont préparés.
Le quartier est très agréable pour des balades dans ses belles rues calmes, à pied vous rejoindrez la Seine, Saint Germain des près.
Le métro Sèvres Babylone est à deux pas.
De nombreuses lignes de bus pour visiter Paris.
---
This is a wonderful apartment, centrally located, just over the 6/7th line into the 7th, a half a block from Bon Marche. It is clean and safe, kind of in a college neighborhood. You would think this was a professor's apartment because of the books, original paintings and classical music discs. The interior is quite nice with two fire places (not to use), oriental rugs, and nice "antiques." Small, nice kitchen with dish and clothes washer, no dryer. There is a nice fridge, coffee maker, etc. The bathroom is new and plenty of hot water, no bath tub, just a shower. Nice, seriously. We spent a very happy week here.
---
My teenage daughter and I had a comfortable stay at the apartment. It would not suit more than 2 people, or a couple with one child. Bali met us with orange juice and croissants, which was nice because we had been traveling for 24 hours and were quite jet-lagged. She gave us perfect directions to use public transit to get there. The location is so convenient to good museums, shopping and great food options, restaurants right around the corner including the oldest restaurant in Paris, La Petite Chaise, where we had an excellent dinner with good service, and also including the Grand Epicerie, like a Whole Foods Market but elevated to the height of sophistication. It was around the corner from a metro stop and so we were able to get to Gare Montparnasse in 10 minutes for our TGV train out of the city. Comfortable beds, my daughter slept on the fold out in the living room and that doesn't leave much room for moving around, but that was ok for us. Lots of hot water in a good shower. We didn't cook much in the cute little kitchen, but people who want to should be advised there was no exhaust piping for the fan over the stove. Laundry machine worked well, with a folding rack for drying clothes. The apartment is old-fashioned, with floor and tables that are a bit out of level, if that bothers you. It didn't bother us. The windows and shutters have cool old-fashioned metal hardware. The curtains are sheer. This was mostly fine for us, as we had some cool weather, but if it had been warmer we would have been uncomfortable. It is not possible to block out the constant streetlight at night without closing the shutters, which closes off all air circulation. Not sure what can be done about this. Sleep with the windows open and an eye cover, I guess. And ear plugs, for while the apartment is not on a busy street, it is tucked between the Boulevard St. Germain and Boulevard Raspail, which are busy. On the other hand, I felt safe walking around at night, and stayed out late by myself to watch some of the Euro Cup games at local bars. The apartment security was good, with two locked doors at street level and a good lock on the apartment door up one flight of stairs. We stayed for 5 nights. On the down side, on the last night, we experienced a constant infiltration of cigarette smoke into the apartment. We weren't sure where it was coming from--not outside, as the windows and shutters were closed. It was either coming through the stairwell from another apartment or through some vents of which we were not aware. Someone or more than one was staying up all night smoking, and we got to breathe all their exhaust. It was not good. I am glad it did not happen before the last night, or it would have made our...
---
Bali was at the apartment when we arrived. She invited us in and showed us around. The apartment is old, but kept up rather well. The convenience of its location to grocery and the Metro made this a perfect location. We did spend most of our time out, however I remember one rainy Sunday where we just chilled in the apartment, very relaxing day. One big advice, look into a app called (SENSITIVE CONTENTS HIDDEN), it's a wifi text application, it was the easiest way to reach Bali while there. In summary, both Bali and the apartment would come highly recommended.
---
Bali was very prompt, responsive and completely fulfilled her promises. The apartment was clean and charming with many resources to explain the culture and highlights of Paris. Bali was able to accommodate our uncertain travel logistics. She was helpful by providing local references for food, shopping restaurants and local travel. I would work with her again
---