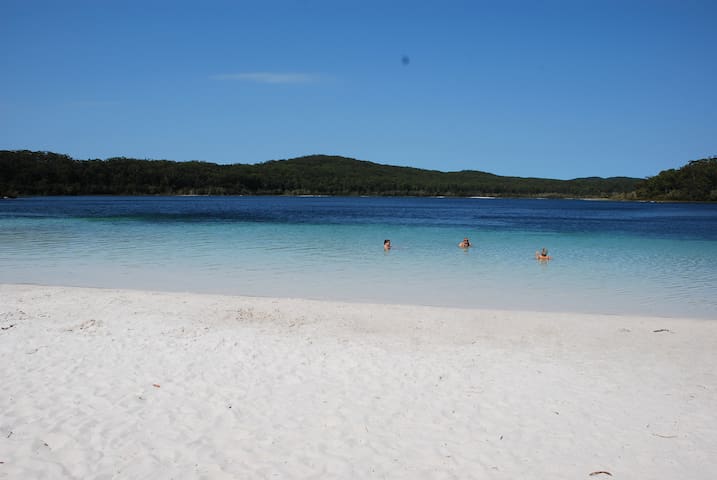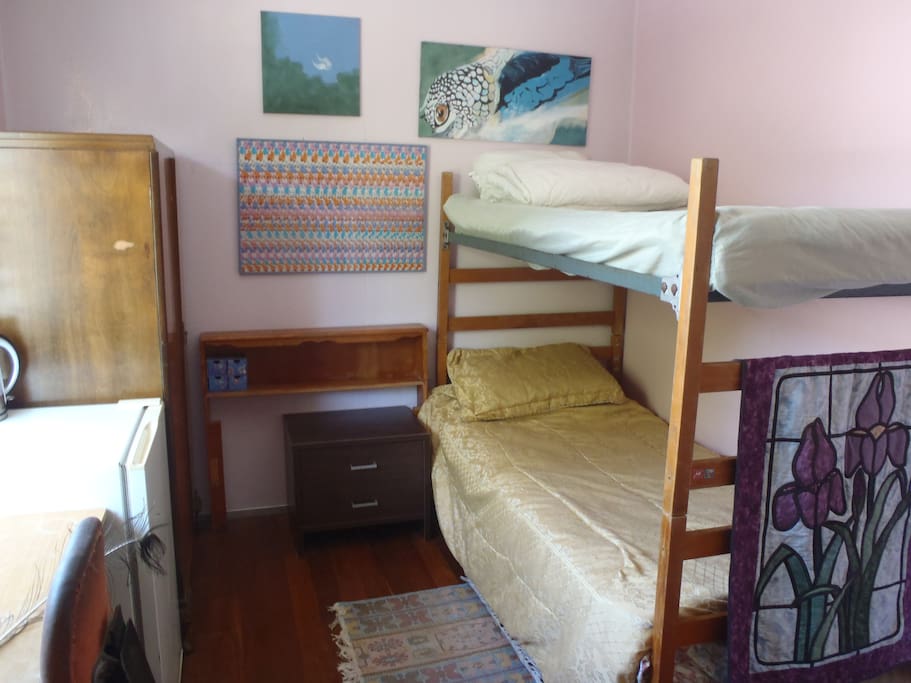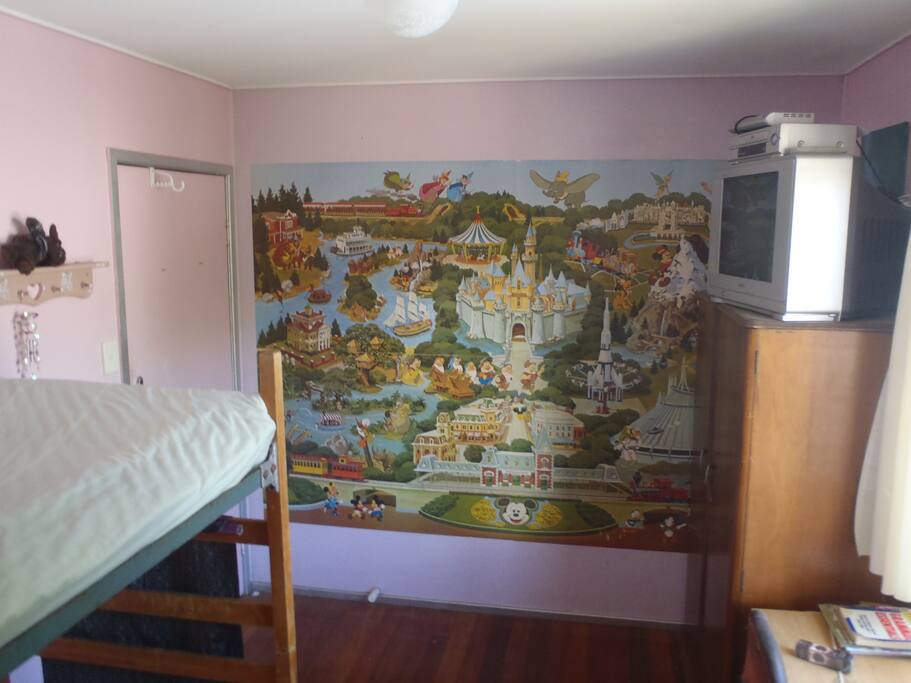 Canadian Dude has extra rooms in renovation project. Your rooms are clean, house has many projects yet to be completed - shouldn't affect you. I'm a fellow traveler. I was a guide in Canada & Fraser Island & whale watching boats & enjoy takin others.
房源
Me? I'm one of a kind! I aim to please and believe in Karma and what goes around comes around. I like to help out fellow travelers and believe accommodation shouldn't be the bulk of your travel expense!
房客使用权限
Home is on quiet street, 5 min walk to: boat harbour, tourist shops, shark show, aquarium, 10+ restaurants, .8km fishing pier, esplanade, shops, 6 bars/pubs, sports centre, Muay Thai/Jujitsu gym, Botanic Gardens, parks x7 tennis courts, play gyms, bike paths across town x 2.
Can organize ranger (me) guided tours of Fraser Island/Cooloola National park/Rainbow Beach, etc, either walking (from $79/tour), mountain biking (from $99/tour), motor biking, or 4x4. Don't miss Fraser, it's always my backpackers highlight of Australia. Can also do boating/waterskiing/snorkelling/scuba diving/fishing/spearfishing/surfing trips to Fraser or Barrier reef, etc
Can rent: 4WD van, XT 550 motorbike, camping gear, bicycles, rollerblades, boogie/surf boards, speed/ski boat, fishing gear, snorkelling/spearfishing gear, sports gear (hockey, tennis, croquette, badminton, fencing, fishing & more)
Home features 10' screen in home theatre, slammin sound/karaoke system, bar, home gym, badminton/volleyball grass court, basketball court, table tennis, darts, foosball, board games, archery, washing facilities, ample fridge & freezer space, BBQs, fire pit, ample parking on wide quiet street, tree house, organic veggie garden & fruit trees, & more.
Rooms have either bunk beds or a double bed, own kitchenette (sink, microwave, fridge, freezer, electric hotplate, electric frypan, toaster, dishes, etc) computer desk (with machine if you like), TV, lockup closet/robe, share toilet/shower.

与房客的互动
As you wish! I can be an entertainer or totally unseen!
其他注意事项
I'm an extremely active sort of dude into Muay Thai, Jujitsu, Escrima, & fire twirling of an evening, which you're welcome to join me in.

---
---
---
I'm a deep green conservationist also big believer in Karma and humanitarian values. Must be honest, quiet, considerate, smoke only outside.
Other than that I'm pretty easy goin and highly adaptable.

您还必须确认以下情况
Dog(s)和other pet(s) live in the house
---
---
---
Gday Funseekers! Easy-goin Fun-luvin Canadian dude and German girlfriend seek like-minded to share in Mountain biking, walking, 4x4, flying (small aircraft lands on beach!), boating or kayaking adventures at Fraser Island, Utopia (mountain rock pools- see photos), Great Sandy Straits (whale watching, boating, fishing) and surrounds. I've worked as a Ranger-guide on Fraser for many years with Kingfisher with extensive experience mountain biking there (you can't bike everywhere there as the sand tracks are commonly too soft to ride as they are continuously torn up by 4x4s). We are in no rush in our fun-seeking and the ride is fantastic! Far better than on the 4x4 coaches I used to drive! I love the island and the surrounding area and would love to share it with you. Come enjoy it as mother nature intended with environmentally sensitive biking, hiking, boating (fishing/whale watching) or tours to suit. Or if ya don't have much time, I can be convinced into piling into one of my 4x4 vans (seats 8). I can also organize bush tucker/aboriginal culture tours with a local expert, and if you're looking for work I may even be able to organize some.

I have 8 extra bikes (can get more) and support vans to carry camping gear. It is quite expensive to take a vehicle over: $80 permits + $160 on barge (includes 4 people, ~$20/extra person) + fuel, or we can pack light or make the most of eating at resorts whilst there. I'm pretty flexible and willing to tailor a tour to suit!

Please note - I am often away on tour and therefore out of mobile reception so may not get back to you as quickly as I'd like. Please be patient.

I have room in my 4 bedroom house or 14 ft Caravan parked out back: quiet street, 5 min walk to: boat harbour, tourist shops, shark show, aquarium, 10+ restaurants, 1.8km fishing pier (I have gear - you catch dinner!), esplanade, shops (Woolies very good for recyclers if you're that way inclined!), 6 bars/pubs, sports centre, Muay Thai/Jujitsu gym, Botanic Gardens, parks x7 (tennis courts, play gyms, 2 bike paths across town).

Home features home theatre, slammin sound system (brings XBox/PS2 & parties to life!), home gym, badminton/volleyball grass court, basketball court, table tennis, darts, air hockey, foosball, board games, washing facilities, ample fridge & freezer space, BBQs, fire pit, ample parking on wide quiet street, tree house, fruit trees, dog, chooks, organic veggie garden & fruit trees, & more.

Rooms have either a set of bunk beds or double bed, own kitchenette (sink, microwave, fridge, freezer, electric hotplate, electric frypan, toaster, dishes, etc) computer desk (with machine if you like), TV, lockup closet/robe, share toilet/shower.

Caravan sleeps 7, large annexe with couch (bed) own kitchenette (sink, microwave, fridge, freezer, electric hotplate, toaster, dishes, etc) computer desk (with machine if you like), TV, closet/robe, share toilet/shower.

Nearby access to tennis/basketball courts at school 1 block away, movie/video game collection, Internet, shops.

I have 3 chooks, and a very friendly happy dog. He loves walks and playing so you're welcome to share if you like. I go to bed relatively early week nights as I have a liver condition (Fri/Sat nights are my big party nights so that's generally when I'd have others around to hang round the camp fire or party with us with your expression of interest). I am extremely active having Muay Thai, Jujitsu, Escrima (martial arts weapons training), fire twirling, fencing, and other things on 7 days a week, which you're welcome to join me in.

HelpX/Woofing members are offered work for accommodation helping me around my house/organic garden or in my handyman or touring businesses. I buy and sell homes to renovate so there's always plenty to do and I can find some task for anyone of any experience. I've had many guests and some of these have used this situation to get their 2nd year visa. I do ask for a security/damage deposit that is refunded when you leave.

Must be honest, quiet, clean, considerate, smoke only outside. Thanks for looking! :)

语言:
Deutsch、English、Français